Abstract
Objective
Versatile emission computed tomography (VECTor) for small-animal imaging enables fully simultaneous SPECT/PET image acquisition based on clustered multi-pinhole collimation. The present study experimentally evaluated the detailed performance characteristics of the clustered multi-pinhole system for simultaneous 99mTc and 18F imaging from the user perspective.
Methods
Spatial resolution, sensitivity, count rate linearity were determined for the VECTor system (MILabs). Two hot-rod micro-resolution phantoms with 6 sectors were created to test the resolution of 99mTc and 18F. Sensitivity and count rate linearity were measured by scanning 99mTc and 18F point sources positioned at the center of the field of view. Furthermore, we quantified the influence of 18F on 99mTc SPECT images. The ratios of SPECT counts on the 99mTc-only and simultaneous 18F-99mTc at various time points were evaluated as a function of the 18F-to-99mTc activity concentration ratio.
Results
The 0.5-mm hot-rods can be visually distinguished in the 99mTc image, and 0.8-mm rods for 18F remained clearly visible. The point-source sensitivity was 2800 cps/MBq for 99mTc and 2899 cps/MBq for 18F, respectively. Count rates up to 120,000 cps for one bed position were linear for the activity. Spill-over from 18F into 99mTc SPECT images was negligible when the activity concentration of the administered 18F solution exceeded that of the 99mTc solution by up to a factor of 2.
Conclusions
We evaluated the performance characteristics of the VECTor that lead to determination of the optimal administered doses of 99mTc and 18F tracers. We found that the VECTor achieved high resolution and high sensitivity as well as good 99mTc and 18F linearity. Simultaneous SPECT/PET imaging with 99mTc and 18F tracers, and stand-alone 99mTc and 18F imaging using clustered-pinhole collimators is feasible and practical for a wide range of research applications using small animals.
This is a preview of subscription content, log in to check access.
Access options
Buy single article
Instant access to the full article PDF.
US$ 39.95
Price includes VAT for USA
Subscribe to journal
Immediate online access to all issues from 2019. Subscription will auto renew annually.
US$ 99
This is the net price. Taxes to be calculated in checkout.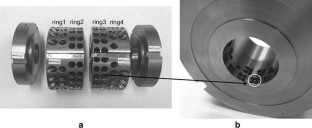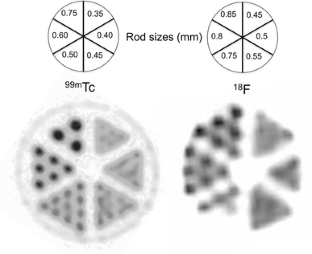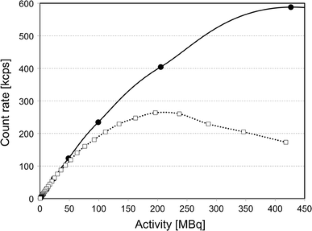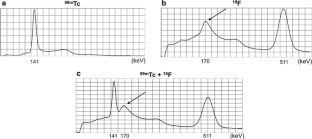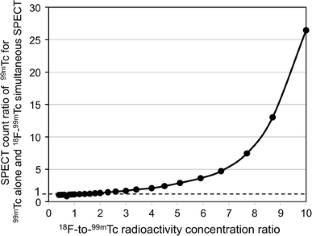 References
1.

de Kemp RA, Epstein FH, Catana C, Tsui BM, Ritman EL. Small-animal molecular imaging methods. J Nucl Med. 2010;51(Suppl):18–32.

2.

Umeda IO, Tani K, Tsuda K, Kobayashi M, Ogata M, Kimura S, et al. High resolution SPECT imaging for visualization of intratumoral heterogeneity using a SPECT/CT scanner dedicated for small animal imaging. Ann Nucl Med. 2012;26(1):67–76.

3.

Higaki Y, Kobayashi M, Uehara T, Hanaoka H, Arano Y, Kawai K. Appropriate collimators in a small animal SPECT scanner with CZT detector. Ann Nucl Med. 2013;27(3):271–8.

4.

Goorden MC, Beekman FJ. High-resolution tomography of positron emitters with clustered pinhole SPECT. Phys Med Biol. 2010;55(5):1265–77.

5.

Magota K, Kubo N, Kuge Y, Nishijima K, Zhao S, Tamaki N. Performance characterization of the Inveon preclinical small-animal PET/SPECT/CT system for multimodality imaging. Eur J Nucl Med Mol Imaging. 2011;38(4):742–52.

6.

Visser EP, Disselhorst JA, Brom M, Laverman P, Gotthardt M, Oyen WJ, et al. Spatial resolution and sensitivity of the Inveon small-animal PET scanner. J Nucl Med. 2009;50(1):139–47.

7.

Koba W, Jelicks LA, Fine EJ. MicroPET/SPECT/CT imaging of small animal models of disease. Am J Pathol. 2013;182(2):319–24.

8.

Goorden MC, van der Have F, Kreuger R, Ramakers RM, Vastenhouw B, Burbach JP, et al. VECTor: a preclinical imaging system for simultaneous submillimeter SPECT and PET. J Nucl Med. 2013;54(2):306–12.

9.

Walker MD, Goorden MC, Dinelle K, Ramakers RM, Blinder S, Shirmohammad M, et al. Performance assessment of a preclinical PET scanner with pinhole collimation by comparison to a coincidence-based small-animal PET scanner. J Nucl Med. 2014;55(8):1368–74.

10.

Prasad R, Ratib O, Zaidi H. NEMA NU-04-based performance characteristics of the LabPET-8™ small animal PET scanner. Phys Med Biol. 2011;56(20):6649–64.

11.

Sánchez F, Orero A, Soriano A, Correcher C, Conde P, González A, et al. ALBIRA: a small animal PET/SPECT/CT imaging system. Med Phys. 2013;40(5):051906.

12.

Spinks TJ, Karia D, Leach MO, Flux G. Quantitative PET and SPECT performance characteristics of the Albira Trimodal pre-clinical tomograph. Phys Med Biol. 2014;59(3):715–31.

13.

Goorden MC, van der Have F, Kreuger R, Beekman FJ. An efficient simulator for pinhole imaging of PET isotopes. Phys Med Biol. 2011;56(6):1617–34.

14.

Vastenhouw B, Beekman F. Submillimeter total-body murine imaging with U-SPECT-I. J Nucl Med. 2007;48(3):487–93.

15.

Ogawa K, Harata Y, Ichihara T, Kubo A, Hashimoto S. A practical method for position-dependent Compton-scatter correction in single photon emission CT. IEEE Trans Med Imaging. 1991;10(3):408–12.

16.

Boisson F, Zahra D, Parmar A, Gregoire MC, Meikle SR, Hamse H, et al. Imaging capabilities of the inveon SPECT system using single-and multipinhole collimators. J Nucl Med. 2013;54(10):1833–40.

17.

Deleye S, Van Holen R, Verhaeghe J, Vandenberghe S, Stroobants S, Staelens S. Performance evaluation of small-animal multipinhole μSPECT scanners for mouse imaging. Eur J Nucl Med Mol Imaging. 2013;40(5):744–58.

18.

van der Have F, Vastenhouw B, Ramakers RM, Branderhorst W, Krah JO, Ji C, et al. U-SPECT-II: an ultra-high-resolution device for molecular small-animal imaging. J Nucl Med. 2009;50(4):599–605.

19.

Branderhorst W, Vastenhouw B, van der Have F, Blezer EL, Bleeker WK, Beekman FJ. Targeted multi-pinhole SPECT. Eur J Nucl Med Mol Imaging. 2011;38(3):552–61.

20.

Sanchez F, Moliner L, Correcher C, Gonzalez A, Orero A, Carles M, et al. Small animal PET scanner based on monolithic LYSO crystals: performance evaluation. Med Phys. 2012;39(2):643–53.

21.

Schäfers KP, Reader AJ, Kriens M, Knoess C, Schober O, Schäfers M. Performance evaluation of the 32-module quadHIDAC small-animal PET scanner. J Nucl Med. 2005;46(6):996–1004.

22.

Harteveld AA, Meeuwis AP, Disselhorst JA, Slump CH, Oyen WJ, Boerman OC, et al. Using the NEMA NU 4 PET image quality phantom in multipinhole small-animal SPECT. J Nucl Med. 2011;52(10):1646–53.

23.

Nagy K, Tóth M, Major P, Patay G, Egri G, Häggkvist J, et al. Performance evaluation of the small-animal nanoScan PET/MRI system. J Nucl Med. 2013;54(10):1825–32.

24.

Wang Y, Seidel J, Tsui BM, Vaquero JJ, Pomper MG. Performance evaluation of the GE healthcare eXplore VISTA dual-ring small-animal PET scanner. J Nucl Med. 2006;47(11):1891–900.

25.

Spanoudaki VC, Lau FW, Vandenbroucke A, Levin CS. Physical effects of mechanical design parameters on photon sensitivity and spatial resolution performance of a breast-dedicated PET system. Med Phys. 2010;37(11):5838–49.

26.

Funk T, Sun M, Hasegawa BH. Radiation dose estimate in small animal SPECT and PET. Med Phys. 2004;31(9):2680–6.

27.

Wu C, van der Have F, Vastenhouw B, Dierckx RA, Paans AM, Beekman FJ. Absolute quantitative total-body small-animal SPECT with focusing pinholes. Eur J Nucl Med Mol Imaging. 2010;37(11):2127–35.

28.

Dewaraja YK, Ljungberg M, Koral KF. Characterization of scatter and penetration using Monte Carlo simulation in 131I imaging. J Nucl Med. 2000;41(1):123–30.

29.

Disselhorst JA, Brom M, Laverman P, Slump CH, Boerman OC, Oyen WJ, et al. Image-quality assessment for several positron emitters using the NEMA NU 4-2008 standards in the Siemens Inveon small-animal PET scanner. J Nucl Med. 2010;51(4):610–7.

30.

Visser EP, Disselhorst JA, Lier MGTB, Laverman P, de Jong GM, Oyen WJG, et al. Characterization and optimization of image quality as a function of reconstruction algorithms and parameter settings in a Siemens Inveon small-animal PET scanner using the NEMA NU4-2008 standards. Nucl Instrum Methods Phys Res A. 2011;629:357–67.
Acknowledgments
We thank the staff of the Department of Molecular Imaging at National Institute of Radiological Sciences for assisting SPECT/PET/CT experiment. This work was supported in part by KAKENHI Grants-in-Aid for Scientific Research (B) (General) (M.I: No. 22390239, 26293282) from the Ministry of Education, Culture, Sports, Science and Technology (MEXT), Japanese Government, and for Challenging Exploratory Research (M.I: No. 24659140) from Japan Society for the Promotion of Science (JSPS).
Conflict of interest
The authors declare that they have no conflict of interest.
Additional information
K. Miwa and M. Inubushi contributed equally.
About this article
Cite this article
Miwa, K., Inubushi, M., Takeuchi, Y. et al. Performance characteristics of a novel clustered multi-pinhole technology for simultaneous high-resolution SPECT/PET. Ann Nucl Med 29, 460–466 (2015). https://doi.org/10.1007/s12149-015-0966-6
Received:

Accepted:

Published:

Issue Date:
Keywords
VECTor

Simultaneous imaging

Clustered multi-pinhole

Small-animal imaging

SPECT/PET