Abstract
Whole body radioiodine scanning (WBS), along with plasma thyroglobulin level, remains a reference method for detecting residual or metastatic differentiated thyroid cancer, however, false-positive WBS is not uncommon. External contaminations by body secretions or excretions, inflammation, and cystic structures mimicking metastases in WBS have been reported. Various benign and malignant tumors having different histopathological natures accumulate radioiodine, but intradermal melanocytic nevus was not previously described in the literature, as far as we know. This report describes an unusual cause of false-positive WBS after radioablation therapy due to an intradermal nevus, and the possible mechanisms are discussed.
This is a preview of subscription content, log in to check access.
Access options
Buy single article
Instant access to the full article PDF.
US$ 39.95
Price includes VAT for USA
Subscribe to journal
Immediate online access to all issues from 2019. Subscription will auto renew annually.
US$ 99
This is the net price. Taxes to be calculated in checkout.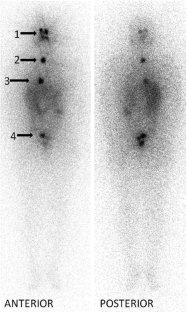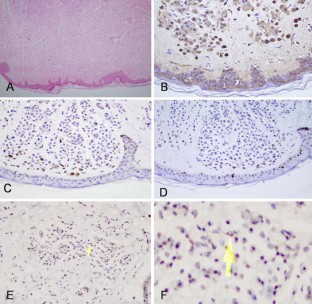 References
1.

American Thyroid Association (ATA) Guidelines Taskforce on Thyroid Nodules and Differentiated Thyroid Cancer, Cooper DS, Doherty GM, Haugen BR, Kloos RT, Lee SL, Mandel SJ, Mazzaferri EL, McIver B, Pacini F, Schlumberger M, Sherman SI, Steward DL, Tuttle RM. Revised American Thyroid Association management guidelines for patients with thyroid nodules and differentiated thyroid cancer. Thyroid. 2009;19:1167–214.

2.

Shapiro B, Rufini V, Jarwan A, Geatti O, Kearfott KJ, Fig LM, et al. Artifacts, anatomical and physiological variants, and unrelated diseases that might cause false-positive whole-body 131-I scans in patients with thyroid cancer. Semin Nucl Med. 2000;30:115–32.

3.

Oh JR, Ahn BC. False-positive uptake on radioiodine whole-body scintigraphy: physiologic and pathologic variants unrelated to thyroid cancer. Am J Nucl Med Mol Imaging. 2012;2:362–85.

4.

Durante C, Haddy N, Baudin E, Leboulleux S, Hartl D, Travagli JP, et al. Long-term outcome of 444 patients with distant metastases from papillary and follicular thyroid carcinoma: benefits and limits of radioiodine therapy. J Clin Endocrinol Metab. 2006;91:2892–9.

5.

Ozguven M, Ilgan S, Arslan N, Karacalioglu AO, Yuksel D, Dundar S. Unusual patterns of I-131 contamination. Ann Nucl Med. 2004;18:271–4.

6.

Gültekin SS, Dilli A, Arıkök AT, Bostancı H, Hasdemir AO. The false-positive radioiodine I-131 uptake in the foreign body granuloma located in gluteal adipose tissue. Radiol Oncol. 2012;46:28–31.

7.

Regalbuto C, Buscema M, Arena S, Vigneri R, Squatrito S, Pezzino V. False-positive findings on (131)I whole-body scans because of posttraumatic superficial scabs. J Nucl Med. 2002;43:207–9.

8.

Chen L, Luo Q, Shen Y, Yu Y, Yuan Z, Lu H, et al. Incremental value of 131I SPECT/CT in the management of patients with differentiated thyroid carcinoma. J Nucl Med. 2008;49:1952–7.

9.

Omür O, Ozbek SS, Akgün A, Yazici B, Mutlukoca N, Ozcan Z. False-positive I-131 accumulation in a hepatic hydatid cyst. Clin Nucl Med. 2007;32:930–2.

10.

Ilgan S, Narin Y, Arslan N, Aksu A, Bayhan H. Warthin's tumor and I-131 body scan. Clin Nucl Med. 1999;24:721–2.

11.

Flug J, Lameka K, Lee R, Katz DS, Sung WW, Yung E. False-positive I-131 uptake by an ovarian serous cystadenofibroma. Clin Nucl Med. 2012;37:178–80.

12.

Chung JK. Sodium iodide symporter: its role in nuclear medicine. J Nucl Med. 2002;43:1188–200.

13.

Price HN, Schaffer JV. Congenital melanocytic nevi-when to worry and how to treat: facts and controversies. Clin Dermatol. 2010;28:293–302.

14.

Cianfarani F, Baldini E, Cavalli A, Marchioni E, Lembo L, Teson M, et al. TSH receptor and thyroid-specific gene expression in human skin. J Invest Dermatol. 2010;130:93–101.

15.

Leonhardt JM, Heymann WR. Thyroid disease and the skin. Dermatol Clin. 2002;20:473–81.

16.

Slominski A, Wortsman J, Kohn L, Ain KB, Venkataraman GM, Pisarchik A, et al. Expression of hypothalamic-pituitary-thyroid axis related genes in the human skin. J Invest Dermatol. 2002;119:1449–55.

17.

Ellerhorst JA, Sendi-Naderi A, Johnson MK, Cooke CP, Dang SM, Diwan AH. Human melanoma cells express functional receptors for thyroid-stimulating hormone. Endocr Relat Cancer. 2006;13:1269–77.
About this article
Cite this article
Yildirim-Poyraz, N., Ozdemir, E., Amutkan, C. et al. False-positive iodine-131 whole body scan due to a benign dermal lesion; intradermal nevus (131I uptake in a benign nevus). Ann Nucl Med 27, 786–790 (2013). https://doi.org/10.1007/s12149-013-0746-0
Received:

Accepted:

Published:

Issue Date:
Keywords
False positive

Whole body scan

Radioiodine

Intradermal nevus