Abstract
Changes in economic structure and employment opportunity are seen in the agricultural sector that was originally Labor Intensive to Capital Intensive. The objective of this study is to know the women's role in the farming of food commodities and sugar cane commodities as well as the impact of commodity changes on the role and strategy of women's livelihood. This study is qualitative descriptive using Gender Framework Analyze. The results of the study show that the productive activity of women labor of food crops is involved in all farming activities including land cultivation, nursery, maintenance, and harvesting. Unlike sugar cane farming, women labor is only involved in maintenance. Reproductive activity is fully borne by the women. It is likewise social activities that always involve the role of women in every activity. The impacts of commodity changes on the role aspect include the subordination of women's work, the marginalization of women and stereotyping of women's work. In addition, the impacts on the livelihood strategy aspect include the loss of traditional activities i.e. golek mbes, golek entong, golek godong jati, ngasak, mbangkong and golek laron which are currently replaced with the emergence of new livelihoods of the paper industry.
This is a preview of subscription content, log in to check access.
Access options
Buy single article
Instant access to the full article PDF.
US$ 39.95
Price includes VAT for USA
Subscribe to journal
Immediate online access to all issues from 2019. Subscription will auto renew annually.
US$ 99
This is the net price. Taxes to be calculated in checkout.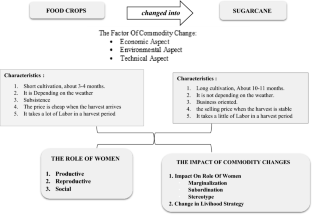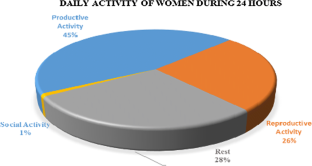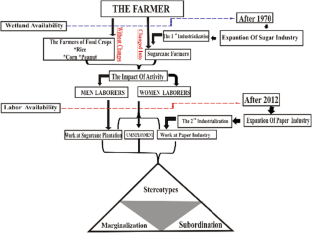 References
1.

Akpan, S. B., Udoh, E. J., & Patrick, I. V. (2016). Sustaining small scale farming: Evidence of poverty and income disparity among rural farming households in south-south region of Nigeria. Path of Science: International Electronic Scientific Journal, 02, 9–23.

2.

Astuti, U. P., Wahyu, W., & Ishak, A. (2011). Faktor Yang Mempengaruhi Alih Fungsi Lahan Pangan Menjadi Kelapa Sawit di Bengkulu; Kasus Petani di Desa Kungkai Baru. Bengkulu: University Of Bengkulu.

3.

Bayeh, E. (2016). The role of empowering women and achieving gender equality in the sustainable development of Ethiopia. Pacific Science Review B: Humanities and Social Sciences, 2(1), 37–42.

4.

Central Bureau of Statistics. (2010). Perubahan Struktur Ekonomi dan Kesempatan Kerja. Jakarta: Central Bureau Of Statistics.

5.

Central Bureau of Statistics. (2016). Laporan Bulanan Data Sosial Ekonomi. Jakarta: Central Bureau Of Statistics.

6.

Emerole, C. O., et al. (2014). Cassava entrepreneurship and gender participation in Udi local government area of Enugu State, Nigeria. Scientific Papers Series Management, Economic Engineering in Agriculture and Rural Development, 14(1), 127–138.

7.

Erosa, A., Fusterb, L., & Restuccia, D. (2016). A quantitative theory of the gender gap in wages. European Economic Review, 85, 165–187.

8.

Harriet, T., Opoku-Asare, N. A., & Anin, E. K. (2014). The role of women in reducing household poverty in the Bongo District of the upper east region, Ghana. Journal of Arts and Humanities, 3(04), 99–110.

9.

International Labor Organization. (2014). Indonesia: Tren Sosial dan Ketenagakerjaan Agustus 2014. Available at: http://www.ilo.org/wcmsp5/groups/public/—asia/—ro-bangkok/—ilo-jakarta/documents/publication/wcms_329870.pdf. Accessed December 12, 2017.

10.

Jiao, X., Pouliot, M., & Walelign, S. Z. (2017). Livelihood strategies and dynamics in rural Cambodia. World Development, 97, 266–278.

11.

Jittima, P.-A., & Gheewala, S. H. (2016). Sustainability of sugarcane cultivation: Case study of selected sites in north-eastern Thailand. Journal of Cleaner Production, 134(B), 613–622.

12.

Lengermann, P. M., & Niebrugge, G. (2010). Contemporary feminist theory. In M. Ryan, N. Bridge, & A. Ambrose (Eds.), Sociological theory (p. 455). New York: McGraw-Hill Companies Inc.

13.

Lengermann, P. M., & Niebrugge, G. (2010). Sociological theory, eighth edition. In N. Bridge (Ed.), Contemporary feminist theory (8th ed., pp. 455–456). New York: McGraw-Hill.

14.

Machado, P. G., et al. (2017). Analysis of socioeconomic and environmental sensitivity of sugarcane. Land Use Policy, 69, 64–74.

15.

Majchrowska, A., & Strawinski, P. (2017). Impact of minimum wage increase on gender wage gap: Case of Poland. Economic Modelling, 65, 1–12.

16.

March, C., Smyth, I., & Mukhopadhyay, M. (2010). A-guide to gender-analysis frameworks (3rd ed.). Oxford: Oxfam.

17.

Mello, D., & Schmink, M. (2016). Amazon enterpreneurs: Women's economic empowerment and the potential for more. Gainesville: Women's Studies International Forum.

18.

Ministry of Agriculture. (2015). Rencana Strategis Kementrian Pertanian 2015–2019. Jakarta: Ministry Of Agriculture.

19.

Mishra, A. K., Khanal, A. R., & Mohanty, S. (2017). Gender differentials in farming efficiency and profits: The case of rice production in the Philippines. Land Use Policy, 63, 461–469.

20.

Murphy, C. N. (2005). Global institutions, marginalization and development (1st ed.). New York: Routledge.

21.

Placea, K. R., & Vardeman-Winter, J. (2017). Where are the women? An examination of research on women and leadership in public relations. Public Relations Review, 04(4), 1–10.

22.

Prasanna, S., & Pattar, P. (2014). Succuccesful ratoon management in sugarcane. Journal of Agriculture and Alied Sciences, 3, 39–47.

23.

Rochmayanto, Y., & Kurniasih, P. (2013). Peranan Gender dalam Adaptasi Perubahan Iklim pada Ekosistem Pegunungan di Kabupaten Solok, Sumatera Barat. Jurnal Analisis Kebijakan Kehutanan, 10(3), 203–213.

24.

Roosganda, E. (2008). Peran Ganda Wanita Tani dalam Mencapai Ketahanan Pangan Rumah Tangga di Pedesaan. IPTEK Tanaman Pangan, 03(1), 59–67.

25.

Uchem, N. R., & Ommnuel, S. N. (2014). Subordination of women in 21st century Afrika: Cultural sustainability or a new slaving? Implications for educational development. Journal of Developing Country Studies, 04, 143–150.

26.

Widodo, S. (2011). Strategi Nafkah Berkelanjutan Bagi Rumah Tangga Miskin di Daerah Pesisir. Makara Sosial Humaniora, 15, 10–20.
Acknowledgements
The authors also thank to my beloved lecturers, and examiners. We are also thankful for late Benazier Kusuma W and Astri Elok Nastiti who helped us in conducting the field work.
About this article
Cite this article
Purbowo, Widodo, S. A Study on the Impact of Commodity Changes to the Role and Strategy of Women's Livelihood. Gend. Issues 35, 339–350 (2018). https://doi.org/10.1007/s12147-018-9214-4
Keywords
Women

Social change

Agriculture

Livelihood