Abstract
Mother's and Father's Day celebrations were investigated to understand how gender is created on these two occasions. Fifty-three heterosexual couples were interviewed about family holidays. Mother's Day was given more attention than Father's Day. Families spent more time celebrating; they were more likely to eat out, and were more likely to celebrate with others. Mothers were also more likely to receive gifts than fathers. The gendering of the holidays was reflected in the more stereotypical gifts received on Mother's and Father's Day than on birthdays, and in that mothers were more likely to report relief from chores on Mother's Day than fathers were on Father's Day (p < .01). Families in which women worked full-time and whose husbands contributed substantially to domestic labor were as likely to celebrate in gendered ways as traditional families were. These holidays reflect and promote hegemonic notions of the gendered nature of motherhood and fatherhood.
Access options
Buy single article
Instant access to the full article PDF.
US$ 39.95
Tax calculation will be finalised during checkout.
Subscribe to journal
Immediate online access to all issues from 2019. Subscription will auto renew annually.
US$ 79
Tax calculation will be finalised during checkout.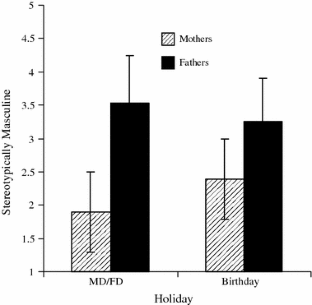 Notes
1.

Although one might think that the parents of boys pursuing baseball might have more traditional gender ideas than average, and that parents of girls pursuing softball might have less traditional ideas, in fact there was no difference between the gender ideology of either of these groups and the parents who were recruited from schools.

2.

Repeated measures analysis of variance was used to address that Mother's Day and Father's Day, as well as the respective birthdays, were celebrated within the same families.

3.

Notably, the distribution of scores on the egalitarianism measure was highly skewed, such that most of the women in this sample agreed with egalitarian principles.

4.

The word "traditional" here is just used to distinguish them from the "modern" families. Most of the women in these families work for pay. They are probably closer to what Arlie Hochschild [17] would call "transitional" families.

5.

The lack of power makes it impossible to verify this point statistically.

6.

Our sample is overwhelmingly white so we don't presume to say anything about how Mother's Day is celebrated or how motherhood is represented in communities of color.
References
1.

Arendell, T. (2000). Conceiving and investigating motherhood: The decade's scholarship. Journal of Marriage and the Family, 62, 1192–1207.

2.

Beaujot, R., & Andersen, R. (2007). Time-crunch: Impact of time spent in paid and unpaid work and its division in families. Canadian Journal of Sociology, 32, 295–315.

3.

Bush, G. W. (No date). "Parents' Day 2001." Retrieved December 14, 2006, from http://www.parentsday.com/poy2001/proclamation.htm.

4.

Coltrane, S. (1995). The future of fatherhood: Social, demographic, and economic influences on men's family involvements. In W. Marsiglio (Ed.), Fatherhood: Contemporary theory, research, and social policy (pp. 255–274). Thousand Oaks, CA: Sage.

5.

Connell, R. W. (1995). Masculinities. Berkeley: University of California Press.

6.

Deutsch, F. M. (1999). Halving it all: How equally shared parenting works. Cambridge, MA: Harvard University Press.

7.

Deutsch, F. M., Lussier, J. B., & Servis, L. J. (1993). Husbands at home: Predictors of paternal participation in childcare and housework. Journal of Personality and Social Psychology, 65, 1154–1166.

8.

DeVault, M. L. (1991). Feeding the family. Chicago, IL: University of Chicago Press.

9.

diLeonardo, M. (1987). The female world of cards and holidays: Women families, and the work of kindship. Signs, 12, 440–453.

10.

Edlund, J. (2007). The work-family time squeeze. International Journal of Comparative Sociology, 48, 451–480.

11.

Etzioni, A. (2000). Toward a theory of public ritual. Sociological Theory, 18, 44–59.

12.

Fair, J. E. (2004). 'Me do wu', My val: The creation of Valentine's Day in Accra, Ghana. African Studies Review, 47, 23–49.

13.

Fenstermaker, S., West, C., & Zimmerman, D. H. (1991). Gender inequality: New conceptual terrain. In R. L. Blumberg (Ed.), Gender, family, and economy: The triple overlap (pp. 289–307). Newbury Park, CA: Sage.

14.

Fried, A. (1998). US environmental interest groups and the promotion of environmental values: The resounding success and failure of earth day. Environmental Politics, 7, 1–22.

15.

Gillis, J. R. (1997). A world of their making: Myth, ritual, and the quest for family values. Cambridge, MA: Harvard University Press.

16.

Hays, S. (1996). The cultural contradictions of motherhood. New Haven, CT: Yale University Press.

17.

Hochschild, A. R., & Anne, M. (2003). The second shift. New York: Penguin Books.

18.

Ishii-Kuntz, M., & Coltrane, S. (1992). Predicting the sharing of household labor: Are parenting and housework distinct? Sociological Perspectives, 35, 629–647.

19.

Katz, E. (1998). Broadcasting holidays. Sociological Inquiry, 68(2), 230–241.

20.

LaRossa, R. (1997). The modernization of fatherhood: A social and political history. Chicago, IL: The University of Chicago Press.

21.

LaRossa, R., Jaret, C., Gadgil, M., & Wynn, R. G. (2000). The changing culture of fatherhood in comic-strip families: A six-decade analysis. Journal of Marriage and the Family, 62, 375–387.

22.

Litwicki, E. M. (2000). Our hearts burn with ardent love for our two countries: Ethnicity and assimilation at Chicago holiday celebrations, 1876–1918. Journal of American Ethnic History, 19, 3–34.

23.

McMahon, M. (1995). Engendering motherhood: Identity and self-transformation in women's lives. New York: The Guilford Press.

24.

Nagle, J. (2005). Everybody is Irish on St. Paddy's: Ambivalence and alterity at London's St. Patrick's Day, 2002. Identities: Global Studies in Culture and Power, 12, 563–583.

25.

Pleck, E. (1999). The making of a domestic occasion: The history of Thanksgiving in the United States. The Journal of Social History, 32, 773–789.

26.

Schmidt, L. E. (1995). Consumer rites: The buying and selling of American holidays. Princeton, NJ: Princeton University Press.

27.

Spragins, E. (2001). Love & Money; Is my mom better than yours? Retrieved on October 8, 2008 from http://query.nytimes.com/gst/fullpage.html?res=9A02E0DA1739F932A35754C0A9679C8B63&sec=&spon=&scp=22&sq=mommy%20wars%20culture%20wars&st=cse.

28.

Walzer, S. (1996). Thinking about the baby: Gender and divisions of infant care. Social Problems, 43, 219–234.

29.

West, C., & Zimmerman, D. H. (1987). Doing gender. Gender & Society, 1(2), 125–151.

30.

Woollett, A., & Marshall, H. (2001). Motherhood and mothering. In R. K. Unger (Ed.), Handbook of the psychology of women and gender (pp. 170–182). New York: Wiley.

31.

Woolley, J T., & Peters, G. (No date). Proclamation 7015—Parents' Day, 1997. Retrieved December 14, 2006 from http://www.presidency.ucsb.edu/ws/?pid=51639.

32.

Wright-St Clair, V., Hocking, C., Bunrayong, W., Vittayakorn, S., & Rattakorn, P. (2005). Older New Zealand women doing the work of Christmas: A recipe for identity formation. The Sociological Review, 53, 332–350.
Acknowledgments
This research and the preparation of this article were partially supported by a grant from the Harap Fund. The authors wish to thank Joseph Cohen and Elizabeth Aries for their contributions to an earlier draft and to George Cobb for statistical assistance. The authors also wish to thank Dorothy Walline for her contributions as a research assistant.
About this article
Cite this article
Cote, N.G., Deutsch, F.M. Flowers for Mom, a Tie for Dad: How Gender is Created on Mother's and Father's Day. Gend. Issues 25, 215–228 (2008). https://doi.org/10.1007/s12147-008-9066-4
Keywords
Mother's Day

Father's Day

Motherhood

Fatherhood

Gender

Gender construction