Abstract
Groundwater plays a key role in supplying water for drinking water, irrigation water, and industry water in the northern China. Recently, the availability and quality of groundwater resources in the eastern Loess Plateau (Shanxi province) have a serious impact on the agriculture, industry, and domestic sectors. This paper investigates the spatiotemporal variations of chemical and stable isotope composition of groundwater, and provides important information for the research of controlling factors of groundwater hydrochemical distribution in Shanxi province during two seasons. About 95 groundwater samples were collected from two seasons and measured the content of major ions and stable isotope, pH values, and total dissolved solids (TDS). The results showed that groundwater samples were mildly alkaline. Among all the groundwater samples, the HCO3− and Na+ dominated the total mass of the anions and cations, respectively. Significant seasonal and spatial variations can be observed in the TDS, deuterium (δ2H), and oxygen (δ18O) in groundwater samples. More pronounced variations of the groundwater TDS appeared in the quick-flow season with the highest TDS concentration observed at the central region and lower TDS values appeared in the northern and southern Shanxi. The groundwater samples mainly belong to the (HCO3−-Ca2+-Na+) type and the (HCO3−-SO42−-Ca2+-Na+) type. Rock weathering is the key controlling factor for the chemical composition of groundwater. In addition, nitrogen pollution of groundwater caused by human input is more significant in river valley basins such as the Yuncheng Basin, Linfen Basin, and Changzhi Basin. The significant influence of surface water-groundwater interaction for the groundwater can be observed at the valley basin in the central part of the Shanxi Province. The interaction between surface water and groundwater in the Linfen basin is especially remarkable.
Access options
Buy single article
Instant access to the full article PDF.
USD 39.95
Price includes VAT (USA)
Tax calculation will be finalised during checkout.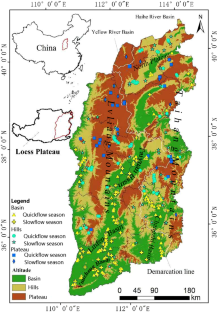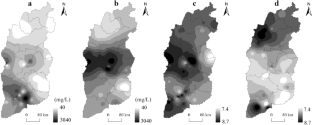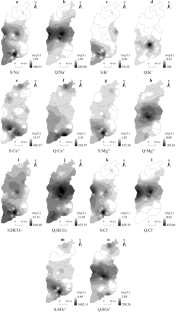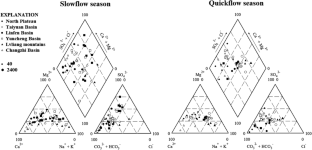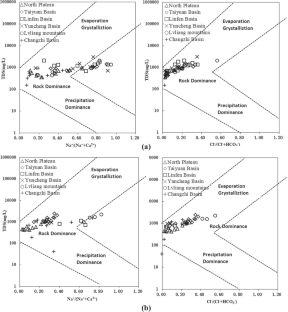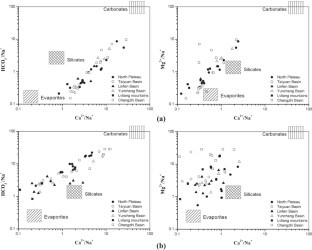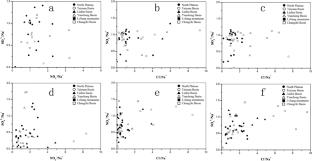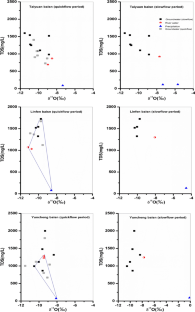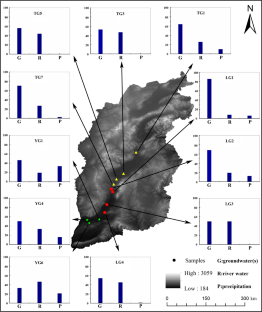 References
Allen DJ, Darling WG, Gooddy DC, Lapworth DJ, Newell AJ, Williams AT, AllenI D, Abesser C (2010) Nteraction between groundwater, the hyporheic zone and a Chalk stream: a case study from the River Lambourn, UK. Hydrogeol J 18:1125–1141

Barbecot F, Marlin C, Gibert E, Dever L (2000) Hydrochemical and isotopic characterisation of the Bathonian and Bajocian coastal aquifer of the Caen area (northern France). Appl Geochem 15:791–805

Batabyal AK (2017) Hydrogeochemical processes and contaminants enrichment with special emphasis on fluoride in groundwater of Birbhum district, West Bengal, India. Environ Earth Sci 76:285

Brindha K, Elango L (2011) Hydrochemical characteristics of groundwater for domestic and irrigation purposes in Madhuranthakam, Tamil Nadu, India. Earth Sci Res J 15:101–108

Dogramaci S, Skrzypek G, Dodson W, Grierson PF (2012) Stable isotope and hydrochemical evolution of groundwater in the semi-arid Hamersley Basin of sub-tropical northwest Australia. J Hydrol 475:281–293

Gaillardet J, Dupré B, Louvat P, Allègre CJ (1999) Global silicate weathering and CO2, consumption rates deduced from the chemistry of large rivers. Chem Geol 159:3–30

Gibbs RJ (1970) Mechanisms controlling world water chemistry. Science 170:1088–1090

Han D, Kohfahl C, Song X, Xiao G, Yang J (2011) Geochemical and isotopic evidence for palaeo-seawater intrusion into the south coast aquifer of Laizhou Bay, China. Appl Geochem 26:863–883

Han D, Tong X, Currell MJ, Cao G, Jin M, Tong C (2014) Evaluation of the impact of an uncontrolled landfill on surrounding groundwater quality, Zhoukou, China. J Geochem Explor 136:24–39

Hu S, Luo T, Jing C (2013) Principal component analysis of fluoride geochemistry of groundwater in Shanxi and Inner Mongolia, China. J Geochem Explor 135(6):124–129

Jiang L, Yao Z, Liu Z, Wang R, Wu S (2015) Hydrochemistry and its controlling factors of rivers in the source region of the Yangtze River on the Tibetan plateau. J Geochem Explor 155:76–83

Karmegam U, Chidambaram S, Prasanna MV, Sasidhar P, Manikandan S, Johnsonbabu G, Dheivanayaki V, Paramaguru P, Manivannan R, Srinivasamoorthy K, Anandhan P (2011) A study on the mixing proportion in groundwater samples by using Piper diagram and Phreeqc model. Acta Geochemical 30:490

Kattan Z (2015) Chemical and isotopic characteristics of the Euphrates River water, Syria: factors controlling its geochemistry. Environ Earth Sci 73:4763–4778

Kattan Z (2018) Using hydrochemistry and environmental isotopes in the assessment of groundwater quality in the Euphrates alluvial aquifer. Syria Environ Earth Sci 77:45

Kebede S, Abdalla O, Sefelnasr A, Tindimugaya C, Mustafa O (2017) Interaction of surface water and groundwater in the Nile River basin: isotopic and piezometric evidence. Hydrogeol J 25:707–726

Klaus J, Mcdonnell JJ (2013) Hydrograph separation using stable isotopes: Review and evaluation. J Hydrol 505:47–64

Kumar PJS, James EJ (2013) Physicochemical parameters and their sources in groundwater in the Thirupathur region, Tamil Nadu, South India. Appl Water Sci 3:219–228

Kumar A, Singh CK (2015) Characterization of Hydrogeochemical Processes and Fluoride Enrichment in Groundwater of South-Western Punjab. Water Qual Expo Health 7:373–387

Li C, Kang S, Zhang Q, Kaspari S (2007) Major ionic composition of precipitation in the Nam Co region, Central Tibetan Plateau. Atmos Res 85:351–360

Li T, Ji H, Jiang Y, Wang L (2007) Hydro-geochemistry and the sources of DIC in the upriver tributaries of the Ganjiang River. Acta Geogr Sin 20:257–271

Li P, Qian H, Wu J (2011) Hydrochemical Characteristics and Evolution Laws of Drinking Groundwater in Pengyang County, Ningxia, Northwest China. J Chem 8:565–575

Liu X, Liu J, Feng X (2016) Study on the Marine Sedimentary Environment Evolution of the Southern Laizhou Bay under the Impact of Port Projects. J Ocean Univ China 15:553–560

Pu T, He Y, Zhang T, Wu J, Zhu G, Li C (2013) Isotopic and geochemical evolution of ground and river waters in a karst dominated geological setting: a case study from Lijiang Basin, South Asia monsoon region. Appl Geochem 33:199–212

Pu T, He Y, Zhu G, Zhang N, Du J, Wang C (2013) Characteristics of water stable isotopes and hydrograph separation in Baishui catchment during the wet season in Mt. Yulong region, south western China. Hydrol Process 27:3641–3648

Samake M, Tang Z, Hlaing W, Ndoh Mbue I, Kasereka K, Balogun WO (2011) Groundwater Vulnerability Assessment in Shallow Aquifer in Linfen Basin, Shanxi Province, China Using DRASTIC Model. Res J Appl Sci 4:616–622

Sophocleous M (2001) Interactions between groundwater and surface water: the state of the science. Hydrogeol J 10:348–348

Stober I (2014) Hydrochemical properties of deep carbonate aquifers in the SW German Molasse basin. Geothermal Energy 2:13

Sun Y, Zhang A, Wang Q, Yi H, Liu Y, Tian Q (2011) Influences of Human Activities on the Coastal Landform and Sea Water Invasion Along the Southern Laizhou Bay during the Past 30 Years. Mar Geol Q Geol 31:43–50

Sun C, Li X, Chen Y, Li W, Stotler RT, Zhang Y (2016) Spatial and temporal characteristics of stable isotopes in the Tarim River Basin. Isot Environ Health Stud 52:1

Sun C, Yang J, Chen Y, Li X, Yang Y, Zhang Y (2016) Comparative study of streamflow components in two inland rivers in the Tianshan Mountains, Northwest China. Environ Earth Sci 75:1–14

Sun Z, Song X, Bu H, Yang L, Ma Y, Zhang Y, Han D (2016) Origin of groundwater salinity and hydrochemical processes in an unconfined aquifer: case of Yang-Dai River basin in Qinhuangdao (China). Environ Earth Sci 75:1–12

Sun C, Li X, Chen W, Chen Y (2017) Climate change and runoff response based on isotope analysis in an arid mountain watershed of the western Kunlun Mountains. Hydrol Sci J 62:319–330

Sun C, Shen Y, Chen Y, Chen W, Liu W, Zhang Y (2018) Quantitative evaluation of the rainfall influence on streamflow in an inland mountainous river basin within Central Asia. Hydrol Sci J 63:17–30

Sung KY, Yun ST, Park ME, Koh YK, Choi BY, Hutcheon L, Kim KH (2012) Reaction path modeling of hydrogeochemical evolution of groundwater in granitic bedrocks, South Korea. J Geochem Explor 118:90–97

Tang Q, Xu Q, Zhang F, Huang Y, Liu J, Wang X, Yang Y, Liu X (2013) Geochemistry of iodine-rich groundwater in the Taiyuan Basin of central Shanxi Province, North China. J Geochem Explor 135:117–123

Wang P, Song X, Han D, Zhang Y, Liu X (2010) A study of root water uptake of crops indicated by hydrogen and oxygen stable isotopes: A case in Shanxi Province, China. Agric Water Manag 97:475–482

Wang S, Yuan R, Tang C, Song X, Currell M, Yang Z, Sheng Z (2018) Combination of CFCs and stable isotopes to characterize the mechanism of surface water-groundwater interaction in a headwater basin of the North China Plain. Hydrol Process 32:1571–1587

Wright IA, Davies PJ, Findlay SJ, Jonasson OJ (2011) A new type of water pollution: concrete drainage infrastructure and geochemical contamination of waters. Mar Freshw Res 62:1355–1361

Xing L, Guo H, Zhan Y (2013) Groundwater hydrochemical characteristics and processes along flow paths in the North China Plain. J Asian Earth Sci 70–71:250–264

Yang L, Zhu G, Shi P, Li J, Liu Y, Tong H, Hu P, Liang F, Pan H, Guo H, Zhang Y (2018) Spatiotemporal characteristics of hydrochemistry in Asian arid inland basin-a case study of Shiyang River Basin. Environ Sci Pollut Res 25:2293–2302

Zhang J, Tsujimura M, Song X, Sakakibara K (2016) Using stable isotopes and major ions to investigate the interaction between shallow and deep groundwater in Baiyangdian Lake Watershed, North China Plain. Hydrol Res Lett 10:67–73

Zhang Q, Rodríguez-Lado L, Johnson CA, Xue H, Shi J, Zheng Q, Sun G (2016) Predicting the risk of arsenic contaminated groundwater in Shanxi Province. N China Environ Pollut 165:118
Acknowledgements
This research was supported by the Foundation for Applied Basic Research program, Shanxi Province, China [201901D211388] and the Fund Program for the Scientific Activities of Selected Returned Overseas Professional in Shanxi Province [2020020] and the Research Project Supported by Shanxi Scholarship Council of China [2020-092] and the Key Laboratory of Agricultural Water Resources, the Chinese Academy of Sciences (No. KFKT201904)
Additional information
Publisher's note
Springer Nature remains neutral with regard to jurisdictional claims in published maps and institutional affiliations.
Communicated by H. Babaie
About this article
Cite this article
Sun, C., Chen, W. & Shen, Y. The seasonal and spatial distribution of hydrochemical characteristics of groundwater and its controlling factors in the eastern Loess Plateau. Earth Sci Inform 14, 2293–2308 (2021). https://doi.org/10.1007/s12145-021-00696-1
Received:

Accepted:

Published:

Issue Date:
Keywords
Groundwater

Hydrochemistry

Controlling factors

Surface water-groundwater interaction