Abstract
The online geoprocessing and analysis using state-of-the-art technology are offering automated analytical tools to a large group of users. This paper describes an online geoprocessing and analysis framework, which allows an inexperienced user to perform unsupervised classification of remote sensing data. The parallel computing based geoprocessing and analysis framework adopted in this work has been implemented using Free and Open Source Software for Geospatial (FOSS4G). Web Processing Service (WPS) based geoprocessing framework facilitates the deployment of unsupervised classification algorithm on the web in a standardized way. However, it is dynamic in nature to deploy other geoprocessing algorithms. The developed system describes how to process remote sensing data (Sentinel-2, Landsat-8, etc.) for classification and sharing the interoperable results in a distributed environment. To validate the classification results, a prototype architecture based on participatory GIS is developed for field data collection, accuracy assessment and online dissemination. The accuracy assessment (i.e., overall accuracy, Kappa coefficient) is performed to validate the derived classification results using collected field data.
This is a preview of subscription content, log in to check access.
Access options
Buy single article
Instant access to the full article PDF.
US$ 39.95
Price includes VAT for USA
Subscribe to journal
Immediate online access to all issues from 2019. Subscription will auto renew annually.
US$ 99
This is the net price. Taxes to be calculated in checkout.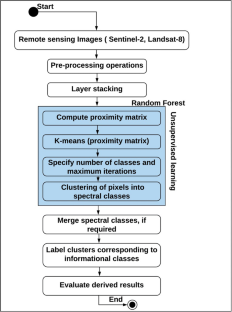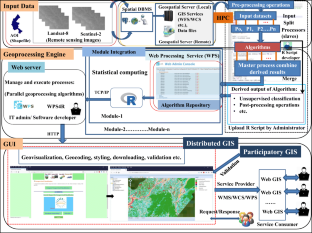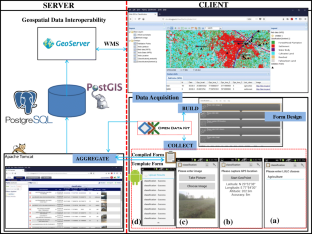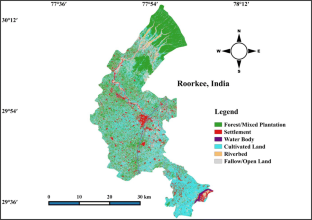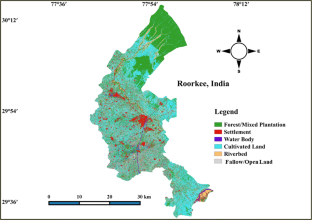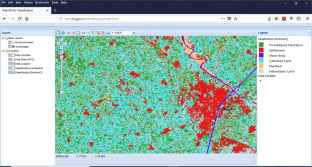 References
Alonso K, Espinoza-Molina D, Datcu M (2017) Multilayer architecture for heterogeneous geospatial data analytics: querying and understanding EO archives. IEEE J Sel Topics Appl Earth Observ Remote Sens 10:1–11

Astsatryan H, Hayrapetyan A, Narsisian W et al (2015) An interoperable web portal for parallel geoprocessing of satellite image vegetation indices. Earth Sci Inf 8:453–460

Bastin L, Buchanan G, Beresford A et al (2013) Open-source mapping and services for web-based land-cover validation. Eco Inform 14:9–16

Brovelli MA, Minghini M, Zamboni G (2008) Web based participatory GIS with data collection on the field - a prototype architecture. OSGEO Journal 13:29–114

Brovelli MA, Minghini M, Zamboni G (2015) Public participation GIS: a FOSS architecture enabling field-data collection. Int J Digital Earth 8:345–363

Castronova AM, Goodall JL, Elag MM (2013) Models as web services using the Open Geospatial Consortium (OGC) Web Processing Service (WPS) standard. Environ Model Softw 41:72–83

Chen Z, Chen N, Yang C, Di L (2012) Cloud computing enabled web processing service for earth observation data processing. IEEE J Sel Topics Appl Earth Observ Remote Sens 5:1637–1649

Dhamaniya A, Sonu M, Krishnanunni M et al (2016) Development of web based road accident data management system in GIS environment: a case study. J Indian Soc Remote Sens 44:789–796

Dubois G, Schulz M, Skoien J et al (2013) eHabitat, a multi-purpose web processing service for ecological modeling. Environ Model Softw 41:123–133

Flanders D, Hall-Beyer M, Pereverzoff J (2003) Preliminary evaluation of eCognition object-based software for cut block delineation and feature extraction. Can J Remote Sens 29:441–452

Giuliani G, Nativi S, Lehmann A, Ray N (2012) WPS mediation: an approach to process geospatial data on different computing backends. Comput Geosci 47:20–33

Haklay M, Singleton A, Parker C (2014) Web Mapping 2 . 0 : The Neogeography of the GeoWeb Web Mapping 2 . 0 : The Neogeography of the GeoWeb. 6:2011–2039

Hinz M, Nüst D, Proß B, Pebesma E (2013) Spatial statistics on the geospatial web. In: 16th AGILE conference on Geographic Information Science. Leuven,Belgium, pp 14–17

Karnatak HC, Shukla R, Sharma VK et al (2012) Spatial mashup technology and real time data integration in geo-web application using open source GIS - a case study for disaster management. Geocarto Int 27:499–514

Karnatak HC, Singh H, Garg RD (2017) Online spatial data analysis and algorithm development for geo-scientific applications using remote sensing data. Proc Natl Acad Sci India Sect. A Phys Sci 87:701–712

Lanig S, Zipf A (2009) Interoperable processing of digital elevation models in grid infrastructures. Earth Sci Inf 2:107–116

Li Z, Yang CP, Wu H et al (2011) An optimized framework for seamlessly integrating OGC web services to support geospatial sciences. Int J Geogr Inf Sci 25:595–613

Long W, Srihann S (2004) Land cover classification of SSC image: unsupervised and supervised classification using ERDAS imagine. In: IEEE International Geoscience and Remote Sensing Symposium, Anchorage, AK, USA, pp 2707–2712

Maisonneuve N, Stevens M, Ochab B (2010) Participatory noise pollution monitoring using mobile phones. Inf Polity 15:51–71

Maulik U, Sarkar A (2012) Efficient parallel algorithm for pixel classification in remote sensing imagery. GeoInformatica 16:391–407

Michaelis CD, Ames DP (2009) Evaluation and implementation of the OGC web processing service for use in client-side GIS. GeoInformatica 13:109–120

O'Reilly T (2007) What is web 2.0: design patterns and business models for the next generation of software. Commun Strateg 1:17

Porta J, Parapar J, García P et al (2013) Web-GIS tool for the management of rural land markets: application to the land Bank of Galicia (NWSpain). Earth Sci Inf 6:209–226

Qin CZ, Zhan LJ, Zhu AX, Zhou CH (2014) A strategy for raster-based geocomputation under different parallel computing platforms. Int J Geogr Inf Sci 28:2127–2144

Quirita VAA, Da Costa GAOP, Happ PN et al (2016) A new cloud computing architecture for the classification of remote sensing data. IEEE J Sel Topics Appl Earth Observ Remote Sens 10:409–416

R Development Core Team (2016). R: A language and environment for statistical computing. R Foundation for Statistical Computing, Vienna, Austria. http://www.R-project.org/

Rathore DS, Chalisgaonkar D, Pandey RP et al (2010) A web GIS application for dams and drought in India. J Indian Soc Remote Sens 38:670–673

Rautenbach V, Coetzee S, Iwaniak A (2013) Orchestrating OGC web services to produce thematic maps in a spatial information infrastructure. Comput Environ Urban Syst 37:107–120

Singh H, Garg RD (2016) Web 3D GIS application for flood simulation and querying through open source technology. J Indian Soc Remote Sens 44:485–494

Singh H, Karnatak HC, Garg RD (2017) An automated and optimized approach for online spatial biodiversity model: a case study of OGC web processing service. Geocarto Int 6049:1–21

Smits PC, Dellepiane SG, Schowengerdt RA (1999) Quality assessment of image classification algorithms for land-cover mapping: a review and a proposal for a cost-based approach. Int J Remote Sens 20:1461–1486. https://doi.org/10.1080/014311699212560

Sun Z, Fang H, Di L et al (2016) Developing a web-based system for supervised classification of remote sensing images. GeoInformatica 20:629–649

Yue P, Guo X, Zhang M et al (2016) Linked data and SDI: the case on web geoprocessing workflows. ISPRS J Photogramm Remote Sens 114:245–257

Zehtabian A, Ghassemian H (2017) An adaptive framework for spectral-spatial classification based on a combination of pixel-based and object-based scenarios. Earth Sci Inf 10:357–368
Acknowledgements
The first author would like to acknowledge MHRD, Govt. of India for providing the financial assistantship during the research and also want to extend his sincere thanks to IIRS/ISRO, Dehradun for their help in offering the resources in running the program. Thanks to Dr. S.K. Srivastav, dean (academics), IIRS/ISRO for their encouragement and technical support for this research study. Authors express their special thanks to Dr. A. Senthil Kumar, former Director IIRS/ISRO for sharing his overall suggestions to develop this web application.
Additional information
Publisher's note
Springer Nature remains neutral with regard to jurisdictional claims in published maps and institutional affiliations.
Communicated by: H. A. Babaie
About this article
Cite this article
Singh, H., Garg, R.D. & Karnatak, H.C. Online image classification and analysis using OGC web processing service. Earth Sci Inform 12, 307–317 (2019). https://doi.org/10.1007/s12145-019-00378-z
Received:

Accepted:

Published:

Issue Date:
Keywords
Distributed GIS

Parallel computing

Unsupervised classification

Web processing service

Participatory GIS