Abstract
Maritime Border Collision is one of the vital concerns in coastal states since the maritime boundaries of any two countries cannot be identified easily during fishing. Maritime domain awareness and the border line control are the essential requirement which happens via recognition, and observing of boats inside their country boundary. It is necessary to identify the maritime border and alert the fisherman during the fishing. In this paper, we propose an Automatic Identification System (AIS) which can protect fishermen by notifying the country's border. If they are nearing towards the International Maritime Border Line (IMBL), an alert will be sent to coast guards via VHF set. Using the inbuilt GPS, AIS can find the location and transmits to the embedded systems, which gathers the recent position by comparing autonomy and longitudinal values with the existing assessment. The proposed system is validated under a case study in the maritime border between India and Sri Lanka, which is identified as Gulf of Mannar. It has been revealed that fishermen can aware that they are about to near the nautical border by means of visual and audio alert. Then, protectors in the coast preserve support and afford supplementary assist to those fishermen. This system also provides collision avoidance by using AIS/ ultrasonic sensors. It has better performance than the relevant methods such as RF (Charan et al. 2016), ECDIS (Vanparia and Ghodasara, International Journal of Computer Applications & Information Technology, 1:58–64, 2014), Android (Kumar et al. 2016), GSM and GPS (Sivagnanam et al., International Journal of Innovative Research in Advanced Engineering (IJIRAE), 2:124–132, 2015).
Access options
Buy single article
Instant access to the full article PDF.
USD 39.95
Price includes VAT (USA)
Tax calculation will be finalised during checkout.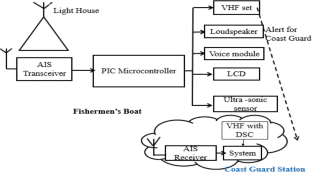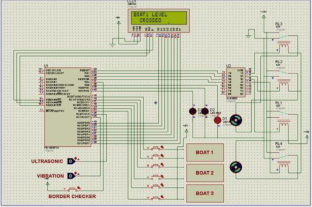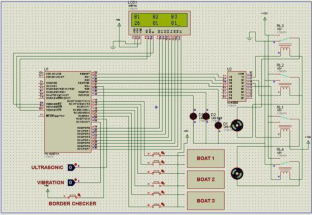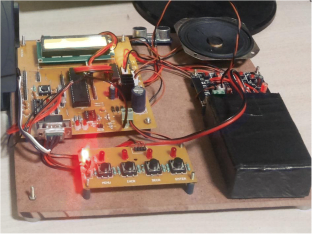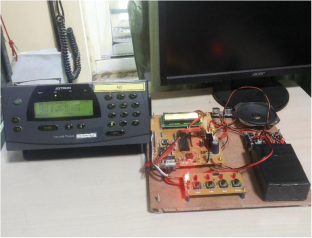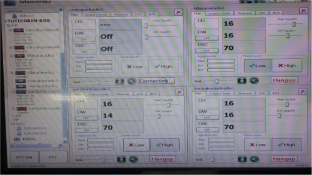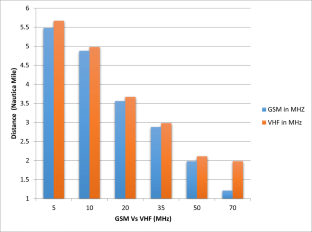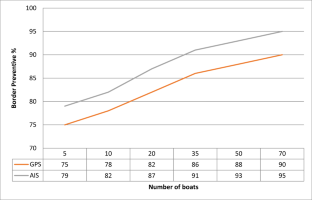 References
Amal L, Son LH, Chabchoub H (2018) SGA: spatial GIS-based genetic algorithm for route optimization of municipal solid waste collection. Environ Sci Pollut Res 25(27):27569–27582

Amarasinghe O, Bavinck M (2017) Furthering the implementation of the small-scale fisheries guidelines: strengthening fisheries cooperatives in Sri Lanka. In: The small-scale fisheries guidelines. Springer, Cham, pp 379–399

Asha-Rose M (2017) Maritime safety and security in Tanzania: challenges and opportunities. 1st International Symposium on Land and Maritime Border Security and Safety, Saudi Arabia, pp 72–79

Balakrishnan NRS, Arunkumar R (2018) Smart real time rescue system for fishermen. Pak J Biotechnol 15(1):73–75

Beckman RC (2017) The China-Philippines dispute in the South China Sea: does Beijing have a legitimate claim? In: The South China sea disputes: flashpoints, turning points and trajectories, pp 23–26

Binder C (2017) Border disputes through ill-defined borders: maritime territorial conflicts and their impact on security. In: Border politics. Springer, Cham, pp 33–50

Boulila W, Farah IR, Hussain A (2018) A novel decision support system for the interpretation of remote sensing big data. Earth Sci Inf 11(1):31–45

Bunholi IV, da Silva Ferrette BL, De Biasi JB, de Oliveira Magalhães C, Rotundo MM, Oliveira C et al (2018) The fishing and illegal trade of the angelshark: DNA barcoding against misleading identifications. Fish Res 206:193–197

Charan AS, Srinivasaverma VSM, Mahammad N (2016) Lifeline system for Fisherman. Springer India. Microelectronics, Electromagnetics and Telecommunications. https://doi.org/10.1007/978-81-322-2728-1_55

Charles J, et al (2016) Alert system for fishermen crossing border using android. International Conference on Electrical, Electronics and optimization Techniques (ICEEOT)-2016, pp 245–256

Chatterjee JM, Son LH, Ghatak S, Kumar R, Khari M (2018) BitCoin exclusively informational money: a valuable review from 2010 to 2017. Qual Quant 52(5):2037–2054

Chen Z, Xue J, Wu C, Qin L, Liu L, Cheng X (2018) Classification of vessel motion pattern in inland waterways based on Automatic Identification System. Ocean Eng 161:69–76

Chuan PM, Son LH, Ali M, Khang TD, Dey N (2018) Link prediction in co-authorship networks based on hybrid content similarity metric. Appl Intell 48(8):2470–2486

Churchill RR (2018) Maritime boundary problems in the Barents Sea. In: Routledge revivals: maritime boundaries and ocean resources (1987). Routledge, Abingdon, pp 147–161

De Lessio MP, Wynn DC, Clarkson PJ (2017) Modelling the planning system in design and development. Res Eng Des:1–23

Eman HM, Alkhammash, Tahani MS (2017) A survey on the use of technologies in the context of border safety and security. 1st International Symposium on Land and Maritime Border Security and Safety, Saudi Arabia, pp 89–96

Giap CN, Son LH, Chiclana F (2018) Dynamic structural neural network. J Intell Fuzzy Syst 34:2479–2490

Goudossis A, Katsikas SK (2018) Towards a secure automatic identification system (AIS). J Mar Sci Technol. https://doi.org/10.1007/s00773-018-0561-3

Jeandesboz J (2017) European border policing: EUROSUR, knowledge, calculation. Global Crime 18(3):256–285

Kapoor R, Gupta R, Kumar R, Son LH, Jha S (2018a) New scheme for underwater acoustically wireless transmission using direct sequence code division multiple access in MIMO systems. Wirel Netw:1–13. https://doi.org/10.1007/s11276-018-1750-z

Kapoor R, Gupta R, Son LH, Jha S, Kumar R (2018b) Boosting performance of power quality event identification with KL divergence measure and standard deviation. Measurement 126:134–142

Kapoor R, Gupta R, Son LH, Jha S, Kumar R (2018c) Detection of power quality event using histogram of oriented gradients and support vector machine. Measurement 120:52–75

Kowsalya G, Palani U, Hemalatha P (2017) An innovative android application for maritime border alert system. Adv Nat Appl Sci 11(7):384–391

Kumar N, Ranjith R (2014) Border alert and smart tracking system with alarm using DGPS and GSM. International Journal of Emerging Technology in Computer Science & Electronics (IJETCSE) 8(1):78–84

Kumar RD, Aldo MS, Joseph JCF (2016) Alert system for fishermen crossing border using Android. In Electrical, Electronics, and Optimization Techniques (ICEEOT), International Conference on, pp 4791–4795. IEEE

Kumar R, Son LH, Jha S, Mittal M, Goyal LM (2018) Spatial data analysis using association rule mining in distributed environments: a privacy prospect. Spatial Information Research:1–10. https://doi.org/10.1007/s41324-018-0207-x

Lampert T (2017) Stopping illegal fishing and seafood fraudsters: the presidential task force's plan on tackling IUU fishing and seafood fraud. BCL Rev 58:1629

Lim K (2017) The role of the international maritime organization in preventing the pollution of the world's oceans from ships and shipping. UN Chron 54(2):52–54

Louati A, Son LH, Chabchoub H (2018) Smart routing for municipal solid waste collection: a heuristic approach. J Ambient Intell Humaniz Comput:1–20. https://doi.org/10.1007/s12652-018-0778-3

Ngan RT, Son LH, Cuong BC, Ali M (2018) H-max distance measure of intuitionistic fuzzy sets in decision making. Appl Soft Comput 69:393–425

Nguyen HT (2017) China's "historical evidence": Vietnam's position on South China Sea. In: The South China sea disputes: flashpoints, turning points and trajectories, pp 243–246

Olivier Y (2017) Blue border Security. 1st International Symposium on Land and Maritime Border Security and Safety, Saudi Arabia, pp 64–71

Page CE (2017) Maximizing maritime safety and environmental protection with AIS: (Automatic identification system). OCEANS–Anchorage, 2017, pp78–85, IEEE

Praczyk T (2018) A quick algorithm for horizon line detection in marine images. J Mar Sci Technol 23(1):164–177

Proud R, et al (2017) Small vessel tracking using AIS for enhanced maritime domain awareness. OCEANS–Anchorage, 2017, pp. 147–155, IEEE

Reza Y, Mason R (2015) An energy-efficient transceiver architecture for short range wireless sensor applications. In IEEE Radio and Wireless Symposium, pp 458–461, IEEE

Rosello M (2017) Cooperation and unregulated fishing: interactions between customary international law, and the European Union IUU fishing regulation. Mar Policy 84:306–312

Saravanan K (2017) Cloud robotics: robot rides on the cloud – architecture, applications, and challenges. In: Kumar R, Pattnaik P, Pandey P (eds) Detecting and mitigating robotic cyber security risks. IGI Global, Hershey, pp 261–274. https://doi.org/10.4018/978-1-5225-2154-9.ch017

Saravanan K, Srinivasan P (2018) Examining IoT's applications using cloud services. In: Tomar P, Kaur G (eds) Examining cloud computing technologies through the internet of things. IGI Global, Hershey, pp 147–163. https://doi.org/10.4018/978-1-5225-3445-7.ch008

Saravanan K, Anusuya E, Kumar R, Son LH (2018) Real-time water quality monitoring using internet of things in SCADA. Environ Monit Assess 190(9):556

Singh DK, Kushwaha DS (2017) Automatic intruder combat system: a way to smart border surveillance. Def Sci J 67(1):50

Singh K, Singh K, Son LH, Aziz A (2018) Congestion control in wireless sensor networks by hybrid multi-objective optimization algorithm. Comput Netw 138:90–107

Sivagnanam G et al (2015) Coast guard alert and rescue system for international maritime line crossing of fisherman. International Journal of Innovative Research in Advanced Engineering (IJIRAE) 2(2):124–132

Son LH, Jha S, Kumar R, Chatterjee JM, Khari M (2018a) Collaborative handshaking approaches between internet of computing and internet of things towards a smart world: a review from 2009–2017. Telecommun Syst:1–18. https://doi.org/10.1007/s11235-018-0481-x

Son LH, Chiclana F, Kumar R, Mittal M, Khari M, Chatterjee JM, Baik SW (2018b) ARM–AMO: an efficient association rule mining algorithm based on animal migration optimization. Knowl-Based Syst 154:68–80

Tam NT, Hai DT, Son LH, Vinh LT (2018) Improving lifetime and network connections of 3D wireless sensor networks based on fuzzy clustering and particle swarm optimization. Wirel Netw 24(5):1477–1490

Tsiotas D (2017) The imprint of tourism on the topology of maritime networks: evidence from Greece. Anatolia 28(1):52–68

Vanparia P, Ghodasara YR (2014) Review paper on to study and enhance coastal security system using GIS/GPS tool. International Journal of Computer Applications & Information Technology 1:58–64

Viji C et al (2017) Literature review on alert system for fishermen border crossing. Asian Journal of Applied Science and Technology (AJAST) 1(1):34–37

Vintilă DF, Filip C, Stan MI, Ţenea DD (2017). Considerations regarding a sustainable economicdevelopment in the romanian black sea coastal area in the context of maritime spatial planning (MSP). In International Conference on Management and Industrial Engineering (8, pp. 667–675). Niculescu Publishing House, București

Vivek S, Venkatraman A, Aravinth L, Raagul G (2015) Automatic border crossing detection and navigation of boat. International Journal of Science Technology & Engineering 1(8):21–29

Yin Y, Lam JSL, Tran NK (2017) Review of Emission Accounting Models in the Maritime Industry. In Meeting the Energy Demands of Emerging Economies, 40th IAEE International Conference, June 18–21, 2017. International Association for Energy Economics
Ethics declarations
Conflict of interests
The authors declare that they do not have any conflict of interests.
Additional information
Communicated by: H. A. Babaie
About this article
Cite this article
Saravanan, K., Aswini, S., Kumar, R. et al. How to prevent maritime border collision for fisheries?-A design of Real-Time Automatic Identification System. Earth Sci Inform 12, 241–252 (2019). https://doi.org/10.1007/s12145-018-0371-5
Received:

Accepted:

Published:

Issue Date:
Keywords
Automatic Identification System

Embedded system

VHF set

MMSI

Coast guard station

Fisheries GPS