Abstract
The DigitalOcean (DO) Project is designed to bring essential Web 2.0 capabilities to an open-source software platform built for scientific collaboration and publishing. The DO platform is being built using the Drupal content management system (CMS). The following are some of the core features of the proposed platform: social networking, media/data sharing/publishing, and collaboration spaces for scientific virtual organizations (VO); active support for VO governance and reputation systems for members and objects; Creative Commons licensing, support for preprint archives and micro-articles, and; professional user-profiles that can be saved as well formatted biosketches. The DO platform serves as a collaboration environment for active research teams, a personal repository for individual researchers, an aggregation/filter for science information, and a scientific publishing tool. This article will outline the history and goals of the DO Project, the core technology concerns and solutions, and the opportunities that this new platform will bring to scientists across the planet.
This is a preview of subscription content, log in to check access.
Access options
Buy single article
Instant access to the full article PDF.
US$ 39.95
Price includes VAT for USA
Subscribe to journal
Immediate online access to all issues from 2019. Subscription will auto renew annually.
US$ 99
This is the net price. Taxes to be calculated in checkout.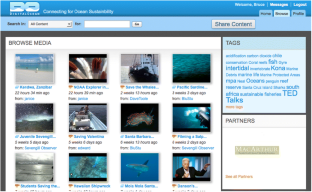 References
Calhoun C (1992) Introduction. In: Calhoun C (ed) Habermas and the public sphere. MIT Press, Cambridge

Caron B (2003) Community, democracy and performance: the urban practice of Kyoto's Higashi-Kujo Madang. Santa Barbara: The New Media Studio. http://junana.com/CDP/corpus/index.html

Caron B (2010, April) Post-publication peer review in the digital age: building a scientific publishing reputation economy using digital badges [internet]. Version 7. Knol. Available from: http://knol.google.com/k/bruce-caron/post-publication-peer-review-in-the/2l8t3cliewok9/45

Dahlberg L (2001) Computer-mediated communication and the public sphere. J Comput-Mediat Comm 7(1)

ESIP Federation (2000) Constitution and bylaws. http://archive.esipfed.org/business/governance/index.html

Gahegan M, Luo J, Weaver S, Pike W, Banchuen T (2008, December) Connecting GEON: making sense of the myriad resources, researchers and concepts that comprise a geoscience cyberinfrastructure. Comput Geosci

Giddens A (1994) Beyond left and right—the future of radical politics. Polity, Cambridge

Goodchild MF (2007, December) Citizens as sensors: the world of volunteered geography. http://www.ncgia.ucsb.edu/projects/vgi/docs/position/Goodchild_VGI2007.pdf

Hammond T, Hannay T, Lund B, Scott J (2005, April) Social bookmarking tools (I). D-Lib Mag 11(04). http://www.dlib.org/dlib/april05/hammond/04hammond.html#_jmp0_

Heinz M, Rice RE (2009) An integrated model of knowledge sharing in contemporary communication environments. In: Beck C (ed) Communication yearbook, 33. Routledge, London, pp 172–195

Hsieh T (2010) Delivering happiness: a path to profits, passion, and purpose. Business Plus, New York

Hunt T (2008) Happiness as your business model. [Ppt]. http://www.slideshare.net/missrogue/happiness-as-your-business-model-414463. Creative Commons Licenced

Hunt T (2009) The whuffie factor: using the power of social networks to build your business. Crown Business, New York

Jarvenpaa SL, Leidner DE (1999) Communication and trust in global virtual teams. Organ Sci 10(6):791–815

Khoo M, Devaul H, Sumner T (2002) Functional requirements for groupware to support community-led collections building. In: Agosti M, Thanos C (Eds.) Proceedings of the Sixth European Conference on Digital Libraries, Rome, September 16–18, 2002. Heidelberg: Springer. (Lecture Notes in Computer Science, No. 2458) pp. 190–3

Locke C, Levine R, Searls D, Weinberger D (2001, January) The cluetrain manifesto: the end of business as usual. Perseus Books Group

McLure-Wasko M, Samer F (2005) "Why should I share? examining social capital and knowledge contribution in electronic networks of practice." MIS Q (29: 1)

Monge P, Desanctis G (1998) Communication processes for virtual organizations. J Comput-Mediat Comm 3(4)

National Science Foundation (2008) Beyond being there: a blueprint for advancing the design, development, and evaluation of virtual organizations. The final report from the workshops on Building Effective Virtual Organizations. Available From: http://www.ci.uchicago.edu/events/VirtOrg2008/

NSDL (2001) Pathways to progress: vision and plans for developing the NSDL. http://doclib.comm.nsdlib.org/PathwaysToProgress.pdf

NSF Advisory Committee for Cyberinfrastructure Task Force on Campus Bridging (2011) Final report. March 2011. Available from: http://www.nsf.gov/od/oci/taskforces/TaskForceReport_CampusBridging.pdf

Rhoten D (2003) A multi-method analysis of the social and technical conditions for interdisciplinary collaboration: final report. The Hybrid Vigor Institute, San Francisco

Shirky C (2008) Here comes everybody: the power of organizing without organizations. Penguin, New York

Wiesenfeld BM, Raghuram S, Garud R (1999) Communication patterns as determinants of organizational identification in a virtual organization. Organ Sci 10(6):777–790
Acknowledgements
To date, activities of the DigitalOcean project have been funded by the Paul G. Allen Family Foundation, Outhink Media, Inc., the John D. & Catherine T. MacArthur Foundation, the David & Diane Toole Foundation, the Toole Family Foundation, Oracle, Inc., Sony Pictures Entertainment, and Google, Inc., with other contributions from UC Santa Barbara (especially the Carsey-Wolf Center and the Bren School of Environmental Science & Management) and the New Media Research Institute. The Drupal code base is in active development and will be made available (most likely on Github) and seeded back into Drupal open-source repositories.
Additional information
Communicated by: R. Ramachandran
About this article
Cite this article
Caron, B., Toole, D., Wicks, P. et al. DigitalOcean: building a platform for scientific collaboration and social and media sharing on the Drupal content management system. Earth Sci Inform 4, 191–196 (2011). https://doi.org/10.1007/s12145-011-0090-7
Received:

Accepted:

Published:

Issue Date:
Keywords
Drupal

Social network

Social media

Reputation system

Virtual organization

Governance

Open access

Open source