Abstract
Arguably, one's feeling of desperation is important in decision-making, especially in high stress situations. However, this is an assumption, as there is no known measure of desperation, outside of being symptomology for other health related constructs (e.g., depression). Through a series of studies, we created and validated a measure of state desperation. Exploratory and confirmatory factor analyses suggest that the State Desperation Scale contains two components that encompass both emotional and motivational aspects. In the first study, we showed that scores on the measure positively correlate with other negative state-based constructs, such as stress, anxiety, low self-esteem, and coping strategies, and negatively correlate with positive affect. We replicate these patterns over three samples. Finally, in an experimental study, we manipulated desperation to show that it is state-based, but also distinct from stress or anxiety. Analyses indicate the measure is reliable, content valid, and provides evidence of convergent and discriminant validity. We conclude the State Desperation Scale adequately measures the emotional and motivational components of desperation.
Access options
Buy single article
Instant access to the full article PDF.
USD 39.95
Price excludes VAT (USA)
Tax calculation will be finalised during checkout.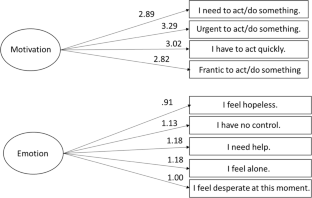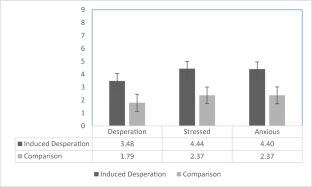 Notes
It should be noted that per reviewer requests, additional CFAs were analyzed on Sample 3, as well as Samples 2 and 3 combined. The results were similar. The results can be found on the OSF website.
References
Apter, M. J. (1992). The dangerous edge: The psychology of excitement. Free Press.

Baker, P. (2002). In struggling Moldova, desperation drives decisions: Europe's poorest country is major source of human organ sellers and women lured to sexual slavery. Washington Post, A14. Retrieved from https://www.washingtonpost.com/archive/politics/2002/11/07/in-struggling-moldovadesperation-drives-decisions/da2d9587-1828-471c-8f41-8bbb1fd9b392/.

Carlson, B. E. (1997). A stress and coping approach to intervention with abused women. Family Relations, 291–298. https://doi.org/10.2307/585127.

Carver, C. S. (1997). You want to measure coping but your protocol's too long: Consider the brief cope. International Journal of Behavioral Medicine, 4, 92–100.

Cohen, J. (1992). A power primer. Psychological Bulletin, 112(1), 155–159.

Cohen, S., Kamarck, T., & Mermelstein, R. (1983). A global measure of perceived stress. Journal of Health and Social Behavior, 24, 385–396.

Costello, A. B., & Osborne, J. W. (2005). Best practices in exploratory factor analysis: Four recommendations for getting the most from your analysis. Practical Assessment, Research & Evaluation, 10(7), 1–9.

de Haes, J. C. J. M., van Knippenberg, F. C. E., & Neijt, J. P. (1990). Measuring psychological and physical distress in cancer patients: Structure and application of the Rotterdam symptom checklist. British Journal of Cancer, 62, 1034–1038.

DeCoster, J. (2005). Scale Construction Notes. Retrieved September, 7, 2017 from http://www.stat-help.com/notes.html.

Fearon, R. P., Bakermans-Kranenburg, M. J., Van IJzendoorn, M. H., Lapsley, A. M., & Roisman, G. I. (2010). The significance of insecure attachment and disorganization in the development of children's externalizing behavior: A meta-analytic study. Child Development, 81(2), 435–456.

Garlow, S. J., Rosenberg, J., Moore, J. D., Haas, A. P., Koestner, B., Hendin, H., & Nemeroff, C. B. (2008). Depression, desperation, and suicidal ideation in college students: Results from the American Foundation for Suicide Prevention College screening project at Emory University. Depression and Anxiety, 25(6), 482–488.

Heatherton, T. F., & Polivy, J. (1991). Development and validation of a scale for measuring state self-esteem. Journal of Personality and Social Psychology, 60(6), 895–910.

Hendin, H., Maltsberger, J. T., Haas, A. P., Szanto, K., & Rabinowicz, H. (2004). Desperation and other affective states in suicidal patients. Suicide and Life-threatening Behavior, 34(4), 386–394.

Hillbrand, M., & Young, J. L. (2008). Instilling hope into forensic treatment: The antidote to despair and desperation. Journal of the American Academy of Psychiatry and the Law Online, 36(1), 90–94.

Hinkin, T. R. (1998). A brief tutorial on the development of measures for use in survey questionnaires. Organizational Research Methods, 1, 104–121. https://doi.org/10.1177/109442819800100106.

Kashdan, T. B., & Steger, M. F. (2006). Expanding the topography of social anxiety: An experience sampling assessment of positive emotions and events, and emotion suppression. Psychological Science, 17, 120–128.

Kenny, D. A., Kaniskan, B., & McCoach, D. B. (2015). The performance of RMSEA in models with small degrees of freedom. Sociological Methods & Research, 44(3), 486–507.

Kline, R. B. (2011). Convergence of structural equation modeling and multilevel modeling. New York: Guilford Press.

McDonald, R. P., & Moon-Ho, R. H. (2002). Principles and practice in reporting structural equation analyses. Psychological Methods, 7, 64–82.

Prinstein, M. J., Boergers, J., & Spirito, A. (2001). Adolescents' and their friends' health-risk behavior: Factors that alter or add to peer influence. Journal of Pediatric Psychology, 26(5), 287–298.

Rosenthal, R. J. (1992). Pathological gambling. Psychiatric Annals, 22(2), 72–78.

Shapiro, J., & Lie, D. (2004). A comparison of medical students' written expressions of emotion and coping and standardized patients' ratings of student professionalism and communication skills. Medical Teacher, 26(8), 733–735.

Sperling, M. B. (1985). Discriminant measures for desperate love. Journal of Personality Assessment, 49, 324–328.

Tay, L., & Jebb, A. (2017). Scale Development. In S. Rogelberg (Ed.), The SAGE encyclopedia of industrial and organizational psychology (2nd ed.). Thousand Oaks: Sage.

Tazegül, Ü. (2013). The determination of the relationship between motivational trends and the style of coping with stress. World Applied Sciences Journal, 21, 8–14.

Tracy, J. L., & Robins, R. W. (2003). "Death of a (narcissistic) salesman": An integrative model of fragile self-esteem. Psychological Inquiry, 14, 57–62.

Wann, D. L., Grieve, F. G., Zapalac, R. K., Lanter, J. R., Partridge, J. A., Short, S. E., Parker, P. M., & Short, M. (2011). What would you do for a championship: Willingness to consider acts of desperation among Major League Baseball fans. In B. D. Geranto (Ed.), Sport psychology (pp. 161–173). Hauppauge: Nova.

Watson, D., Clark, L. A., & Tellegen, A. (1988). Development and validation of brief measures of positive and negative affect: The PANAS scales. Journal of Personality and Social Psychology, 54(6), 1063–1070.

Zuckerman, M. (1960). The development of an affect adjective check list for the measurement of anxiety. Journal of Consulting Psychology, 24(5), 457–462.
Ethics declarations
Conflict of Interest
The authors declare that they have no conflict of interest.
Statement of Interest
No potential conflict of interest is reported by the authors. In accordance with APA policy and my ethical obligation as a researcher, I am reporting that I have no financial and/or business interests in, nor am I a consultant to any company that may be affected by the research reported in the enclosed paper.
Public Significance Statement
Through a series of studies and analyses, we developed and validated a measure of desperation. The State Desperation Scale adequately measures the emotional and motivational components of feeling desperate.
Additional information
Publisher's Note
Springer Nature remains neutral with regard to jurisdictional claims in published maps and institutional affiliations.
Appendix
Appendix
The State Desperation Scale
Please answer the questions below, be as honest as possible and make your best estimate.
Does not describe

at all

 
 
 
 
 
 
 
 

Describes Very well

0

1

2

3

4

5

6

7

8

9

1. At this moment, I feel hopeless.

2. At this moment, I feel as though I need to act/do something.

3. At this moment, I feel as though I have no control.

4. At this moment, I feel as though I need help.

5. At this moment, I feel alone.

6. At this moment, I feel as though it is urgent to act/do something.

7. At this moment, I feel as though I have to act quickly.

8. At this moment, I feel frantic to act/do something.

9. How desperate do you feel at this moment?
About this article
Cite this article
Hannan, C.E., Hackathorn, J. Desperate times call for a desperate measure: Validating a measure of state desperation. Curr Psychol 41, 4490–4500 (2022). https://doi.org/10.1007/s12144-020-00961-4
Published:

Issue Date:

DOI: https://doi.org/10.1007/s12144-020-00961-4
Keywords