Abstract
Insecure attachment is associated with an insensitive attentional processing of infant emotions, whereas secure attachment is more sensitive to perceiving infant signals. Regardless, whether exposure to reminders of insecure attachment can influence the attention processing of infant faces in securely and insecurely attached women remains unclear. The present study investigated the electrophysiological mechanism involved in attention function when preceded by insecurity primes. By means of ECR, we selected 21 nulliparous women with a secure attachment, 20 with an avoidant attachment, and 20 with an anxious attachment. Our results suggested that securely attached women allocated more attention resources to infant emotions, which was reflected by increased N1 and P2 amplitudes under insecurity primes. In contrast, insecurity primes led to the suppression of early selective attention (lower N1 amplitude) and later controlled attention (lower P3 amplitude) to infant emotions in both anxiously and avoidantly attached women. Furthermore, we also observed the inhibition of attentional processing (reflected by the P2 amplitude) in avoidantly attached women, who attended infant emotions under neutral primes but avoided them under insecurity primes. In conclusion, the present study implies that insecurity primes may push insecurely attached women to exhibit an insensitive attentional processing while elevating the allocation of attention resources to infant emotions in securely attached women.
Access options
Buy single article
Instant access to the full article PDF.
US$ 39.95
Tax calculation will be finalised during checkout.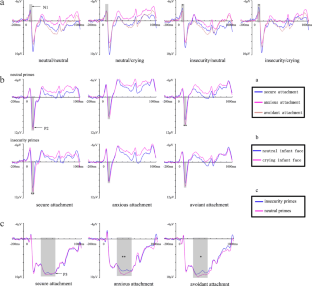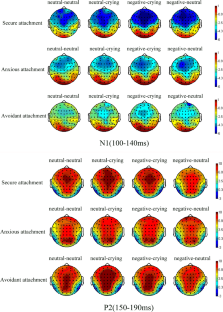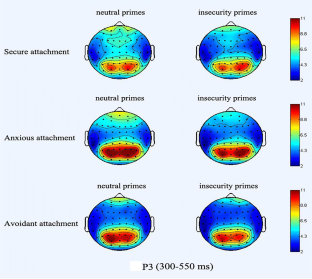 References
Amodio, D. M. (2010). Coordinated roles of motivation and perception in the regulation of intergroup responses: Frontal cortical asymmetry effects on the P2 event-related potential and behavior. Journal of Cognitive Neuroscience, 22(11), 2609–2617.

Baldwin, M. W., Keelan, J. P. R., Fehr, B., Enns, V., & Koh-Rangarajoo, E. (1996). Social-cognitive conceptualization of attachment working models: Availability and accessibility effects. Journal of Personality and Social Psychology, 71(1), 94–109.

Beck, L., & Madresh, E. A. (2008). Romantic partners and four-legged friends: An extension of attachment theory to relationships with pets. Anthrozoös, 21(1), 43–56.

Bick, J., Dozier, M., Bernard, K., Grasso, D., & Simons, R. (2013). Foster mother–infant bonding: Associations between foster mothers' oxytocin production, electrophysiological brain activity, feelings of commitment, and caregiving quality. Child Development, 84(3), 826–840.

Bowlby, J. (1980). Attachment and loss: Loss, sadness and depression (Vol. 3). New York: Basic Books.

Brosch, T., Sander, D., & Scherer, K. R. (2007). That baby caught my eye attention capture by infant faces. Emotion, 7(3), 685–689.

Chavis, J. M., & Kisley, M. A. (2012). Adult attachment and motivated attention to social images: Attachment-based differences in event-related brain potentials to emotional images. Journal of Research in Personality, 46(1), 55–62.

Cheng, G., Zhang, D. J., Guan, Y. S., & Chen, Y. H. (2015). Preliminary establishment of the standardized Chinese infant facial expression of emotion. Chinese Mental Health Journal, 29, 406–412.

Dan, O., & Raz, S. (2012). Adult attachment and emotional processing biases: An event-related potentials (ERPs) study. Biological Psychology, 91(2), 212–220.

Eimer, M. (2000). The face-specific N170 component reflects late stages in the structural encoding of faces. Neuroreport, 11, 2319–2324.

Eimer, M., & Holmes, A. (2002). An ERP study on the time course of emotional face processing. Neuroreport: For Rapid Communication of Neuroscience Research, 13(4), 427–431.

Felmingham, K. L., Bryant, R. A., & Gordon, E. (2003). Processing angry and neutral faces in post-traumatic stress disorder: An event-related potentials study. Neuroreport: For Rapid Communication of Neuroscience Research, 14(5), 777–780.

Fraedrich, E. M., Lakatos, K., & Spangler, G. (2010). Brain activity during emotion perception: The role of attachment representation. Attachment & Human Development, 12(3), 231–248.

Fraley, R. C., & Waller, N. G. (1998). Adult attachment patterns: A test of the typological model. In J. A. Simpson & W. S. Rhodes (Eds.), Attachment theory and close relationships (pp. 77–114). New York: Guilford Press.

Gander, M., & Buchheim, A. (2015). Attachment classification, psychophysiology and frontal EEG asymmetry across the lifespan: A review. Frontiers in Human Neuroscience, 79(9), 1–16.

George, C., & Solomon, J. (1999). Attachment and caregiving: The caregiving behavioral system, in Handbook of Attachment: Theory, Research, and Clinical Applications, eds J. Cassidy and P. R. Shaver (New York, NY: Guilford Press), 649–670.

Grossmann, K. E., Grossmann, K., & Waters, E. (Eds.). (2006). Attachment from infancy to adulthood: The major longitudinal studies. Guilford Press.

Herrmann, M. J., Schreppel, T., Jäger, D., Koehler, S., Ehlis, A. C., & Fallgatter, A. J. (2007). The other-race effect for face perception: An event-related potential study. Journal of Neural Transmission, 114(7), 951–957.

Kanske, P., Plitschka, J., & Kotz, S. A. (2011). Attentional orienting towards emotion: P2 and N400 ERP effects. Neuropsychologia, 49(11), 3121–3129.

Lenzi, D., Trentini, C., Pantano, P., Macaluso, E., Lenzi, G. L., & Ammaniti, M. (2013). Attachment models affect brain responses in areas related to emotions and empathy in nulliparous women. Human Brain Mapping, 34(6), 1399–1414.

Leyh, R., Heinisch, C., Kungl, M. T., & Spangler, G. (2016). Attachment representation moderates the influence of emotional context on information processing. Frontiers in Human Neuroscience, 10.

Li, T. G., & Kato, K. (2006). Measuring adult attachment: Chinese adaptation of the ECR scale. Acta Psychologica Sinica, 38(3), 399–406.

Liu, Y., Chen, X., Zhai, J., Tang, Q., & Hu, J. (2016). Development of the attachment affective picture system. Social Behavior and Personality, 44(9), 1565–1574.

Luo, W., Feng, W., He, W., Wang, N. Y., & Luo, Y. J. (2010). Three stages of facial expression processing: ERP study with rapid serial visual presentation. Neuroimage, 49(2), 1857–1867.

Ma, Y., Ran, G., Chen, X., Ma, H., & Hu, N. (2017). Adult Attachment Styles Associated with Brain Activity in Response to Infant Faces in Nulliparous Women: An Event-Related Potentials Study. Frontiers in Psychology, 8.

Maupin, A. N., Hayes, N. J., Mayes, L. C., & Rutherford, H. J. (2015). The application of electroencephalography to investigate the neural bases of parenting: A review. Parenting, 15(1), 9–23.

Mikulincer, M., Gillath, O., & Shaver, P. R. (2002). Activation of the attachment system in adulthood: Threat-related primes increase the accessibility of mental representations of attachment figures. Journal of Personality and Social Psychology, 83(4), 881–895.

Niedenthal, P. M., Brauer, M., Robin, L., & Innes-Ker, Å. H. (2002). Adult attachment and the perception of facial expression of emotion. Journal of Personality and Social Psychology, 82(3), 419–433.

Polich, J. (2007). Updating P300: An integrative theory of P3a and P3b. Clinical Neurophysiology, 118(10), 2128–2148.

Ran, G., Chen, X., & Pan, Y. (2014). Human sex differences in emotional processing of own-race and other-race faces. Neuroreport, 25(9), 683–687.

Rowe, A., & Carnelley, K. B. (2003). Attachment style differences in the processing of attachment–relevant information: Primed–style effects on recall, interpersonal expectations, and affect. Personal Relationships, 10(1), 59–75.

Schutter, D. J., de Haan, E. H., & van Honk, J. (2004). Functionally dissociated aspects in anterior and posterior electrocortical processing of facial threat. International Journal of Psychophysiology, 53(1), 29–36.

Sonnby-Borgström, M., & Jönsson, P. (2004). Dismissing-avoidant pattern of attachment and mimicry reactions at different levels of information processing. Scandinavian Journal of Psychology, 45(2), 103–113.

Strathearn, L., Fonagy, P., Amico, J., & Montague, P. R. (2009). Adult attachment predicts maternal brain and oxytocin response to infant cues. Neuropsychopharmacology, 34(13), 2655.

Talsma, D., & Woldorff, M. G. (2005). Selective attention and multisensory integration: Multiple phases of effects on the evoked brain activity. Journal of Cognitive Neuroscience, 17(7), 1098–1114.

Tacikowski, P., & Nowicka, A. (2010). Allocation of attention to self-name and self-face: An ERP study. Biological Psychology, 84(2), 318–324.

Vrtička, P., & Vuilleumier, P. (2012). Neuroscience of human social interactions and adult attachment style. Frontiers in Human Neuroscience, 6, 212.

Woodman, G. F. (2010). A brief introduction to the use of event-related potentials in studies of perception and attention. Attention, Perception, & Psychophysics, 72(8), 2031–2046.

Zhang, X., Li, T., & Zhou, X. (2008). Brain responses to facial expressions by adults with different attachment–orientations. Neuroreport, 19(4), 437–441.

Zilber, A., Goldstein, A., & Mikulincer, M. (2007). Adult attachment orientations and the processing of emotional pictures–ERP correlates. Personality and Individual Differences, 43(7), 1898–1907.
Funding
The research was supported by the National Natural Science Foundation of China (NSFC) Grant number 31771232 and Fundamental Research Funds for the Central Universities (No. SWU1809353).
Ethics declarations
Conflict of Interest
The author(s) declared no potential conflicts of interest with respect to the research, authorship, and/or publication of this article.
Additional information
Publisher's Note
Springer Nature remains neutral with regard to jurisdictional claims in published maps and institutional affiliations.
About this article
Cite this article
Ma, Y., Chen, J., Liu, G. et al. Insecurity primes influence attentional processing of infant emotions: the role of attachment styles. Curr Psychol (2019). https://doi.org/10.1007/s12144-019-00520-6
Keywords
Insecurity primes

Infant emotions

Attachment style

Attentional processing

Event-related potentials