Abstract
In 1986, Nils Christie proposed that the ideal victim is worthy of sympathy because he or she possesses specific characteristics. Since that time, numerous social scientists have used his ideal victim construct to guide their research. However, few empirical studies have explored whether laypersons use the ideal victim construct to guide their thinking about victims. This study collected and analyzed victim descriptions to empirically explore how people conceptualize victims. Participants were asked to describe either legitimate or illegitimate victims. Then, linguistic analyses were conducted on these descriptions. Legitimate victim descriptions closely aligned with Christie's ideal victim construct, focusing on concepts such as innocence, vulnerability, experiencing harm, and helplessness. Sympathy-laden language was used in legitimate victim descriptions. Illegitimate victims were described as individuals who failed to be true victims or as phonies. This study provides insight into how laypeople think about victims and provides data-driven support for the ideal victim construct.
Access options
Buy single article
Instant access to the full article PDF.
US$ 39.95
Tax calculation will be finalised during checkout.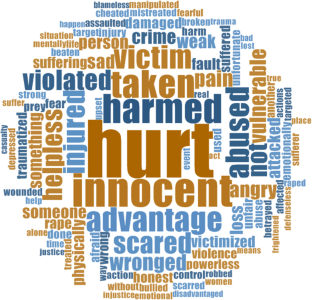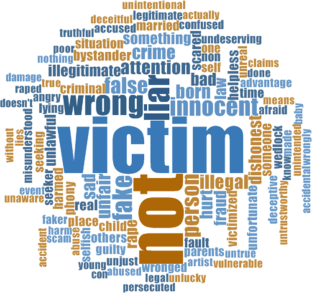 Notes
1.

It should be noted that the respective mean values, standard deviations, and zero-order and partial correlations within and between the MFQ-30, GBJWS, and the political affiliation questionnaires were consistent with previous research (e.g., Graham et al. 2011; Jost 2006; Lipkus 1991). These results are available upon request.

2.

Based on visual analysis of the text, it appears this word was often used to describe undocumented immigrants.
References
Allport, G. W., & Odbert, H. S. (1936). Trait-names: A psycho-lexical study. Psychological Monographs, 47 (1, whole no. 211).

American Civil Liberties Union (n.d.). FAQs. Retrieved from https://www.aclu.org/faqs#1_1. Accessed 20 June 2019.

Aristotle & Crisp, R. (2000). Nicomachean ethics. [electronic resource]. Cambridge, U.K.; New York: Cambridge University Press.

Buhrmester, M., Kwang, T., & Gosling, S. (2011). Amazon's mechanical turk: A new source of inexpensive, yet high-quality, data? Perspectives on Psychological Science, 6(1), 3–5.

Christie, N. (1952). Fangevoktere i konsentrasjonsleire. Nordisk Tidsskrift for Kriminalvidenskab, 41, 439–458.

Christie, N. (1977). Conflicts as property. British Journal of Criminology, 1(17), 1–15.

Christie, N. (1986). The ideal victim. From crime policy to victim policy, 17–30. https://doi.org/10.1007/978-1-349-08305-3_2.

Delton, A. W., Cosmides, L., Guemo, M., Robertson, T. E., & Tooby, J. (2012). The psychosemantics of free riding: Dissecting the architecture of a moral concept. Journal of Personality and Social Psychology., 102, 1252–1270. https://doi.org/10.1037/a0027026.

van Dijk, J. (2009). Free the victim: A critique of the western conception of victimhood. International Review of Victimology, 16(1), 1–33.

Eliezer, D., & Major, B. (2012). It's not your fault: The social costs of claiming discrimination on behalf of someone else. Group Processes & Intergroup Relations, 15(4), 487–502.

Fehr, E., & Gächter, S. (1999). Cooperation and punishment in public goods experiments. Institute for Empirical Research in Economics Working Paper, 10.

Graham, J., Haidt, J., & Nosek, B. A. (2009). Liberals and conservatives rely on different sets of moral foundations. Journal of Personality and Social Psychology, 96(5), 1029–1046. https://doi.org/10.1037/a0015141.

Graham, J., Nosek, B. A., Haidt, J., Iyer, R., Koleva, S., & Ditto, P. H. (2011). Mapping the moral domain. Journal of Personality and Social Psychology, 101(2), 366–385. https://doi.org/10.1037/a0021847.

Greer, C. R. (2007). News media, victims and crime. Victims, Crime, and Society, 20-49. Sage.

Höijer, B. (2004). The discourse of global compassion: The audience and media reporting of human suffering. Media, Culture & Society, 26(4), 513–531.

Jacoby, S. (1983). Wild justice: The evolution of revenge. In Harper & row. New: York.

Jost, J. T. (2006). The end of the end of ideology. American Psychologist, 61(7), 651–670.

Kaiser, C. R., & Miller, C. T. (2001). Stop complaining! The social costs of making attributions to discrimination. Personality and Social Psychology Bulletin, 27, 254–263. https://doi.org/10.1177/0146167201272010.

Kaiser, C. R., & Miller, C. T. (2003). Derogating the victim: The interpersonal consequences of blaming events on discrimination. Group Processes and Intergroup Relations, 6, 227–237. https://doi.org/10.1177/0146167201272010.

Kleck, R. (1968). Physical stigma and nonverbal cues emitted in face-to-face interaction. Human Relations, 21(1), 19–28.

Lerner, M. J. (1977). The justice motive: Some hypotheses as to its origins and forms. Journal of Personality, 45, 1–52.

Lerner, M. J. (1980). The belief in a just world: A fundamental delusion (p. c1980). New York: Plenum.

Lipkus, I. (1991). The construction and preliminary validation of a global belief in a just world scale and the exploratory analysis of the multidimensional belief in a just world scale. Personality and Individual Differences, 12, 1171–1178.

Mawby, R., & Walklate, S. (1994). Critical victimology: International perspectives. Sage.

Pennebaker, J. W., Chung, C. K., Ireland, M. E., Gonzales, A. L., & Booth, R. J. (2007). The development and psychometric properties of LIWC2007. Austin, TX: LIWC.net.

Rosch, E. (1975). Cognitive representations of semantic categories. Journal of Experimental Psychology: General, 104(3), 192–233.

Sagi, E., & Dehghani, M. (2014). Moral rhetoric in twitter: A case study of the US Federal Shutdown of 2013. In Proceedings of the Annual Meeting of the Cognitive Science Society, 36(36).

Schwartz, H. A., Eichstaedt, J. C., Kern, M. L., Dziurzynski, L., Ramones, S. M., Agrawal, M., Achal, S., Kosinski, M., Stillwell, D., Seligman, M. E. P., & Ungar, L. H. (2013). Personality, gender, and age in the language of social media: The open-vocabulary approach. PLoS One, 8(9), 1–16. https://doi.org/10.1371/journal.pone.0073791.

Stokols, D., & Schopler, J. (1973). Reactions to victims under conditions of situational detachment: The effect of responsibility, severity, and expected future interaction. Journal of Personality and Social Psychology, 25(2), 199–209.

Turner DePalma, M., Madey, S. F., Tillman, T. C., & Wheeler, J. (1999). Perceived patient responsibility and belief in a just world affect helping. Basic and Applied Social Psychology, 21(2), 131–137.

Van Wijk, J. (2013). Who is the 'little old lady' of international crimes? Nils Christie's concept of the ideal victim reinterpreted. International Review of Victimology, 19(2), 159–179.

Wilson, M., & O'Brien, E. (2016). Constructing the ideal victim in the United States of America's annual trafficking in persons reports. Crime, Law and Social Change, 65(1–2), 29–45.

Yarkoni, T. (2010). Personality in 100,000 words: A large-scale analysis of personality and word use among bloggers. Journal of Research in Personality, 44(3), 363–373.
Ethics declarations
Conflict of Interest
On behalf of all authors, the corresponding author states that there is no conflict of interest.
Ethical Approval
Ethical approval for this study was received from The University of Alabama's Office of Research Compliance.
Additional information
Publisher's note
Springer Nature remains neutral with regard to jurisdictional claims in published maps and institutional affiliations.
About this article
Cite this article
Lewis, J.A., Hamilton, J.C. & Elmore, J.D. Describing the ideal victim: A linguistic analysis of victim descriptions. Curr Psychol (2019). https://doi.org/10.1007/s12144-019-00347-1
Keywords
Ideal victim

Linguistic analysis

Moral values

Legitimacy

LIWC