Abstract
Racial essentialism is the belief that races are biologically distinct groups with defining core "essences," a notion associated with increased social distance and racial bias. While there are different kinds of racial essentialism, understanding and measuring genetic essentialism – the belief that racial groups and their defining core essences are determined by genes – is increasingly important in the wake of the Human Genome Project and the genomic revolution that it spurred. Many have questioned whether such genomic advances will reinforce genetic essentialist beliefs about race, but scholarly research is limited by measures that do not specify the role of genes in these beliefs or allow for distinct theoretical sub-components. In this paper, we develop and validate the Genetic Essentialism Scale for Race (GESR) using a sequential transformative mixed methods approach. Data for analysis come from an original survey-based study with a sample of 1069 White native-born Americans. We employ both exploratory factor analysis and confirmatory analysis to derive and confirm a three-factor model of genetic essentialism (category determinism, core determinism, and polygenism). Due to the high correlation between these factors, we also test for a second-order measurement model with three first-order factors. After conducting additional reliability, validity, and construct validity testing, we propose the GESR— a second-order construct with three first-order dimensions— as a reliable measure of genetic essentialism. The GESR will allow researchers to determine the impact of new genetic developments like race-based medicines and genetic ancestry testing on genetic essentialist beliefs about race.
Access options
Buy single article
Instant access to the full article PDF.
USD 39.95
Price includes VAT (USA)
Tax calculation will be finalised during checkout.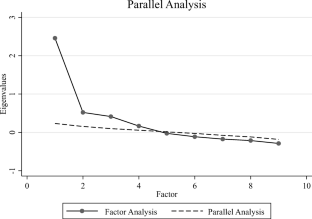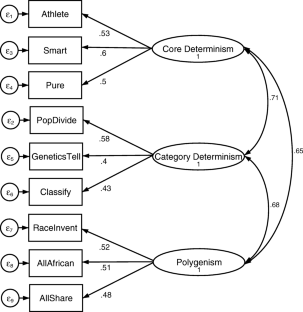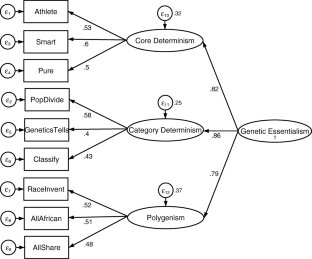 Notes
1.

Similarly, with regard to race, Byrd and Hughey (2015) differentiate between the concept that genes determine fixed, innate racial categories, and the belief that those racial categories have core essences that determine their character and behavior. They refer to these constructs as biological determinism and genetic essentialism, respectively, but argue that while distinct, these beliefs are frequently intertwined. We use different terminology to emphasize that these are both dimensions of genetic essentialism.

2.

The item referring to biology states "To a large extent, a person's race biologically determines his or her abilities." The others include: "Although a person can adapt to different cultures, it is hard if not impossible to change the disposition of a person's race."; "How a person is like (e.g., his or her abilities, traits) is deeply ingrained in his or her race. It cannot be changed much."; and "A person's race is something very basic about them and it can't be changed much." (Chao et al. 2013).

3.

A second item states "Different racial groups are all basically alike 'under the skin'" (reverse scored) which is ambiguous; people could interpret it as referring to genetics, but others may see it as consistent with psychological essentialism or belief that essential differences are located in the soul.

4.

We use the term "polygenism" rather than speciation as this belief may not go as far as to believe that races are different human species. Nonetheless, there is considerable overlap between our dimension of polygenism and Tawa's (2017) dimension of speciation. We use this terminology because it reflects a long-established belief system that has been well documented (Jackson and Weidman 2005). However, it should not be confused with the term "polygenetic," a description of traits that result from a number of genes.

5.

See Online Supplement for further details of the study design. Because our development and analysis of the GESR uses the pre-test data only, and does not distinguish the Treatment and Control groups, the experimental nature of the original study is incidental to the analysis in this paper.

6.

The p value is 0.31 for the test without the covariates, and close to 1 for CDM, so we fail to reject the null hypothesis that the variables are missing completely at random.

7.

Polychoric correlation coefficients are maximum likelihood estimates of the product-moment correlation among the underlying normally distributed variables.

8.

We are presenting here only the three-factor solution because our final model is a three-factor model. In the first stage, we explored two, four and five-factor models, which also show similar patterns. However, the items with high uniqueness scores were weaker on theoretical grounds, and screeplot, parallel analysis, and model comparisons were all supportive of a three-factor solution.

9.

For the subsample with complete data, using these 9 items, the KMO score is .819, and the Bartlett's test of sphericity indicates a chi-square value of 401.233 with 36 degrees of freedom. Both tests confirm that subsample with complete data has enough observations with interrelated variables to proceed with factor analysis. See Online Supplement for tables using this subsample.

10.

We also ran the models with asymptotic distribution free estimation, and the results remained the same.

11.

Our measure of political inclination uses feelings thermometer questions on a scale from 0 to 10 to rate how favorable or warm respondents feel toward the Republican Party and toward the Democratic Party. Their response toward Democrats is subtracted from their response toward Republicans in this measure.

12.

Participants were asked how often they had a conversation with someone from a different racial group (Black, Asian, Hispanic/Latino, Middle Eastern/Arab, or Native American) in the past six months. Response options ranged on a 7-point scale from "not at all" to "every day." From these 5 variables, we created a variable of mean frequency of interracial contact with any of these racial groups in the past six months.

13.

Please refer to the Online Supplement for how to generate the scale in a structural model.

14.

For further information on the number of categories in agree-disagree scales, see Revilla et al. (2014).
References
Akaike, H. (1987). Factor analysis and AIC. Psychometrika, 52(3), 317–332.

American Anthropological Association. (1997). Response to OMB directive 15: Race and ethnic standards for Federal Statistics and administrative reporting. Arlington, VA: American Anthropological Association.

Bagozzi, R. P., & Yi, Y. (1988). On the evaluation of structural equation models. Journal of the Academy of Marketing Science, 16(1), 74–94.

Bastian, B., & Haslam, N. (2006). Psychological essentialism and stereotype endorsement. Journal of Experimental Social Psychology, 42(2), 228–235.

Birmingham, P. (Ed) (2018). Special symposium: Rebecca Tuvel and her interlocutors. Philosophy Today, 62(1).

Black, R. A., Yang, Y., Beitra, D., & McCaffrey, S. (2015). Comparing fit and reliability estimates of a psychological instrument using second-order CFA, bifactor, and essentially tau-equivalent (coefficient alpha) models via AMOS 22. Journal of Psychoeducational Assessment, 33(5), 451–472.

Bliss, C. (2012). Race decoded: The genomic fight for social justice. Stanford, CA: Stanford University Press.

Bolnick, D. A. (2008). Individual ancestry inference and the reification of race as a biological phenomenon. In S. S. Lee (Ed.). B. A. Koenig, & S. S. Richardson. Revisiting race in a genomic age (studies in medical anthropology) (pp. 70–88). New Brunswick, N.J: Rutgers University Press.

Bolnick, D. A., Fullwiley, D., Duster, T., Cooper, R. S., Fujimura, J. H., Kahn, J., . . . TallBear, K. (2007). The science and business of genetic ancestry testing. Science, 318(5849), 399–400.

Brubaker, R. (2016). Trans: Gender and race in an age of unsettled identities. Princeton, NJ: Princeton University Press.

Byrd, C. W., & Hughey, M. W. (2015). Biological determinism and racial essentialism: The ideological double helix of racial inequality. The Annals of the American Academy of Political and Social Science, 661(1), 8–22.

Byrd, C. W., & Ray, V. E. (2015). Ultimate attribution in the genetic era: White support for genetic explanations of racial difference and policies. The Annals of the American Academy of Political and Social Science, 661(1), 212–235.

Byrne, B. M. (2005). Factor analytic models: Viewing the structure of an assessment instrument from three perspectives. Journal of Personality Assessment, 85(1), 17–32.

Cerny, B. A., & Kaiser, H. F. (1977). A study of a measure of sampling adequacy for factor-analytic correlation matrices. Multivariate Behavioral Research, 12(1), 43–47.

Chao, M. M., Hong, Y.-y., & Chiu, C.-y. (2013). Essentializing race: Its implications on racial categorization. Journal of Personality and Social Psychology, 104(4), 619–634.

Cornell, S. E., & Hartmann, D. (1998). Ethnicity and race: Making identities in a changing world. Thousand Oaks, CA: Pine Forge Press.

Costello, A. B., & Osborne, J. W. (2005). Best practices in exploratory factor analysis: Four recommendations for getting the most from your analysis. Practical Assessment, Research & Evaluation, 10(7), 1–9.

Dar-Nimrod, I., & Heine, S. J. (2011). Genetic essentialism: On the deceptive determinism of DNA. Psychological Bulletin, 137(5), 800–818.

DeYoung, C. G., Hasher, L., Djikic, M., Criger, B., & Peterson, J. B. (2007). Morning people are stable people: Circadian rhythm and the higher-order factors of the big five. Personality and Individual Differences, 43(2), 267–276.

Duster, T. (2015). A post-genomic surprise: The molecular reinscription of race in science, law and medicine. The British Journal of Sociology, 66(1), 1–27.

Fornell, C., & Larcker, D. F. (1981). Evaluating structural equation models with unobservable variables and measurement error. Journal of Marketing Research, 18(1), 39–50.

Fullilove, M. T. (1998). Comment: Abandoning 'race' as a variable in public health research – An idea whose time has come. American Journal of Public Health, 88, 1297–1298.

Fullwiley, D. (2007). Race and genetics: Attempts to define the relationship. BioSocieties, 2(2), 221–237.

Fullwiley, D. (2008). The biologistical construction of race: 'Admixture' technology and the new genetic medicine. Social Studies of Science, 38(5), 695–735.

Gerbing, D. W., Hamilton, J. G., & Freeman, E. B. (1994). A large-scale second-order structural equation model of the influence of management participation on organizational planning benefits. Journal of Management, 20(4), 859–885.

Gotay, C. C., Blaine, D., Haynes, S. N., Holup, J., & Pagano, I. S. (2002). Assessment of quality of life in a multicultural cancer patient population. Psychological Assessment, 14(4), 439–450.

Hair, J. F., Black, W. C., Babin, B. J., Anderson, R. E., & Tatham, R. L. (2010). Multivariate data analysis (7th ed.). Uppersaddle River, NJ: Pearson Education International.

Harrell, F. E. (2015). Regression modeling strategies. New York: Springer.

Haslam, N., Rothschild, L., & Ernst, D. (2000). Essentialist beliefs about social categories. British Journal of Social Psychology, 39(1), 113–127.

Heine, S. J., Dar-Nimrod, I., Cheung, B. Y., & Proulx, T. (2017). Essentially biased: Why people are fatalistic about genes. Advances in Experimental Social Psychology, 55(3), 137–192.

Hu, L., & Bentler, P. M. (1999). Cutoff criteria for fit indexes in covariance structure analysis: Conventional criteria versus new alternatives. Structural Equation Modeling, 6(1), 1–55.

Jackson, J. P., & Weidman, N. M. (Eds.) (2005). Race, racism, and science: Social impact and interaction. New Brunswick, NJ: Rutgers University Press.

Kaiser, H. F. (1974). An index of factorial simplicity. Psychometrika, 39(1), 31–36.

Keller, J. (2005). In genes we trust: The biological component of psychological essentialism and its relationship to mechanisms of motivated social cognition. Journal of Personality and Social Psychology, 88(4), 686–702.

Kimel, S. Y., Rowell, H., Kunst, J. R., & Halperin, E. (2016). Living in a genetic world: How learning about interethnic genetic similarities and differences affects peace and conflict. Personality and Social Psychology Bulletin, 42(5), 688–700.

Kline, R. B. (2005). Principles and practice of structural equation modeling (2nd ed.). New York: Guilford Press.

Koufteros, X., Babbar, S., & Kaighobadi, M. (2009). A paradigm for examining second-order factor models employing structural equation modeling. International Journal of Production Economics, 120(2), 633–652.

MacCallum, R. C., Widaman, K. F., Zhang, S., & Hong, S. (1999). Sample size in factor analysis. Psychological Methods, 4(1), 84–99.

Mehmetoglu, M. (2015). CONDISC: Stata module to perform convergent and discriminant validity assessment in CFA. Statistical software components S458003. Boston College Department of economics.

Morning, A. (2009). Toward a sociology of racial conceptualization for the 21st century. Social Forces, 87(3), 1167–1192.

Morning, A. (2011). The nature of race: How scientists think and teach about human difference. Berkeley, CA: University of California Press.

Morton, T. A., Hornsey, M. J., & Postmes, T. (2009). Shifting ground: The variable use of essentialism in contexts of inclusion and exclusion. British Journal of Social Psychology, 48(1), 35–59.

Nelson, A. (2016). The social life of DNA: Race, reparations, and reconciliation after the genome (1st ed.). Boston, MA: Beacon Press.

No, S., Hong, Y., Liao, H., Lee, K., Wood, D., & Chao, M. M. (2008). Lay theory of race affects and moderates Asian Americans' responses toward American culture. Journal of Personality and Social Psychology, 95(4), 991–1004.

Ossorio, P., & Duster, T. (2005). Race and genetics: Controversies in biomedical, behavioral, and forensic sciences. American Psychologist, 60(1), 115–128.

Outram, S., Graves, J. L., Powell, J., Wolpert, C., Haynie, K. L., Foster, M. W., . . . Royal, C. D. (2018). Genes, race, and causation: US public perspectives about racial difference. Race and Social Problems, 10(2), 79–90.

Panofsky, A., & Bliss, C. (2017). Ambiguity and scientific authority: Population classification in genomic science. American Sociological Review, 82(1), 59–87.

Phelan, J. C., Link, B. G., & Feldman, N. M. (2013). The genomic revolution and beliefs about essential racial differences: A backdoor to eugenics? American Sociological Review, 78(2), 167–191.

Phelan, J. C., Link, B. G., Zelner, S., & Yang, L. H. (2014). Direct-to-consumer racial admixture tests and beliefs about essential racial differences. Social Psychology Quarterly, 77(3), 296–318.

Polites, G. L., Roberts, N., & Thatcher, J. (2012). Conceptualizing models using multidimensional constructs: A review and guidelines for their use. European Journal of Information Systems, 21(1), 22–48.

Raubenheimer, J. (2004). An item selection procedure to maximize scale reliability and validity. SA Journal of Industrial Psychology, 30(4), 59–64.

Revilla, M. A., Saris, W. E., & Krosnick, J. A. (2014). Choosing the number of categories in agree–disagree scales. Sociological Methods & Research, 43(1), 73–97.

Roberts, D. (2011). Fatal invention: How science, politics, and big business re-create race in the twenty-first century. New York: New Press.

Roth, W. D. (2013). "Genetic ancestry testing and the reification of race." Presented at the Reconsidering Race: Interdisciplinary Perspectives Workshop, Texas A&M University, College Station, TX.

Roth, W. D., & Ivemark, B. (2018). Genetic options: The impact of genetic ancestry testing on consumers' racial and ethnic identities. American Journal of Sociology, 124(1), 150–184.

Roth, W. D., & Lyon, K. (2018). Genetic ancestry tests and race: Who takes them, why, and how do they affect racial identities? In K. Suzuki & von Vacano, Diego (Eds.), Reconsidering race: Social science perspectives on racial categories in the age of genomics (pp. 133–169). New York: Oxford University Press.

Rothbart, M., & Taylor, M. (1992). Category labels and social reality: Do we view social categories as natural kinds? In G. R. Semin & K. Fiedler (Eds.), Language, interaction and social cognition (pp. 11–36). London, UK: Sage Publications.

Schwarz, G. (1978). Estimating the dimension of a model. The Annals of Statistics, 6(2), 461–464.

Simon, P. (2008). The choice of ignorance: The debate on ethnic and racial statistics in France. French Politics, Culture and Society, 26(1), 7–31.

Soylu Yalcinkaya, N., Estrada-Villalta, S., & Adams, G. (2017). The (biological or cultural) essence of essentialism: Implications for policy support among dominant and subordinated groups. Frontiers in Psychology, 8 Article 900.

Taku, K., Cann, A., Calhoun, L. G., & Tedeschi, R. G. (2008). The factor structure of the posttraumatic growth inventory: A comparison of five models using confirmatory factor analysis. Journal of Traumatic Stress, 21(2), 158–164.

Tawa, J. (2016). Belief in race as biological: Early life influences, intergroup outcomes, and the process of 'unlearning'. Race and Social Problems, 8(3), 244–255.

Tawa, J. (2017). The beliefs about race scale (BARS): Dimensions of racial essentialism and their psychometric properties. Cultural Diversity and Ethnic Minority Psychology, 23(4), 516–526.

Tawa, J. (2018). Dimensions of racial essentialism and racial nominalism: A mixed-methods study of beliefs about race. Race and Social Problems, 10(2), 145–157.

Tran, U. S., Glück, T. M., & Nader, I. W. (2013). Investigating the five facet mindfulness questionnaire (FFMQ): Construction of a short form and evidence of a two-factor higher order structure of mindfulness. Journal of Clinical Psychology, 69(9), 951–965.

Tuvel, R. (2017). In defense of transracialism. Hypatia, 32(2), 263–278.

Williams, M. J., & Eberhardt, J. L. (2008). Biological conceptions of race and the motivation to cross racial boundaries. Journal of Personality and Social Psychology, 94(6), 1033–1047.

Worthington, R. L., & Whittaker, T. A. (2006). Scale development research: A content analysis and recommendations for best practices. The Counseling Psychologist, 34(6), 806–838.

Yale, R. N., Jensen, J. D., Carcioppolo, N., Sun, Y., & Liu, M. (2015). Examining first-and second-order factor structures for news credibility. Communication Methods and Measures, 9(3), 152–169.
Acknowledgements
The authors would like to thank Qiang Fu, Steven Heine, Catherine Lee, Ann Morning, Nathan Roberson, Brian O'Connor, and Charmaine Royal. This research was funded by grants from the Social Sciences and Humanities Research Council of Canada (#435-2014-0467), the Canada Foundation for Innovation (#23744), and the UBC Killam Faculty Research Fellowship.
Ethics declarations
Conflict of Interest
On behalf of all authors, the corresponding author states that there is no conflict of interest.
Additional information
Publisher's note
Springer Nature remains neutral with regard to jurisdictional claims in published maps and institutional affiliations.
Electronic supplementary material
About this article
Cite this article
Yaylacı, Ş., Roth, W.D. & Jaffe, K. Measuring racial essentialism in the genomic era: The genetic essentialism scale for race (GESR). Curr Psychol 40, 3794–3808 (2021). https://doi.org/10.1007/s12144-019-00311-z
Keywords
Genetic essentialism

Racial essentialism

Scale

Race

Racial conceptualization

Second-order factor model