Abstract
The aim of this study was twofold: first to create a self-report scale that measures responsiveness to cuteness and kawaii in three key domains (baby animals, baby humans, and animate objects), and secondly to apply the measure to predicting parental attitudes toward corporal punishment. Currently, there are no self-report measures of this construct in theoretically consistent domains that encompass both cuteness and kawaii. In Study 1, a 15-item Cuteness Responsiveness (CR-15) scale was developed to assess responsiveness to infantile human and non-human kawaii creatures, which is defined as individual differences in the sensitivity to cuteness and readiness for a variety of caretaking behaviors. The CR-15 demonstrated evidence of good psychometric properties and fit into the three-factor structure. In Study 2, we recruited parents with a child/children under the age of 6 to test how responsiveness to cuteness affects parenting using the scale developed in Study 1. The results showed lower responsiveness to cuteness predicted parental approval for corporal punishment, and negative attitudes toward parenting mediated the link. Together, these studies demonstrate that the human baby subscale of the CR-15 can predict a tendency to experience positive emotions in response to infantile creatures and motivation for caretaking behaviors. Implications of cuteness/kawaii responses as a multidimensional construct and future directions are discussed.
Access options
Buy single article
Instant access to the full article PDF.
US$ 39.95
Tax calculation will be finalised during checkout.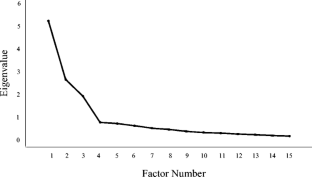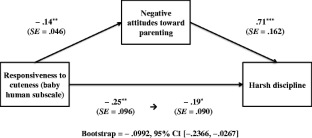 References
Alley, T. R. (1981). Head shape and the perception of cuteness. Developmental Psychology, 17, 650–654.

Alley, T. R. (1983). Age-related changes in body proportions, body size, and perceived cuteness. Perceptual and Motor Skills, 56, 615–622.

Aragon, O. R., Clark, M. S., Dyer, R. L., & Bargh, J. A. (2015). Dimorphous expressions of positive emotion: Displays of both care and aggression in response to cute stimuli. Psychological Science, 26, 259–273. https://doi.org/10.1177/0956797614561044.

Batson, C. D., Fultz, J., & Schoenrade, P. A. (1987). Distress and empathy: Two qualitatively distinct vicarious emotions with different motivational consequences. Journal of Personality, 55, 19–39.

Bennett, D. S., Sullivan, M. W., & Lewis, M. (2006). Relations of parental report and observation of parenting to maltreatment history. Child Maltreatment, 11, 63–75.

Black, D. A., Heyman, R. E., & Smith Slep, A. M. (2001). Risk factors for child physical abuse. Aggression and Violent Behavior, 6, 121–188.

Borgi, M., Cogliati-Dezza, I., Brelsford, V., Meints, K., & Cirulli, F. (2014). Baby schema in human and animal faces induces cuteness perception and gaze allocation in children. Frontiers in Psychology, 5, 1–12.

Buckels, E. E., Beall, A. T., Hofer, M. K., Lin, E. Y., Zhou, Z., & Schaller, M. (2015). Individual differences in activation of the parental care motivational system: Assessment, prediction, and implications. Journal of Personality and Social Psychology, 108, 497–514.

Cohen, S., Kamarch, T., & Mermelstein, R. (1983). A global measure of perceived stress. Journal of Health and Social Behavior, 24, 385–396.

Crouch, J. L., & Behl, L. E. (2001). Relationships among parental beliefs in corporal punishment, reported stress, and physical child abuse potential. Child Abuse & Neglect, 25, 413–419.

Daly, M., & Wilson, M. I. (1985). Child abuse and other risks of not living with both parents. Ethology and Sociobiology, 6, 197–210.

Damashek, A., Nelson, M. M., & Bonner, B. L. (2013). Fatal child maltreatment: Characteristics of deaths from physical abuse versus neglect. Child Abuse & Neglect, 37, 735–744.

Davis, M. H. (1980). A multidimensional approach to individual differences in empathy. JSAS. Catalog of Selected Documents in Psychology, 10, 85.

Deater-Deckard, K., Smith, J., Ivy, L., & Petril, S. A. (2005). Differential perceptions of and feelings about sibling children: Implications for research on parenting stress. Infant and Child Development, 14, 211–225.

Egeland, B., Breitenbucher, M., & Rosenberg, D. (1980). Prospective study of the significance of life stress in the etiology of child abuse. Journal of Consulting and Clinical Psychology, 48, 195–205.

Epley, N., Waytz, A., & Cacioppo, J. T. (2007). On seeing human: A three-factor theory of anthropomorphism. Psychological Review, 114, 864–886.

Fleming, A., Corter, C., Stallings, J., & Steiner, M. (2002). Testosterone and prolactin associated with emotional responses to infant cries in new fathers. Hormones and Behavior, 42, 399–413.

Frodi, A. M., & Lamb, M. E. (1980). Child abusers' responses to infant smiles and cries. Child Development, 51, 238–241.

Fujiwara, T., Yamaoka, Y., & Kawachi, I. (2016). Neighborhood social capital and infant physical abuse: A population-based study in Japan. International Journal of Mental Health Systems, 10, 13–19.

Glocker, M. L., Langleben, D. D., Ruparel, K., Loughead, J. W., Gur, R. C., & Sachser, N. (2009). Baby schema in infant induces cuteness perception and motivation for caretaking in adults. Ethology, 115, 257–263.

Graham, J., Haidt, J., Koleva, S., Motyl, M., Iyer, R., Wojcik, S. P., & Ditto, P. H. (2013). Moral foundations theory: The pragmatic validity of moral pluralism. In P. Devine & A. Plant (Eds.), Advances in experimental social psychology (pp. 55–130). London: Elsevier.

Graham, J., Nosek, B. A., Haidt, J., Iyer, R., Koleva, S., & Ditto, P. H. (2011). Mapping the moral domain. Journal of Personality and Social Psychology, 101, 366–385.

Granziano, A. M. (1994). Why we should study subabusive violence against children. Journal of Interpersonal Violence, 9, 412–419.

Haidt, J. (2012). The righteous mind: Why good people are divided by politics and religion. New York: Vintage Books.

Hildebrandt, K. A., & Fitzgerald, H. E. (1978). Adults' responses to infants varying in perceived cuteness. Behavioural Processes, 3, 159–172.

Hilson, J. M. C., & Kuiper, N. A. (1994). A stress and coping model of child maltreatment. Clinical Psychology Review, 14, 261–285.

Honda, S., Ishimaru, A., Utsunomiya, S., Yamane, T., Oda, M., Sakamoto, K., Ohe, Y., Kobayashi, H., Arima, T., Kidera, A., & Kosugi, K. (2016). Considering the relation between the Haidt's moral foundation theory and Japanese morality through developing a new scale. Bulletin of the Faculty of Education, Yamaguchi University, 66, 95–106 Retrieved from http://www.lib.yamaguchi-u.ac.jp/yunoca/handle/C010066000311.

Kadushin, A., & Martin, J. A. (1981). Interview study of abuse-event interaction. In A. Kadushin (Ed.), Child abuse: An interactional event (pp. 141–224). New York, NY: Columbia University Press.

Kanai, Y., & Nittono, H. (2015). Predictive modeling of the feelings of kawaii by empathy and affiliation motives. (In Japanese with English abstract). The Japanese Journal of Personality, 23, 131–141. https://doi.org/10.2132/personality.23.131.

Kringelbach, M. L., Stark, E. A., Alexander, C., Bornstein, M. H., & Stein, A. (2016). On cuteness: Unlocking the parental brain and beyond. Trends in Cognitive Sciences, 20, 545–558. https://doi.org/10.1016/j.tics.2016.05.0035.

Lau, A. S., Valeri, S. M., McCarty, C. A., & Weisz, J. R. (2006). Abusive parents' reports of child behavior problems: Relationship to observed parent-child interactions. Child Abuse & Neglect, 30, 639–655.

Lehmann, V., Huisin't Veld, E. M., & Vingerhoets, A. J. (2013). The human and animal baby schema effect: Correlates of individual differences. Behavioural Processes, 94, 99–108.

Little, A. C. (2012). Manipulation of infant-like traits affects perceived cuteness of infant, adult and cat faces. Ethology, 118, 775–782. https://doi.org/10.1111/j.1439-0310.2012.02068.x.

Lobmaier, J. S., Probst, F., Perrett, D. I., & Heinrichs, M. (2015). Menstrual cycle phase affects discrimination of infant cuteness. Hormones and Behavior, 70, 1–6.

Mauss, I. B., & Robinson, M. D. (2009). Measures of emotion: A review. Cognition and Emotion, 23, 209–237.

May-Chahal, C., & Cawson, P. (2005). Measuring child maltreatment in the United Kingdom: A study of the prevalence of child abuse and neglect. Child Abuse & Neglect, 29, 969–984.

Miesler, L., Leder, H., & Herrmann, A. (2011). Isn't it cute: An evolutionary perspective of baby-schema effects in visual product designs. International Journal of Design, 5, 17–30.

Milner, J. S., & Chilamkurti, C. (1991). Physical child abuse perpetrator characteristics: A review of the literature. Journal of Interpersonal Violence, 6, 345–366.

Milner, J. S., Rabenhorst, M. M., McCanne, T. R., Crouch, J. L., Skowronski, J. J., Fleming, M. T., Hiraoka, R., & Risser, H. J. (2011). Event-related potentials: Search for positive and negative child-related schemata in individuals at low ad high risk for child physical abuse. Child Abuse & Neglect, 35, 249–266.

Nisbett, R. W., & Wilson, T. D. (1977). Telling more than we know: Verbal reports on mental processes. Psychological Review, 84, 231–259.

Nittono, H. (2016). The two-layer model of "kawaii": A behavioural science framework for understanding kawaii and cuteness. East Asian Journal of Popular Culture Retrieved from http://cplnet.jp/swfu/d/Nittono2016-Kawaii-review.pdf.

Nittono, H., Fukushima, M., Yano, A., & Moriya, H. (2012). The power of kawaii: Viewing cute images promotes a careful behavior and narrows attentional focus. PLoS One, 7, e46362.

Nittono, H., & Ihara, N. (2017). Psychophysiological responses to kawaii pictures with or without baby schema. SAGE Open, 7, 1–11. https://doi.org/10.1177/2158244017709321.

Ohinata, M. (1988). Bosei no kenkyu (maternity research). Kawashima Shoten: Tokyo.

Paulhus, D. L., & Vazire, S. (2007). The self-report method. In R. W. Robbins, R. C. Fraley, & R. F. Krueger (Eds.), Handbook of research methods in personality psychology (pp. 224–239). New York: Guilford.

Preacher, K. J., & Hayes, A. F. (2004). SPSS and SAS procedures for estimating indirect effects in simple mediation models. Behavior Research Methods, Instruments, & Computers, 36, 717–731.

Proverbio, A. M., de Garbriele, V., Manfredi, M., & Adorni, R. (2011). No race effect (ORE) in the automatic orienting toward baby faces: When ethnic group does not mater. Psychology, 2, 931–935.

Reizer, A., & Mikulincer, M. (2007). Assessing individual differences in working models of caregiving: The construction and validation of the mental representation of caregiving scale. Journal of Individual Differences, 28, 227–239.

Robson, K. S., & Moss, H. A. (1970). Patterns and determinants of maternal attachment. Journal of Pediatrics, 77, 976–985.

Rodriguez, C. M., & Richardson, M. J. (2007). Stress and anger as contextual factors and preexisting cognitive schemas: Predicting parental child maltreatment risk. Child Maltreatment, 12, 325–337.

Rodriguez, C. M., & Tucker, M. C. (2015). Predicting maternal physical child abuse risk beyond distress and social support: Additive role of cognitive processes. Journal of Child and Family Studies, 24, 1780–1790.

Sakurai, S. (1988). The relationship between empathy and helping behavior in college students. Bulletin of Nara University of Education, 37, 1(Cultural and Social Science), 149–153.

Sherman, G. D., & Haidt, J. (2011). Cuteness and disgust: The humanizing and dehumanizing effects of emotion. Emotion Review, 3, 1–7.

Sherman, G. D., Haidt, J., & Coan, J. A. (2009). Viewing cute images increases behavioral carefulness. Emotion, 9, 282–286.

Sherman, G. D., Haidt, J., Iyer, R., & Coan, J. A. (2013). Individual differences in the physical embodiment of care: Prosocially oriented women respond to cuteness by becoming more physically careful. Emotion, 13, 151–158.

Sprengelmeyer, R., Perrett, D., Fagan, E. C., Cornwell, R. E., Lobmaier, J. S., Sprengelmeyer, A., Aasheim, H. B. M., Black, I. M., Cameron, L. M., Crow, S., Milne, N., Rhodes, E. C., & Young, A. W. (2009). The cutest little baby face: A hormonal link to sensitivity to cuteness in infant faces. Psychological Science, 20, 149–154.

Stith, S. M., Liu, T., Davies, C., Boykin, E. L., Alder, M. C., Harris, J. M., Som, A., McPherson, M., & Dees, J. E. M. E. G. (2009). Risk factors in child maltreatment: A meta-analytic review of the literature. Aggression and Violent Behavior, 14, 13-29.

Stoltenborgh, M., Bakermans-Kranenburg, M. J., Alink, L. R. A., & van IJzendoorn, M. H. (2015). The prevalence of child maltreatment across the globe: Review of a series of meta-analyses. Child Abuse Review, 24, 37–50.

Straus, M. A. (1994). Should the use of corporal punishment by parents be considered child abuse? Yes. In M. A. Mason & E. Gambrill (Eds.), Debating children's lives: Current controversies on children and adolescents (pp. 197–203). Thousand Oaks: Sage.

Sumi, K. (2006). Reliability and validity of the Japanese version of the perceived stress scale. The Japanese Journal of Health Psychology, 19, 44–53.

Swain, J. E., Konrath, S., & Ho, S. S. (2012). Parenting and beyond: Common neurocircuits underlying parental and altruistic caregiving. Parenting, science, and practice, 12, 115–123.

The Japanese Ministry of Health, Labour, and Welfare. (2012). Child abuse facts and implication for future policies. Retrieved from: http://www.mhlw.go.jp/seisakunitsuite/bunya/kodomo/kodomo_kosodate/dv/about.html

The Japanese Ministry of Health, Labour, and Welfare. (2015). Guidelines for the prevention of child abuse. Retrieved from: http://www.mhlw.go.jp/bunya/kodomo/dv12/00.html

Trickett, P. K., & Kuczynski, L. (1986). Children's misbehaviors and parental discipline strategies in abusive and nonabusive families. Developmental Psychology, 22, 115–123.

Tucker, M. C., & Rodriguez, C. M. (2014). Family dysfunction and social isolation as moderators between stress and child physical abuse risk. Journal of Family Violence, 29, 175–186.

U.S. Department of Health and Human Services, Administration on Children, Youth, and Families. (2007). Child maltreatment 2005. Washington, DC: U.S. Government Printing Office.

US Department of Health and Human Services (2010). Administration on Children, Youth and Families: Child Maltreatment 2008. Retrieved from: http://www.acf.hhs.gov.

WHO - World Health Organization and International Society for Prevention of Child Abuse and Neglect. (2006). Preventing child maltreatment: A guide to taking action and generating evidence. Geneva: WHO Press.

Yano, C. R. (2013). Pink Globalization: Hello Kitty and Its Trek Across the Pacific. Durham. Duke University Press.
Acknowledgements
I would like to express my sincere gratitude to Dr. Hiroshi Nittono who provided helpful comments on the conceptualization of kawaii as a positive emotion.
Ethics declarations
Ethical Approval
All procedures performed in studies involving human participants were in accordance with the ethical standards of the institutional and/or national research committee and with the 1964 Helsinki declaration and its later amendments or comparable ethical standards.
Conflict of Interest
There is no potential conflict of interest pertaining to this submission to Current Psychology.
Informed Consent
Informed consent was obtained from all individual participants included in the study.
About this article
Cite this article
Takamatsu, R. Measuring Affective Responses to Cuteness and Japanese kawaii as a Multidimensional Construct. Curr Psychol 39, 1362–1374 (2020). https://doi.org/10.1007/s12144-018-9836-4
Keywords
Cuteness

Baby schema effect

Scale development

Parenting