Abstract
This study used a political and social survey to examine the relationships among political efficacy, community activity, and political engagement in different generational cohorts in South Korea. A nationally representative sample of 777 Korean voters (age range: 20–59) was used for the analysis. We hypothesized that political efficacy is positively related to political engagement, both directly and indirectly, via mediating variables (i.e., both online and offline community activities). After we had controlled for gender, income, and educational level, the results revealed that the indirect effect of political efficacy on online political engagement via online community activities was significant for both the 20–30 age groups and the 30–40 age groups studied. For the 40–50 generation, offline community activities had a significant effect on offline political engagement. Political efficacy had a significant direct effect on online political engagement for both age groups.
Access options
Buy single article
Instant access to the full article PDF.
US$ 39.95
Tax calculation will be finalised during checkout.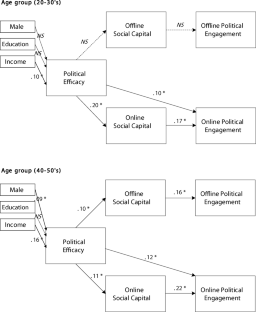 References
Akamai (2016). State of the internet report. 9(4), 1–56. https://content.akamai.com/PG1183-StateoftheInternet.html

Bachmann, I., Kaufhold, K., Lewis, S. C., & de Zúñiga, H. G. (2010). News platform preference: Advancing the effects of age and media consumption on political participation. International Journal of Internet Science, 5(1), 34–47.

Bachmann, I., Correa, T., & Gil de Zúñiga, H. (2012). Profiling online content creators: Advancing the paths to democracy. International Journal of E-Politics, 3(4), 1–19.

Bakshy, E., Messing, S., & Adamic, L. (2015). Exposure to ideologically diverse news and opinion on Facebook. Science, 348, 1130–1132.

Bentler, P. M. (1990). Comparative fit indices in structural models. Psychological Bulletin, 107(2), 238–246.

Bentler, P. M., & Bonett, D. G. (1980). Significance tests and goodness of fit in the analysis of covariance structures. Psychological Bulletin, 88(3), 588–606.

Blais, A., & Dobrynska, A. (1998). Turnout in electoral democracies. European Journal of Political Research, 33(2), 239–261.

Bode, L., Vraga, E. K., Borah, P., & Shah, D. V. (2014). A new space for political behavior: Political social networking and its democratic consequences. Journal of Computer-Mediated Communication, 19(3), 414–429.

Brady, H. E., Verba, S., & Schlozman, K. L. (1995). Beyond SES: A resource model of political participation. American Political Science Review, 89(2), 271–294.

Chadwick, A. (2006). Internet politics: States, citizens, and new communication technologies. Oxford: Oxford University Press.

Cho, S., & Kwon, J. (2015). Do online and offline relationship-maintaining behaviors promote bridging and bonding social capital?: Longitudinal analysis for the examination of causal relationship. Korean Journal of Social and Personality Psychology, 29(1), 107–125.

Cohen, J. (1988). Statistical power analysis for the behavioral sciences. Hillsdale: Erlbaum.

Coleman, J. (1988). Social capital in the creation of human capital. American Journal of Sociology, 94, 95–120.

Coleman, J. (1990). The foundations of social theory. Cambridge: Harvard University Press.

Diamond, L. (1999). Developing democracy. Baltimore: The Johns Hopkins University Press.

Ferri, P. (2012). Digital and inter-generational divide. In A. Cartelli (Ed.), Current trends and future practices for digital literacy and competence (pp. 1–18). London: Information Science Reference.

Flaherty, L. M., Pearce, K. J., & Rubin, R. B. (1998). Internet and face-to-face communication: Not functional alternatives. Communication Quarterly, 46(3), 250–268.

Fox, J. (1996). How does civil society thicken?: The political construction of social capital in rural Mexico. World Development, 24(6), 1089–1103.

Fukuyama, F. (1995). Social capital and the global economy. Foreign Affairs, 74(5), 89–103.

Grace-Farfaglia, P., Dekkers, A., Sundararajan, B., Peters, L., & Park, S. (2006). Multinational web uses and gratifications: Measuring the social impact of online community participation across national boundaries. Electronic Commerce Research, 6(1), 75–101.

Jeong, N. W. (2013). The influence of social media on political participation: Explicating the social media effect mechanism with normative, cognitive, attitudinal mediators. Journal of Institute for Social Sciences, 24(2), 273–294.

Kim, Y. (2006). A study on the blog as a media: Focused on media functions and the problems of the blog. Korea Media & Communication Studies, 50(2), 59–89.

Kim, B. (2010). Study on the social relationship and social capital effect caused by blog use. Journal of Communication Science, 10, 73–104.

Korea Information Society Development Institute. (2017a). Analysis on digital divide of old ages and its alternative. KISI Issue Report, 7, 1–52.

Korea Information Society Development Institute. (2017b). KISDI statistics report. Ministry of Science, ICT and future. Planning, 17, 1–9.

Kraut, R., Lundmark, V., Patterson, M., Kiesler, S., Mukopadhyay, T., & Scherlis, W. (1998). Internet paradox: A social technology that reduces social involvement and psychological well-being? American Psychologist, 53(9), 1017–1031.

LaRose, R., Eastin, M. S., & Gregg, J. (2001). Reformulating the internet paradox: Social cognitive explanations of internet use and depression. Journal of Online Behavior, 1 available at http://www.behavior.net/JOB/v1n1/paradox.html.

Magsamen-Conrad, K., Billotte-Verhoff, C., & Greene, K. (2014). Technology addiction's contribution to mental wellbeing: The positive effect of online social capital. Computers in Human Behavior, 24, 23–30.

Mosquera, M. (2000). More than half of U.S. households now have Internet access. TechWeb News (http://www.techweb.com/wire/story/TWB200011218S0011).

Muthén, L., & Muthén, B. (2010). Mplus user's guide. Los Angeles: Muthén & Muthén.

Oser, J., Hooghe, M., & Marien, S. (2013). Is online participation distinct from offline participation?: A latent class analysis of participation types and their stratification. Political Research Quarterly, 66(1), 91–101.

Papacharissi, Z., & Rubin, A. M. (2000). Predictors of internet use. Journal of Broadcasting & Electronic Media, 44(2), 175–196.

Park, K., & You, S. (2015). Media use preference: The mediating role of communication on political engagement. Journal of Pacific Rim Psychology, 9(2), 97–107.

Paxton, P. (2002). Social capital and democracy: An interdependent relationship. American Sociological Review, 67(2), 254–277.

Pew Research Center (2018). "Social Media Use in 2018" http://assets.pewresearch.org/wp-content/uploads/sites/14/2018/03/01105133/PI_2018.03.01_Social-Media_FINAL.pdf

Putnam, R. D. (1994). Making democracy work: Civic traditions in modern Italy. Princeton: Princeton University Press.

Putnam, R. D. (2000). Bowling alone: The collapse and revival of American community. New York: Simon Schuster.

Putnam, R. D. (2002). Democracies in flux: The evolution of social capital in contemporary society. New York: Oxford University Press.

Rosenstone, S. J., & Hansen, J. M. (1993). Mobilization, participation, and democracy in America. New York: Macmillan.

Shrout, P. E., & Bolger, N. (2002). Mediation in experimental and non-experimental studies: New procedures and recommendations. Psychological Methods, 7(4), 422–445.

Song, H. J. (2010). Internet engagement of 2030 generation and electronic government. Journal of Korean Association for Regional Information Society, 13(4), 97–120.

Steiger, J. H. & Lind, J. M. (1980). Statistically based tests for the number of common factors. Paper presented at the Annual Meeting of the Psychometric Society, Iowa City.

Tocqueville, A. D. (2002). Democracy in America. Washington: Regnery Publishing Inc..

Verba, S., & Nie, N. H. (1972). Participation in America. New York: Harper & Row.

Verba, S., Schlozman, K. L., & Brady, H. E. (1995). Voice and equality: Civic voluntarism in American politics. New York: Cambridge University Press.

Wellman, B., Hasse, A. Q., Witte, J., & Hampton, K. (2001). Does the internet increase, decrease, or supplement social capital? The American Behavioral Scientist, 45(3), 436–455.

Wolfinger, R. E., & Rosenstone, S. J. (1980). Who votes? New Haven: Yale University Press.

Xenos, M., & Moy, P. (2007). Direct and differential effects of the internet on political and civic engagement. Journal of Communication, 57(4), 704–718.
Acknowledgements
This work was supported by the Ministry of Education of the Republic of Korea and the National Research Foundation of Korea (NRF-2016S1A3A2924104).
Ethics declarations
Ethical Approval
All procedures performed in the study involving human participants were in accordance with the ethical standards of the institutional and/or national research committee, as well as with the 1964 Helsinki declaration and its later amendments or comparable ethical standards.
Informed Consent
Informed consent was obtained from all participants included in the study.
Conflict of Interest
The authors declare that they have no conflicts of interest.
Additional information
Publisher's Note
Springer Nature remains neutral with regard to jurisdictional claims in published maps and institutional affiliations.
About this article
Cite this article
Park, K., You, S. Can online communities be social capital? The effect of online communities on individuals' political engagement. Curr Psychol 40, 1752–1759 (2021). https://doi.org/10.1007/s12144-018-0109-z
Keywords
Online community

Offline community

Social capital

Political engagement

Political efficacy