Abstract
VR-based paradigms could substantially increase the ecological validity of various psychological research topics as VR allows for submerging into real-life experiences under controlled laboratory conditions. In particular, in the field of mnemonic research, concerns have been raised that "laboratory memory" differs significantly from "real-life" autobiographical memory. Our study aimed to assess the immersive qualities of VR not only upon application but -more importantly- during the retrieval of the virtual experiences subsequent to a VR session. We presented participants with either a 360° VR or a 2D video of a motorcycle ride followed by an unannounced recognition memory task 48 h later. Increased retrieval success and delayed reaction times in the VR group indicate that immersive VR experiences become part of an extensive autobiographical associative network, whereas the conventional video experience remains an isolated episodic event.
This is a preview of subscription content, log in to check access.
Access options
Buy single article
Instant access to the full article PDF.
US$ 39.95
Price includes VAT for USA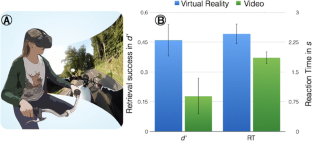 References
Ashby, F. G., & Isen, A. M. (1999). A neuropsychological theory of positive affect and its influence on cognition. Psychological Review, 106(3), 529.

Blaney, P. H. (1986). Affect and memory: a review. Psychological Bulletin, 99(2), 229.

Burianova, H., McIntosh, A. R., & Grady, C. L. (2010). A common functional brain network for autobiographical, episodic, and semantic memory retrieval. NeuroImage, 49(1), 865–874. doi:10.1016/j.neuroimage.2009.08.066.

Burns, C. G., & Fairclough, S. H. (2015). Use of auditory event-related potentials to measure immersion during a computer game. Journal of Human Computer Studies, 73(C), 107–114. doi:10.1016/j.ijhcs.2014.09.002.

Cabeza, R., Prince, S. E., Daselaar, S. M., Greenberg, D. L., Budde, M., Dolcos, F., et al. (2004). Brain activity during episodic retrieval of autobiographical and laboratory events: an fMRI study using a novel photo paradigm. Journal of Cognitive Neuroscience, 16(9), 1583–1594. doi:10.1162/0898929042568578.

Chen, H.-Y., Gilmore, A. W., Nelson, S. M., & McDermott, K. B. (2017). Are there multiple kinds of episodic memory? An fMRI investigation comparing autobiographical and recognition memory tasks. Journal of Neuroscience, 37(10), 2764–2775. doi:10.1523/JNEUROSCI.1534-16.2017.

Conway, M. A. (2005). Memory and the self. Journal of Memory and Language, 53(4), 594–628. doi:10.1016/j.jml.2005.08.005.

Coronel, J. C., & Federmeier, K. D. (2016). The N400 reveals how personal semantics is processed: insights into the nature and organization of self-knowledge. Neuropsychologia, 84(C), 36–43. doi:10.1016/j.neuropsychologia.2016.01.029.

Ferguson, C. J. (2007). The good, the bad and the ugly: a meta-analytic review of positive and negative effects of violent video games. Psychiatric Quarterly, 78(4), 309–316.

Ferguson, C. J. (2015). Do angry birds make for angry children? A meta-analysis of video game influences on children's and adolescents' aggression, mental health, prosocial behavior, and academic performance. Perspectives on Psychological Science, 10(5), 646–666.

Grilli, M. D., & Verfaellie, M. (2014). Personal semantic memory: insights from neuropsychological research on amnesia. Neuropsychologia, 61, 56–64. doi:10.1016/j.neuropsychologia.2014.06.012.

Gross, J. J. (2002). Emotion regulation: affective, cognitive, and social consequences. Psychophysiology, 39(3), 281–291.

Gross, J. J., & John, O. P. (2003). Individual differences in two emotion regulation processes: implications for affect, relationships, and well-being. Journal of Personality and Social Psychology, 85(2), 348.

Kemp, S., Burt, C., & Malinen, S. (2009). Investigating the structure of autobiographical memory using reaction times. Memory, 17(5), 511–517. doi:10.1080/09658210902939330.

Kensinger, E. A. (2009). Remembering the details: effects of emotion. Emotion Review, 1(2), 99–113.

Kruschke, J. K. (2013). Bayesian estimation supersedes the t Test. Journal of Experimental Psychology: General, 142(2), 573–588. doi:10.1037/a0029177.

Kruschke, J. K., & Liddell, T. M. (2017). Bayesian data analysis for newcomers. Psychonomic Bulletin & Review, 17(3), 1–23. doi:10.3758/s13423-017-1272-1.

Kvavilashvili, L., & Ellis, J. (2004). Ecological validity and the real-life/laboratory controversy in memory research: a critical and historical review. History & Philosophy of Psychology, 6, 59–80.

Leshikar, E. D., & Duarte, A. (2012). Medial prefrontal cortex supports source memory accuracy for self-referenced items. Social Neuroscience, 7(2), 126–145.

Levine, B., Svoboda, E., Hay, J. F., Winocur, G., & Moscovitch, M. (2002). Aging and autobiographical memory: dissociating episodic from semantic retrieval. Psychology and Aging, 17(4), 677.

Ly, A., Verhagen, J., & Wagenmakers, E.-J. (2016). Harold Jeffreys's default Bayes factor hypothesis tests: explanation, extension, and application in psychology. Journal of Mathematical Psychology, 72, 19–32. doi:10.1016/j.jmp.2015.06.004.

Mania, K., & Chalmers, A. (2001). The effects of levels of immersion on memory and presence in virtual environments: a reality centered approach. Cyberpsychology & Behavior, 4(2), 247–264.

Markey, P. M., Markey, C. N., & French, J. E. (2014). Violent video games and real-world violence: rhetoric versus data. Psychology of Popular Media Culture, 4(4), 277–295.

McDermott, K. B., Szpunar, K. K., & Christ, S. E. (2009). Laboratory-based and autobiographical retrieval tasks differ substantially in their neural substrates. Neuropsychologia, 47(11), 2290–2298. doi:10.1016/j.neuropsychologia.2008.12.025.

Renoult, L., Davidson, P. S., Palombo, D. J., Moscovitch, M., & Levine, B. (2012). Personal semantics: at the crossroads of semantic and episodic memory. Trends in Cognitive Sciences, 16(11), 550–558. doi:10.1016/j.tics.2012.09.003.

Renoult, L., Tanguay, A., Beaudry, M., Tavakoli, P., Rabipour, S., Campbell, K., et al. (2016). Personal semantics: is it distinct from episodic and semantic memory? An electrophysiological study of memory for autobiographical facts and repeated events in honor of Shlomo Bentin. Neuropsychologia, 83, 242–256. doi:10.1016/j.neuropsychologia.2015.08.013.

Riva, G., Baños, R. M., Botella, C., Mantovani, F., & Gaggioli, A. (2016). Transforming experience: the potential of augmented reality and virtual reality for enhancing personal and clinical change. Frontiers in Psychiatry, 7, 164. doi:10.3389/fpsyt.2016.00164.

Rizzo, A. A., Schultheis, M., Kerns, K. A., & Mateer, C. (2004). Analysis of assets for virtual reality applications in neuropsychology. Neuropsychological Rehabilitation, 14(1-2), 207–239. doi:10.1080/09602010343000183.

Roediger, H. L., & Marsh, E. J. (2003). Episodic and autobiographical memory. In A. F. Healy & R. W. Proctor (Eds.), The handbook of psychology (pp. 475–497). New York: Wiley.

Roediger, H. L., & McDermott, K. B. (2013). Two types of event memory. Proceedings of the National Academy of Sciences, 110(52), 20856–20857

Sherry, J. L. (2001). The effects of violent video games on aggression. Human Communication Research, 27(3), 409–431.

Svoboda, E., McKinnon, M. C., & Levine, B. (2006). The functional neuroanatomy of autobiographical memory: a meta-analysis. Neuropsychologia, 44(12), 2189–2208. doi:10.1016/j.neuropsychologia.2006.05.023.

Tulving, E. (1972). Episodic and semantic memory 1. Organization of memory. London: Academic.

Unsworth, G., Devilly, G. J., & Ward, T. (2007). The effect of playing violent video games on adolescents: should parents be quaking in their boots? Psychology, Crime & Law, 13(4), 383–394.
Acknowledgements
The authors would like to thank the students who conducted this study: K. Beerheide, M. Erdogan, A. Frank, F. Groß, J. Hebisch, M. Heinzerling, H. Hermnes, A. Höger, A. Springer, R. Sylvester, I. Thomßen, P. von Felde, E. Wilgenbus.
Ethics declarations
The study was conducted in accordance with the Declaration of Helsinki.
Conflict of Interest
The authors declare no conflict of interest.
About this article
Cite this article
Schöne, B., Wessels, M. & Gruber, T. Experiences in Virtual Reality: a Window to Autobiographical Memory. Curr Psychol 38, 715–719 (2019). https://doi.org/10.1007/s12144-017-9648-y
Keywords
Virtual reality

Autobiographical memory

Episodic memory