Abstract
The aim of the present study was to examine the factor structure and psychometric properties of the 8-item short version of the Center for Epidemiologic Studies-Depression Scale (CES-D) in a large sample of European older adults. Data from The European Social Survey (ESS Round 6 Edition 1.1) provided the basis for this study (5,774 Males and 7,258 Females). Exploratory and confirmatory factor analyses provided support for a single factor structure. The results from multi-group confirmatory factor analyses revealed that the factor structure of the CES-D 8 is invariant across sexes, including invariance of item intercepts, item residuals, and item factor loadings. Moreover, the results provided support for the nomological validity of the scale. These results suggest that the shorter 8-item CES-D scale is a valid and reliable instrument of depression and extends the list of available instruments for screening depression among older adults.
Access options
Buy single article
Instant access to the full article PDF.
US$ 39.95
Tax calculation will be finalised during checkout.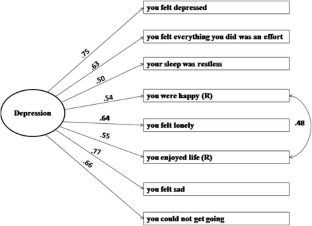 References
Abdel-Khalek, A. (2006). Measuring happiness with a single-item scale. Social Behavior and Personality, 34(2), 139–150.

Adams, K. B., Sanders, S., & Auth, E. A. (2004). Loneliness and depression in independent living retirement communities: Risk and resilience factors. Aging and Mental Health, 8, 475–485.

Aisling, D., Kirby, M., Bruce, I., Cunningham, C., Coakley, D., & Lawlor, B. A. (2000). Three-year prognosis of depression in the community-dwelling elderly. British Journal of Psychiatry, 176, 453–7.

Alsund, C., Starrin, B., & Nilsson, K. W. (2010). Social capital in relation to depression, musculoskeletal pain, and psychosomatic symptoms: A cross-sectional study of a large population-based cohort of Swedish adolescents. BMC Public Health, 10, 715.

Andresen, E. M., Malmgren, J. A., Carter, W. B., & Patrick, D. L. (1994). Screening for depression in well older adults: Evaluation of a short form of the CES-D. American Journal of Preventive Medicine, 10(2), 77–84.

Angst, J. (1997). Depression and anxiety: implications for nosology, course, and treatment. Journal of Clinical Psychiatry, 58(Suppl 8), 3–5.

Arbuckle, J. L. (2007). Amos TM 16 user's guide. Chicago: SPSS.

Balswick, J., & Avertt, C. P. (1977). Differences in expressiveness: Gender interpersonal orientation, and perceived parental expressiveness as contributing factors. Journal of Marriage and the Family, 39, 121–127.

Barrett, P. (2007). Structural equation modelling: Adjudging model Fit. Personality and Individual Differences, 42(5), 815–24.

Baumgartner, H., & Homburg, C. (1996). Applications of structural equation modeling in marketing research: A review. International Journal of Research in Marketing, 13(2), 139–161.

Beck, A. T., Guth, D., Steer, R. A., & Ball, R. (1997). Screening for major depression disorders in medical inpatients with the beck depression inventory for primary care. Behavior Research and Therapy, 35, 785–791.

Beekman, A. T. F., Deeg, D. J. H., Braam, A. W., Smit, J. H., & Van Tilburg, W. (1997). Consequences of major and minor depression in later life: a study of disability, well-being and service utilization. Psychological Medicine, 27, 1397–1409.

Bentler, P. M. (1990). Comparative Fit indexes in structural models. Psychological Bulletin, 107(2), 238–46.

Biordi, D. L., & Nicholson, N. R. (2009). Social isolation. In P. D. Larsen, F. W. Whitney, & I. M. Lubkin (Eds.), Chronic illness: Impact and intervention (pp. 85–115). Boston: Jones and Bartlett Publishers.

Blazer, D. G. (2009). Depression in late life: Review and commentary. Focus, 7(1), 118–136.

Bollen, K. A. (1989). Structural Equations with Latent Variables. Wiley Series in Probability and Mathematical Statistics. New York: Wiley.

Boyd, B. K., Gove, S., & Hitt, M. A. (2005). Construct measurement in strategic management research: Illusion or reality? Strategic Management Journal, 26(3), 239–257.

Brink, T. L., Yesavage, J. A., Lum, O., Heersema, P. H., Adey, M., & Rose, T. L. (1982). Screening tests for geriatric depression. Clinical Gerontologist, 1(1), 37–43.

Browne, M. W., & Cudeck, R. (1993). Alternative ways of assessing model fit. In K. A. Bollen & J. S. Long (Eds.), Testing structural equation models (pp. 136–162). Newbury Park: Sage.

Byrne, B. M. (2010). Structural equation modeling with Amos: Basic concepts, applications, and programming (2nd ed.). New York: Taylor and Francis Group.

Cattell, R. B. (1966). The scree test for the number of factors. Multivariate Behavioral Research, 1, 245–276.

Chang, E. C., & Sanna, L. J. (2001). Optimism, pessimism, and positive and negative affectivity in middle-aged adults: a test of a cognitive-affective model of psychological adjustment. Psychology and Aging, 16(3), 524–31.

Cheung, C.-K., & Bagley, C. (1998). Validating an American scale in Hong Kong: The center for epidemiological studies depression scale (CES-D). The Journal of Psychology, 132(2), 169–186.

Cheung, G. W., & Rensvold, R. B. (2002). Evaluating goodness-of-fit indexes for testing measurement invariance. Structural Equation Modeling, 9, 233–255.

Churchill, G. A. (1979). A paradigm for developing better measures of marketing constructs. Journal of Marketing Research, 16, 64–73.

Conwell, Y., & Brent, D. (1995). Suicide and aging. I: patterns of psychiatric diagnosis. International Psychogeriatrics, 7(2), 149–64.

Cornoni-Huntley, J., Blazer, D.G., Lafferty, M.E., Everett, D.F., Brock, D.B. & Farmer, M.E (Eds). (1990). Established populations for epidemiologic studies of the elderly. Volume II. Resource data book (NIH Publication 90–495). Bethesda, Md.: National Institute on Aging.

Cronbach, L. J., & Meehl, P. E. (1955). Construct validity in psychological tests. Psychological Bulletin, 52, 281–302.

Vand de Velde, S., Bracke, P., & Levecque, K. (2008). The psychometric properties of the CES-D 8 depression inventory and the estimation of cross-national differences in the true prevalence of depression. International Conference on Survey Methods in Multinational, Multiregional, and Multicultural Contexts (3MC), 25–28 June, 2008, Berlin, Berlin-Brandenburg Academy of Sciences and Humanities). Retrieved from http://soc.kuleuven.be/ceso/dagvandesociologie/papers/CESD8%20in%20comparative%20perspective%20Vandevelde-Bracke-Levecque.pdf

Diamantopoulos, A., & Winklhofer, H. M. (2001). Index construction with formative indicators: An alternative to scale development. Journal of Marketing Research, 38(2), 269–277.

Djernes, K. J. (2006). Prevalence and predictors of depression in populations of elderly: A review. Acta Psychiatrica Scandinavica, 113, 372–387.

Drolet, A. L., & Morrison, D. G. (2001). Rejoinder to grapentine. Journal of Service Research, 4(2), 155–160.

Fairbrother, N., & Moretti, M. (1998). Sociotropy' autonomy' and self-discrepancy: Status in depressed' remitted depressed' and control participants. Cognitive Therapy and Research, 22(3), 279–296.

Fonda, S. J., & Herzog, A. R. (2001). Patterns and risk factors of change in somatic and mood symptoms among older adults. Annals of Epidemiology, 11(6), 361–368.

Gallagher, D., Thompson, L. W., & Levy, S. M. (1980). Clinical psychological assessment of older adults. In L. W. Poon (Ed.), Aging in the 1980s (pp. 19–40). New York: American Psychological Association.

Gardner, D. G., Cummings, L. L., Dunham, R. B., & Pierce, J. L. (1998). Single-item versus multiple-item measurement scales: An empirical comparison. Educational and Psychological Measurement, 58(6), 898–915.

Gorsuch, R. L. (1983). Factor analysis (2 nd ed.). Hillsdale: Erlbaum.

Gotlib, I. H., & Hammen, C. L. (2009). Handbook of depression. London: The Guilford Press.

Hart, S. L., Vella, L., & Mohr, D. C. (2008). Relationships among depressive symptoms, benefit-finding, optimism, and positive affect in multiple sclerosis patients after psychotherapy for depression. Health Psychology, 27(2), 230–8.

Hills, P., & Argyle, M. (2002). The Oxford happiness questionnaire : A compact scale for the measurement of psychological well-being. Personality and Individual Differences, 33(7), 1073–1082.

Horn, J. L. (1965). A rationale and test for the number of factors in factor analysis. Psychometrika, 32, 179–185.

Hu, L. T., & Bentler, P. M. (1999). Cutoff criteria for fit indexes in covariance structure analysis: Conventional criteria versus new alternatives. Structural Equation Modeling, 6(1), 1–55.

Ilardi, B. C., Leone, D., Kasser, R., & Ryan, R. M. (1993). Employee and supervisor ratings of motivation: Main effects and discrepancies associated with job satisfaction and adjustment in a factory setting. Journal of Applied Social Psychology, 23, 1789–1805.

Irwin, M., Artin, K. H., & Oxman, M. N. (1999). Screening for depression in the older adult: Criterion validity of the 10-item center for epidemiological studies depression scale (CES-D). Archives of Internal Medicine, 159(15), 1701–1704.

Joiner, T. E., Katz, J., & Lew, A. (1999). Harbingers of depressotypic reassurance seeking: Negative life events, increased anxiety, and decreased self-esteem. Personality and Social Psychology Bulletin, 25, 632–639.

Jowell, R. (2004). European Social Survey Round 1: 2002–2003 (Technical Report, ed. 2). London: National Centre for Social Research.

Kaiser, H. F. (1960). The application of electronic computers to factor analysis. Educational and Psychological Measurement, 20, 141–151.

Kaiser, H. F. (1970). A second-generation Little Jiffy. Psychometrika, 35, 401–415.

Kay, D. W., Henderson, A. S., Scott, R., Wilson, J., Rickwood, D., & Grayson, D. A. (1985). Dementia and depression among the elderly living in the Hobart community: The effect of the diagnostic criteria on the prevalence rates. Psychological Medicine, 15, 771–88.

Keita, G. P. (2007). Psychosocial and cultural contributions to depression in women: Consideration for women midlife and beyond. Journal of Managed Care Pharmacy, 13(9), s12–s15. suppl s-a.

Kessler, R. C., Mcgonagle, K. A., Swartz, M., Blazer, D. G., & Nelson, C. B. (1993). Sex and depression in the national comorbidity survey.1: Lifetime prevalence, chronicity and recurrence. Journal Affective Disorders, 29(2–3), 85–96.

Koenig, H. G., & Blazer, D. G. (1996). Depression. In J. E. Birren (Ed.), Encyclopedia of gerontology: Age, aging, and the aged (Vol. I, pp. 415–428). San Diego: Academic.

Kohout, F. J., Berkman, L. F., Evans, D. A., & Cornoni-Huntley, J. (1993). Two shorter forms of the CES-D depression symptoms index. Journal of Aging and Health, 5(2), 179–193.

Lewinsohn, P. M., Redner, J. E., & Selley, J. R. (1991). The relationship between life satisfaction and psychosocial variables: New perspectives. In F. Strack, M. Argyle, & N. Schwarz (Eds.), Subjective well-being: An interdisciplinary perspective (pp. 141–169). Oxford: Pergamon Press.

Liu, C. Y., Wang, S. J., Teng, E. L., Fuh, J. L., Lin, C. C., Lin, K. N., et al. (1997). Depressive disorders among older residents in a Chinese rural community. Psychological Medicine, 27, 943–9.

Lucas, R. E., & Donnellan, M. B. (2012). Estimating the reliability of single-item life satisfaction measures: Results from National panel studies. Social indicator Research, 105(3), 323–331.

Madden, T. E., Barrett, L. F., & Pietromonaco, P. R. (2000). Sex differences in anxiety and depression: Empirical evidence and methodological questions. In A. H. Fischer (Ed.), Gender and emotion: Social psychological perspectives (pp. 277–298). New York: Cambridge University Press.

Maier, W., Buller, R., Philipp, M., & Heuser, I. (1988). The Hamilton anxiety scale: reliability, validity and sensitivity to change in anxiety and depressive disorders. Journal of Affective Disorders, 4(1), 61–8.

Marcus, M., Yasamy, T. Y., Ommeren, M., Chisholm, D., & Saxena, S. (2012). Depression: A global health concern. In Depression: A global crisis (pp. 6–8).World Federation for Mental Health: Occoquan, VA. Retrieved from http://www.who.int/mental_health/management/depression/wfmh_paper_depression_wmhd_2012.pdf.

McNair, D. M. (1979). Self-rating scales for assessing psychopathology in the elderly. In A. Raskin & L. F. Jarvik (Eds.), Psychiatric symptorns and cognitive loss in the elderly (pp. 157–267). Washington: Wiley.

Melchior, L. A., Huba, G. J., Brown, V. B., & Reback, C. J. (1993). A short depression index for women. Educational and Psychological Measurement, 53(4), 1117–1125.

Meredith, W. (1993). Measurement invariance, factor analysis, and factorial invariance. Psychometrika, 58, 525–542.

Montorio, I., & Izal, M. (1996). The geriatric depression scale: A review of its development and utility. International Psychogeriatrics, 8(1), 103–112.

Mrozek, D. K., & Kolarz, C. M. (1998). The effect of age on positive and negative affect: A developmental perspective on happiness. Journal of Personality and Social Psychology, 75(5), 1333–1349.

Mui, A., Burnett, D., & Chen, L. M. (2001). Cross-cultural assessment of geriatric depression: A review of the CES-D and the GDS. Journal of Mental Health and Aging, 7(1), 137–64.

Murphy, J. M., Berwick, D. M., Weinstein, M. C., Borus, J. F., Budman, S. H., & Klerman, G. L. (1987). Performance of screening and diagnostic tests: Application of receiver operating characteristic analysis. Archives of General Psychiatry, 44, 550–555.

Newman, S. C., Bland, R. C., & Orn, H. T. (1998). The prevalence of mental disorders in the elderly in Edmonton: A community survey using GMS-AGECAT. Canadian Journal of Psychiatry, 43, 910–4.

Nolen-Hoeksema, S. (2001). Gender differences in depression. Current Directions in Psychological Science, 10(5), 173–175.

Norman, S. B., Cissel, S. H., Means-Christensen, A. J., & Stein, M. B. (2006). Development and validation of an overall anxiety severity and impairment scale (OASIS). Depression and Anxiety, 23(4), 245–9.

Nunnally, J. C., & Bernstein, I. H. (1994). Psychometric theory. New York: McGraw-Hill.

O'Halloran, A. M., Kenny, R. A., & King-Kallimanis, B. L. (2014). The latent factors of depression from the short forms of the CES-D are consistent, reliable and valid in community-living older adults. European Geriatric Medicine, 5, 97–102.

O'Connor, B. P. (2000). SPSS and SAS programs for determining the number of components using parallel analysis and Velicer's MAP test. Behavior Research Methods, Instruments, & Computers, 32, 396–402.

Orth, U., & Robins, R. W. (2013). Understanding the link between low self-esteem and depression. Current Directions in Psychological Science, 20(10), 1–6. doi:10.1177/0963721413492763.

Page, R. M., & Cole, G. (1991). Demographic predictors of self reported loneliness in adults. Psychological Reports, 68, 939–945.

Papassotiropoulos, A., & Heun, R. (1999). Screening for depression in the elderly: a study on misclassification by screening instruments and improvement of scale performance. Progress in Neuro-Psychopharmacology and Biological Psychiatry, 23(3), 431–446.

Piccinelli, M., & Wilkinson, G. (2000). Gender differences in depression: Critical review. British Journal of Psychiatry, 177, 486–92.

Pomeroy, I. M., Clark, C. R., & Philip, I. (2001). The effectiveness of very short scales for depressions screening in elderly medical patients. International Journal of Geriatric Psychiatry, 16(3), 321–326.

Radloff, L. S. (1977). The CES-D scale: A self-report depression scale for research in the general population. Applied Psychological Measurements, 3, 385–401.

Roberts, K. E., Kaplan, G. A., Shema, S. J., & Strawbridge, W. J. (1997). Does growing old increase the risk for depression? American Journal of Psychiatry, 154(10), 1384–1390.

Rosenberg, M. (1965). Society and the adolescent self-image. Princeton: Princeton University Press.

Royal College of Psychiatrists Working Group of the Faculty of Old Age Psychiatry. (2005). Who cares wins: Improving the outcome for older people admitted to the general hospital. London: Royal College of Psychiatrists.

Santor, D. A., & Coyne, J. C. (1997). Shortening the CES-D to improve its ability to detect cases of depression. Psychological Assessment, 9(3), 233–243.

Scheir, M. F., Carver, C. S., & Bridges, M. W. (1994). Distinguishing optimism from neuroticism (and trait anxiety, self-mastery, and self-esteem): A re-evaluation of the Life Orientation Test. Journal of Personality and Social Psychology, 67, 1063–1078.

Schoevers, R. A., Geerlings, M. I., Beekman, A. T., Penninx, B. W., Deeg, D. J., Jonker, C., et al. (2000). Association of depression and gender with mortality in old age. British Journal of Psychiatry, 177, 336–42.

Steffick, E. D. (2000). Documentation of affective functioning measures in the health and retirement study. Survey Research Center, University of Michigan, Ann Arbor, MI. Retrieved from http://hrsonline.isr.umich.edu/sitedocs/userg/dr-005.pdf, on Feburary 21, 2014.

Steptoe, A., Breeze, E., Banks, J., & Nazroo, J. (2013). Cohort profile: the English longitudinal study of ageing. International Journal of Epidemiology, 42(6), 1640–1648.

Tucker, L. R., & Lewis, C. (1973). A reliability coefficient for maximum likelihood factor analysis. Psychometrika, 38, 1–10.

Turvey, C. L., Wallace, R. B., & Herzog, R. (1999). A revised CES-D measure of depressive symptoms and a DSM-based measure of major depressive episodes in the elderly. International Psychogeriatrics, 11(2), 139–148.

Van de Velde, S., Levecque, K., & Bracke, P. (2009). Measurement equivalence of the CES-D 8 in the general population in Belgium: a gender perspective. Archives of Public Health, 67, 15–29.

Van Ginneken, J. K., & Groenewold, G. (2012). A single-vs. multi-item self-rated health status measure: A 21-country study. The Open Health Journal, 5, 1–9.

Vandenberg, R. J., & Lance, C. E. (2000). A review and synthesis of the measurement invariance literature: Suggestions, practices, and recommendations for organizational research. Organizational Research Methods, 3(1), 4–69.

Velicer, W. F. (1976). Determining the number of components from the matrix of partial correlations. Psychometrika, 41, 321–327.

Viswanathan, M. (2005). Measurement error and research design. London: Sage Publications.

Vlachopoulos, S. P., Asci, F. H., Cid, L., Ersoz, G., Gonzalez-Cutre, D., Moreno-Murcia, J. A., & Moutao, J. (2013). Cross-cultural invariance of the basic psychological needs in exercise scale and need satisfaction latent mean differences among Greek, Spanish, Portuguese and Turkish samples. Psychology of Sport and Exercise, 14, 622–631.

Wallston, K. A. (2005). The validity of the multidimensional Health Locus of Control scales. Journal of Health Psychology, 10(4), 623–631.

Weinstein, N., Przybylski, A. K., & Ryan, R. M. (2012). The index of autonomous functioning: Development of a scale of human autonomy. Journal of Research in Personality, 46, 397–413.

Weissman, M. M., & Klerman, G. L. (1977). Sex-differences and epidemiology of depression. Archives of General Psychiatry, 34(1), 98–111.

Weissman, M. M., Leaf, P. J., Holzer, C. E., Myers, J. K., & Tischler, G. L. (1984). The epidemiology of depression: An update on sex-differences in rates. Journal of Affective Disorders, 7(3–4), 179–88.

Widaman, K. F., & Reise, S. P. (1997). Exploring the measurement invariance of psychological instruments: applications in the substance use domain. In K. J. Bryant, M. Windle, & S. G. West (Eds.), The science of prevention: Methodological advances from alcohol and substance abuse research (pp. 281–324). Washington DC: American Psychological Association.

Wirtz, J., & Lee, M. C. (2003). An examination of the quality of context-specific applicability of commonly used customer satisfaction measures. Journal of Service Research, 5(4), 345–355.

World Health Organization. (2001). Mental Health: New understanding, New Hope. Retrieved from http://www.who.int/whr/2001/en/whr01_en.pdf on November, 2013.

Zhang, B., & Wing, Y.-K. (2006). Sex differences in insomnia: a meta- analysis. Sleep, 29, 85–93.

Zung, W. W. K. (1965). A. Self-rating depression scale. Archives of General Psychiatry, 12, 63–70.
Appendix
Appendix
About this article
Cite this article
Karim, J., Weisz, R., Bibi, Z. et al. Validation of the Eight-Item Center for Epidemiologic Studies Depression Scale (CES-D) Among Older Adults. Curr Psychol 34, 681–692 (2015). https://doi.org/10.1007/s12144-014-9281-y
Keywords
Depression

CES-D 8

Reliability

Factorial validity

Nomological validity