Abstract
The human visual system employs a sophisticated set of strategies for scanning the environment and directing attention to stimuli that can be expected given the context and a person's past experience. Although these strategies enable us to navigate a very complex physical and social environment, they can also cause highly salient, but unexpected stimuli to go completely unnoticed. To examine the generality of this phenomenon, we conducted eight studies that included 15 different experimental conditions and 1,577 participants in all. These studies revealed that a large majority of participants do not report having seen a woman in the center of an urban scene who was photographed in midair as she was committing suicide. Despite seeing the scene repeatedly, 46 % of all participants failed to report seeing a central figure and only 4.8 % reported seeing a falling person. Frequency of noticing the suicidal woman was highest for participants who read a narrative priming story that increased the extent to which she was schematically congruent with the scene. In contrast to this robust effect of inattentional blindness, a majority of participants reported seeing other peripheral objects in the visual scene that were equally difficult to detect, yet more consistent with the scene. Follow-up qualitative analyses revealed that participants reported seeing many elements that were not actually present, but which could have been expected given the overall context of the scene. Together, these findings demonstrate the robustness of inattentional blindness and highlight the specificity with which different visual primes may increase noticing behavior.
Access options
Buy single article
Instant access to the full article PDF.
US$ 39.95
Tax calculation will be finalised during checkout.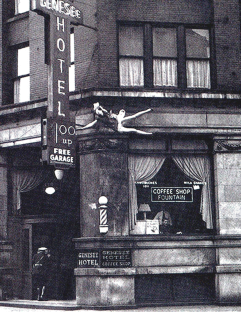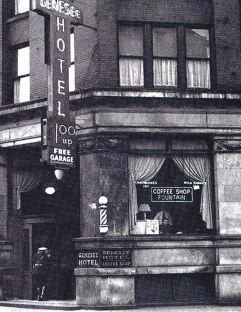 Notes
1.

Asking students to identify themselves could have led to less complete reporting of elements about which students were uncertain. However, given that students were explicitly instructed to list as many elements from the scene as possible, reporting elements about which students were uncertain was associated with doing better, not worse. This, we believe, decreased the likelihood of omitting uncertain scene elements.
References
Attneave, F. (1954). Some informational aspects of visual perception. Psychological Review, 61, 183–193.

Axelrod, R. (1973). Schema theory: an information processing model of perception and cognition. The American Political Science Review, 67, 1248–1266.

Bar, M., & Ullman, S. (1996). Spatial context in recognition. Perception, 25, 343–352.

Beck, A. T. (1967). Depression: Clinical, experimental, and theoretical aspects. New York: Harper and Row.

Becker, E. (1973). The denial of death. New York: Simon & Schuster.

Becklen, R., & Cervone, D. (1983). Selective looking and the noticing of unexpected events. Memory and Cognition, 11, 601–608.

Beiderman, I., Mezzanotte, R. J., & Rabinowitz, J. C. (1982). Scene perception: detecting and judging objects undergoing relational violations. Cognitive Psychology, 14, 143–177.

Boyce, S. J., & Pollatsek, A. (1992). Identification of objects in scenes: the role of scene background in object naming. Journal of Experimental Psychology: Learning, Memory, and Cognition, 18, 531–543.

Boyce, S. J., Pollatsek, A., & Rayner, K. (1989). Effect of background information on object identification. Journal of Experimental Psychology: Human Perception and Performance, 15, 556–566.

Bredemeier, K., & Simons, D. J. (2012). Working memory and inattentional blindness. Psychonomic Bulletin and Review, 19, 239–244.

Bruner, J. S. (1957). On perceptual readiness. Psychological Review, 64, 123–152.

Cantor, N., & Michel, W. (1979). Traits as prototypes: effects on recognition memory. Journal of Personality and Social Psychology, 35, 38–48.

Chen, X., & Zelinsky, G. J. (2006). Is visual search a top-down or bottom-up process? Journal of Vision, 6, 447.

Chun, M. M. (2003). Scene perception and memory. In D. Irwin & B. Ross (Eds.), Psychology of learning and motivation: Advances in research and theory: Cognitive vision (Vol. 42, pp. 79–108). San Diego: Academic Press.

Cox, D., Meyers, E., & Sinha, P. (2004). Contextually evoked object-specific responses in human visual cortex. Science, 304, 115–117.

Davenport, J. L., & Potter, M. C. (2004). Scene consistency in object and background perception. Psychological Science, 15, 559–564.

Drew, T., Võ, M.L., & Wolfe, J.M. (2013). The invisible gorilla strikes again: sustained inattentional blindness in expert observers. Psychological Science, 24, 1848–1853.

Greenberg, J., Pyszczynski, T., & Solomon, S. (1986). The causes and consequences of the need for self-esteem: A terror management theory. In R. F. Baumeister (Ed.), Public self and private self (pp. 189–212). New York: Springer.

Henderson, J. M., & Hollingworth, A. (1999). High-level scene perception. Annual Review of Psychology, 50, 243–271.

Hsieh, P. J., Colas, J. T., & Kanwisher, N. (2011). Pop-out without awareness: unseen feature singletons capture attention only when top-down attention is available. Psychological Science, 22, 1220–1226.

Hyman, I. E., Boss, S. M., Wise, B. M., McKenzie, K. E., & Caggiano, J. M. (2010). Did you see the unicycling clown? Inattentional blindness while walking and talking on a cell phone. Applied Cognitive Psychology, 24, 597–607.

Itti, L. (2005). Models of bottom-up attention and saliency. In L. Itti, G. Rees, & J. K. Tsotsos (Eds.), Neurobiology of attention (pp. 576–582). San Diego: Elsevier.

Itti, L., Koch, C., & Niebur, E. (1998). A model of saliency-based visual attention for rapid scene analysis. IEEE Transactions on Pattern Analysis and Machine Intelligence, 20, 1254–1259.

James, R. C. (1973). Dalmatian photo. In R. L. Gregory (Ed.), The intelligent eye (p. 14). New York: McGraw-Hill.

Kunhardt, P. B. (1986). LIFE: The first 50 years, 1936–1986. Boston: Little, Brown and Company.

Levy, S. R., Plaks, J. E., & Dweck, C. S. (1999). Modes of social thought: Implicit theories and social understanding. In S. Chaiken & Y. Trope (Eds.), Dual-process theories in social psychology (pp. 179–202). New York: Guilford Press.

Mack, A. (2003). Inattentional blindness: looking without seeing. Current Directions in Psychological Science, 12, 180–184.

Mack, A., & Rock, I. (1998). Inattentional blindness. Cambridge: MIT Press.

Most, S. B., Simons, D. J., Scholl, B. J., Jimenez, R., Clifford, E., & Chablis, C. F. (2001). How not to be seen: the contributions of similarity and selective ignoring to sustained inattentional blindness. Psychological Science, 12, 9–17.

Neisser, U., & Becklen, R. (1975). Selective looking: attending to visually significant events. Cognitive Psychology, 7, 480–494.

Palmer, S. E. (1975). The effects of contextual scenes on the identification of objects. Memory and Cognition, 3, 519–526.

Perls, F. S. (1969). In J. O. Stevens (Ed.), Gestalt therapy verbatim. Lafayette: Real People Press.

Ross, L., & Ward, A. (1996). Naive realism in everyday life: Implications for social conflict and misunderstanding. In T. Brown, E. Reed, & E. Turiel (Eds.), Values and knowledge (pp. 103–135). Hillsdale: Lawrence Erlbaum Associates.

Simons, D. J. (2000). Attentional capture and inattentional blindness. Trends in Cognitive Sciences, 4, 147–155.

Simons, D. J., & Chabris, C. F. (1999). Gorillas in our midst: sustained inattentional blindness for dynamic events. Perception, 28, 1059–1074.

Simons, D. J., & Levin, D. T. (1998). Failure to detect changes to people during a real-world interaction. Psychonomic Bulletin and Review, 5, 644–649.

Slavich, G. M. (2005). Transformational teaching. E-xcellence in teaching, volume 5. Retrieved from http://www.teachpsych.org/ebooks/eit2005/eit05-11.html.

Slavich, G. M. (2006). On becoming a teacher of psychology. In J. G. Irons, B. C. Beins, C. Burke, B. Buskist, V. Hevern, & J. E. Williams (Eds.), The teaching of psychology in autobiography: Perspectives from exemplary psychology teachers (pp. 92–99). Washington, DC: American Psychological Association.

Slavich, G. M. (2009). On 50 years of giving psychology away: an interview with Philip Zimbardo. Teaching of Psychology, 36, 278–284.

Slavich, G.M., & Toussaint, L. (2013). Using the Stress and Adversity Inventory (STRAIN) as a teaching tool leads to significant learning gains in two courses on stress and health. Stress and Health. doi:10.1002/smi.2523.

Slavich, G. M., & Zimbardo, P. G. (2012). Transformational teaching: theoretical underpinnings, basic principles, and core methods. Educational Psychology Review, 24, 569–608.

Stryker, S., & Burke, P. J. (2000). The past, present, and future of an identity theory. Social Psychology Quarterly, 63, 284–297.

Thoreau, H. D. (1906). The journal of Henry David Thoreau. In B. Torrey (Ed.), The writings of Henry David Thoreau: XIII (pp. 77–78). Boston: Houghton Mifflin.

Torralba, A., Oliva, A., Castelhano, M., & Henderson, J. M. (2006). Contextual guidance of eye movements and attention in real-world scenes: the role of global features in object search. Psychological Review, 113, 766–786.

Varakin, D. A., & Levin, D. T. (2008). Scene structure enhances change detection. Quarterly Journal of Experimental Psychology, 61, 543–551.

Wolfe, J. M. (1999). Inattentional amnesia. In V. Coltheart (Ed.), Fleeting memories: Cognition of brief visual stimuli (pp. 71–94). Cambridge: MIT Press.

Wolfe, J. M., Butcher, S. J., Lee, C., & Hyle, M. (2003). Changing your mind: on the contributions of top-down and bottom-up guidance in visual search for feature singletons. Journal of Experimental Psychology: Human Perception and Performance, 29, 483–502.

Wolfe, J. M., Horowitz, T. S., & Kenner, N. (2005). Rare items often missed in visual searches. Nature, 435, 439–440.
Acknowledgments
Preparation of this report was supported in part by National Institutes of Health grant R01 CA140933, by the Cousins Center for Psychoneuroimmunology, and by a Society in Science – Branco Weiss Fellowship to George Slavich. We thank Lauren Anas, Waki Gamez, and Connie Turcott for assisting with data management.
Declaration of Conflicting Interests
The authors declare that they have no conflicts of interest with respect to their authorship or the publication of this article.
About this article
Cite this article
Slavich, G.M., Zimbardo, P.G. Out of Mind, Out of Sight: Unexpected Scene Elements Frequently Go Unnoticed Until Primed. Curr Psychol 32, 301–317 (2013). https://doi.org/10.1007/s12144-013-9184-3
Keywords
Visual attention

Selective attention

Perception

Inattentional blindness

Figure-ground perception

Aschematic blindness

Priming

Expectations

Transformational teaching