Abstract
The current study investigates whether eye color provides a marker of Agreeableness in North Europeans. Extrapolating from Frost's (2006) research uncovering an unusually diverse range of hair and eye color in northern Europe, we tested the hypothesis that light eyed individuals of North European descent would be less agreeable (a personality marker for competitiveness) when compared to their dark eyed counterparts, whereas there would be no such effect for people of European descent in general. The hypothesis was tested in Australia to provide consistent environmental conditions for both groups of people. Results support the hypothesis. Implications and conclusions are discussed.
This is a preview of subscription content, log in to check access.
Access options
Buy single article
Instant access to the full article PDF.
US$ 39.95
Price includes VAT for USA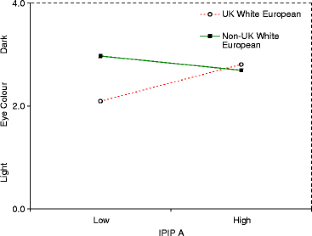 References
Australian Bureau of Statistics. (2005). Main countries of birth of the population. (No. 3412.0). Canberra: Australian Capital Territory.

Axelrod, R., & Hamilton, W. D. (1981). The evolution of cooperation. Science, 211, 1390–1396.

Bassett, J. F., & Dabbs, J. M. (2001). Eye color predicts alcohol use in two archival samples. Personality and Individual Difference, 31, 535–539.

Bjorkqvist, K., Osterman, K., & Kaukiainen, A. (1992). The development of direct and indirect aggressive strategies in males and females. In K. Bjorkqvist & P. Niemela (Eds.), Of mice and women: Aspects of female aggression (pp. 51–64). San Diego: Academic.

Buss, D. M. (1988). The evolution of human intrasexual competition: tactics of mate attraction. The Journal of Personality and Social Psychology, 54, 616–628.

Costa, P. T., & McCrae, R. R. (1992). Professional manual for the NEO personality inventory. Odessa: Psychological Assessment Resources.

Eron, L. D., Bjorkqvist, K., & Niemela, P. (1992). Gender differences in violence: Biology and/or socialization? In Of mice and women. Aspects of female aggression (pp. 89–97). San Diego: Academic.

Fink, B., Manning, J. T., & Neave, N. (2004). Second to fourth digit ratio and the 'big five' personality factors. Personality and Individual Differences, 37, 495–503.

Frost, P. (2006). European hair and eye color: a case of frequency-dependent sexual selection? Evolution and Human Behavior, 27, 85–103.

Gary, A. L., & Glover, J. (1976). Eye color, sex and children's behavior. Chicago: Nelson-Hall.

Geary, D. (1998). Male, female: The evolution of human sex differences. Washington, DC: American Psychological Association.

Grammer, K., & Thornhill, R. (1994). Human (Homo sapiens) facial attractiveness and sexual selection: the role of symmetry and averageness. Journal of Comparative Psychology, 3, 233–242.

International Personality Item Pool. (2001). A scientific collaboratory for the development of advanced measures of personality traits and other individual differences. Retrieved May 23, 2006 from http://ipip.ori.org/.

John, O. P., Donahue, E. M., & Kentle, R. L. (1991). The big five inventory: Versions 4a and 54. Berkley: Technical report, Institute of Personality and Social Research, University of California.

Jones, D., & Hill, K. (1993). Criteria of facial attractiveness in five populations. Human Nature, 4, 271–296.

Larsson, M. (1998). Iris patterns and personality: Does a relationship exist that can be useful for the five factor model and behavioral genetics? Paper presented at Behavioral Genetics Association's Annual Meeting in Stockholm, Sweden 1998.

Lippa, R. A. (2006). Finger lengths, 2D:4D ratios, and their relation to gender-related personality traits and the big five. Biological Psychology, 71, 116–121.

Luxen, M. F., & Buunk, B. P. (2005). Second-to-fourth digit ratio related to verbal and numerical intelligence and the big five. Personality and Individual Differences, 39, 959–966.

Maynard-Smith, J. (1982). Evolution and the theory of games. Cambridge: Cambridge University Press.

Nettle, D. (2006). The evolution of personality variation in humans and other animals. American Psychologist, 61, 622–631.

Penke, L., Denissen, J. J. A., & Miller, G. F. (2007). The evolutionary genetics of personality. European Journal of Personality, 21, 549–587.

Powch, I. G., & Houston, B. K. (1996). Hostility, anger-in, and cardiovascular reactivity in white women. Health Psychology, 15, 200–208.

Price, C. (1999). Australian population: ethnic origins. People and Place, 7, 12–16.

Riedl, B. I. M. (1990). Morphological and metrical characteristics of the male and female Leitmotif in mate-selection and its impact on the selection of the spouse. Homo, 41, 72–85.

Rim, Y. (1983). Eye-color, ethnic origin or family size? Personality and Individual Differences, 4, 101–102.

Rudman, L. A. (1998). Self promotion as a risk factor for women: The costs and benefits of counterstereotypical impression Management. Journal of Personality and Social Psychology, 74, 629–645.

Schweder, B. I. M. (1994). The impact of the face on long-term human relationships. Homo, 45, 74–93.

Smuts, B. B. (1987). Sexual competition and mate choice. In B. B. Smuts et al. (Eds.), Primate societies (pp. 385–399). Chicago: Aldine.

Sturm, R. A., & Frudakis, T. N. (2004). Eye colour: portals into pigmentation genes and ancestry. TRENDS in Genetics, 20, 327–332.

Thelen, T. H. (1983). Minority type human mate preference. Social Biology, 30, 162–180.

Thornhill, R., & Gangestad, S. W. (1993). Averageness, symmetry and parasite resistance. Human Facial Beauty, 4, 237–269.

Trivers, R. L. (1971). The evolution of reciprocal altruism. Quarterly Review of Biology, 46, 35–57.

Worthy, M. (1999). Eye color: A key to human and animal behavior. Nebraska: Lincoln. To Excel (Original work published 1974).
Acknowledgments
We would like to thank Dr Peter Frost for his comments on earlier versions of this manuscript.
About this article
Cite this article
Gardiner, E., Jackson, C.J. Eye color Predicts Disagreeableness in North Europeans: Support in Favor of Frost (2006). Curr Psychol 29, 1–9 (2010). https://doi.org/10.1007/s12144-009-9070-1
Keywords
Eye color

Personality

Melanin

Competitiveness

Agreeableness