Abstract
While attacks against members of the LGBT community are increasingly covered as hate crimes and are widely viewed as a form of repression, attacks on women are almost never covered as violations of human rights. We propose that until violence against women is recognized as a form of repression and a threat to the physical security of women, we cannot expect much to be done to prevent it. We posit that policies aimed at preventing violence against women are unlikely to come about unless this abstract concept is connected, through a connection frame, to concrete crimes against women. We conducted a framing analysis of news coverage of all confirmed femicides in Massachusetts in 2013 and find that while journalists have the potential to draw these connection frames, they seldom put these killings in the context of violations of women's rights.
This is a preview of subscription content, log in to check access.
Access options
Buy single article
Instant access to the full article PDF.
US$ 39.95
Price includes VAT for USA
Subscribe to journal
Immediate online access to all issues from 2019. Subscription will auto renew annually.
US$ 99
This is the net price. Taxes to be calculated in checkout.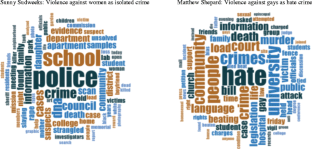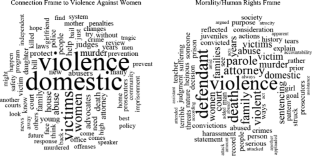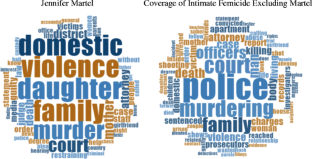 Notes
1.

It was later revealed that drugs may also have played a role in Shepard's killing (for more, see Jimenez 2013).

2.

Below and Whitten-Woodring (2008) introduced the term connection frames as the practice of connecting abstract concepts to concrete events.

3.

We selected Massachusetts because we needed a manageable sample so that we could take an in-depth look at all cases for a given year and assess the effects on state policy. We chose 2013 because we wanted a year that was recent, but distant enough to have played out in the news media (and following the passage of the Matthew Shepard and James Byrd Hate Crimes Prevention Act, which expanded hate crimes to include gender-based crimes), yet also a year for which crime statistics were readily available. 2013 was the most recent year for which comprehensive data were available.

4.

5.

Many news articles were analyzed as part of this study. To conserve space, we include only the references to articles that are quoted directly in our reference section. References to all of the articles used in our analyses are included in the Online appendix at http://faculty.uml.edu/Jenifer_whittenwoodring/.

6.

Recently, there has been some debate as to the motives behind Shepard's killing. Jiminez (2013) proposed that it was drugs rather than sexual orientation that prompted the attack, but these claims have been widely criticized.

7.

We would have included unsolved cases involving sexual assault because such violence would indicate that sexual aggression was a motivating factor; however, there was no indication that sexual assault was involved in the any of the 2013 unsolved killings. We do concede that we are probably underestimating the number of femicides.

8.

9.

A more detailed analysis of the coverage of these non-intimate femicides is available in the Online appendix.

10.

This is in keeping with the findings of Pollock et al. (2018) that hate crimes are associated with increased perception of government responsibility regarding violence against women.
References
Abraham, Yvonne. "A speaker galvanized by the deadly cycle of abuse." Boston Globe Mar 27 2014. ProQuest. Web. 31 May 2017: A1.

Below, Amy and Jenifer Whitten-Woodring, "Global warming heats up: climate change, connection frames and the US Policy Agenda." American Political Science Association Annual Meeting, Boston, 2008.

Bennett, W. Lance (1990) Toward a theory of press-state relations. Journal of Communication. 40 (2): 103–125.

Bhattacharjee, A., & Banda, S. (2016). Domestic violence against women: the socioeconomic scenario. Indian Journal of Health & Wellbeing, 7(7), 765–768.

Brandle, S. M. (2016). Television news and human rights in the US & UK: the violations will not be televised. Routeledge: New York.

Brandle, S.M. (2018). Media coverage of human rights in the US and UK: the violations still won't be televised (or Published). Human Rights Review, (in press).

Bridges, F.S., Tatum, K. M., & Kunselman, J.C. (2008). Domestic violence statutes and rates of intimate partner and family homicide: a research note. Criminal Justice Policy Review, 19(1), 117–130

Clark, R. (2012). Bringing the media in: newspaper readership and human rights. Sociological Inquiry, 82(4), 532–556. https://doi.org/10.1111/j.1475-682X.2012.00417.x

Colomb, W., & Damphousse, K. (2004). Examination of newspaper coverage of hate crimes: a moral panic perspective. American Journal of Criminal Justice, 28(2), 147–163.

Della Giustina, J.,. (2010). Why women are beaten and killed: sociological predictors of femicide.

Druckman, J. N. (2006) "Media matter: how newspapers and television news cover campaigns and influence voters." Political Communication, 22(4), 463–481.

Easteal, P., Judd, K., & Holland, K. (2015). Enduring themes and silences in media portrayals of violence against women. Women's Studies International Forum, 48, 103–113. https://doi.org/10.1016/j.wsif.2014.10.015

Entman, R. M. (1993). "Framing: toward clarification of fractured paradigm." Journal of Communication 43(4), 51–58.

Entman, Robert M. (2010). "Media framing biases and political power: explaining slant in news of campaign 2008." Journalism 11(4), 389–408.

Fausto, Alma (2017). "Police ID suspect: former Santa Ana resident is accused of killing OCC student in '97." Orange County Register. March 3, 2017: Cover.

Gruenewald, J., Pizarro, J., & Chermak, S. M. (2009). Race, gender, and the newsworthiness of homicide incidents. Journal of Criminal Justice, 37(3), 262–272. https://doi.org/10.1016/j.jcrimjus.2009.04.006

Haydari, N., & Kara, M. (2015). A collaborative media production project on human rights: bridging everyday and media education. Innovations in Education & Teaching International, 52(4), 383–392. https://doi.org/10.1080/14703297.2013.861759

Heinze, E., & Freedman, R. (2010). Public awareness of human rights: distortions in the mass media. International Journal of Human Rights, 14(4), 491–523. https://doi.org/10.1080/13642980802645804

Hudson, V. M., Ballif-Spanvill, B., Caprioli, M., & Emmett, C. (2012). Sex and world peace. New York: Columbia University Press.

Humphries, D. (2009). Women, violence, and the media. Hanover: Northeastern University Press.

Jimenez, S. (2013). The book of Matt: Hidden truths about the murder of Matthew Shepard. Hanover: Steerforth Press.

Lundman, R. J. (2003). The newsworthiness and selection bias in news about murder: comparative and relative effects of novelty and race and gender typifications on newspaper coverage of homicide. Sociological Forum, 18(3), 357.

Lundman, R. J., Douglass, O. M., & Hanson, J. M. (2004). News about Murder in an African American newspaper: effects of relative frequency and race and gender typifications. Sociological Quarterly, 45(2), 249–272.

Meyers, M. (1997). News coverage of violence against women: Engendering blame. Newbury Park: Sage.

Petrosky E, Blair JM, Betz CJ, Fowler KA, Jack SP, Lyons BH. Racial and ethnic differences in homicides of adult women and the role of intimate partner violence—United States, 2003–2014. MMWR Morb Mortal Wkly Rep 2017;66:741–746. https://doi.org/10.15585/mmwr.mm6628a1.

Pollock, Richardella, Jahr, Morgan & Cook (2018). Nationwide newspaper coverage of rape and rape culture on college campuses: testing community structure theory. Human Rights Review, (in press).

Powers M. (2016) "A new era of human rights news? Contrasting two paradigms of human rights news-making." Journal of Human Rights 15(3): 314–329.

Radford, Jill, Russell, Diana E.H.,. (1992). Femicide: the politics of woman killing. New York; Twayne.

Reilly, Janet E. (2018). Training human rights reporters: human rights education in U.S. journalism degree programs. Human Rights Review, (in press).

Rhoades, Brady (1998). "A mother's torment continues over daughter's unsolved murder; CRIME: a year after Sunny Sudweeks' slaying, police say there are still no suspects." Orange Country Register. 23 February 1998: B01

Richards, David L., Haglund, Jillienne. (2015). Violence against women and the law.

Scharfenberg, David. (2014) "Abuse measure wins approval." Boston Globe, August 1, 2014: B1. Proquest 30 May 2017.

Semetko, H.A. & Valkenburg, P.M. (2000). Framing European politics: A content analysis of press and television news. Journal of Communication, 50 (2):93–109.

Sorenson, S. B., & Peterson, J. G. (1998). News media coverage and the epidemiology of homicide. American Journal of Public Health, 88(10), 1510–1514.

Tarshis, L. (1992). The war on women (cover story). Scholastic Update, 124(14), 14.

UN Women. (2017). Facts and figures: ending violence against women. Retrieved from http://www.unwomen.org/en/what-we-do/ending-violence-against-women/facts-and-figures

US Department of Education. (2012). "New State-by-State College attainment numbers show progress toward 2020 goal." Available at: https://www.ed.gov/news/press-releases/new-state-state-college-attainment-numbers-show-progress-toward-2020-goal. Accessed on 14 July 2017.

Violence Policy Center. (2015). When men murder women: an analysis of 2013 homicide data. Retrieved from http://www.vpc.org/studies/wmmw2015.pdf

Whitten-Woodring, J. (2016). "News about Her: the effects of media freedom and internet access on women's rights." Journal of Human Rights, 15(3): 383–407.

Winston, M. E., & Pollock, J. C. (2016). Human rights in the news: balancing new media participation with the authority of journalists and human rights professionals. Journal of Human Rights, 15(3), 307–313. https://doi.org/10.1080/14754835.2016.1153413

Wood, J. T. (1994). Gendered lives: communication, gender, and culture. Belmont, CA: Wadsworth Pub.

World Health Organization. (2012). Understanding and addressing violence against women. Retrieved from http://apps.who.int/iris/bitstream/10665/77421/1/WHO_RHR_12.38_eng.pdf

York, M. R. (2011). Gender attitudes and violence against women. El Paso: LFB Scholarly Publishing.

Young, C. (1999). Gender war crimes. Reason, 30(8), 55.
Additional information
Names are listed in alphabetical order; authorship is equal.
Electronic Supplementary Material
About this article
Cite this article
Bouzerdan, C., Whitten-Woodring, J. Killings in Context: an Analysis of the News Framing of Femicide. Hum Rights Rev 19, 211–228 (2018). https://doi.org/10.1007/s12142-018-0497-3
Keywords
Frame Connections

News Coverage

Hate Crimes

Concrete Crime

Intimate Femicide