Abstract
China's "Belt and Road Initiative (BRI)" has been gaining attention, but the evaluation of the scheme is still unsettled due to its multifaceted nature. This paper examines the basic characteristics of the initiative, disaggregates the initiative into separate dimensions, and traces Japan's responses toward BRI from 2013 to 2018. From 2013 to 2015, the Japanese government and the Diets committee have discussed the Asian Infrastructure Investment Bank (AIIB) membership issue intensively. Only after 2015, the discussion covered the BRI, wider topics. By looking at responses by the Japanese government, the initial response until 2016 was "non-participation;" however, after 2017, the government has shifted attitude to "conditional engagement" through business cooperation in the third countries especially plus-sum dimension. Such a shift has been backed by a concurrent risk-hedging approach represented by the Indo-Pacific strategy.
Access options
Buy single article
Instant access to the full article PDF.
US$ 39.95
Tax calculation will be finalised during checkout.
Subscribe to journal
Immediate online access to all issues from 2019. Subscription will auto renew annually.
US$ 79
Tax calculation will be finalised during checkout.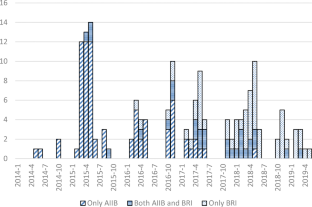 References
1.

Aoyama, Rumi. (2016). "Understanding "One Belt One Road": China's New Global Strategy," The Journal of Contemporary China Studies, Vol. 5, No. 2, pp. 3–22.

2.

Cao Xin. (2015). "Chuangzao Tiaojian ye Yaoshang de Zhongguo Yidai Yilu," Financial Times, Chinese version HP, June 8, 2015. http://m.ftchinese.com/story/001062389. Accsessed in 22 June 2015. [in Chinese]

3.

Chan, Jay (2015). "'One belt, one road' initiative will define China's role as a world leader," South China Morning Post, April 2, 2015. Accsessed in 28 June 2015

4.

"Cong Sige Zimaoqy dao "Yidaiyilu" Zhongguo Gaige Kaifang Xinbantu." Banyue Tan, 2 April 2015, http://www.banyuetan.org/chcontent/sz/szgc/201542/130265.shtml. Accessed in 26 June 2015. [in Chinese]

5.

Godement, François, and Agatha Kratz ed. (2015). "'One Belt, One Road': China's Great Leap Outward," China Analysis, European Council on Foreign Relations, June 2015 (http://www.ecfr.eu/page/-/China_analysis_belt_road.pdf).

6.

Huang, Yiping. (2015). "One Belt One Road must consider the return on investment," Caixin, January 30, 2015. Accsessed in 22 June 2015. http://m.economy.caixin.com/m/2015-01-30/100780246.html. [in Chinese]

7.

Hurley, John, Scott Morris, and Gaily Portelance. (2018) "Examining the Debt Implications of the Belt an Road Initiative from a Policy Perspective," Center for Global Development Policy Paper 121, March 2018.

8.

Jakobson, Linda, Manuel, Ryan. (2016). "How are foreign policy decisions made in China?," Asia & The Pacific Policy Studies, Vol. 3 No. 1, pp. 101–110.

9.

Xi Jingping (2014). The Governance of China, State Council Information Office, Central Document Research Section of the Chinese Communist Party and the Chinese Foreign Language Publishing Office, eds., Foreign Language Press.

10.

Wang Jisi. (2012). "Xijin, Zhongguo Diyuan Zhanlue de Zaipingheng," the Global Times, October 17, 2012. http://opinion.huanqiu.com/opinion_world/2012-10/3193760.html. Accsessed in 26 June 2015. [in Chinese]

11.

Li, Xiangyang. (2015). One Belt One Road: Positioning, Contents, and Priorities, Social Science Academic Press, 2015. [in Chinese]

12.

Lin, Justin. (2009). "The Cause and Impact of the Global Financial Crisis: Implications for Developing Countries," Event Summary, The Peterson Institute for International Economics, February 9, 2009.

13.

Lin, Justin. (2012) New Structural Economics: A Framework for Rethinking Development and Policy, Washington DC: The World Bank.

14.

Ministry of Foreign Affairs of Japan. (2017) Diplomatic Bluebook 2017. [in Japanese]

15.

Naughton, Barry. (2013). "China and the Two Crises: From 1997 to 2009," JICA Research Institute working paper, No. 53, January 2013.

16.

Sun, Yun. (2013). "March West: China's Response to the U.S. Rebalancing," Brookings Institutes, Blogs, January 31, 2013. http://www.brookings.edu/blogs/up-front/posts/2013/01/31-china-us-sun.

17.

The Economist Intelligence Unit. (2015). "Prospects and challenges on China's 'one belt, one road': a risk assessment report," The Economist Intelligence Report, 2015.

18.

The National Development and Reform Commission, the Ministry of Foreign Affairs, and the Ministry of Commerce (2015). Vision and Actions on Jointly Building Silk Road Economic Belt and 21st-Century Maritime Silk Road, March 2015. http://en.ndrc.gov.cn/newsrelease/201503/t20150330_669367.html. [in Chinese]

19.

Wang, Dong. (2015). "Is China Trying to Push the U.S. out of East Asia?" China Quarterly of International Strategic Studies, 1(1): 59–84, 2015.

20.

Wang Yuzhu. (2015). Yidaiyilu yu Yazhou Yituhua Moshi de Zhonggou ("One Belt One Road" and Reshape of Asian Integration Model), Social Science Academic Press. [in Chinese]
Additional information
Publisher's Note
Springer Nature remains neutral with regard to jurisdictional claims in published maps and institutional affiliations.
About this article
Cite this article
Ito, A. China's Belt and Road Initiative and Japan's Response: from Non-participation to Conditional Engagement. East Asia 36, 115–128 (2019). https://doi.org/10.1007/s12140-019-09311-z
Keywords
Belt and road initiative

Sino-Japanese relationship

Third countries business corporation

Indo-Pacific strategy