Abstract
Processes of mixed migration beyond the reified "refugee-migrant binary" of migration studies are an empirical reality along the Myanmar-Thailand border. Utilizing a survey of 3874 mobile individuals from Myanmar in Thailand as a case study, this paper examines the impact of past experiences of migrants on the likelihood that any one of them will reside inside a refugee camp instead of outside of one in Thailand. A dataset is constructed that specifically intersects "refugee" communities with "labor migrant" communities in order to measure the importance of factors of socioeconomic, self-identity, past persecution, and social network considerations. Though indicators like religion, ethnicity, and the fear to return are salient in the likelihood of living inside a camp, family location is the strongest single predictor variable for whether or not an individual from Myanmar will inhabit a refugee camp. Future research may benefit by researching across migrant communities normally considered disparate.
This is a preview of subscription content, log in to check access.
Access options
Buy single article
Instant access to the full article PDF.
US$ 39.95
Price includes VAT for USA
Subscribe to journal
Immediate online access to all issues from 2019. Subscription will auto renew annually.
US$ 99
This is the net price. Taxes to be calculated in checkout.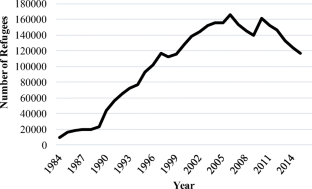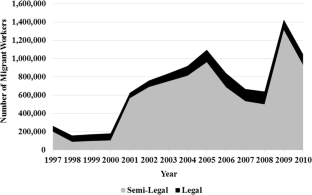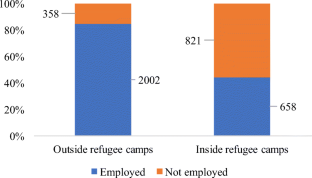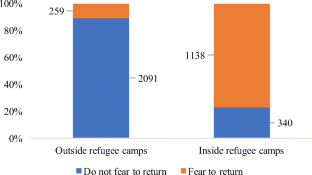 Notes
1.

The 1951 Convention considered a refugee as someone who "owing to well-founded fear of being persecuted for reasons of race, religion, nationality, membership of a particular social group or political opinion, is out-side the country of his nationality and is unable or, owing to such fear, is unwilling to avail himself of the protection of that country; or who, not having a nationality and being outside the country of his former habitual residence as a result of such events, is unable or, owing to such fear, is unwilling to return to it."

2.

Though this number has narrowed somewhat by 2015 with Thailand's GPD per capita at $5816 compared to Myanmar's at $1204—about four and a half times larger (WB, 2016).

3.

However, response rate for each particular question varies. See original dataset at Rhoden (2015). Respondents also had the choice of questionnaires in Sgaw Karen, English, and Thai since many of the respondents were not native Burmese speakers (though no one elected for the Thai version in the end).

4.
References
Barron, S. (2004). Between worlds: twenty years on the border. Bangkok, Thailand: Burmese Border Consortium.

Barta, P. (2012). Myanmar's growing, but has a long way to go. Wall Street Journal. Retrieved from http://blogs.wsj.com/indonesiarealtime/2012/08/20/myanmars-growing-but-has-a-long-way-to-go/

Bowles, E. (1998). From village to camp: refugee camp life in transition on the Thailand-Burma border. Forced Migration Review, (2), 11–14.

Bradford, W., & Vicary, A. (2005). Preliminary survey results about Burmese migrant workers in Thailand: state/division of origin, year of entry, minimum wages and work permits. Burma Economic Watch, (1), 3–25.

Brees, I. (2008). Refugee business: strategies of work on the Thai-Burma border. Journal of Refugee Studies, 21(3), 380–397. https://doi.org/10.1093/jrs/fen022.

Brees, I. (2010). Refugees and transnationalism on the Thai–Burmese border. Global Networks, 10(2), 282–299. https://doi.org/10.1111/j.1471-0374.2010.00286.x.

Chang, W. C. (2001). From war refugees to immigrants: the case of the KMT Yunnanese Chinese in northern Thailand. International Migration Review, 35(4), 1086–1105. https://doi.org/10.2307/3092003.

Chang, W. C. (2009). Venturing into "barbarous" regions: transborder trade among migrant Yunnanese between Thailand and Burma, 1960s–1980s. Journal of Asian Studies, 68(2), 543–572. https://doi.org/10.1017/S0021911809000709.

CIA. (1984). Burma: getting tough with the insurgents. (CIA-RDP04T00367R000301660001-7). Central Intelligence Agency (CIA) Retrieved from https://www.cia.gov/library/readingroom/docs/CIA-RDP04T00367R000301660001-7.pdf.

DRC. (2014). Protecting people on the move: mixed migration in volatile contexts (Brief #03). Copenhagen, Denmark: Danish Refugee Council (DRC) Retrieved from http://www.regionalmms.org/policy/DRC_Learning_Brief_protecting_people_on_the_move_mixed_migration_in_volatile_contexts.pdf.

Gibson, R. M., & Chen, W. (2011). The secret army: Chiang Kai-shek and the drug warlords of the golden triangle. Singapore: John Wiley & Sons.

Hathaway, J. C. (1991). Reconceiving refugee law as human right protection. Journal of Refugee Studies, 4(2), 113–131. https://doi.org/10.1093/jrs/4.2.113.

Holborn, L. W. (1939). The league of nations and the refugee problem. Annals of the American Academy of Political and Social Science, 203, 124–135. https://doi.org/10.1177/000271623920300115.

Holborn, L. W. (1968). Refugee migration in the twentieth century. In S. D. Franklin (Ed.), World migration in modern times (pp. 153–159). Englewood Cliffs: Prentice-Hall.

IOM. (1998). Irregular migration and mixed flows: IOM's approach. International Organization for Migration (IOM). Retrieved from https://www.iom.int/jahia/webdav/shared/shared/mainsite/about_iom/en/council/98/MC_INF_297.pdf.

IOM. (2016). Assessing potential changes in migration patterns of Myanmar migrants and their impacts on thailand: supplementary report 2016. International Organization for Migration (IOM). Retrieved from http://th.iom.int/index.php/latest-news/35-supplementary-report-assessing-potential-changes-in-migration-patterns-of-myanmar-migrants.

Kmonpetch, A. (2016). Prevailing constraints in the search for durable solutions for refugees in displacement along the Thai-Myanmar border. Rian Thai: International Journal of Thai Studies, 9, 1–27.

Khine Ngwe Hnin Zaw. (2013). Irregular migration from Myanmar: in pursuit of mon migrants' human security through social networks. (PhD), University of Tokyo. Retrieved from http://repository.dl.itc.u-tokyo.ac.jp/dspace/handle/2261/57265. Accessed 2016-07-07.

Kulischer, E. M. (1948). Europe on the move. New York: Columbia University Press.

Kunz, E. F. (1973). The refugee in flight: kinetic models and forms of displacement. International Migration Review, 7(2), 125–146. https://doi.org/10.2307/3002424.

Lang, H. J. (2002). Fear and sanctuary: Burmese refugees in Thailand. Ithaca: Cornell Southeast Asia Program.

May Saw Yu. (2015). Migration as a challenge for Myanmar's socio-economic development: case studies of Hpa-an and Mrauk-U townships in Myanmar. Paper presented at the International Conference on Burma/Myanmar Studies, Chiang Mai University, Thailand.

NAMMTF. (2016). Information sheet. North Afrian Mixed Migration Task Force (NAMMTF). Retrieved from http://www.mixedmigrationhub.org/wp-content/uploads/2016/02/MHub-Information-Sheet.pdf.

Norum, R., Mostafanezhad, M., & Sebro, T. (2016). The chronopolitics of exile: hope, heterotemporality and NGO economics along the Thai–Burma border. Critique of Anthropology, 36(1), 61–83. https://doi.org/10.1177/0308275X15617305.

Okamoto, I. (2009). Issues affecting the movement of rural labour in Myanmar: Rakhine case study. Institute of Developing Economies (IDE) Discussion Paper, (206), 1–28.

Panam Awatsaya, Khaing Mar Kyaw Zaw, Caouette, T., & Sureeporn Punpuing. (2004). Migrant domestic workers: from Burma to Thailand. Bangkok, Thailand: Institute for Population and Social Research, Mahidol University.

Pearson, R., & Kusakabe, K. (2012). Thailand's hidden workforce: Burmese migrant women factory workers. London: Zed Books.

Potocky-Tripodi, M. (2002). Best practices for social work with refugees and immigrants. New York: Columbia University Press.

Prakatuttisan Kanchana [กาญจนะ ประกาศวุฒิสาร]. (2003). Thahan Chin Khanachat (KMT) TokKhang Thang Phakneua Prathat Thai [ทหารจีนคณะชาติ (ก๊กมินตั๋ง) ตกค้างทางภาคเหนือประเทศไทย]. Chiang Mai, Thailand: สยามรัตน พริ้นติ้ง.

Prema-chandra Athukorala, Manning, C., & Wickramasekara Piyasiri. (2000). Growth, employment and migration in Southeast Asia: structural change in the greater Mekong countries (Vol. Northampton, MA): Edward Elgar.

Rhoden, T. F. (2015) Dataset of Burmese migration-concept crossover in Thailand. ResearchGate, (November 25). Retrieved from https://www.researchgate.net/publication/284498978_Dataset_of_Burmese_Migration-Concept_Crossover_in_Thailand doi:https://doi.org/10.13140/RG.2.1.3285.6409

Rhoden, T. F., & Unger, D. (2015). No Burmese returning: economics across Myanmar-Thailand border. International Journal of East Asian Studies, 19(2), 51–70.

Richmond, A. H. (1995). Global Apartheid: refugees, racism, and the New World Order. New York: Oxford University Press.

RMMS. (2014). Going West: contemporary mixed migration trends from the Horn of Africa to Libya and Europe. Nairobi, Kenya: Regional Mixed Migration Secretariat (RMMS). Retrieved from http://www.regionalmms.org/images/ResearchInitiatives/Going_West_migration_trends_Libya_Europe_final.pdf.

Robinson, W. C. (1998). Terms of refuge: the Indochinese exodus and the international response. London: Zed Books.

Sciortino, R., & Sureeporn Punpuing. (2009). International migration in Thailand. Bangkok, Thailand: International Organization for Migration (IOM).

Simpson, J. H. (1938). The refuge problem. International Affairs (Royal Institute of International Affairs 1931–1939), 17(5), 607–628.

South, A. (2008). Ethnic politics in Burma: states of conflict. New York: Routledge.

Srawooth Paitoonpong, & Chalamwong Yongyuth. (2012). Managing international labor migration in ASEAN: a case of Thailand. Bangkok, Thailand: Thailand Development Research Institute.

TBC. (2016). Six-month programme reports. Retrieved from http://www.theborderconsortium.org/resources/key-resources/

Thawnghmung, A. M. (2008). The Karen revolution in Burma: diverse voices, uncertain ends. Washington, D.C.: East-West Center.

Thet, M. M., & Pholphrirul, P. (2016). The perception of Myanmar development on its return migrants: implications for Burmese migrants in Thailand. Journal of International Migration and Integration, 17(4), 995–1014. https://doi.org/10.1007/s12134-015-0446-9.

Unger, D. (1998). Building social capital in Thailand: fibers, finance and infrastructure. New York: Cambridge Univeristy Press.

UNHCR. (2007). Refugee protection and mixed migration: a 10-point plan of action. United Nations High Commissioner for Refugees (UNHCR). Retrieved from http://www.unhcr.org/en-us/protection/migration/4742a30b4/refugee-protection-mixed-migration-10-point-plan-action.html.

Van Hear, N. (1998). New diasporas: the mass exodus, dispersal and regrouping of migrant communities. Seattle: University of Washington Press.

Van Hear, N. (2011). Policy primer: mixed migration: policy challenges. Oxford, UK: The Migration Observatory, Centre on Migration, Policy and Society (COMPAS), University of Oxford. Retrieved from http://www.migrationobservatory.ox.ac.uk/wp-content/uploads/2016/04/PolicyPrimer-Mixed_Migration.pdf.

Wang, L. 王柳蘭. (2008). Kita Tai ni Okeru Un'nan hito `Nanmin' no Teichaku Shoki Katei ni Okeru Seizon Senryaku: Kokuseki Shutoku to Taiwan to no Nettowaku Kochiku o Megutte [北タイにおける雲南人「難民」の 定着初期過程における生存戦略:国籍取得と台湾とのネットワーク構築をめぐって]. Nenpo Tai Kenkyu [年報 タイ研究], 8, 51–70.

WB. (2016). World Bank Open Data. Retrieved from http://data.worldbank.org/

Webster, D. (1851). Sketch of the Life of Louis Kossuth, Governor of Hungary: Together with the Declaration of Hungarian Independence; Kossuth's Address to the People of the United States; All is Great Speeches in England; and the Letter of Daniel Webster to Chevalier Hulsemann. New York, NY: Stringer & Townsend.

Westermeyer, J. (1990). Motivations for uprooting and migration. In W. H. Holtzman & H. H. Bornemann (Eds.), Mental health of immigrants and refugees (pp. 78–89). Austin: Hogg Foundation for Mental Health..
About this article
Cite this article
Rhoden, T.F. Beyond the Refugee-Migrant Binary? Refugee Camp Residency Along the Myanmar-Thailand Border. Int. Migration & Integration 20, 49–65 (2019). https://doi.org/10.1007/s12134-018-0595-8
Keywords
Refugee-migrant binary

Mixed migration

Refugee camps

Burmese migration