Abstract
Homeownership represents an important indicator of immigrant incorporation and assimilation. This study is a longitudinal analysis of the transition to first-time homeownership among a cohort of youths followed from 1979 to 2009 using the National Longitudinal Survey of Youth (NLSY, 1979). In particular, I examine Mexican generational group differences in the transition to first-time homeownership over an observation period that spans 30 years while evaluating theories of straight-line and segmented assimilation. I find that Mexican homeownership rates do not increase in a linear fashion across generations, relative to native, non-Hispanic whites, even after controlling for various social, demographic, and economic characteristics. Furthermore, analyses limited to Mexicans reveal that first- and second-generation respondents exhibit more success in the transition to first-time homeownership than their third-generation counterparts. Contrary to observing linear gains in homeownership across generations, I find that Mexicans are experiencing segmented paths towards homeownership and achieving upward mobility across generations.
This is a preview of subscription content, log in to check access.
Access options
Buy single article
Instant access to the full article PDF.
US$ 39.95
Tax calculation will be finalised during checkout.
Subscribe to journal
Immediate online access to all issues from 2019. Subscription will auto renew annually.
US$ 99
Tax calculation will be finalised during checkout.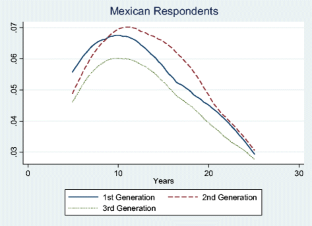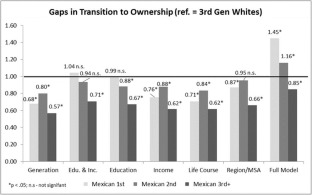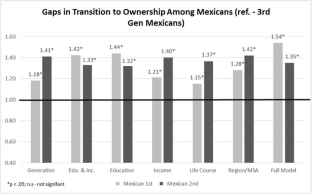 Notes
1.

The double cohort method identifies immigrants and native-born individuals of a specific age group (i.e., 25–34 years of age) in one observation period (i.e., 1990) and then identifies the group again (i.e., ages 35–44 years of age) by taking the years between observations into account in the second period (i.e., 2000). Although this method deals with duration and aging components, it cannot account for return migration and mortality which could influence observed changes among the cohort.

2.

Although the NLSY79 includes a measure of citizenship status at Wave 1 (1979), it does not ask the question again until 1990, which is also the last year respondents are asked about their citizenship. Because this study uses an observation window that extends to 2008, I am unable to use citizenship status as a time-varying variable in the analyses.

3.

An alternative specification of time would be to include a set of dummy variables for each observation period and omitting the first-time period. However, this approach would result in 20 dummy variables and decrease the overall statistical power of the analyses (Singer and Willet 2003).
References
Alba, R. D., & Logan, J. R. (1992). Assimilation and stratification in the homeownership patterns of racial and ethnic groups. International Migration Review., 26(4), 1314–1341.

Alba, R. D., & Nee, V. (2003). Remaking the American mainstream: assimilation and contemporary immigration. Cambridge: Harvard University Press.

Alba, R., & Tariqul. (2009). The case of disappearing Mexican Americans: an ethnic identity mystery. Population Research and Policy Review., 28(2), 109–121.

Author's analysis of the (2015). American Community Survey.

Basolo, V. (2007). Examining the support for homeownership policy in U.S. cities: a political economy perspective. Housing Studies., 22(1), 99–119.

Borjas, G. J. (2002). Homeownership in the immigrant population. Journal of Urban Economics., 52(3), 448–476.

Dawkins, C. J. (2005). Racial gaps in the transition to first-time homeownership: the role of residential location. Journal of Urban Economics., 58(3), 537–554.

Flippen, C. A. (2010). The spatial dynamics of stratification: metropolitan context, population redistribution, and black and Hispanic homeownership. Demography, 47(4), 845–868.

Gordon, M. M. (1961). Assimilation in America: theory and reality. Daedalus, 90, 262–285.

Green, R., & White, M. (1997). Measuring the benefits of homeowning: effects on children. Journal of Urban Economics., 41(3), 444–461.

Haan, M. (2007). The homeownership hierarchies of Canada and the United States: the housing patterns of white and non-white immigrants of the past thirty years. International Migration Review., 41(2), 433–465.

Harder, V. S., Morrall, A. R., & Arkes, J. (2006). Marijuana use and depression among adults: testing for causal associations. Addiction, 101, 1463–1472.

Harkness, J., & Newman, S. J. (2002). Homeownership for the poor in distressed neighborhoods: does this make sense? Housing Policy Debate, 13(3), 597–630.

Herbert, C. E., & Belsky, E. S. (2008). The homeownership experience of low-income households: a review and synthesis of the literature. City, 10(2), 5–57.

Kochhar, R., & Cilluffo A.. (2017). "How wealth inequality has changed in the U.S. since the Great Recession, by race, ethnicity, and income." Washington D.C.: Pew Research Center, November.

Krivo, L. J. (1986). Home ownership differences between hispanics and anglos in the United States. Social Problems, 33(4), 319–334.

McCabe, B. J. (2013). Are homeowners better citizens? Homeownership and community participation in the United States. Social Forces, 91(3), 929–954.

McConnell, E. D. (2015). Hurdles or walls? Nativity, citizenship, legal status and Latino homeownership in Los Angeles. Social Science Research., 53, 19–33.

McConnell, E. D., & Akresh, I. R. (2008). Through the front door: the housing outcomes of lawful immigrants. International Migration Review., 42(1), 134–162.

McConnell, E. D., & Marcelli, E. A. (2007). Buying into the American dream? Mexican immigrants, legal status, and homeownership in Los Angeles County. Social Science Quarterly., 88(1), 199–221.

Menjivar, C. (2006). Liminal legality: Salvadoran and Guatemalan immigrants' lives in the United States. American Journal of Sociology., 111(4), 999–1037.

Mulder, C. H. (2006). Home-ownership and family formation. Journal of Housing and the Built Environment, 21(3), 281–298.

Myers, D., & Lee, S. W. (1998). Immigrant trajectories into homeownership: a temporal analysis of residential assimilation. International Migration Review., 32(3), 593–625.

National Association of Realtors. (2015). http://www.realtor.org/research-and-statistics

Oropesa, R. S., & Landale, N. S. (1997). In search of the new second generation: alternative strategies for identifying second generation children and understanding their acquisition of English. Sociological Perspectives., 40(3), 429–455.

Ortiz, V., & Telles, E. (2012). Racial identity and racial treatment of Mexican Americans. Race and Social Problems, 4, 41–56.

Painter, G., Gabriel, S., & Myers, D. (2001). Race, immigrant status, and tenure choice. Journal of Urban Economics., 49(1), 150–167.

Park, J., & Myers, D. (2010). Intergenerational mobility in the post-1965 immigration era: estimates by an immigrant generation cohort method. Demography, 47(2), 369–392.

Passel, J. S. (2011). Demography of immigrant youth: past, present, and future. The Future of Children, 21(1), 19–41.

Passell, J., D'Vera, C., & Gonzalez-Barrera, A.. (2012). "Net migration from Mexico falls to zero—and perhaps less." Washington D.C.: Pew Hispanic Center, April.

Perreira, K. M., Harris, K. M., & Lee, D. (2006). Making it in America: high school completion by immigrant and native youth. Demography, 43(3), 511–536.

Portes, A., & Rumbaut, R. (2001). Legacies: the story of the immigrant second generation. Berkeley: University of California Press.

Portes, A., & Zhou, M. (1993). The new second generation: segmented assimilation and its variants. The Annals of the American Academy of Political and Social Sciences., 530, 74–96.

Rohe, W. M., Van Zandt, S., & McCarthy, G. (2002). Home ownership and access to opportunity. Housing Studies, 17, 51–61.

Ross, S. L., & Turner, M. A. (2005). Housing discrimination in metropolitan America: explaining changes between 1989 and 2000. Social Problems, 52(2), 152–180.

Rugh, J. S., & Massey, D. S. (2010). Racial segregation and the American foreclosure crisis. American Sociological Review, 75(5), 629–651.

Rumbaut, R. G. (2004). Ages, life stages, and generational cohorts: decomposing the immigrant first and second generations in the United States. International Migration Review, 38(3), 1160–1205.

Shlay, A. (2006). Low-income homeownership: American dream or delusion? Urban Studies, 43, 511–531.

Singer, J. B., & Willet, J. B. (2003). Applied longitudinal analysis: modeling changes and event occurrence. New York: Oxford University Press.

Telles, E., & Ortiz, V.. (2008). Generations of exclusion: Mexican Americans, assimilation, and race. (Chapter 2 "Theoretical background and Chapter 3 "The Mexican American Study Project") New York: Russell Sage Foundation.

Waters, M. C., & Jimenez, T. R. (2005). Assessing immigrant assimilation: new empirical and theoretical challenges. Annual Review of Sociology, 31, 105–125.
About this article
Cite this article
Sánchez, L.A. Segmented Paths? Mexican Generational Differences in the Transition to First-Time Homeownership in the United States. Int. Migration & Integration 19, 737–755 (2018). https://doi.org/10.1007/s12134-018-0560-6
Keywords
Immigrant assimilation

Immigrant incorporation

Homeownership

NLSY79

Mexicans