Abstract
We investigate the nexus between intermarriage and immigrant integration by analyzing mixed-parentage children's educational outcomes. We use Italian Labor Force Survey data to compare the upper secondary school participation of children of different types of mixed unions with that of children of two native and two migrant couples. Our results show that mixed-parentage children perform halfway between natives and immigrants, but their educational careers are highly heterogeneous. Among families with non-Western origins, mixed-parentage children improve substantially with respect to their peers with two migrant parents. But if the mother was born abroad, the children still exhibit higher dropout risks and lower general school enrolment as compared to children of natives and all other mixed-parentage children. A pivotal role in accounting for this educational disadvantage is played by the higher incidence in this specific type of union of nonstandard family dynamics and household fragilities that may give rise to less parental monitoring and lower educational performance. This finding is consistent with a prediction based on the status exchange theory, according to which such unions are more likely affected by instability and conflict.
Access options
Buy single article
Instant access to the full article PDF.
USD 39.95
Price excludes VAT (USA)
Tax calculation will be finalised during checkout.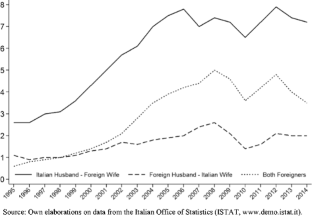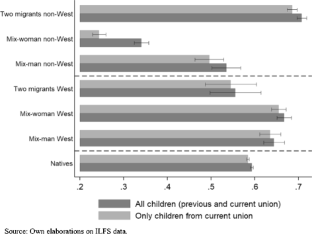 Notes
We checked that the proportion of youths in this age class living with their parents is close to 100% and similar across the different types of couples we analyzed. This proportion decreases with age, thus preventing us from considering older cohorts and further educational outcomes such as university participation, because for these individuals, no family background information can be recovered.

For the sake of brevity, in what follows we also use the expression "drop out" to indicate both situations.
References
Adserà, A., & Ferrer, A. (2015). Immigrants and demography: Marriage, divorce, and fertility. In B. R. Chiswick & P. W. Miller (Eds.), Handbook of the economics of international migration (Vol. 1A, pp. 315–374). Amsterdam: Elsevier.

Alba, R. D., & Golden, R. M. (1986). Patterns of ethnic marriage in the United States. Social Forces, 65(1), 202–223.

Amato, P. R. (2001). Children of divorce in the 1990s: an update of the Amato and Keith (1991) meta-analysis. Journal of Family Psychology, 15(3), 355–370.

Azzolini, D., & Barone, C. (2013). Do they progress or do they lag behind? Educational attainment of immigrants' children in Italy: the role played by generational status, country of origin and social class. Research in Social Stratification and Mobility, 31, 82–96.

Azzolini, D., & Guetto, R. (2017a). The impact of citizenship on intermarriage. Quasi-experimental evidence from two European Union Eastern enlargements. Demographic Research, 36, 1299–1336.

Azzolini, D., & Guetto, R. (2017b). La crescita delle unioni miste in Italia: un indicatore di accresciuta integrazione degli immigranti e maggiore aperture della società? Mondi Migranti. Forthcoming.

Ballarino, G., & Schadee, H. (2010). Genere, origine sociale e disuguaglianza di istruzione nell'Italia contemporanea. Sociologia del lavoro, 120, 170–193.

Balistreri, K. S., Joyner, K., & Kao, G. (2017). Trading youth for citizenship? The spousal age gap in cross-border marriages. Population and Development Review. https://doi.org/10.1111/padr.12072.

Becker, B. (2010). Equal chances by the third generation? Cognitive and language skills of second and third generation children of Turkish origin in Germany. Paper for the Final EQUALSOC Conference 4–5 June 2010, Amsterdam.

Blau, P. (1994). Structural contexts of opportunities. Chicago: University of Chicago Press.

Blossfeld, H.-P., & Timm, A. (2003). Who marries whom? Educational systems as marriage markets in modern societies. Dordrecht: Kluwer Academic.

Brandell, J. R. (1988). Treatment of the biracial child: theoretical and clinical issues. Journal of Multicultural Counseling and Development, 16(4), 176–187.

Boudon, R. (1974). Education, opportunity, and social inequality; changing prospects in western society. New York: Wiley translated from the French (1973): L'Inégalité des chances. Paris, A. Colin.

Carrington, W. J., Detragiache, E., & Vishwanath, T. (1996). Migration with endogenous moving costs. American Economic Review, 86, 909–930.

Catanzaro, R., & Colombo, A. (Eds.). (2009). Badanti & Co. Il lavoro domestico straniero in Italia. Bologna: Il Mulino.

Casacchia, O., Natale, L., Paterno, A., & Terzera, L. (2008). Studiare insieme, crescere insieme? un'indagine sulle seconde generazioni in dieci regioni italiane. Milano: Franco Angeli.

Cebolla-Boado, H. (2011). Primary and secondary effects in the explanation of disadvantage in education: the children of immigrant families in France. British Journal of Sociology of Education, 32(3), 407–430.

Chiswick, B. R., & DebBurman, N. (2004). Educational attainment: analysis by immigrant generation. Economics of Education Review, 23(4), 361–379.

Choi, K. H., Tienda, M., Cobb-Clark, D., & Sinning, M. (2012). Immigration and status exchange in Australia and the United States. Research on Social Stratification and Mobility, 30(1), 49–62.

Cortina Trilla, C., Esteve, A., & Domingo, A. (2008). Marriage patterns of the foreign-born population in a new country of immigration: the case of Spain. International Migration Review, 42(4), 877–902.

Davis, K. (1941). Intermarriage in caste societies. American Anthropologist, 43, 376–395.

Dribe, M., & Lundh, C. (2008). Intermarriage and immigrant integration in Sweden. An exploratory analysis. Acta Sociologica, 51(4), 329–354.

Esser, H. (2006). Migration, language and integration. AKI Research Review 4. Wissenschaftszentrum Berlin für Sozialforschung (WZB). Available at: http://citeseerx.ist.psu.edu/viewdoc/download?doi=10.1.1.376.2951&rep=rep1&type=pdf

Fellini, I. & Guetto, R. (2016). Assimilation vs downgrading: a comparative analysis of immigrants' occupational careers in Spain, France and Italy. Paper prepared for the ISA RC28 meeting in Bern, August 29–31.

Fu, V. K. (2001). Racial intermarriage pairings. Demography, 38, 147–159.

Fullin, G., & Reyneri, E. (2011). Low unemployment and bad jobs for new immigrants in Italy. International Migration, 49(1), 2011.

Furtado, D., & Trejo, S. (2012). Interethnic marriages and their economic effects. IZA discussion paper series no. 6399. Bonn: Institute for the Study of Labor.

Gordon, M. (1964). Assimilation in American life. New York: Oxford University Press.

Guetto, R., & Azzolini, D. (2015). An empirical study of status exchange through migrant/native marriages in Italy. Journal of Ethnic and Migration Studies, 41(13), 1–24.

Guetto, R., & Vergolini, L. (2016). Educational expansion without equalization: a reappraisal of the "effectively maintained inequality" hypothesis in children's choice of the upper secondary track. European Societies. https://doi.org/10.1080/14616696.2016.1236283.

Guetto, R., Mancosu, M., Scherer, S., & Torricelli, G. (2016). The spreading of cohabitation as a diffusion process: evidence from Italy. European Journal of Population. https://doi.org/10.1007/s10680-016-9380-6.

Harris, D.R., & Thomas, J.L. (2002). The educational costs of being multiracial: evidence from a National Survey of Adolescents. PSC Research Report No.02–521, Population Studies Centre, University of Michigan.

Harrison, E., & Rose, D. (2009). Social class in Europe: an introduction to the European Socio-economic Classification. Abingdon: Routledge.

Heath, A., & Cheung, S. Y. (Eds.). (2007). Unequal chances. Ethnic minorities in Western labour markets. Oxford: Oxford University Press.

Huddleston, T., Bilgili, Ö., Joki, A. L., & Vankova, Z. (2015). Migrant integration policy index 2015. Barcelona/Brussels: CIDOB and MPG.

ISTAT. (2015). Matrimoni, Separazione e Divorzi, Anno 2014. Roma: Statistiche Report. Retrieved at www.istat.it.

Kalmijn, M. (1993). Trends in black/white intermarriage. Social Forces, 72(1), 119–146.

Kalmijn, M. (2015). The children of intermarriage in four European countries. Implication for school achievement, social contacts, and cultural values. The Annals of the American Academy of Political and Social Sciences, 662(1), 246–265.

Kao, G. (1999). Racial identity and academic performance: an examination of biracial Asian and African American youth. Journal of Asian American Studies, 2(3), 223–249.

Kerwin, C., Ponterotto, J. G., Jackson, B. L., & Harris, A. (1993). Racial identity in biracial-children—a qualitative investigation. Journal of Counseling Psychology, 40(2), 221–231.

Kerwin, C., & Ponterotto, J. G. (1995). Biracial identity development: Theory and research. In J. Ponterotto, J. Casas, L. Suzuki, & C. Alexander (Eds.), Handbook of multicultural counselling (pp. 199–217). Thousand Oaks: Sage.

Kristen, C., Edele, A., Kalter, F., Kogan, I., Schultz, B., Stanat, P., & Will, G. (2011). The education of migrants and their children across the life course. Zeitschrift für Erziehungswissenschaft, 14(2), 121–137.

Kulu, H., & González-Ferrer, A. (2014). Family dynamics among immigrants and their descendants in Europe: current research and opportunities. European Journal of Population, 30(4), 411–435.

McLanahan, S., & Percheski, C. (2008). Family structure and the reproduction of inequalities. The Annual Review of Sociology, 34, 257–276.

Maffioli, D., Paterno, A., & Gabrielli, G. (2012). Transnational married and unmarried unions in Italy: characteristics of partners and fertility behaviour'. Global perspective on marriage and international migration (pp. 279–319). Seoul: IUSSP-Statistic Korea, Korea Institute for Health and Social Affairs.

Maffioli, D., Paterno, A., & Gabrielli, G. (2014). International married and unmarried unions in Italy: criteria of mate selection. International Migration, 52(3), 160–176.

Mare, R. D. (1991). Five decades of educational assortative mating. American Sociological Review, 56(1), 15–32.

Meng, X., & Gregory, R. G. (2005). Intermarriage and the economic assimilation of immigrants. Journal of Labor Economics, 23(1), 135–174.

Meng, X., & Meurs, D. (2009). Intermarriage, language, and economic assimilation process: a case study of France. International Journal of Manpower, 30(1/2), 127–144.

Merton, R. K. (1941). Intermarriage and the social structure: fact and theory. Psychiatry, 4, 361–374.

Muttarak, R. (2013). Is it (dis)advantageous to have mixed parentage? Exploring education & work characteristics of children of interethnic unions in Britain. Vienna Institute of Demography, WP 1/2013. This Version is available at: http://hdl.handle.net/10419/96956.

Platt, L. (2012). How do children of mixed partnerships fare in the United Kingdom? Understanding the implications for children of parental ethnic homogamy and heterogamy. The Annals of the American Academy of Political and Social Sciences, 643(1), 239–266.

Portes, A., & Rumbaut, R. (2001). Legacies: the story of the immigrant second generation. Berkeley, CA: University of California Press.

Portes, A., Fernández-Kelly, P., & Haller, W. (2009). The adaptation of the immigrant second generation in America: a theoretical overview and recent evidence. Journal Ethnic and Migration Studies, 35(7), 1077–1104.

Ramakrishnan, S. K. (2004). Second-generation immigrants? The '2.5 generation' in the United States. Social Science Quarterly, 85(2), 380–399.

Reyneri, E. (1998). The role of the underground economy in irregular migration to Italy: cause or effect? Journal Ethnic and Migration Studies, 24(2), 313–331.

Reyneri, E. (2004). Education and the occupational pathways of immigrants in Italy. Journal of Ethnic and Migration Studies, 30(6), 1145–1162.

Reyneri, E., & Fullin, G. (2011). Ethnic penalties in the transition to and from unemployment: a west European perspective. International Journal of Comparative Sociology, 52(4), 247–263.

Rodríguez-García, D. (2015). Intermarriage and integration revisited international experiences and cross-disciplinary approaches. Annals American Academy Political Science and Social Sciences, 662(1), 8–36.

Schnell, P., & Fibbi, R. (2016). Getting ahead: educational and occupational trajectories of the "new" second-generation in Switzerland. Journal of International Migration and Integration. https://doi.org/10.1007/s12134-015-0452-y.

Shehan, C., Berardo, F., Vera, H., & Marion-Carly, S. (1991). Women in age-discrepant marriages. Journal of Family Issues, 12(3), 291–305.

Song, M. (2009). Is intermarriage a good indicator of integration? Journal of Ethnic and Migration Studies, 35(2), 331–348.

Van Ours, J. C., & Veeman, J. (2010). How interethnic marriages affect the educational attainment of children: evidence from a natural experiment. Labour Economics, 17, 111–117.
Funding
Raffaele Guetto gratefully acknowledges funding from the project "GEMM: Growth, Equal Opportunities, Migration and Markets" (Horizon 2020 Programme of the European Commission, "EURO-2-2014: The European growth agenda Research and Innovation action 4: Migration, prosperity and growth").
Appendix
Appendix
About this article
Cite this article
Azzolini, D., Guetto, R. & Madia, J.E. Do Mixed Unions Foster Integration? The Educational Outcomes of Mixed-Parentage Children in Italy. Int. Migration & Integration 18, 1033–1060 (2017). https://doi.org/10.1007/s12134-017-0521-5
Published:

Issue Date:

DOI: https://doi.org/10.1007/s12134-017-0521-5
Keywords