Abstract
There is a growing policy concern in Canada regarding the facilitation of foreign students' transition from temporary residents to permanent residents. Interestingly, academic attention to the issue is somewhat lacking. By focusing on the Chinese undergraduate student at the University of Saskatchewan in Canada, this study attempts to identify the factors which influence their migration intentions. The findings confirm the important effects of students' demographic characteristics, premove traits, Canadian experiences, parental expectations, as well as related aspiration factors. In addition, we find that female and male students are different from each other in terms of the factors that determine their intentions to stay in Canada. In light of the findings, we suggest that, in spite of gender differences, social and emotional adaptations are as critical as economic adaptation in facilitating temporary residents' intentions to stay. Furthermore, we contend that changes in immigration policy to attract foreign students to stay do motivate their immigration intention to some extent, but we also recommend that extended research needs to be done to examine the effects of most recent policy changes on foreign students' intended or actual migration.
Résumé
Une préoccupation en matière de politique prend de l'importance au Canada; elle porte sur la facilitation de la transition du statut des étudiants étrangers, de résidents temporaires à résidents permanents. Fait digne de remarque, cette question n'attire pas beaucoup d'attention de la part du monde académique. Cette étude tente d'identifier les facteurs qui influencent les projets de migration des étudiants asiatiques du premier cycle à la University of Saskatchewan, au Canada. Les résultats confirment le rôle important des traits démographiques des étudiants, des caractéristiques de leurs vies avant leur arrivée au Canada, de leurs expériences au Canada, des attentes de la part des parents, ainsi que des facteurs liés aux souhaits pour l'avenir. De plus, nous avons trouvé que les facteurs qui influencent le désir de rester au Canada ne sont pas les mêmes pour les étudiants que pour les étudiantes. Compte tenu des résultats, nous proposons que, malgré les différences entre les hommes et les femmes, l'adaptation sociale et émotive est aussi critique que l'adaptation économique comme facteur qui contribue à faciliter la décision des résidents temporaires de rester. Nous affirmons également que les changements apportés aux politiques en matière d'immigration pour motiver les étudiants étrangers à rester ont, dans une certaine mesure, l'impact voulu. Toutefois, nous recommandons des recherches plus poussées pour déterminer l'effet qu'ont la plupart des changements de politiques sur les intentions de migration des étudiants.
Access options
Buy single article
Instant access to the full article PDF.
USD 39.95
Price excludes VAT (USA)
Tax calculation will be finalised during checkout.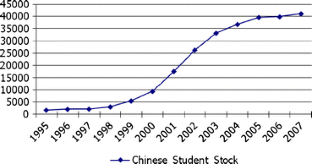 Notes
Stocks—the number of persons, identified as foreign students, present in the CIC system on a specific date in each year of observation. The date chosen was December 1st. For a foreign student to be counted as present in the foreign student stock, he or she must have a valid student authorization on that date (Citizenship and Immigration Canada 2009).

Saskatchewan Immigrant Nominee Program (SINP) began in January 2005; it allows the Province of Saskatchewan to nominate applicants who are qualified to be landed immigrants under the criteria established by the province. The program can provide immigrant applicants with experiences or ties in Saskatchewan an alternate and quicker means of entry into Canada (Government of Saskatchewan 2005).

The Off-Campus Work Permit Program was officially launched in April, 2006. It allows certain foreign students to work off campus while completing their studies (Citizenship and Immigration Canada 2006)

The measurement of "English proficiency in China" combines two indicators: whether a student needed language training before entering University in Canada and their grades of entrance exam when getting into language training program in Canada (English-as-Second-Language program). The students who were able to enter University without language training are considered as achieving university's requirement, and the students who needed language training program in order to get into university are classified into two levels based on their grades of entrance exam: relatively high grades are labeled as the intermediate level, and relatively low grades are labeled as the basic level.

The Off-Campus Work Permit Program was officially launched in April 2006, but this policy was already well-known by the general public when this survey was conducted in the fall of 2005.
References
Alberts, H. C., & Hazen, H. D. (2005). "There are always two voices...": International students' intentions to stay in the United States or return to their home countries. International Migration, 43(3), 131–152.

Aroian, K. J., Norris, A. E., Fernandez, M. A., & Averasturi, L. M. (2008). Gender differences in psychological distress among Latin American immigrants to the Canary Islands. Sex Roles: A Journal of Research, 59(1–2), 107–118.

Awasthi, S., & Chandra, A. (1994). Migration from India to Australia. Asian and Pacific Migration Journal, 3, 393–409.

Baker, J. G., & Finn, M. G. (2003). Stay rates of foreign national doctoral students in US economic programs. Retrieved Jan. 05, 2009, from http://papers.ssrn.com/sol3/papers.cfm?abstract_id=398640.

Balaz, V., Williams, M., & Kollar, D. (2004). Temporary versus permanent youth brain drain: Economic implications. International Migration, 42(4), 3–32.

Beauchesne, E. (2006). Our skill shortage near top. Times Colonist Retrieved June 26, 2008, from http://www.Canada.com/victoriatimescolonist/news.

Canadian Bureau for International Education. (2005). The National Report on International Students in Canada 2002. Retrieved Feb. 06, 2009, from http://www.cbie.ca/data/media/resources/2002_NationalReport_e.pdf.

Castles, S., & Miller, M. J. (1993). The age of migration: International population movements in the modern world. New York: Guildford.

Citizenship and Immigration Canada. (2005). The monitor. Retrieved Feb. 01, 2009, from http://www.cic.gc.ca/english/resources/statistics/monitor/index.asp.

Citizenship and Immigration Canada. (2006). Studying in Canada: Work permits for students—working off campus. Retrieved April 17, 2009, from http://www.cic.gc.ca/ENGLISH/study/work-offcampus.asp.

Citizenship and Immigration Canada. (2008). Canadian experience class. Retrieved Feb. 05, 2009, from http://www.cic.gc.ca/english/immigrate/cec/index.asp.

Citizenship and Immigration Canada. (2009). Glossary of terms. The Monitor Retrieved Feb.10, 2009, from http://www.cic.gc.ca/english/resources/statistics/monitor/glossary.asp.

Coleman, J. S. (1990). Foundations of social theory. Cambridge: Belknap.

Donato, K. M., Wakabayashi, C., Hakimzadeh, S., & Armenta, A. (2008). Shifts in the employment conditions of Mexican migrant men and women: The effect of U. S. immigration policy. Work and Occupations, 35(4), 462–495.

Feldman, S. S., & Rosenthal, D. A. (1991). Age expectations of behavior autonomy in Hong Kong, Australia and American youth: The influence of family variables and adolescents' values. International Journal of Psychology, 26(1), 1–23.

Finn, M. G. (2003). Stay rates of foreign doctorate recipients from US universities. Oak Ridge: Oak Ridge Institute for Science and Education.

Gao, M., & Liu, X. (1998). From student to citizen: A survey of students from the People's Republic of China in Australia. International Migration Review, 36(1), 27–48.

Government of Saskatchewan. (2005). Saskatchewan Immigrant Nominee Program (SINP). Retrieved April 19, 2009, from http://www.immigration.gov.sk.ca/sinp?Anc=7e8f4b1d-79b4-4120-8b3a-599d97fc7875&Pa=ebd9edd0-fecd-4503-b6f7-70a7366de4c4.

Green, D. A., & Riddell, W. C. (2001). Literacy, numeracy, and labour market outcomes in Canada. Vancouver: UBC and Canadian Institute for Advanced Research.

Hansen, P. (2008). Circumcising migration: Gender return migration among Somaliland. Journal of Ethnic and Migration Studies, 34(7), 1109–1125.

Haug, S. (2008). Migration networks and migration decision-making. Journal of Ethnic and Migration Studies, 34(4), 585–605.

Hawthorne, L. (2005). "Picking winners": The recent transformation of Australia's skilled migration policy. International Migration Review, 39(3), 663–696.

Human Resources and Social Development Canada. (2007). Looking ahead: A 10-year outlook for the Canadian labour market (2006–2015). Retrieved Jan. 10, 200, from http://www.hrsdc.gc.ca/eng/publications_resources/research/categories/labour_market_e/sp_615_10_06/page00.shtml.

Khoo, S. E., Hugo, G., & McDonald, P. (2008). Which skilled temporary migrants become permanent residents and why? International Migration Review, 42(1), 193–226.

Lee, S. W., Myers, D., Ha, S. K., & Shin, H. R. (2005). What if immigrants had not migrated? Determinants and consequence of Korean immigration to the United States. The American Journal of Economics and Sociology, 64(2), 609–636.

Li, P. S. (2003). Destination Canada: Immigration debates and issues. Don Mills: Oxford University Press.

Li, F. L., Findlay, A. M., Jowett, A. J., & Skeldon, R. (1996). Migrating to learn and learning to migrate: A study of the experiences and intentions of international student migrants. International Journal of Population Geography, 2, 51–67.

Liang, Z., & Morooka, H. (2004). Recent trends of emigration from China: 1982–2000. International Migration, 42(3), 145–164.

Lin, C. Y., & Fu, V. R. (1990). A comparison of child rearing practices among Chinese, immigrant Chinese, and Caucasian–American parents. Child Development, 61, 429–433.

Massey, D. S. (1994). An evaluation of international migration theory: The North American case. Population and Development Review, 20(4), 699–751.

Massey, D. S., & Malone, N. (2002). Pathways to legal immigration. Population Research and Policy Review, 21, 473–504.

Organization for Economic Co-operation and Development. (2002). Trends in International Migration—SOPEMI 2001. Paris: OECD.

Pang, B. C., & Appleton, N. (2004). Higher education as an immigration path for Chinese students and scholars. The Qualitative Report, 9(3), 500–527.

Peterson, G. W., Wilson, S. M., Bush, K. R., & Zhao, B. (2002). Strengths in the Chinese parent–adolescent relationship: Socializing adolescent self-esteem and professional behavior. Paper presented at the International Family Strengths Con

Quinn, M., & Rubb, S. (2005). The importance of education–occupation matching in migration decision. Demography, 42(1), 153–167.

Radu, D. (2008). Social interactions in economic models of migration: A review and appraisal. Journal of Ethnic and Migration Studies, 34(4), 531–548.

Riess, K.A. (2008). Immigration logjam makes labour shortage worse. Retrieved from http://working.canada.com/regina/resources/story.html?id=aef47068-8bdf-495a-a925-56d46b4b3f1d

Thurow, L. (1999). Building wealth: The new rules for individuals, companies and nations in a knowledge-based economy. New York: Harper Collins.

Tremblay, K. (2005). Academic mobility and immigration. Journal of Studies in International Education, 9(3), 196–228.

Xia, Y. R., Xie, X. L., Zhou, Z., DeFrain, J., Meredith, W. H., & Combs, R. (2004). Chinese adolescents' decision making, parent–adolescent communication and relationships. Marriage and Family Review, 36(1), 119–145.

Ziguras, C., & Law, S. F. (2006). Recruiting international students as skilled migrants: The global 'skills race' as viewed from Australia and Malaysia. Globalization, Societies and Education, 4(1), 59–76.
Acknowledgements
Thanks to the voluntary participants in this study, we are able to complete this research based on such valuable data. We would also like to extend our appreciation to Peter Li and the three anonymous reviewers for their helpful comments and suggestions.
About this article
Cite this article
Lu, Y., Zong, L. & Schissel, B. To Stay or Return: Migration Intentions of Students from People's Republic of China in Saskatchewan, Canada. Int. Migration & Integration 10, 283–310 (2009). https://doi.org/10.1007/s12134-009-0103-2
Published:

Issue Date:

DOI: https://doi.org/10.1007/s12134-009-0103-2
Keywords
Mots clés