Abstract
Air pollution is a major environmental health risk factor in Nairobi, Kenya. Most research conducted on air pollution in Nairobi has focused on measuring pollution concentrations. Although this research is very important, it is also crucial to understand barriers in the regulatory process that prevents this data from translating into effective action. This article attempts to fill in this gap. It starts by detailing the history of urban planning in Nairobi and its legacy in shaping contemporary urbanization and spatial patterns of air pollution. It then relies on interviews, participant observations, and a close reading of key laws and policies to evaluate current political, institutional, and data-infrastructure gaps in the Kenyan air pollution governance framework that serve as barriers for equitable air pollution mitigation. Finally, it draws on interviews and media analyses to examine the promises and perils of citizen science to improve air quality levels in Kenya. It ends by making policy recommendations to make Nairobi more liveable and breathable in the long term.
Access options
Buy single article
Instant access to the full article PDF.
USD 39.95
Price excludes VAT (USA)
Tax calculation will be finalised during checkout.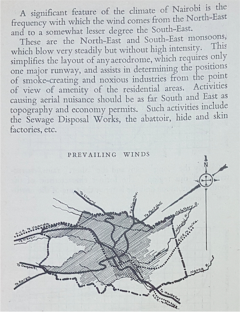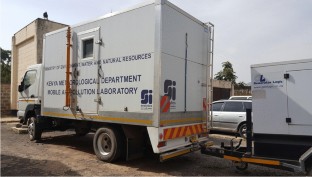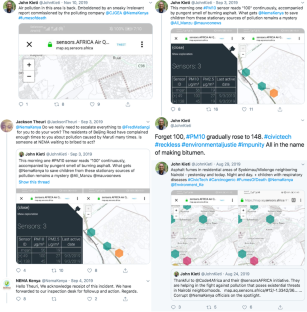 Notes
This plan was termed the "Plan of survey at foot of hill and edge of plans" signed by Arthur F Clark, Assistant Surveyor.

This plan was termed as the "Uganda Railway Plan of Staff Quarters, Nyrobi" signed by G. Whitehouse, Chief Engineer.
References
Amegah, A. K., & Agyei-Mensah, S. (2017). Urban air pollution in Sub-Saharan Africa: Time for action. Environmental Pollution, 220, 738–743. https://doi.org/10.1016/j.envpol.2016.09.042

Barczewski, B. (2013). How well do environmental regulations work in Kenya. A case study of the Thika highway improvement project'. New York/Nairobi: Centre for Sustainable Urban Development, Columbia University and University of Nairobi.

Barrow, K. (2019). Nairobi airport rail link to open in 2021, says Kenyatta. International Railway Journal. Retrieved from https://www.railjournal.com/africa/nairobi-airport-rail-link-to-openin-2021-says-kenyatta/. Accessed 30 Mar 2022.

Berman, B. J. (1998). Ethnicity, patronage and the African state: The political of uncivil nationalism. African Affairs, 97(388), 305–341. https://doi.org/10.1093/oxfordjournals.afraf.a007947

D'Arcy, M., & Cornell, A. (2016). Devolution and corruption in Kenya: Everyone's turn to eat? African Affairs, 115(459), 246–273. https://doi.org/10.1093/afraf/adw002

deSouza, P. (2020). Air pollution in Kenya: a review. Air Qual Atmos Health, 13(12), 1487–1495. https://doi.org/10.1007/s11869-020-00902-x.

deSouza, P., Nthusi, V., Klopp, J. M., Shaw, B. E., Ho, W. O., Saffell, J., Jones, R., & Ratti, C. (2017). A Nairobi experiment in using low cost air quality monitors. Clean Air Journal= Tydskrif Vir Skoon Lug, 27(2), 12–42.

deSouza, P., Oriama, P. A., Pedersen, P. P., Horstmann, S., Gordillo-Dagallier, L., Christensen, C. N., Franck, C. O., Ayah, R., Kahn, R. A., Klopp, J. M., & Messier, K. P. (2021). Spatial variation of fine particulate matter levels in Nairobi before and during the COVID-19 curfew: Implications for environmental justice. Environmental Research Communications, 3(7), 071003.

Emig, S., Ismail, Z. (1980). Notes on the Urban Planning of Nairobi. Royal Academy of Fine Arts, School of Architecture, Copenhagen

Geissler, P. W., & Tousignant, N. (2016). Capacity as history and horizon: Infrastructure, autonomy and future in African health science and care. Canadian Journal of African Studies / Revue Canadienne Des Études Africaines, 50(3), 349–359. https://doi.org/10.1080/00083968.2016.1267653

Hassan, M., & Sheely, R. (2017). Executive–legislative relations, party defections, and lower level administrative unit proliferation: Evidence from Kenya. Comparative Political Studies, 50(12), 1595–1631. https://doi.org/10.1177/0010414016679179

Health Effects Institute. (2019). State of Global Air. Retrieved from https://www.stateofglobalair.org/. Accessed 30 Mar 2022.

Jasanoff, S. (1995). Procedural choices in regulatory science. Technology in Society, 17(3), 279–293. https://doi.org/10.1016/0160-791X(95)00011-F

Joss, M. K., Eeftens, M., Gintowt, E., Kappeler, R., & Künzli, N. (2017). Time to harmonize national ambient air quality standards. International Journal of Public Health, 62(4), 453–462.

K'Akumu, O. A., & Olima, W. H. A. (2007). The dynamics and implications of residential segregation in Nairobi. Habitat International, 31(1), 87–99. https://doi.org/10.1016/j.habitatint.2006.04.005

Kinney, P. L., Gichuru, M. G., Volavka-Close, N., Ngo, N., Ndiba, P. K., Law, A., Gachanja, A., Gaita, S. M., Chillrud, S. N., & Sclar, E. (2011). Traffic impacts on PM2.5 air quality in Nairobi. Kenya. Environmental Science & Policy, 14(4), 369–378. https://doi.org/10.1016/j.envsci.2011.02.005

Kinyanjui, M. (2017). NEMA arrests 14 for open air burning of tyres in Donholm. The Star. Retrieved from https://www.the-star.co.ke/news/2019-08-17-nema-arrests-14-for-open-air-burning-of-tyres-in-donholm/. Accessed 30 Mar 2022.

Klopp, J. M. (2012). Towards a political economy of transportation policy and practice in Nairobi. Urban Forum, 23(1), 1–21.

Linehan, D. (2007). Re-ordering the urban archipelago: Kenya vision 2030, street trade and the battle for Nairobi city centre. Aurora, 1, 21–37.

Mohai, P., Pellow, D., & Roberts, J. T. (2009). Environmental justice. Annual Review of Environment and Resources, 34(1), 405–430. https://doi.org/10.1146/annurev-environ-082508-094348

Muindi, K., Egondi, T., Kimani-Murage, E., Rocklov, J., & Ng, N. (2014). "We are used to this": A qualitative assessment of the perceptions of and attitudes towards air pollution amongst slum residents in Nairobi. BMC Public Health, 14(1), 226. https://doi.org/10.1186/1471-2458-14-226

Murphy, M. (2008). Chemical regimes of living. Environmental History, 13(4), 695–703.

Nairobi County Government. (2020). Air Pollution policy in Nairobi City County – Nairobi City County Assembly', Retrieved from http://nairobiassembly.go.ke/motion/air-pollution-policy-in-nairobi-city-county. Accessed 27 June 2021.

Nevanlinna, A. K. (1996). Interpreting Nairobi: The cultural study of built forms. Suomen historiallinen seura.

Ngo, N. S., Gatari, M., Yan, B., Chillrud, S. N., Bouhamam, K., & Kinney, P. L. (2015). Occupational exposure to roadway emissions and inside informal settlements in sub-Saharan Africa: A pilot study in Nairobi, Kenya. Atmospheric Environment, 111, 179–184. https://doi.org/10.1016/j.atmosenv.2015.04.008

Njoh, A. J. (2008). Colonial philosophies, urban space, and racial segregation in British and French colonial Africa. Journal of Black Studies, 38(4), 579–599. https://doi.org/10.1177/0021934706288447

Nyabola, N. (2018). Digital democracy, analogue politics: How the Internet era is transforming politics in Kenya. Bloomsbury Publishing.

Nyakundi, C., (2019). NEMA and KAM linked to bribes to overlook Endmor Steel pollution activities in Syokimau. The Star. Retrieved from https://www.cnyakundi.com/nema-and-kam-linked-tobribes-to-overlook-endmor-steel-pollution-activities-in-syokimau/. Accessed 30 Mar 2022.

Opondo, G. K. (2017). Analysis of the governance framework for vehicular air pollution abatement in Kenya (Doctoral dissertation, University of Nairobi).

Ottinger, G. (2010). Buckets of resistance: Standards and the effectiveness of citizen science. Science, Technology, & Human Values, 35(2), 244–270. https://doi.org/10.1177/0162243909337121

Pulido, L. (2000). Rethinking environmental racism: White privilege and urban development in Southern California. Annals of the Association of American Geographers, 90(1), 12–40. https://doi.org/10.1111/0004-5608.00182

Rono, J. K. (2002). The impact of the structural adjustment programmes on Kenyan society. Journal of Social Development in Africa, 17(1), 81–98.

Serwanjja, S. (2019). Kenya pollution: How air sensors are helping people fight pollution. BBC. Retrieved from https://www.bbc.com/news/world-africa-50647465. Accessed 30 Mar 2022.

West, S. E., Bowyer, C. J., Apondo, W., Büker, P., Cinderby, S., Gray, C. M., Hahn, M., Lambe, F., Loh, M., Medcalf, A., & Muhoza, C. (2021). Using a co-created transdisciplinary approach to explore the complexity of air pollution in informal settlements. Humanities and Social Sciences Communications, 8(1), 1–13.

West, S. E., Büker, P., Ashmore, M., Njoroge, G., Welden, N., Muhoza, C., Osano, P., Makau, J., Njoroge, P., & Apondo, W. (2020). Particulate matter pollution in an informal settlement in Nairobi: Using citizen science to make the invisible visible. Applied Geography, 114, 102133.

Williams, R., Vasu Kilaru, E. Snyder, A. Kaufman, T. Dye, A. Rutter, A. Russell, and H. Hafner. (2014). Air Sensor Guidebook. US Environmental Protection Agency, Washington, DC. EPA/600/R-14/159 (NTIS PB2015-100610).
Acknowledgements
The author is grateful for comments from Jacqueline Klopp, Kim Fortun, Lawrence Susskind, Dorothy Tang, Andrew Binet, and Shin Bin Tan
Ethics declarations
Conflict of Interest
The author declares no competing interests.
Additional information
Publisher's Note
Springer Nature remains neutral with regard to jurisdictional claims in published maps and institutional affiliations.
Highlights
-This paper conducts historically informed analysis of the political economy of air pollution decision-making in Nairobi.
-Political barriers to regulatory action on air pollution are identified.
-Data infrastructure gaps that prevent air pollution data from translating to policy action and increased government accountability are explored.
-The promise and perils of citizen science in Nairobi to improve air quality are discussed
Supplementary Information
Below is the link to the electronic supplementary material.
About this article
Cite this article
deSouza, P. Political Economy of Air Pollution in Kenya. Urban Forum 33, 393–414 (2022). https://doi.org/10.1007/s12132-022-09464-w
Accepted:

Published:

Issue Date:

DOI: https://doi.org/10.1007/s12132-022-09464-w
Keywords