Abstract
Using ideas from the mobilites/transfer and policy learning literatures, this paper unpacks how system factors and socio-cognitive behaviours of policy actors create conditions of policy absence. Whilst mobilities/transfer studies have ballooned over the years thanks in part to continuously evolving global communication and travel systems, these studies have tended to overwhelmingly focus on sites where policies are present. For the most part, sites where policies are absent, rejected, de-activated, redirected or failed have received little attention. This paper responds to recent calls for scholars to focus on places where best-practice policy models are absent by employing the presence of Business Improvement Districts in Cape Town as an empirical lens to understand policy absence in Accra. The paper relies on a combination of literature review, discourse analyses and semi-structured interviews. Findings indicate that presences and absences of urban policies are conditions of prevailing political, social and economic perturbations in a country. Additionally, at the local level, the exercise of power, dominance, opinions, attitudes and values by actors equally contribute to creating policy presence or absence.
Access options
Buy single article
Instant access to the full article PDF.
USD 39.95
Price excludes VAT (USA)
Tax calculation will be finalised during checkout.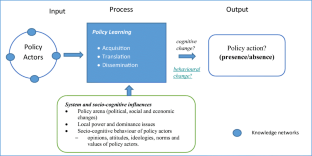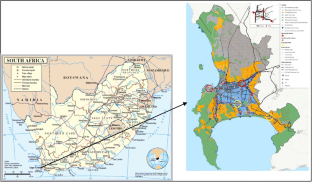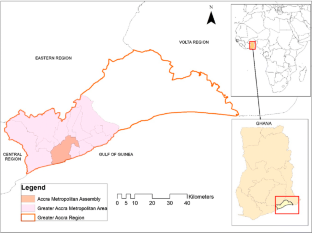 Notes
Based on prior studies (Grossman 2010), a BID may be defined as a purposefully designated geographic area where property owners and/or businesses pay special assessments (extra taxes/fees) in return for supplemental local services (e.g. street cleaning, landscaping and security patrols). Elsewhere, BIDs have been called 'special improvement districts (SIDs)', 'public improvement districts (PIDs)', 'neighbourhood improvement districts (NIDs)', 'business improvement areas (BIAs)', 'downtown improvement districts (DIDs)', 'main street associations MSAs' and 'city improvement districts (CIDs)'

Except for the two debates from Jacob (2012) and McCann and Ward (2015) that admonishes researchers to pay equal attention to policy absence

South Africa has three levels of Municipalities—metropolitan municipality, municipality and district municipality

Election of Assemblymen in Ghana are not organized along party lines

At the time of writing of this paper, plans were underway to organize a referendum and amend the constitution in a way that will ensure that all local government Mayors are elected

Only 4% of the Cape Town Unicity's budget at the time came from intergovernmental transfer of funds (Coopoo 2000:6).
References
Argyris, C., & Schön, D. (1996). Organizational learning II: Theory, method and practice. Reading, MA: Addison-Wesley.

Arku, G. (2009). Housing policy changes in Ghana in the 1990s. Housing Studies, 24(2), 261–272.

Awortwi, N. (2004). Getting the fundamentals wrong: woes of public–private partnerships in solid waste collection in three Ghanaian cities. Public Administration and Development: The International Journal of Management Research and Practice, 24(3), 213–224.

Beavon, K. (2004). Johannesburg. The Making of the City. Pretoria: University of South Africa Press.

Becker, C. J. (2012). Democratic accountability and business improvement districts. Public Performance & Management Review, 36(2), 187–202.

Bennett, C. J., & Howlett, M. (1992). The lessons of learning: reconciling theories of policy learning and policy change. Policy Sciences, 25(3), 275–294.

Bob-Milliar, G. M., & Obeng-Odoom, F. (2011). The informal economy is an employer, a nuisance, and a goldmine: multiple representations of and responses to informality in Accra. Ghana Urban Anthropology, 40, 263–284.

Bond, P. (2006). Reconciliation and economic reaction: flaws in South Africa's elite transition. Journal of International Affairs, 60(1), 141–156.

Cape Town Central City Improvement District [CCID] 2007. Annual report 2007. Sourced on 10/20/2019 from: https://issuu.com/capetowncentralcityimprovementdistrict/docs/ccid_2007

Caraley, D. (1992). Washington abandons cities. Political Science Quarterly, 107, 1–30.

City of Cape Town (2018). Municipal Spatial Development Framework. Cape Town. From: http://resource.capetown.gov.za/documentcentre/Documents/City%20strategies%2C%20plans%20and%20frameworks/Cape%20Town%20Metropolitan%20Spatial%20Development%20Framework_2018-04-25.pdf. Accessed 22 Oct 2019.

Clarke, N. (2012). Urban policy mobility, anti-politics, and histories of the transnational municipal movement. Progress in Human Geography, 36(1), 25–43.

Coopoo S (2000) Women and local government revenues. The Women's Budget Series. Cape Town: IDASA, Community Agency for Social Enquiry and the Parliamentary Committee on the Quality of Life and Status of Women.

Didier, S., Morange, M., & Peyroux, E. (2013). The adaptative nature of neoliberalism at the local scale: fifteen years of city improvement districts in Cape Town and Johannesburg. International Journal of Urban and Regional Research, 36(5), 121–129.

Didier, S., Peyroux, E., & Morange, M. (2012). The spreading of the city improvement district model in Johannesburg and Cape Town: urban regeneration and the neoliberal agenda in South Africa. Antipode, 45(1), 15–935.

Dolowitz, D., & Marsh, D. (1996). Who learns what from whom: a review of the policy transfer literature. Political Studies, 44, 343–357.

Dunlop, C. A., & Radaelli, C. M. (2018). Does policy learning meet the standards of an analytical framework of the policy process? Policy Studies Journal, 46, S48–S68.

Ghana Statistical Service [GSS] (2010). 2010 Population & Housing Census: Summary Report of Final Results. Government of Ghana, Accra. Sourced from: https://www.statsghana.gov.gh/gssmain/storage/img/marqueeupdater/Census2010_Summary_report_of_final_results.pdf. Accessed 22 Oct 2019

Government of Ghana. (2014). Ghana shared growth and development agenda (2014-2017). Volume I: Policy Framework. Accra: National Development Planning Commission.

Grant, R., & Yankson, P. (2003). Accra. Cities, 20, 65–74.

Grossman, S. A. (2010). Reconceptualizing the public management and performance of business improvement districts. Public Performance & Management Review, 33(3), 361–394.

Heikkila, T., & Gerlak, A. K. (2013). Building a conceptual approach to collective learning: lessons for public policy scholars. Policy Studies Journal, 41(3), 484–512.

Jacobs, J. M. (2012). Urban geographies I: still thinking cities relationally. Progress in Human Geography, 36(3), 412–422.

Jurgens, U., & Gnad, M. (2002). Gated communities in South Africa: experiences from Johannesburg. Environment and Planning B, 29, 337–353.

Konadu-Agyemang, K. (2001). The political economy of housing and urban development in Africa: Ghana's experience from colonial times to 1998. Westport: Praeger.

Levy, P. (2006). Looking backward, looking forward: the future of downtowns and business districts. In D. Feehan & M. D. Feit (Eds.), Making business districts work: leadership and management of downtown, main street, business district, and community development organizations (pp. 411–422). New York: Haworth Press.

Lovell, H. (2017). Are policy failures mobile? An investigation of the advanced metering infrastructure program in the state of Victoria, Australia. Environment and Planning A: Economy and Space, 49(2), 314–331.

Mallett, W. J. (1994). Managing the post-industrial city: business improvement districts in the United States. Area, 276-287.

McCann, E., & Ward, K. (2015). Thinking through dualisms in urban policy mobilities. International Journal of Urban and Regional Research, 39(4), 828–830. https://doi.org/10.1111/1468-2427.12254.

McDonald, D. A., & Smith, L. (2004). Privatising Cape Town: from apartheid to neo-liberalism in the mother city. Urban Studies, 41(8), 1461–1484.

McDonald, D. A. (2012). World city syndrome: neoliberalism and inequality in Cape Town. Abington: Routledge.

Miraftab, F. (2007). Governing post apartheid spatiality: Implementing city improvement districts in Cape Town. Antipode, 39(4), 602–626.

Morçöl, G., & Zimmermann, U. (2008). Metropolitan governance and business improvement districts. In G. Morçöl, L. Hoyt, J. W. Meek, & U. Zimmermann (Eds.), Business improvement districts: research, theories, and controversies (pp. 27–50). Boca Raton: CRC Press.

Nahnsen, A. (2002) Emergency on planet Cape Town — competing discourses and practices of desire and fear in a post-apartheid city. PhD thesis, Oldenburg University, Germany.

Obeng-Odoom F (2013) Governance for pro-poor urban development: lessons from Ghana Routledge, Abingdon.

Oteng-Ababio, M. (2011). Missing links in solid waste management in the Greater Accra Metropolitan Area in Ghana. GeoJournal, 76(5), 551–560.

Oteng-Ababio, M., Arguello, J. E. M., & Gabbay, O. (2013). Solid waste management in African cities: sorting the facts from the fads in Accra, Ghana. Habitat International, 39, 96–104.

Owusu-Ansah, A., Soyeh, K. W., & Asabere, P. K. (2019). Developer constraints on housing supply in urban Ghana. International Journal of Housing Markets and Analysis, 12(1), 59–73.

Peck, J. (2004). Geography and public policy: constructions of neoliberalism. Progress in human geography, 28(3), 392–405.

Peyroux, E. (2012). Legitimating business improvement districts in Johannesburg: a discursive perspective on urban regeneration and policy transfer. European Urban and Regional Studies, 19(2), 181–194.

Peyroux, E., Pütz, R., & Glasze, G. (2012). Business Improvement Districts (BIDs): the internationalization and contextualization of a 'travelling concept.'. European Urban and Regional Studies, 19(2), 111–120.

Pitkeathley, S. (2017). Business improvement districts: catalysts for innovation and growth in uncertain times. Journal of Urban Regeneration and Renewal Vol., 10(4), 344–347.

Quayson, A. (2014). Oxford Street, Accra: city life and the itineraries of transnationalism. Durham: Duke University Press.

Robinson, J. (2015). 'Arriving at' urban policies: the topological spaces of urban policy mobility. International Journal of Urban and Regional Research, 39(4), 831–834. https://doi.org/10.1111/1468-2427.12255.

Ruffin, F. A. (2010). Collaborative network management for urban revitalization. Public Performance & Management Review, 33(3), 459–487.

Songsore, J. (2008). Environmental and structural inequalities in Greater Accra. Journal of the International Institute, 16(1), 8–13.

Stein, C., Glasze, G., & Michel, B. (2017). Learning from failed policy mobilities: contradictions, resistances and unintended outcomes in the transfer of "business improvement districts" to Germany. European Urban and Regional Studies, 24(1), 35–49 Urban Land Institute.

Stone, D. (1999). Learning lessons and transferring policy across time, space and disciplines. Politics, 19(1), 51–59.

Temenos, C., & McCann, E. (2013). Geographies of policy mobilities. Geography Compass, 7(5), 344–357.

UN-Habitat (2009) Ghana: Accra urban profile UN-Habitat, New York.

Van Dijk, T. A. (1993). Principles of discourse analysis. Discourse and Society, 4(2), 249–283.

Van Leeuwen, T. (2007). Legitimation in discourse and communication. Discourse & Communication, 1(1), 91–112.
Additional information
Publisher's Note
Springer Nature remains neutral with regard to jurisdictional claims in published maps and institutional affiliations.
About this article
Cite this article
Kaye-Essien, C.W. Understanding Absences and Presences of BID Policies: a Comparative Case of Accra and Cape Town. Urban Forum 31, 177–195 (2020). https://doi.org/10.1007/s12132-020-09385-6
Published:

Issue Date:

DOI: https://doi.org/10.1007/s12132-020-09385-6
Keywords
Policy mobilities

Policy transfer

Policy learning

Ghana

Socio-cognitive

Cape Town

Accra