Abstract
Informal vendors are a critical source of food security for urban residents in African cities. However, the livelihoods of these traders, and the governance constraints they encounter, are not well-understood outside of the region's capital and primate cities. This study focuses on two distinct secondary cities in Nigeria, Calabar in the South-South geopolitical zone of the country and Minna in the Middle Belt region. Interviews were collected with local and state officials in each city on the legal, institutional, and oversight functions they provide within the informal food sector. This was complemented with a survey of approximately 1097 traders across the two cities to assess their demographic profile, contributions to food security, key challenges they face for profitability, engagement with government actors, and degree of access to services in the markets. The analysis highlights two main findings. First, informal traders report less harassment by government actors than has been observed in larger Nigerian cities. At the same time, however, the enabling environment is characterized by benign neglect whereby government-mandated oversight functions are not comprehensively implemented and service delivery gaps remain a major hindrance to food safety. Second, there are important differences in the needs of traders across cities, suggesting that policies focused on food safety and improving the livelihoods of this constituency more broadly need to be properly nuanced even at the subnational level.
Access options
Buy single article
Instant access to the full article PDF.
US$ 39.95
Tax calculation will be finalised during checkout.
Subscribe to journal
Immediate online access to all issues from 2019. Subscription will auto renew annually.
US$ 79
Tax calculation will be finalised during checkout.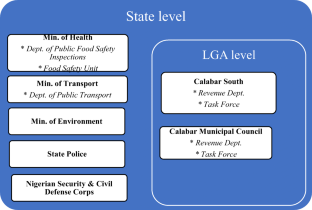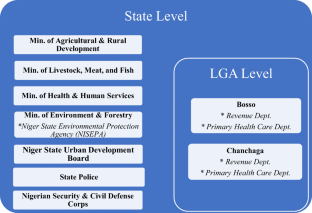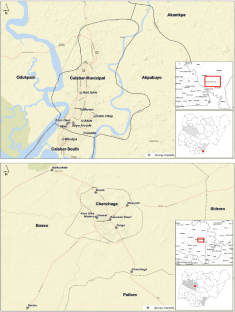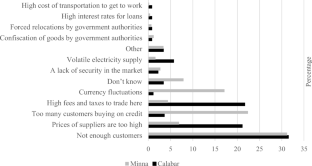 Notes
1.

2.

Interview with the Honorable State House Assembly Member, Yala, Cross River

3.

At the time of writing, 1 USD = 363 Nigerian Naira

4.

Interview with the Revenue Officer, Calabar

5.

Interview with the Environmental Health Officer, Ministry of Health, Calabar

6.

Interview with the Road Traffic Officer, Dept. of Public Transformation, Calabar

7.

Interview with the Revenue Officer, Chanchaga LGA

8.

Interview with the Ministry of Agriculture and Rural Development, Planning, and Statistics Directorate

9.

Interview with the Ministry of Livestock, Meat, and Fish, Directorate of Veterinary Public Health

10.

Interview with the General Manager of NISEPA

11.

Interview with the Ministry of Health and Human Services, Department of Food and Nutrition

12.

Interview with the Chairman of Food Sellers Association, Minna Central Market

13.

Interview with the Secretary of CATUA

14.

In more densely populated markets, every fifth food trader was targeted.

15.

The African Union defines "youth" as ranging from 15 to 35.

16.

Values do not total to 100% since respondents may purchase food from more than one source.

17.

Interview with the Revenue Officer, Chanchaga LGA, April 2018

18.

Interviews with the Revenue Officers in Chanchaga LGA and Calabar Municipality, April 2018
References
Abe, T. (2012). Bracing the odds in the face of double tragedy: The dilemma of street trading in Ibadan Metropolis of Nigeria. Journal of Sustainable Development in Africa, 14(8), 104–118.

Abrahams, C. (2006). Globally useful conceptions of Alternative Food Networks in the developing south: The case of Johannesburg's urban food supply system. Institute of Geography Online Paper Series, 1–39.

Adamtey, N. (2015). Informal economy budget analysis: Accra Metropolis. Cambridge: WIEGO.

Adedeji, J. A., Fadamiro, J. A., & Adeoye, A. O. (2014). Spatial implications of street trading in Osogbo traditional city Centre, Nigeria. Architecture Research, 4(1A), 34–44.

Aker, J., Klein, M. W., O'Connell, S., & Yang, M. (2014). Borders, ethnicity and trade. Journal of Development Economics, 107(March), 1–16.

Banks, N. (2016). Youth poverty, employment and livelihoods: Social and economic implications of living with insecurity in Arusha, Tanzania. Environment and Urbanization, 28(2), 437–454.

Basinski, S. (2009). All fingers are not equal: A report on street vendors in Lagos, Nigeria. Abuja: CLEEN Foundation.

Bhowmik, S. & Saha, S. K. D. (2012). Street vending in ten cities in India conducted by Tata Institute of Social Sciences. School of Management and Labour Studies Tata Institute of Social Sciences.

Bromley, R. (2000). Street vending and public policy: A global review. International Journal of Sociology and Social Policy, 20, 1–2),1–28.

Chukuezi, C. O. (2010). Food safety and hygienic practices of street food vendors in Owerri, Nigeria. Studies in Sociology of Science, 1(1), 50–57.

Crush, J., & Frayne, B. (2011). Supermarket expansion and the informal food economy in southern African cities: Implications for urban food security. Journal of Southern African Studies, 37(4), 781–807.

Dipeolu, A. O., Akinbode, S. O., & Okuneye, P. A. (2007). Income generating potentials of street food vending businesses in Ogun state, Nigeria. ASSET Series, C, 2(1), 180–189.

FAO. (2016). Minimum dietary diversity for women - a guide to measurement. Rome: Food and Agriculture Organization.

Filmer, D., & Fox, L. (2014). Youth employment in Sub-Saharan Africa. Washington, DC: The World Bank.

Grossman, S. (2016). The politics of order in informal markets: Evidence from Lagos. Palo Alto, CA.

Holland, A. C. (2016). Forbearance. American Political Science Review, 110(2), 232–246.

Iwuagwu, O. (2011). The cluster concept: Will Nigeria's new industrial development strategy jumpstart the country's industrial takeoff? Afro Asian Journal of Social Sciences, 2(2), 1–24.

Jaffee, S., Henson, S., Unnevehre, L., Grace, D., & Cassou, E. (2019). The safe food imperative: Accelerating progress in low- and middle-income countries. Washington, DC: World Bank.

Lawanson, T. (2014). Illegal urban entrepreneurship? The case of street vendors in Lagos, Nigeria. Journal of Architecture & Environment, 13(1), 33–48.

Lindell, I. (2010). Africa's informal workers. Collective agency, alliances and transnational organizing in urban Africa. London: Zed Books.

Liverpool-Tasie, S., Omonona, B., Sanou, A., Ogunleye, W., Padilla, S., & Reardon, T. (2016). Growth & transformation of chicken & eggs value chains in Nigeria. In Feed the future innovation lab for food security policy research paper 22. East Lansing: Michigan State University.

Lyon, F., & Porter, G. (2009). Market institutions, trust and norms: Exploring moral economies in Nigerian food systems. Cambridge Journal of Economics, 33(5), 903–920.

Mangdon, T. A., & Chintem, W. D. (2014). Hygiene and sanitary practices of street food vendors in southern Kaduna, Nigeria. International Journal of Health and Medical Information, 3(2), 49–57.

McDonald, D. (2008). World city syndrome: Neoliberalism and inequality in Cape Town. New York: Routledge.

McMillan, M., Rodrik, D., & Sepulveda, C. (2017). Structural change, fundamentals, and growth: A framework and case studies. Washington, DC: International Food Policy Research Institute.

Neuwirth, R. (2011). Stealth of nations: The global rise of the informal economy. New York: Random House.

Nigerian Bureau of Statistics. (2014). Nigerian Labor Force Survey. Abuja: Central Bank of Nigeria.

Nwanna, C. (2018). Right to the City: Lagos, an emerging Revanchist City in Nigeria? Advances in Social Sciences Research Journal, 5(4), 59–69.

Nzeka, U. (2011). Steady growth of Nigeria's retail food sector. Washington, DC: Global Agricultural Information Network, United States Department of Agriculture.

Olurinola, I. O., Fadayomi, T., Amoo, E. O., & Ola-David, O. (2014). Occupational health and safety among street traders in Nigeria. International Journal of Economics and Finance, 6(4), 59–68.

Omemu, A. M., & Aderoju, S. T. (2008). Food safety knowledge and practices of street food vendors in the City of Abeokuta, Nigeria. Food Control, 19(4), 396–402.

Onodugo, V. A., Ezeadichie, N. H., Onwuneme, C. A., & Anosike, A. E. (2016). The dilemma of managing the challenges of street vending in public spaces: The case of Enugu City, Nigeria. Cities, 59, 95–101.

Resnick, D. (2017). Informal food Markets in Africa's cities. Global food policy report. Washington, DC: International Food Policy Research Institute.

Resnick, D. (Forthcoming). The politics of crackdowns on Africa's informal traders. Comparative Politics.

Resnick, D., & Thurlow, J. (2015). African youth and the persistence of marginalization. London: Routledge.

Roberts, B. H. (2014). Managing systems of secondary cities: Policy responses in international development. Washington, DC: Cities Alliance.

Roever, S. C. (2005). Negotiating formality: Informal sector, market, and state in Peru. PhD Dissertation. University of California, Berkeley .

Skinner, C. (2008). Street trade in Africa: A review. School of Development Studies Working Paper No.51, Durban, South Africa: University of Kwazulu-Natal.

Skinner, C. (2016). Informal food retail in Africa: A review of evidence. Consuming Urban Poverty Working Paper No.2. Cape Town, South Africa: University of Cape Town Africa Centre for Cities.

Tinker, I. (1997). Street foods: Urban food and employment in developing countries. Oxford: Oxford University Press.
Acknowledgments
The authors are grateful for funding for this research from the USAID Nigerian Agricultural Productivity Project (NAPP) and from CGIAR Research Program on Policies, Institutions, and Markets (PIM) led by the International Food Policy Research Institute (IFPRI). They also thank the CLEEN Foundation and NoiPolls Nigeria for their implementation of the surveys with informal traders in Calabar and Minna. Mekamu Kedir provided excellent research assistance by developing maps of the survey locations. All errors remain those of the authors alone.
Additional information
Publisher's Note
Springer Nature remains neutral with regard to jurisdictional claims in published maps and institutional affiliations.
About this article
Cite this article
Resnick, D., Sivasubramanian, B., Idiong, I.C. et al. The Enabling Environment for Informal Food Traders in Nigeria's Secondary Cities. Urban Forum 30, 385–405 (2019). https://doi.org/10.1007/s12132-019-09371-7
Keywords
Informal economy

Nigeria

Secondary cities

Street vending

Urban food security