Abstract
In South Africa, the informal sector, including food vending, is either criminalized or ignored. This is despite the fact that it plays an important role in the economy in terms of employment, income generation, food distribution and livelihoods for the urban poor. This paper assesses the nature, operations, strategies and challenges of the informal food sector in Cape Town. Data was collected through a survey of over 1000 informal food vendors in the city. Most of the enterprises were single-owner businesses, financed from personal savings and started by owners seeking employment, independence and improved financial security for their families. Most businesses had little or no access to finance from government agencies, banks and micro-finance lenders. Entrepreneurs faced various challenges ranging from insufficient sales, competition, changing consumer food needs and rising stock prices. To survive in a challenging economic environment, they adopt various innovative strategies including changing the types of foods they sell, increasing food stock variety, monitoring formal food retailing prices and negotiating with suppliers for favourable stock prices. Despite the various challenges being experienced, the informal food sector has become an integral and indispensable component of the food system of the city.
This is a preview of subscription content,
to check access.
Access this article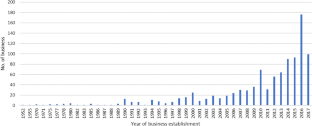 Similar content being viewed by others
References
Battersby, J. (2017). Food system transformation in the absence of food system planning: the case of supermarket and shopping mall retail expansion in Cape Town. Built Environment, 43(3), 417–430.

Bénit-Gbaffou, C. (2016). Do street traders have the 'Right to The City'? The politics of street trader organizations in inner city Johannesburg, post-Operation Clean Sweep. Third World Quarterly, 37(6), 102–1129.

BNP-Paribas, (2017). South Africa: what's behind the growth slowdown? http://economic-research.bnpparibas.com/Views/DisplayPublication.aspx?type=document&IdPdf=29842 Accessed 15 October 2018.

Brixiova, Z., & Kangoye, T. (2016). Start-up capital and women entrepreneurship: Evidence from Swaziland, IZA Discussion No. 10279, ftp.iza.org/dp10279.pdf. Accessed 10 September 2018.

Campbell, M. (2016). South Africa supermarket expansion in sub Saharan Africa. Third World Thematics: A TWQ Journal, 1(5), 709–725.

Chen, M. (2006). Rethinking the informal economy: Linkages with the formal economy and the formal regulatory environment, https://www.un.org/en/ecosoc/meetings/2006/forum/Statements/Chen%27s%20Paper.pdf. Accessed 8 Oct 2018.

Chen, M. A. (2012). The informal economy: definitions, theories and policies, WIEGO Working Paper No. 1, Cambridge, http://www.wiego.org/sites/default/files/publications/files/Chen_WIEGO_WP1.pdf. Accessed 6 October 2018.

Chimucheka, T., & Mandipaka, F. (2015). Challenges faced by small, medium and micro scale enterprises in the Nkonkobe Municipality. International Journal of Economics and Business Research, 14(2), 309–316.

Crush, J., & Frayne, B. (2011). Supermarket expansion and the informal economy in South African cities, implications for urban food security. Journal of Southern African Studies, 37(4), 781–807.

Crush, J., Skinner, C., & Stulgaitis, M. (2017). Rendering South Africa undesirable: a critique of refugee and informal sector policy, SAMP Migration Policy Series No. 79, Southern Africa Migration Programme, Balsillie School of International Affairs, Canada, http://samponline.org/wp-content/uploads/2017/06/SAMP78.pdf. Accessed 10 October 2018.

Devey, R., Skinner, C., & Valodia, I. (2006). Definitions, data and the informal economy in South Africa: a critical analysis. In V. Padayachee (Ed.), The development decade? Economic and social change in South Africa, 1994–2004 (pp. 302–323). Cape Town: Human Science Research Council Press.

Finmark Trust (2006) Fin Scope Small Business Survey Report. http://www.finmarktrust.org.za. Accessed 3 Apr 2010.

Fourie, F. (2018). Creating jobs, reducing poverty: why the informal sector should be taken seriously and enabled properly, http://www.econ3x3.org/article/creating-jobs-reducing-poverty-i-why-informal-sector-should-be-taken-seriously-and-enabled#_ftn3. Accessed 15 October 2018.

Githiri, G., Ngugi, R., Njoroge, P., & Sverdlick, A. (2016). Nourishing livelihoods: recognizing and supporting food vendors in Nairobi's informal settlements, IIED Working Paper, London, http://pubs.iied.org/pdfs/10762IIED.pdf.Accessed 05 October 2018.

Hussmanns, R. (2001). Informal sector and informal employment: elements of a conceptual framework, http://www.wiego.org/sites/default/files/publications/files/Hussmanns-IEpaper_lac_event.pdf. Accessed 10 Oct 2018.

ILO, (2018). More than 60 percent of the world's employed population are in the informal Sector, ILO Press Release, 30 April 2018, https://www.ilo.org/global/about-the-ilo/newsroom/news/WCMS_627189/lang--en/index.htm. Accessed 15 October 2018.

ILO. (2018b). Women and men in the informal economy (third edition), International Labour Office, Geneva. https://www.ilo.org/wcmsp5/groups/public/-dgreports/-dcomm/documents/publication/wcms_626831.pdf. Accessed 10 May 2018.

Iyenda, G. (2001). Street food and income generation for poor households in Kinshasa. Environment and Urbanization, 13(2), 233–241.

Jutting, J. P., & Laiglesia, J. R. (2009). Employment, poverty reduction and development: what's new? In P. Johannes, J. P. Jutting, & J. R. Laiglesia (Eds.), Is informal normal? Towards more and better jobs in developing countries. Paris: OECD.

Lubell, H. (1991). The informal sector in the 1980s and the 1990s, The Development Centre. Paris: OECD.

Maxwell, D., Levin, C., Armar-Klemesu, M., Ruel, M., Morris, S., and Ahiadeke, C. (2000). Urban livelihoods and food and nutrition security in Greater Accra, Ghana, International Food Policy Research Institute, in collaboration with Noguchi Memorial Institute for Medical Research and the World Health Organization, Ghana. https://www.who.int/nutrition/publications/WHO_multicountry_%20study_Ghana.pdf. Accessed 11 Oct 2018.

Mubaiwa, P. (2014). Assessing the role played by informal traders within the snoek value chain in selected townships in Cape Town, South Africa, Masters thesis, Institute for Poverty, Land and Agrarian Studies (PLAAS), University of the Western Cape, South Africa.

Muchira, B. W. (2007). Record keeping and growth of micro and small scale enterprises: a case study of Thika Municipality in Kenya, Masters project, School of Business Administration, Kenyatta University, Nairobi.

Nickanor, N., Kazembe, L., Crush, J., & Wagner, J. (2017). The supermarket revolution and food security in Namibia, AFSUN Series No. 26, AFSUN and HCP, Cape Town, http://www.afsun.org/wp-content/uploads/2017/11/AFSUN26.pdf. Accessed 13 October 2018).

Njaya, T. (2014). Operations of street food vendors and their impact on sustainable urban life in high density suburbs of Harare, in Zimbabwe. Asian Journal of Economic Modelling, 2(1), 18–31.

Nkrumah-Abebrese, B., & Schachtebeck, C. (2017). Street trading in South Africa: A case of the Tshwane central business district. Acta Universitatis Danubius Oeconomica, 13, 129–139.

Omemu, A. M., & Aderoju, S. T. (2008). Food safety knowledge and practices of street vendors in the City of Abeokuta, Nigeria. Food Control, 19(4), 396–402.

Otekhile, C. A., & Mathews, O. (2017). An explorative study of the contribution of the informal sector to economic activities in Lagos, Nigeria, Paper presented at 20thInternational Scientific Conference: "Enterprise and Competitive Environment", March 9–10, 2017, Brno, Czech Republic, http://eprints.covenantuniversity.edu.ng/9051/1/CATHY%20TOYIN%20PAPER.pdf. Accessed 10 October 2018.

Reardon, T. (2011). The global rise and impact of supermarkets: an international perspective, paper prepared for presentation at the "The Supermarket Revolution. In Food: good, bad or ugly for the world's farmers, consumers and retailers?" conference conducted by the Crawford Fund for International Agricultural Research, Parliament House, Canberra, Australia, 14–16 August 2011, https://ageconsearch.umn.edu/bitstream/125312/1/Reardon2011.pdf. Accessed 14th October 2018.

Rogan, M., & Skinner, C. (2017). The nature of the South African informal sector as reflected in the Quarterly Labour-Force Survey, 2008–2014, REDI3x3 Working Paper 28, www.redi3x3.org/sites/default/files/Rogan%20%26%20Skinner%202017%20REDI3x3%20Working%20Paper%2028%20Informal%20sector%20in%20SA%20-%20QLFS%20analysis.pdf. Accessed 14 October 2018.

Rogan, M., Skinner, C. (forthcoming). Employment in the South African informal sector: Interrogating trends, identifying opportunities, In Fourie, F (Ed). Tackling unemployment and poverty in South Africa: the contribution of the informal sector (Manuscript for submission to HSRC Press: Cape Town).

Rogerson, C. A. (2008). Tracking SMME development in South Africa: issues of finance, training and regulatory environment. Urban Forum, 19, 61–81.

Sekhametsi, T. L. (2017). The factors influencing SME failure in South Africa, Masters thesis, Graduate School of Business, Cape Town, University of Cape Town.

South African Small Enterprise Development Agency. (2013). SAIE learning loop: why the loop? http://www.entrepreneurship.co.za. Accessed 20 May 2016.

StatsSA. (2014). Gross domestic product. Statistical Release P0441. Pretoria: Stats SA, http://www.statssa.gov.za/publications/P0441/P04414thQuarter2014.pdf. Accessed 10 Oct 2018.

StatsSA. (2016). Quarterly labour force survey, Quarter 4 2016, http://www.statssa.gov.za/publications/P0211/P02114thQuarter2016.pdf. Accessed 10 Oct 2018.

Steel, W., & Snodgrass, D. (2008). Raising productivity and reducing risks of household enterprises: diagnostic methodology framework. Washington D.C: World Bank/WIEGO.

Tokman, V. (1978). An exploration into the nature of informal-formal sector relationships. World Development, 6(9/10), 1065–1075.

Vanek, J., Chen, M. A., Carre, F., Heintz, J., & Hussmanns, R. (2014). Statistics on the informal economy: definitions, regional estimates and challenges, WIEGO working paper (statistics) 2. Manchester: WIEGO.

Widjajanti, R. (2015). The space utilization by street vendors based on the location characteristics in the education area of Tembalang, Semarang. Procedia- Social and Behavioral Sciences, 227, p186–p193.

Yelwa, M., & Adam, A. J. (2017). Informality and economic growth in Nigeria: 1980-2014. Journal of Economics and Public Finance, 3(3), 405–417.
Funding
The survey discussed in this paper was funded by the Hungry Cities Partnership with support from the Social Sciences and Humanities Research Council of Canada (SSHRC) and the International Development Research Centre (IDRC) International Partnerships for Sustainable Societies (IPaSS) Program. The writing of the paper was made possible by funding from the Queen Elizabeth Diamond Jubilee Advanced Scholars program.
Additional information
Publisher's Note
Springer Nature remains neutral with regard to jurisdictional claims in published maps and institutional affiliations.
About this article
Cite this article
Tawodzera, G. The Nature and Operations of Informal Food Vendors in Cape Town. Urban Forum 30, 443–459 (2019). https://doi.org/10.1007/s12132-019-09370-8
Published:

Issue Date:

DOI: https://doi.org/10.1007/s12132-019-09370-8
Keywords