Abstract
In the Global South, the informal food economy is both a source of income for disadvantaged urban groups and an accessible source of food for consumers. Yet, governance of this economy has commonly been restrictive among Southern countries including China. Consequently, in China there has been an antagonistic relationship between vendors and chengguan—China's city management officers. This antagonism has been studied by scholars and reported by Chinese media. In response, several Chinese municipal governments, including Nanjing's, reformed their regulations to formalize street food vending with a permit system. Despite this progress, the reforms are criticized as partial and dismissive of the needs of vendors. This article uses semistructured interviews with street food vendors to evaluate how the reforms affected vendor-chengguan relations and vendors' livelihoods in Nanjing. In contrast to other studies in China, we identified a non-confrontational relationship between some groups of vendors and chengguan. Rather than overt opposition, this relationship is better understood as covert cooperation. Unpermitted practices of street food vending were tolerated by chengguan and the local government, despite restrictive top-down regulations. A few other existing case studies conceptualize the discrepancy between policy and its implementation as ambiguous governance. However, we argue that the term ambiguous governance does not fully capture the complex dynamics in the covert cooperation between vendors and officers in our study. One group of vendors we studied play multiple roles. They were not only petty traders, but also landless farmers who lost their farmland to urbanization. The agreement between these vendors, chengguan, and local government was reached outside the permit system, and was a means of compensating vendors for their lost land. Therefore, the governance mechanism is more accurately conceptualized as compensatory governance. To conclude, we call for further studies on the compensatory governance of street food vendors among Chinese cities, and advocate for community-based bottom-up initiatives to formalize this informal governance.
This is a preview of subscription content, log in to check access.
Access options
Buy single article
Instant access to the full article PDF.
US$ 39.95
Price includes VAT for USA
Subscribe to journal
Immediate online access to all issues from 2019. Subscription will auto renew annually.
US$ 99
This is the net price. Taxes to be calculated in checkout.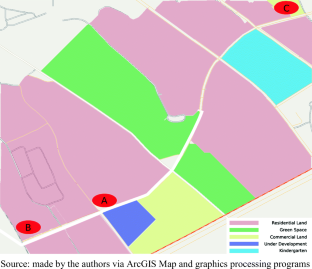 Notes
1.

2.

The first author conducted the field research under the supervision of the two other authors. To be concise, this paper uses "we" in reference to the role of researchers during fieldwork.

3.

Wet markets are the traditional markets in China that trade fresh produce, meats, fish, spices, and other products. To make leafy vegetables appear fresh, vendors frequently sprayed water on them, wetting the floor. Therefore these markets were named wet markets.

4.

Pseudonyms are used to identify all respondents to ensure their anonymity.

5.

In China in the year of 2018, men retire at the age of 60, and women at 55.

6.

Hukou is a binary household registration system in China. Chinese residents are either registered with rural hukou or urban hukou. Rural hukou holders do not have equivalent access as urban hukou holders do to public resources such as education, medical insurance, or low-income household subsidies, even if they live in cities.

7.

Known in Chinese as Jiedaobanshichu, is the subdistrict administration in China. It is the lowest level of government in Chinese cities and is usually assigned to govern a set of urban neighborhoods.
References
Bell, J. S., & Loukaitou-Sideris, A. (2014). Sidewalk informality: An examination of street vending regulation in China. International Planning Studies, 19(3–4), 221–243.

Bromley, R. (2000). Street vending and public policy: A global review. International Journal of Sociology and Social Policy, 20(1/2), 1–28.

Chen, M.A. , Bonner, C., Tang, E., Pape, K., Sinha, S., Roever, S., Skinner, C., & Dias, S. (2015). Myths & facts about the informal economy and workers in the informal economy. Published by Women in Informal Employment: Globalizing and Organizing (WIEGO).

Chen, M. A. (2012). The informal economy: Definitions, theories and policies (Vol. 1, No. 26, pp. 90141–4). working paper from the organization of Women in Informal Employment: Globalizing and Organizing.

Chen, M. A. (2005). Rethinking the informal economy: Linkages with the formal economy and the formal regulatory environment (Vol. 10, pp. 18–27). United Nations University, World Institute for Development Economics Research.

Chiu, C. (2013). Informal management, interactive performance: Street vendors and police in a Taipei night market. International Development Planning Review, 35(4), 335–352.

Corden, A., & Sainsbury, R. (2006). Using verbatim quotations in reporting qualitative social research: researchers' views. University of York, York: Social Policy Research Unit.

Cross, J., & Morales, A. (Eds.). (2007). Street entrepreneurs: People, place, & politics in local and global perspective. Routledge.

Dittrich, C. (2017). Street food, food safety and sustainability in an emerging mega City: Insights from an empirical study in Hyderabad, India. In Book chapter in work institutions and sustainable livelihood (pp. 227–248). Singapore: Palgrave Macmillan.

Evers, C., & Seale, K. (2014). Informal urban street markets: International perspectives. In Informal Urban Street Markets (pp. 17–30). Routledge.

Feng, J. (2009). Street vendors' situation and government's policy examination in Nanjing, China. Masters Thesis. Miami University, Miami.

Flock, R., & Breitung, W. (2016). Migrant street vendors in urban China and the social production of public space. Population, Space and Place, 22(2), 158–169.

Ge, F. (2010). A comparative study of the social security and pension programs among landless farmers (in Chinese: 被征地农民社会养老保险制度模式的比较研究). Northwest population (西北人口), (5), 12–14.

Geertz, C. (1963). Peddlers and princes; social change and economic modernization in two Indonesian towns. Chicago: University of Chicago Press.

Greenspan, A. (2017). Moveable feasts: Reflections on Shanghai's street food. Food, Culture & Society, 21(1), 75–88.

Hanser, A. (2016). Street politics: Street vendors and urban governance in China. The China Quarterly, 226, 363–382.

Hart, K. (1973). Informal income opportunities and urban employment in Ghana. The Journal of Modern African Studies, 11(1), 61–89.

Ho, P., & Edmonds, R. L. (2008). Embedded activism: Opportunities and constraints of a social movement in China. New York: Routledge.

Lewis, W. A. (1954). Economic development with unlimited supplies of labour. Manchester School of Economic and Social Studies, 23(2).

Lin, G., & Yi, F. (2013). Urbanization of capital or capitalization on urban land? Land development and local public finance in urbanizing China. Urban Geography, 32(1), 50–79.

Liu, Z. (2005). A review of land expropriation and migration policies (in Chinese: 纵谈征地拆迁移民政策). Conference report at China's hydraulic engineering studies forum. World Bank Group report.

Liu, Y., & Li, S. (2017). Research on the urbanization of rural settlement in city outskirt in China. Open Journal of Social Sciences, 5(03), 37–50.

Mukhija, V., & Loukaitou-Sideris, A. (2014). The informal American city: Beyond taco trucks and day labor. Cambridge, Massachusetts: MIT Press.

O'brien, K. J., & Li, L. (2006). Rightful resistance in rural China. Cambridge University Press.

Qi, X. (2017). Human capital, family endowment, and employment of landless farmers, based on an analysis of the China Family Panel Studies (in Chinese: 人力资本、家庭禀赋与被征地农民就业——基于CFPS2014数据的分析). Journal of Nanjing Agricultural University (Social Sciences Edition), 17(5), 59–67.

Ren, X. (2017). Land acquisition, rural protests, and the local state in China and India. Environment and Planning C: Politics and Space, 35(1), 25–41.

Roever, S., & Skinner, C. (2016). Street vendors and cities. Environment and Urbanization, 28(2), 359–374.

Si, Z., Regnier-Davies, J., & Scott, S. (2017). Food safety in urban China: Perceptions and coping strategies of residents in Nanjing. China Information, 00(0), 1–23.

Skinner, C. (2008). Street trade in Africa: A review. Working paper number 51. School of Development Studies, University of Kwazulu-Natal.

Swider, S. (2015). Reshaping China's urban citizenship: Street vendors, chengguan and struggles over the right to the city. Critical Sociology, 41(4–5), 701–716.

te Lintelo, D. J. (2017). Enrolling a goddess for Delhi's street vendors: The micro-politics of policy implementation shaping urban (in)formality. Geoforum, 84, 77–87.

Xue, D., & Huang, G. (2015). Informality and the state's ambivalence in the regulation of street vending in transforming Guangzhou, China. Geoforum, 62, 156–165.

Yu, J., Yang, Z., & Xiong, H. (2013). A comparative study of active and passive urbanization. (in Chinese: 主动城市化与被动城市化的比较研究). Urban Insight (城市观察), (1), 142–149.

Wang, K. (2017). Studying the ambiguity in street vending governance (in Chinese: 城市摊贩治理中的模糊性研究). In Nanjing University Masters Thesis. China: Nanjing.

Weller, R. (2012). Responsive authoritarianism and blind-eye governance in China, in the book of Socialism Vanquished, Socialism Challenged: Eastern Europe and China, 1989–2009. Oxford: Oxford University Press.

Yasmeen, G., & Nirathron, N. (2014). Vending in public space: The case of Bangkok. WIEGO Policy Brief (Urban Policies), 16, 1–18.

Zhang, H., & Tong, X. (2006). Rebuilding self-identity through adapting to city and modernity among passive urban migrant groups (in Chinese: 被动城市化群体城市适应性与现代性获得中的自我认同). Sociology studies (社会学研究), 2, 86–106.

Zheng, B., & Wu, X. (2013). Hukou, depeasantization, and income inequality within Chinese urban social groups (in Chinese:户口、"农转非"与中国城市居民中的收入不平等). Sociology studies (社会学研究), 10001(1), 160–181.
Funding
The research discussed in this paper was made possible by funding from the Queen Elizabeth Diamond Jubilee Advanced Scholars program, International Development Research Centre, and Social Sciences and Humanities Research Council of Canada.
Additional information
Publisher's Note
Springer Nature remains neutral with regard to jurisdictional claims in published maps and institutional affiliations.
About this article
Cite this article
Dai, N., Zhong, T. & Scott, S. From Overt Opposition to Covert Cooperation: Governance of Street Food Vending in Nanjing, China. Urban Forum 30, 499–518 (2019). https://doi.org/10.1007/s12132-019-09367-3