Abstract
Solid waste management is a major environmental and public health concern in many urban areas of developing countries. Kisumu like many urban areas of developing countries is grappling with increasing waste generation, an overflowing dumpsite and pollution from uncontrolled discarding of waste. Sustainable solid waste management has remained elusive in the City due to lack of adequate funding and skilled personnel besides poor public attitude towards waste management. Efforts abound to improve the situation but significant progress is hindered by the difficulties in relocating Kachok dumpsite. Recommendations are made for a sustainable solid waste management system supported by a suitably relocated Kachok dumpsite.
Access options
Buy single article
Instant access to the full article PDF.
US$ 39.95
Tax calculation will be finalised during checkout.
Subscribe to journal
Immediate online access to all issues from 2019. Subscription will auto renew annually.
US$ 79
Tax calculation will be finalised during checkout.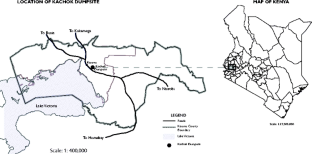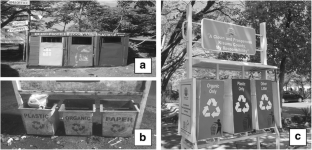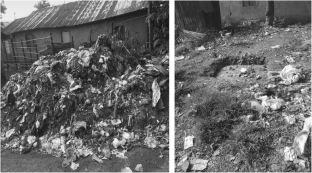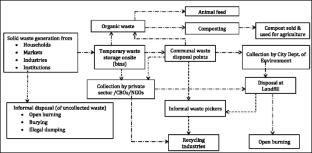 References
Agong, S., & Otom, A. (2015). Kisumu Urban Sustainable Development Goals (USDGs) targets and indicators: the case of Kisumu. Available: http://staging.mistraurbanfutures.org/sites/default/files/usdg-report-kisumu_0.pdf.

Agong, S., Odino, P., & Wanga, J. (2008). A baseline survey on governance, policies and knowledge of urban sustainability in the Kisumu Local Interaction Platform. Available: http://mistratest.ita.chalmers.se/sites/default/files/a_baseline_survey_on_governance_policies_and_knowledge_of_urban_sustainability_in_the_kisumu_local_interaction_platform_gaps.

Aurah, C. M. (2013). Assessment of extent to which plastic bag waste management methods used in Nairobi city promote sustainability. American Journal of Environmental Protection, 1(4), 96–101.

Awuor, F. O. (2016). Provider value perception in co-creation, ecotourism offering development and classification at Dunga Beach in Kisumu County, Kenya. Unpublished PhD thesis (Vol. PhD): Jaramogi Oginga Odinga University of Science and Technology, Bondo, Kenya.

Baabereyir, A. (2009). Urban environmental problems in Ghana: a case study of social and environmental injustice in solid waste management in Accra and Sekondi-Takoradi (Doctor of Philosophy Doctoral dissertation). Nottingham: University of Nottingham.

County Government of Kisumu (2013). Kisumu county integrated development plan, 2013-2017. Retrieved from https://kisumu.go.ke/download/3.

Firdaus, G., & Ahmad, A. (2010). Management of urban solid waste pollution in developing countries. International Journal of Environmental Resources, 4(4), 795–806.

Frediani, A. A., Walker, J., & Butcher, S. (2013). Participatory informal settlement upgrading and well-being in Kisumu, Kenya. MSc Social Development Practice Student Report. Development Planning Unit, The Bartlett, University College London.

Gutberlet, J., Kain, J.-H., Nyakinya, B., Oloko, M., Zapata, P., & Campos, M. J. Z. (2017). Bridging weak links of solid waste management in informal settlements. Journal of Environment & Development Policy Review, 26(1), 106–131.

Kain, J.-H., Nyakinya, B., Odhiambo, N., Oloko, M., Omolo, J., Otieno, S., et al. (2016). Translating policies into informal settlements' critical services: reframing, anchoring and muddling through. Public Administration and Development, 36(5), 330–346. https://doi.org/10.1002/pad.1782.

Liyala, C. M. (2011). Modernising solid waste management at municipal level: institutional arrangements in urban centres of East Africa (Doctoral dissertation). Wageningen: Wageningen University.

Magezi, T. J. (2015). An investigation of the imbalance of a fast-growing consumer culture and insufficient waste management infrastructure across a number of sub-Saharan African cities (Master of Science in Chemical Engineering Master's thesis). Cape Town: University of Cape Town.

McAllister, J. (2015). Factors influencing solid-waste management in the developing world (Master of Science in Geography Master of Science in Geography). Utah: Utah State University.

Munala, G., & Moirongo, B. O. (2011). The need for an integrated solid waste management in Kisumu, Kenya. Journal of Agriculture Science and Technology, 13(1), 65–78.

NEMA. (2015). The National Solid Waste Management Strategy. Nairobi: National Environment Management Authority (NEMA).

Njoroge, B. N. K., Kimani, M., & Ndunge, D. (2014). Review of municipal solid waste management: a case study of Nairobi, Kenya. Research Inventy: International Journal Of Engineering And Science, 4(2), 16–20.

Nyaluogo, K. O. (2016). A study of solid waste management: a case study of Kisumu City (Bachelor of Science in Civil Engineering). Nairobi: University of Nairobi.

Obera, B., & Oyier, M.(2002). Sustainable solid waste management for Kisumu. Paper presented at the 28th WEDC Conference—Sustainable environmental sanitation and water services, Kolkata (Calcutta), India.

Okot-Okumu, J. (2012). Solid waste management in African cities—East Africa. In L. F. Marmolejo Rebellon (Ed.), Waste management—an integrated vision. Retrieved from http://www.intechopen.com/books/waste-management-an-integrated-vision/solid-waste-management-in-african-cities-east-africa.

Omoleke, I. I. (2004). Management of environmental pollution in Ibadan, an African city: the challenges of health hazard facing government and the people. Journal of Human Ecology, 15(4), 265–275.

Onyango, G. M., Wagah, G. G., Omondi, L. A., & Obera, B. O. (2013). Market places: experiences from Kisumu City. Kisumu: Maseno University Press.

Republic of Kenya (1999). Environmental Management and Co-ordination Act, 1999 No 8 of 1999 EMCA. Kenya Kenya Gazette Supplement No 74 (Acts No 5).

Sharholy, M., Ahmad, K., Mahmood, G., & Trivedi, R. C. (2008). Municipal solid waste management in Indian cities—a review. Waste Management, 28, 459–467.

Tan, Y. J. (2012). The management of residential solid waste in Mombasa, Kenya. Retrieved from http://digitalcollections.sit.edu/isp_collection/1388/.

Zurbrugg, C. (2003). Solid waste management in developing countries. SWM introductory text on www.sanicon.net5. Retrieved from http://wwweawag.emp-eaw.ch/fileadmin/Domain1/Abteilungen/sandec/publikationen/SWM/General_Overview/Zurbruegg_2002_SWM_DC.pdf.
Acknowledgements
This work forms part of the Governing Food Systems to Alleviate Poverty in Secondary Cities in Africa project, funded under the ESRC-DFID Joint Fund for Poverty Alleviation Research (Poverty in Urban Spaces theme). The support of the Economic and Social Research Council (UK) and the UK Department for International Development is gratefully acknowledged (grant number is ES/L008610/1).
About this article
Cite this article
Sibanda, L.K., Obange, N. & Awuor, F.O. Challenges of Solid Waste Management in Kisumu, Kenya. Urban Forum 28, 387–402 (2017). https://doi.org/10.1007/s12132-017-9316-1
Keywords
Solid waste management

Kachok dumpsite

Kisumu City

Kenya