Abstract
Informality is one of the major challenges facing urban policy makers across sub-Saharan Africa. Responses to informality can be viewed along a continuum from violent repression and sustained evictions to inclusive and supportive policies. Using the example of street trading, the task in this paper is to analyse planning and policy issues around the state and the informal economy in Harare, Zimbabwe. In the experience of Harare, the pursuit of targeted actions for inclusive planning designed to support communities of growing informal entrepreneurs is not on the agenda of policy makers. The historical and contemporary directions of policy responses occurring in Harare suggest an unpromising future for their city's informal entrepreneurs. It is shown that state responses to informality vacillate between actions of frontal aggression and of unleashing bouts of forced evictions to repressive tolerance within which formalisation is increasingly promoted as a means of extracting revenue flows from already economically hard-pressed informal entrepreneurs.
This is a preview of subscription content, log in to check access.
Access options
Buy single article
Instant access to the full article PDF.
US$ 39.95
Price includes VAT for USA
Subscribe to journal
Immediate online access to all issues from 2019. Subscription will auto renew annually.
US$ 99
This is the net price. Taxes to be calculated in checkout.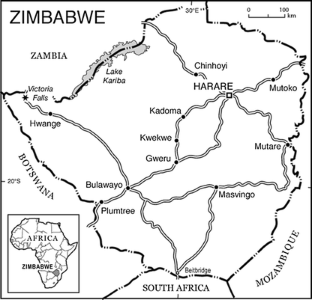 References
Anon. (2014a). Grace Mugabe hammers police. New Zimbabwe, 6 October.

Anon. (2014b). Grace Mugabe inspires vendor lawlessness. 12 December. Available at www.zimbabwesituation.com/news/ [Accessed 21 February 2015].

Anon. (2015a). Harare vendors in anti-graft demo. New Zimbabwe, 30 January.

Anon. (2015b). Let's make the sun shine on Harare. The Herald, 16 February.

Anon. (2015c). Harare vendors give in to Chomo's order. 14 February available at www.harare24.com/index-id-news-zk-27655.html.

Bass, L. E. (2000). Enlarging the street and negotiating the curb: public space at the edge of an African market. International Journal of Sociology and Social Policy, 20(1/2), 76–97.

Bhowmik, S.K. (2005). Street vendors in Asia: a review. Economic and Political Weekly (28 May-4 June), 2256–2264.

Bratton, M., & Masunungure, E. (2006). Popular reactions to state repression: Operation Murambatsvina in Zimbabwe. African Affairs, 106, 21–45.

Bromley, R. (2000). Street vending and public policy: a global review. International Journal of Sociology and Social Policy, 20(1/2), 1–29.

Brown, A., Msoka, C., & Dankoco, I. (2015). A refugee in my own country: evictions or property rights in the urban informal economy? Urban Studies, 52, 2234–2249.

Charumbira, M. (2014). Interview, Principal Town Planner City of Harare, Western Region, 25 September.

Chirisa, M. (2014). Interview, Senior Lecturer and Acting Chair, Department of Rural and Urban Planning, University of Zimbabwe, Harare, 25 September.

City of Harare (2013). Harare (Hawkers) By-Laws, 2013. Harare: City of Harare.

City of Harare (2014). Harare (Vendors) By-Laws, 2014. Harare: City of Harare.

Cross, J. C. (2000). Street vendors, modernity and postmodernity: conflict and compromise in the global economy. International Journal of Sociology and Social Policy, 20(1/2), 30–52.

Crush, J., Skinner, C., & Chikanda, A. (2015). Informal migrant entrepreneurship and inclusive growth in South Africa, Zimbabwe and Mozambique. Cape Town: The Southern African Migration Programme, Migration Policy Series No. 68.

David, S., Ulrich, O., Zelezeck, S., & Majoe, N. (2013). Managing informality: local government practices and approaches towards the informal economy. Learning examples from five African countries. Report prepared for the South African LED Network, SALGA and LEDNA.

Dube, M. (2014). Interview, Chief Security Officer, Harare Metropolitan Police, 29 September.

Ghani, E., & Kanbur, R. (2013). Urbanization and (in) formalization. Washington DC: Paper prepared for the World Bank.

Grant, R. (2015). Africa: geographies of change. New York: Oxford University Press.

Gumbo, T. (2013). On ideology change and spatial and structural linkages between formal and informal economic sectors in Zimbabwean cities (1981–2010). PhD dissertation, University of Stellenbosch.

Kamete, A. Y. (2007). Cold-hearted, negligent and spineless? Planning, planners and the (r) ejection of "filth" in urban Zimbabwe. International Planning Studies, 12(2), 153–171.

Kamete, A. Y. (2009). In the service of tyranny: debating the role of planning in Zimbabwe's urban 'clean-up' operation. Urban Studies, 46, 897–922.

Kamete, A. Y. (2012). Not exactly like the phoenix—but rising all the same: reconstructing livelihoods in post-cleanup Harare. Environment and Planning D: Society and Space, 30(2), 243–261.

Kamete, A. Y. (2013a). Missing the point? Urban planning and the normalisation of 'pathological' spaces in southern Africa. Transactions. Institute of British Geographers, 38, 639–651.

Kamete, A. Y. (2013b). On handling urban informality in southern Africa. Geografiska Annaler Series B, 95, 17–31.

Kamete, A. Y., & Lindell, L. (2010). The politics of 'non-planning' interventions in African cities: unravelling the international and local dimensions in Harare and Maputo. Journal of Southern African Studies, 36(4), 889–912.

Kawadza, M. (2014). Interview, Planning Officer Urban Development Corporation, Harare, 24 September.

Little, P. D. (1999). Selling to eat: petty trade and traders in peri-urban areas of sub-Saharan Africa. Binghamton, NY.: Institute of Development Anthropology.

Lyons, M., & Snoxell, S. (2005). Sustainable urban livelihoods and marketplace social capital: crisis and strategy in petty trade. Urban Studies, 42, 1301–1320.

Machipisa, M. (2014). Interview, Housing and Community Services Department, City of Harare, 2 October.

Mbengo, M. (2014). Interview, Lecturer in Urban Geography, Department of Geography and Environmental Science, University of Zimbabwe, Harare, 26 September

Midzi, M. (2014). Interview, Economist, Confederation of Zimbabwe Industries, Harare, 2 October.

Mitullah, W. (2003). Street vending in African cities: a synthesis of empirical findings from Kenya, Cote D'Ivoire, Ghana, Zimbabwe, Uganda and South Africa. Background Paper prepared for the 2005 World Development Report.

Mitullah, W. (2004). A review of street trade in Africa. Report prepared for WIEGO, Kennedy School of Government, Harvard University, USA

Musoni, F. (2010). Operation Murambatsvina and the politics of street vendors in Zimbabwe. Journal of Southern African Studies, 36(2), 301–317.

Nhiliziyo, D., & Muvundusi, J. (2015). Chombo wants vendors off the streets. Available at www.dailynews.co.zw, 1 February.

Njaya, T. (2014a). Challenges of negotiating sectoral governance of street vending sector in Harare Metropolitan, Zimbabwe. Asian Journal of Economic Modelling, 2(2), 69–84.

Njaya, T. (2014b). Coping with informality and illegality: the case of street entrepreneurs of Harare, metropolitan Zimbabwe. Asian Journal of Economic Modelling, 2(2), 93–102.

Njaya, T. (2014c). Operations of street food vendors and their impact on sustainable urban life in high density suburbs of Harare, in Zimbabwe. Asian Journal of Economic Modelling, 2(1), 18–31.

Parnell, S., & Pieterse, E. (Eds.) (2014). Africa's urban revolution. London: Zed.

Potts, D. (2006). 'Restoring order'? Operation Murambatsvina and the urban crisis in Zimbabwe. Journal of Southern African Studies, 32(2), 273–291.

Potts, D. (2007). The state and the informal in sub-Saharan African urban economies: revisiting debates on dualism. London: London School of Economics Crisis States Research Centre Working Paper 18.

Rogerson, C. M. (1997). Globalization or informalization? African urban economies in the 1990s. In C. Rakodi (Ed.), Managing urban growth in Africa (pp. 337–370). Tokyo: The United Nations University Press.

Rogerson, C. M. (2008). Policy and planning for changing informal retailing in South Africa. Africa Insight, 37, 230–247.

Rogerson, C.M. (2016). Progressive rhetoric, ambiguous policy pathways: street traders in inner-city Johannesburg, South Africa. Local Economy 31, 204–218.

SAMP (2014). Urban informality and migrant entrepreneurship in southern African cities: Conference report. Cape Town: African Centre for Cities, University of Cape Town.

Skinner, C. (2008). Street trade in Africa: a review. WIEGO Working Paper No. 51.

Steck, J.-F., Didier, S., Morange, M., & Rubin, M. (2013). Informality, public space and urban governance: an approach through street trading (Abidjan, Cape Town, Johannesburg, Lome and Nairobi). In S. Bekker & L. Fourchard (Eds.), Politics and policies governing cities in Africa (pp. 145–167). Cape Town: HSRC Press.

Tawanda, A. (2014) Interview, Secretary-General Zimbabwe Cross-Border Trader Association, Harare, 2 October.

Xue, D., & Huang, G. (2015). Informality and the state's ambivalence in the regulation of street vending in transforming Guangzhou, China. Geoforum, 62, 156–165.

Youth Forum (2014). Destroying market stalls insensitive. Zimbabwe Independent, 26 September-2 October.

ZCTU (2005). The economic impact of the clampdown on the informal economy code named Operation Restore Order/Murambatsvina, available at www.streetnet.org.za [Accessed 20 January 2015].

ZEPARU. (2014). Harnessing resources from the informal sector for economic development. Harare: ZEPARU and Bankers Association of Zimbabwe.
Acknowledgments
Financial support for this study was provided by the Southern African Migration Programme. Thanks are given to all participant interviewees, Jonathan Crush for commissioning the research, to Percy Toriro who was responsible for collection of the interviews in Harare, and to Abel Chikanda for additional documentary inputs. Usual disclaimers apply.
About this article
Cite this article
Rogerson, C.M. Responding to Informality in Urban Africa: Street Trading in Harare, Zimbabwe. Urban Forum 27, 229–251 (2016). https://doi.org/10.1007/s12132-016-9273-0
Keywords
Informality

African cities

Street trading

Harare