Abstract
Existing research on resource booms and their impacts has largely focused at the national level and been undertaken from an economic perspective, primarily through the lens of the resource curse. This study investigates an emergent resource boom in Ghana, where oil was discovered in 2007. Given the considerable existing research on national-level impacts of resource extraction, this study looks at the urban impacts of oil exploitation on the city of Sekondi-Takoradi, the largest urban settlement closest to the nation's offshore oil fields. Drawing on detailed questionnaires completed by 636 people across multiple neighbourhoods, the study examines how oil discovery and exploitation have impacted the city. The study finds that many of the changes facing Sekondi-Takoradi can be understood in light of gentrification theory. This is important because there has been considerable debate over the extent to which models of gentrification, largely forged in the developed world, are relevant in the developing world. The findings of this study extend existing knowledge by not only connecting resource booms to processes of urban gentrification in Sub-Saharan Africa but by also demonstrating that multiple forms of gentrification take place simultaneously in these conditions. The paper concludes by suggesting several avenues through which planners and policymakers might better prepare for the kinds of urban changes that are likely to result from developing world resource booms.
Access options
Buy single article
Instant access to the full article PDF.
USD 39.95
Price excludes VAT (USA)
Tax calculation will be finalised during checkout.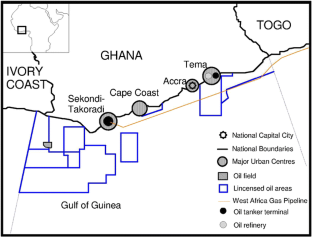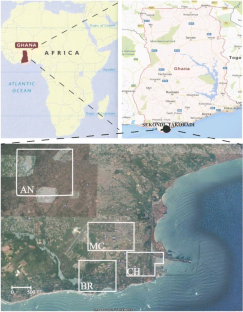 Notes
Information was gathered by the authors at the construction site during the field survey in 2012.

Information obtained from an official of the Regional Lands Valuation Board (LVB)

The exchange rate in July 2012 was US$1 = GH₡1.9
References
Afenah, A. (2009). Conceptualizing the effects of neoliberal urban policies on housing rights: an analysis of the unlawful forced eviction of an informal settlement of Accra, Ghana. University College London, DPU Working Paper.

Akli, E. (2010). "Ghana Oil Sold for $67." The Chronicle, January 21 Edition. pp. 1-17.

Ampene, E. (1966). A Study in Urbanization-Process Report on Obuasi Project. A Profile on Music and Movement in the Volta Region, Part I. Journal of Institute of African Studies; Research Review, 3(1), 42–47.

Anderson, J. J., & Aslaksen, S. (2013). Oil and Political Survival. Journal of Development Economics, 100, 89–106.

Asafu-Adjaye, J. (2011). Oil production and Ghana's economy: what can we expect? Ghana Policy Journal, 35–49.

Auty, R. M. (1993). Sustaining development in mineral economies: the resource curse thesis. London: Routledge.

Auty, R. M. (2001). The Political Economy of Resource-Driven Growth. European Economic Review, 45, 839–846.

Aryee, B. N. A. (2001). Ghana's mining sector: It's contribution to the national economy. Journal of Resources Policy, 27(2), 61–75.

Bank of Ghana (2013). Petroleum holding fund and Ghana petroleum funds: semi annual report. Accra: Bank of Ghana.

Barma, N. H., Kaiser, K., Minh Le, T. & Vinuela, L. (2012). Rent to riches?: the political economy of natural resource-led development. Washington D.C: The World Bank.

BBC News (2011). Ghana oil boom: everything is changing in Takoradi. Report by Rob Walker, 8th March, 2011.

Biney, A. (2009). The Controversial Topic of Gentrification and its Impact on the Urban Core. Web. (http://geography.about.com/od/urbaneconomicgeography/a/gentrification.htm. Accessed: April 10, 2013)

Bryceson, D., & MacKinnon, D. (2012). Eureka and beyond: mining's impact on african urbanization. School of Geographical and Earth Sciences. Scotland, UK: University of Glasgow.

Busia, K. A. (1950). Report on Social Survey of Sekondi-Takoradi. London: Crown Agents for the Colonies, Milbank.

Calavita, N. & Mallach, A. (2010). Inclusionary housing in international perspective: affordable housing, social inclusion and land value capture. Cambrige, MA: Lincoln Institute of Land Policy.

Cape, J. (1935). Lusaka: The New Capital of Northern Rhodesia. New York: Routledge. Reprinted in 2013.

Caselli, F. (2006). Power Struggles and the Natural Resource Curse, LSE Research Online, Working Paper, LSE London.

Chrisomalis, S. (2006). Comparing cultures and comparing processes: diachronic methods in cross-cultural anthropology. Cross-Cultural Research, 40, 377–404.

Collier, P. (2010). The plundered plannet: why we must- and how we can manage nature for global prosperity. Oxford: Oxford University Press.

Corden, W. M. (1984). Booming sector and Dutch disease economics: survey and consolidation. Oxford Economic Papers New Series, 36(3), 359–80.

Dasen, P. R. & Mishra, R. C. (2000). Cross-cultural Human Development in the Third Millennium, Vol. 24, Pp. 428-434

de la Torre, A., Sinnott, E., & Nash, J. (2010). Natural resource in Latin America and the Carribean: beyond booms and busts? Washington, DC: The World Bank.

Debrah, E., & Graham, E. (2015). Preventing the oil curse in Ghana: the role of civil society organizations. Insight on Africa, 7(1), 21–41.

Dickson, K. (1965). Evolution of Seaports in Ghana: 1800-1928. Annals of the Association of American Geographers, 55(1), 98–109.

Edjekumhene, I., Agyemang, P. O. & Edze, P. (2010). Ghana's emerging oil industry: what stakeholders need to know? Accra: Combert Impressions.

Egeand, K. E. (1981). The Impact of North Sea Oil on Stavanger. In W. J. Cairns and P. M. Roggers (Eds), Onshore Impacts of Offshore Oil (pp. 185-194). Applied Science Publishers Ltd.

Eikeland, S. (2014). Building a High North Growth-Pole: The Northern Norwegian City of Hammerfest in the Wake of Developing the "Snow White" Barents Sea Gas Field. Journal of Rural and Community Development, 9(1), 57–71.

Fasano, U. (2000). Review of the experience with oil stabilization and savings funds in selected countries. IMF Working Paper No. 00/112. Washington, DC: International Monetary Fund.

Feagin, J. (1990). Extractive regions in developed countries: a comparative Analysis of Oil Capitals, Houston and Aberdeen. Urban Affairs Review, 25(4), 591–619.

Fraser, A. & Larmer, M. (2010). Zambia, mining and neoliberalism: boom and bust on the globalised Copperbelt. Palgrave MacMillan; 1st Edition

Garside, J. (1993). Inner City gentrification in South Africa: the case of Woodstock, Cape Town. Geojournal, 30, 29–35.

Gramling, B., & Brabant, S. (1986). Boomtowns and offshore energy impact assessment: the development of a comprehensive model. Sociological Perspectives, 29(2), 177–201.

GSS [Ghana Statistical Services] (2005). 2000 Population and housing census: western region, analysis of district data and implications for planning. Accra: Asante & Hittscher Press Ltd.

GSS [Ghana Statistical Services]. (2012). 2010 Population and housing census: summary of report of final results. Accra: Sakoa Press Limited.

Gylfason, T. (2001). Natural Resources, Education and Economic Development. European Economic Review, 45, 847-859. Elsevier Science B.V.

Hackworth, J. (2000). The Third Wave. Department of Geography, Rutgers University. PhD Thesis.

Hackworth, J., & Smith, N. (2001). The changing state of gentrification. Tijdschrift voor economische en sociale geografie, 92(4), 464–477.

Hetzler, O., Medina, V. E. & Overfelt, D. (2006). Gentrification, Displacement and New Urbanism: The Next Racial Project. Sociation Today, Vol. 4 (2). Fall 2006 (Web. www.ncsociology.org/sociationtoday/gent.htm; Accessed. 1st June 2015)

Jütersonke, O., Muggah, R., & Rodgers, D. (2009). Gangs, Urban Violence, and Security Interventions in Central America. Security Dialogue, 40(4-5), 373–397.

Karl, T. L. (1997). The paradox of plenty: oil booms and petro-states. University of California

Karl, T. L. (2004). Oil-led development: social, political and economic consequences. Encyclopeadia of Energy, 4, 661-672. Elsevier Inc.

Karl, T. L. (2007). Ensuring fairness: The case for a transparent fiscal social contract. In M. Humphreys, Sachs, J. D., & Stiglitz, J. E. (Eds.), Escaping the resource curse. Initiative for policy dialogue at Columbia series (pp. 256–285). New York: Columbia University Press.

Keizeiri, K. S. (1983). Urbanisation Trends and State Intervention in Libya. Journal of Environmental Planning and Management, 26(1), 17–21.

Lazarus, Ruth Glass. (1964). London: Aspects of change. London: MacGibbon and Kee.

Lees, L. (2000). A reappraisal of gentrification: towards a 'geography of gentrification'. Progress in Human Geography, 24(3), 389–408.

Lees, L. (2007). Afterword. Environment and Planning A, 39(1), 228–234.

Lees, L. (2012). The geography of gentrification: thinking through comparative urbanism. Progress in Human Geography, 36(2), 155–171.

Lees, L., Slater, T., & Wyly, E. K. (Eds.). (2010). The gentrification reader. London: Routledge.

Lemanski, C. (2014). Hybrid gentrification in South Africa: theorising across southern and northern cities. Urban Studies, 51(14), 2943–2960.

Ley, D. (1978). Inner City Resurgence and its Social Context. Paper Presented to the Association of American Geographers, Annual Conference, New Orleans.

Ley, D. (1996). The New Middle Class and the Remaking of the Central City. Oxford: Oxford University Press.

McCaskie, T. (2008). The United States, Ghana and oil: global and local perspectives. African Affairs, 107(428), 313–32.

Mehlum, H., Moene, K., & Torvik, R. (2006). Institutions and the Resource Curse. Economic Journal, 116(508), 1–20.

Nankani, G. T. (1979). Development Problems of Mineral Exporting Countries. World Bank Staff Working Paper No. 354. Washington D.C: The World Bank.

Obeng-Odoom, F. (2009). Oil and Urban Development in Ghana. African Review of Economics and Finance, 1(1), 18–39.

Obeng-Odoom, F. (2012). Problematising the Resource Curse Thesis. Development and Society, 41(1), 1–29.

Obeng-Odoom, F. (2013). Windfalls, wipeouts and local economic development: a study of an emerging oil city in West Africa. Local Economy, 1-15.

Oppermann, M. (2000). Triangulation-A Methodological Discussion. International Journal of Tourism Research, 2(1), 141–46.

Petric, J. and Durdevic, J. (2011). The Use of Mineral Resources and Issues of Harmonization between Spatial Plans for the Mining Areas in Serbia with Other Strategic Documents. Spatum International Review, 24, 21-26. doi:10.2298/SPAT 1124021P.

PIAC [Public Interest and Accountable Committee] (2012). Report on Management of Petroleum Revenues for the Period 1st January 2012 to 30th June 2012. Government of Ghana.

Rosenthal, E. 1970. Gold! Gold! Gold! The Johannesburg Gold Rush. New York: MacMillan.

Ross, M. L. (2012). The oil curse: how petroleum wealth shapes the development of nations. Princeton University Press.

Sachs, J. D. & Warner, A. M. (1995). Natural Resource Abundance and Economic Growth. National Bureau of Economic Research Working Paper 5398.

Sachs, J. D., & Warner, A. M. (1999). The Big Push, Natural Resource Booms and Growth. Journal of Development Economics, 59(1), 43–76.

Smith, N. (1979). Toward a theory of gentrification: a back to the city movement by capital, not people. Journal of the American Planning Association, 45(4), 538–548.

Smith, N. (2002). New globalism, new urbanism: gentrification as global urban strategy. Antipode, 427-449.

STMA [Sekondi-Takoradi Metropolitan Assembly] (2013): The Composite Budget of the Sekondi-Takoradi Metropolitan Assembly for the 2013 Fiscal Year. The Government of Ghana. (www.mofep.gove.gh)

Sussna, S. (1989). Concept of Highest and Best Use under Takings Theory. Urban Lawyer, 21, 113–115.

Tullow Oil. (2008). Exploration history and regional geology. Web. (http://www.tullowoil.com/files/pdf/ghana/Exploration-history-and-regional-geology.pdf; Accessed: March 15th, 2015).

Visser, G. (2002). Gentrification and South African Cities. Journal of Cities, 19(6), 419–423.

Visser, G., & Kotze, N. (2008). The State and the New-build Gentrification in Central Cape Town, South Africa. Urban Studies, 45, 2565–2593.

Walker, D. M. (2008). Gentrification moves to the global South: An analysis of the Programa de Rescate, a neoliberal urban policy in México City's Centro Histórico. Unpublished doctoral dissertation. University of Kentucky.
Acknowledgments
The research was made possible through funds provided by the Ghana Education Trust Fund (GETFund) and the Harvard University Graduate School of Design (GSD) to Alexander Eduful. The study also benefited from the resources at the Social Agency Lab of the Harvard GSD.
About this article
Cite this article
Eduful, A., Hooper, M. Urban Impacts of Resource Booms: the Emergence of Oil-Led Gentrification in Sekondi-Takoradi, Ghana. Urban Forum 26, 283–302 (2015). https://doi.org/10.1007/s12132-015-9257-5
Published:

Issue Date:

DOI: https://doi.org/10.1007/s12132-015-9257-5
Keywords