Abstract
Research on food security in Botswana has mainly focused on the country's rural areas. Much less is known about the extent and nature of food insecurity in the country's cities and towns. This makes it difficult for development practitioners and policymakers to quantify the challenge and to make plans to reduce the food gap that exists in urban areas. In an effort to understand the extent and determinants of food insecurity in Gaborone, African Food Security Urban Network (AFSUN)'s local partner, the University of Botswana, undertook a baseline study of 400 households drawn from Old Naledi, White City/Bontleng and Broadhurst. Levels of food insecurity in these areas of Gaborone were high and, despite the economic health of Botswana compared to other Southern African Development Community (SADC) countries, no better than in many other cities. Only 12 % of households were completely food secure, while 62 % were severely food insecure. Food insecurity is endemic in the poorer parts of Gaborone, and Botswana's 'economic miracle' is clearly not reaching many of these households.
Access options
Buy single article
Instant access to the full article PDF.
USD 39.95
Price excludes VAT (USA)
Tax calculation will be finalised during checkout.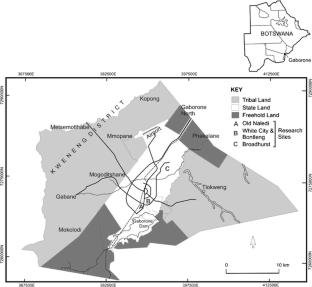 References
Botswana Ministry of Health. (2007). Botswana steps survey chronic disease risk factor surveillance. Gaborone: Ministry of Health Republic of Botswana and World Health Organization.

Campbell, E. (2008). Moderating poverty: the role of remittances from migration in Botswana. African Development, 33, 91–115.

Campbell, E. (2010). The role of remittances in Botswana: does internal migration really reward sending families? Population, Space and Place, 16, 152–164.

Cavrić, B., & Keiner, M. (2006). Managing development of a rapidly growing African city: a case of Gaborone, Botswana. Geoadria, 11(1), 93–121.

Clausen, T., Charlton, K., Gobotswang, K., & Holmboe-Ottesen, G. (2005). Predictors of food variety and dietary diversity among older persons in Botswana. Nutrition, 21, 86–95.

Crush, J., & Frayne, B. (2011). Supermarket expansion and the informal food economy in southern African cities: implications for urban food security. Journal of Southern African Studies, 37, 781–807.

CSO (Central Statistics Office). (2009). Botswana demographic survey 2006. Gaborone: Government Printer.

Dodson, B., Chiweza, A. & Riley, L. (2012). Gender and food insecurity in Southern African cities. AFSUN Urban Food Security Series No. 10, Cape Town.

Emongor, R., & Kirsten, J. (2009). The impact of South African supermarkets on agricultural development in the SADC: a case study in Zambia, Namibia and Botswana. Agrekon, 4, 60–84.

Frayne, B. (2010). Pathways of food: mobility and food transfers in Southern African cities. International Development Planning Review, 32(3), 291–310.

Gwebu, T. (2012). Botswana's mining path to urbanisation and poverty alleviation. Journal of Contemporary African Studies, 30, 611–630.

Hovorka, A. J. (2004). Entrepreneurial opportunities in Botswana: (re) shaping urban agriculture discourse. Journal of contemporary African studies, 22(3), 367–388.

Hovorka, A. (2006). Urban agriculture: addressing practical and strategic gender needs. Development in Practice, 16, 51–61.

IMF (2012). Botswana. Country report no. 12/235, International Monetary Fund, Washington DC.

Lane, K., Hovorka, A., & Legwegoh, A. (2012). Urban food dynamics in Botswana: insights from Gaborone's Central Business District. African Geographical Review, 31, 111–125.

Madisa, M., & Assefa, Y. (2011). Impact of government financial incentives on peri-urban vegetable production in Botswana. Journal of Horticulture and Forestry, 3, 264–269.

Maruapula, S., & Chapman-Novakofski, K. (2006). Poor intake of milk, vegetables, and fruit with limited dietary variety by Botswana's elderly. Journal of Nutrition for the Elderly, 25, 61–72.

Maruapula, S., Jackson, J., Holsten, J., Shaibu, S., Malete, L., Wrotniak, B., Ratcliffe, S., Mokone, G., Stettler, N., & Compher, C. (2011). Socio-economic status and urbanization are linked to snacks and obesity in adolescents in Botswana. Public Health Nutrition, 14, 2260–2267.

Mookodi, G. (2004). Male violence against women in Botswana: a discussion of gender uncertainties in a rapidly changing environment. African Sociological Review, 8, 118–138.

Nnyepi, M. (2007). Household factors are strong indicators of children's nutritional status in children with access to primary health care in the Greater Gaborone Area. Scientific Research and Essays, 2, 55–61.

Obasi, I., Motshegwa, B., & Mfundisi, A. (2008). The state, globalization and the survival of the urban informal sector in Botswana: the challenge of public policy. African Development, 33, 55–79.

Ritsema, M. (2010). Gaborone is growing like a baby: life expectancies and death expectations in urban Botswana. African Development, 33, 81–108.

Selolwane, O. (Ed.). (2012). Poverty reduction and changing policy regimes in Botswana. London: Palgrave Macmillan.
Acknowledgments
We wish to thank the Canadian Government for funding the AFSUN baseline survey in Gaborone.
About this article
Cite this article
Acquah, B., Kapunda, S. & Legwegoh, A. The Dimensions of Urban Food Insecurity in Gaborone, Botswana. Urban Forum 25, 217–226 (2014). https://doi.org/10.1007/s12132-014-9222-8
Published:

Issue Date:

DOI: https://doi.org/10.1007/s12132-014-9222-8
Keywords