Abstract
The paper sheds light on changing occupation pattern and income and gender gap in the real earning of elderly 60 years and above in India. It is found that work participation of elderly in India has increase from 13.3% in 2004–05 to 16.4% in 2011–12 and for males the increase is significant from 19.4 to 23.3% while that for females is marginal from 7.1 to 10.1% during this period. Occupations classified as agricultural and animal farming, labourer, business, salaried and professional and part time worker constitutes 17.8, 55.9, 8.4, 12.8 and 5.1% respectively in 2004–05 and corresponding figures for 2011–12 are 17.6, 53.2, 2.7, 12.2 and 14.4% respectively. The mean annual earning for elderly engaged in the aforesaid occupation in order are Rs. 14,277, Rs. 19,315, Rs. 32,932, Rs. 93,880 and Rs. 44,811 in 2004–05 and the corresponding mean earning in 2011–12 after adjustment of inflation are Rs. 11,719, Rs. 27,591, Rs. 30,896, Rs. 109,673 and Rs. 21,078 respectively. The gender gap in earning is significant and has not change over time. Multigenerational living arrangement and residing rural areas are found to have deterrent effect on annual earning, while household income quintile has significant enhancing effect on annual earning but age and incidence of long term morbidities have no significant effect on annual earning. Contribution of endowment factors in gender in earning gap decreases.
This is a preview of subscription content, log in to check access.
Access options
Buy single article
Instant access to the full article PDF.
US$ 39.95
Price includes VAT for USA
Subscribe to journal
Immediate online access to all issues from 2019. Subscription will auto renew annually.
US$ 99
This is the net price. Taxes to be calculated in checkout.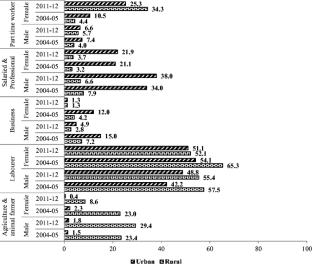 References
Behrendt C., Hagemejer K. (2009). Can low-income countries afford social security?. In P. Townsend (ed.), Building decent societies. London: Palgrave Macmillan.

Bhalla, S.,& Kaur, R. (2011). Labour force participation of women in India: Some facts, some queries. LSE Asia Research Centre Working Paper, (40).

Blinder, A. S. (1973). Wage discrimination: Reduced form and structural estimates. Journal of Human Resources, 8, 436–455.

Bloom, D. E. (2011). India's baby boomers: Dividend or disaster? Current History, 110(735), 143.

Boserup, E. (1970). Women's role in economic development. American Journal of Agricultural Economics, 53(3), 536–537.

Chaudhary, R., & Verick, S. (2014). Female labour force participation in India and beyond. New Delhi: ILO.

Da Vanzo, J., & Chan, A. (1994). Living arrangements of older Malaysians: Who coresides with their adult children? Demography, 31(1), 95–113.

Desai, S., Dubey, A., Joshi, B. L., Sen, M., Shariff, A., & Vanneman, R. (2010). Human development in India: Challenges for a society intransition. New Delhi: Oxford University Press.

Dhar, A., Husain, Z., & Dutta, M. (2015). Is the bell tolling for aged workers? Journal of regional development and Planning, 4(1), 1–20.

Dhillon, P., & Ladusingh, L. (2013). Working life gain from gain in old age life expectancy in India. Demographic Research, 28, 733–762.

Dhillon, P., Ladusingh, L., & Agrawal, G. (2016). Ageing and changing patterns in familial structure for older persons in India: A decomposition analysis. Quality in Ageing and Older Adults, 17(2), 83–96.

Gaddis, I., & Klasen, S. (2014). Economic development, structural change, and women's labor force participation. Journal of Population Economics, 27(3), 639–681.

Kochar, A. (1999). Evaluating familial support for the elderly: The intrahousehold allocation of medical expenditures in rural Pakistan. Economic Development and Cultural Change, 47(3), 621–656.

Ladusingh L. (2013a). Gender and intergenerational co-residence of the elderly in India. Paper presented at the XXVII IUSSP International Population Conference held during August 26–31, 2013 in Busan.

Ladusingh, L. (2013b). Lifecycle deficit, intergenerational public and familial support system in India. Asian Population Studies, 9(1), 78–100.

Lillard, L. A., & Willis, R. J. (1997). Motives for interqenerational transfers: Evidence from Malaysia. Demography, 34(1), 115–134.

Narayana, M. R. (2011). Lifecycle deficit and public age reallocations for India's elderly population: Evidence and implications based on National Transfer Accounts. Journal of Population Ageing, 4(4), 207–230.

Oaxaca, R. (1973). Male-female wage differentials in urban labor markets. International Economic Review, 14, 693–709.

Pal, S. (2006). Intergenerational Transfers and Elderly Coresidence with Adult Children in Rural India. Paper to be presented at the European Society for Population Economics in Verona, pp. 22–24.

Population Reference Bureau. (2012). Today's research on aging Program and Policy Implications: India's aging population. Issue No.25, PRB, Washington, DC.

Rajan, S.I. (2010). Demographic ageing and employment in India. Bangkok: International Labour Organization, Regional Office for Asia and the Pacific. (ILO Asia-Pacific Working paper series).

Reddy, A. B. (2016). Labour force participation of elderly in India: Patterns and determinants. International Journal of Social Economics, 43(5), 502–516.

Registrar General of India (1991). Census of India 1991. Accessed from http//www.censusindia.gov.in on September 5, 2017.

Registrar General of India (2011). Census of India 2011. Accessed from http//www.censusindia.gov.in on September 5, 2017.

Sathyanarayana, K., Kumar, S., & James, K. (2012). Living arrangements of elderly in India: Policy and programmatic implications. New Delhi: United Nations Population Fund.

Schultz, T. P. (1990). Women's changing participation in the labor force: A world perspective. Economic Development and Cultural Change, 38(3), 457–488.

Selvaraj, S, Karan, A., & Madheswaran, S. (2011). Elderly Workforce Participation, Wage Differentials and Contribution to Household Income. BKPAI Working Paper No. 4, New Delhi: United Nations Population Fund (UNFPA).

Singh, A., & Das, U. (2015). Increasing compulsion to work for wages: Old age labor participation and supply in India over the past two decades. Journal of Population Ageing, 8(4), 303–326.

Tansel, A. (2001). Economic development and female labor force participation in Turkey: Time-series evidence and cross-province estimates. Iran & Turkey: Economic Research Forum for the Arab Countries.

United Nations. (2011). World population ageing 1950–2050. New York: Department of Economic & Social Affairs.

Uppal, S., & Sarma, S. (2007). Aging, health and labour market activity: The case of India. World Health & Population, 9(4), 79–97.
Ethics declarations
Conflict of Interest
The authors declare that there is no conflict of interest.
Informed Consent
Since the study is based on secondary data informed consent is not obtained from individual participants in the study.
Ethical Treatment of Experimental Subjects (Animal and Human)
This article does not contain any studies with human participants performed by any of the authors.
Ethical Statement
The study is based on publicly available data and no ethical issues are involved.
About this article
Cite this article
Ladusingh, L., Thangjam, M. Gender Differential in Occupation and Income among the Elderly in India. Ageing Int 43, 174–189 (2018). https://doi.org/10.1007/s12126-017-9307-5
Keywords
Occupation

Gender

Annual income

Living arrangement