Abstract
The elderly population is rising globally and similar trends are being observed not only in Asia but also in Pakistan. A developing country facing several challenges in the form of political in stability, lack of economic growth, low savings of the elderly, weak pension system, makes life challenging for the elderly. Geriatrics as a specialized area of medical training is neither recognized nor practiced in Pakistan. There is no widespread practice of health insurance coverage, hence, population relies on out of pocket expenditure for the treatment of all ailments. Pakistan's demographic trends show that between 1990 till 2010, the population aged 60+ years increased by 75.1 %. It is projected that the life expectancy will increase to 72 years by 2023. WHO report (1998) projected that 5.6 % of Pakistan's population was over 60 years of age, with a probability of doubling to 11 % by the year 2025. Hence, the country needs to develop a National health policy for the aging, which would assist in integrating the aging population and offer them better social security and health care.
Access options
Buy single article
Instant access to the full article PDF.
USD 39.95
Price excludes VAT (USA)
Tax calculation will be finalised during checkout.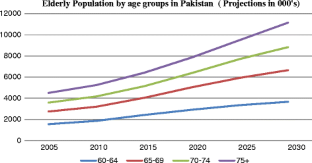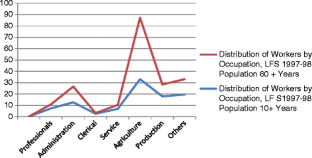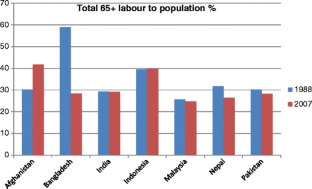 References
Baley, T., Couffinhal, A., Haq, I., Kazi, S., & Loevinsohn, B. (2010). Pakistan sector report: Delivering better health services to Pakistan's poor. World Bank.

Beg, N. (2005). Voluntary pension system: its development, structure & prospects. www.secp.gov.pk/news/Presentation/Presentation_Nasim_Beg.ppt.

Gapminder. [Internet]. 2011 [Accessed Sept 30th 2011]. Available from: http://www.gapminder.org/data/.

Nasir, Z. M., & Ali, S. M. (2000). Labour market participation of the elderly. The Pakistan Development Review, 39(4, II), 1075–1086.

Nizamani, A., Rauf, F., & Khoso, A. K. (1998). Case study: Pakistan. Population and water resources. Water and population dynamics. Available at: http://www.aaas.org/international/ehn/waterpop/paki.htm. (Accessed on September 01, 2011).

Sabzwari, S., & Azhar, G. (2010). Ageing in Pakistan—a new challenge. Ageing International. doi:10.1007/s12126-010-9082-z.

Saleem, T., Khalid, U., & Qidwai, W. (2009). Geriatric patients' expectations of their physicians: findings from a tertiary care hospital in Pakistan. BMC Health Services Research, 9, 205. doi:10.1186/1472-6963-9-205.

Shrestha, L. B. (2000). Population aging in developing countries. Health Affairs, 19(3), 204–212. doi:10.1377/hlthaff.19.3.204.

Socio economic characteristics of the older population. World Population Ageing 1950–2050. Population Division, DESA, United Nations. Available at: www.un.org/esa/population/…/worldageing19502050/pdf/91chapterv.pdf. (Cited on September 03, 2011).

The Asian Audit of the International Osteoporosis Foundation. (2009). Epidemiology, costs and burden of osteoporosis in Asia.

Long wait for help: Railway pensioner dies waiting for overdue pay. (2011). The Express Tribune. Oct 26th, 2011. http://tribune.com.pk/story/282298/in-the-waiting-line-retired-railways-pensioner-dies-before-payment/.

Violence against the elderly. (2011). DAWN Newspaper. Sept 11, 2011. Available at: http://www.dawn.com/2011/09/11/violence-against-the-elderly.html. (Accessed August 30, 2011).

Zafar, S. N., Ganatra, H. A., Tehseen, S., & Qidwai, W. (2006). Health and needs assessment of geriatric patients: Results of a survey at a Teaching Hospital in Karachi. 56(10).
Resources
Bergstrom, M. J., Holmes, M. E., & Pecchioni, L. (2000). Lay theories of successful aging after the death of a spouse: a network text analysis of bereavement advice. Health Communication, 12(4), 377–406.

Hobbs, F., & Damon, B. (1996). 65+ in the United States. In: Current population reports (pp. 23–190). Washington: US Bureau of the Census.

Khan, S. A., & Ghosh, P. (2003). Ageing: the demographic volcano. JPMA, 53(10).

Sathar, Z., & Casterline, J. B. (1998). The onset of fertility transition in Pakistan. Population and Development Review, 24, 773–796.

United Nations. (1995). UN Population Prospectus 1995 update. New York: UNO.
About this article
Cite this article
Jalal, S., Younis, M.Z. Aging and Elderly in Pakistan. Ageing Int 39, 4–12 (2014). https://doi.org/10.1007/s12126-012-9153-4
Published:

Issue Date:

DOI: https://doi.org/10.1007/s12126-012-9153-4
Keywords
Developing country

Pakistan

Aging population

Elderly