Abstract
Argentine tango is a complex phenomenon, involving music, dancing and lifestyle, today practiced by hundreds of thousands of people worldwide. This is already a good reason for psychology to make it an object of study. Besides, studying tango could also help to develop a dialogical way of theorizing and a dialogical methodology, taking into account both the genetic historical and eso-systemic dimensions and the individual experiencing. As any other product of human psyche, tango creates an universal and abstract representation of life starting from very situated and individual acts. Such institutionalized representation, which is at the same time epistemological, ethical and aesthetical, becomes a tradition -that is the framework distanced from the individual immediate experience- within which the meaning of the experiences to be make sense in return. To illustrate this epistemological and methodological stance, a history of the development of tango as dialogical social object first is sketched. Then, an ethnographic study about the Self actuation in a community of Italian tango dancers is presented. Results show how participants construct and actuate their identities in a dialogue between their I-positions inside and outside tango community.
Access options
Buy single article
Instant access to the full article PDF.
USD 39.95
Price includes VAT (USA)
Tax calculation will be finalised during checkout.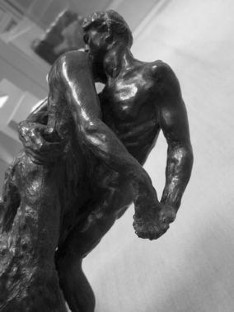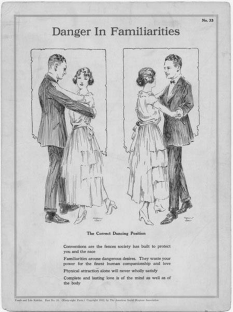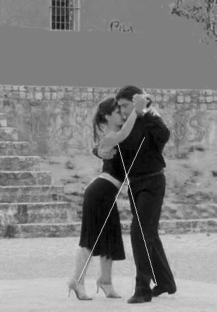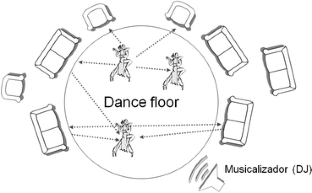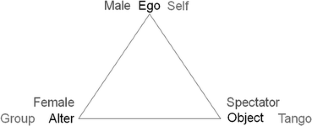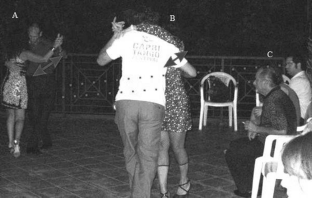 Notes
1.

The "conventillo" is a typical kind of popular overcrowded block of the second half of the 19th Century. It was a multi-stored building with a dark central courtyard, called patio. All the small apartments, often one room, where disposed on an internal balustrade facing the courtyard. This kind of very poor housing forced all the social activities to take place in the common open space.

2.

"Gringos" is the generic Argentinean name for European immigrants, while "compadres" are the immigrants from the inner countryside of Argentina.

3.

The texts says: Conventions are the fences society has built to protect you and the race. Familiarities arouse dangerous desires. They waste your power for the finest human companionship and love. Physical attraction alone will never wholly satisfy. Complete and lasting love is of the mind as well as of the body". Source: Social Welfare History Archives, University of Minnesota, retrieved 2014 October 10 from http://digital.lib.umn.edu/IMAGES/reference/swhp/SWHP0081.jpg

4.

There are at least four different theories on the origin of the name tango: from the Ancient Latin verb "tangere"; from the Spanish tango; from the African-American word "tangò", a particular type of drum used in the celebrations; from the Quechua Indian word "tambo", distorted by the European colonizers; and finally from the phonetic deformation of the name "Shàngò" or "Sàngò" belonging to the Afro-American pantheon, the divinity of the storms and thunders, lord of the percussion instruments (Castro 1991; Gobello 1999; Labraña and Sebastiàn 2000; Kohan 2007; Salmon 2000). Of course, this is not just and etymological debate, it is relevant that the opposing reconstructions point to different social or ethnic groups.

5.

"Candombe" is a traditional African-American form of cadenced music played with different kinds of drums.

6.

It is the king instrument of tango music, similar to, but also significantly different from an accordion, it was invented in the 1835 by the German Heinrich Band. The amazing story is that it was initially conceived as a portable substitute of the church organ in German countryside. It was brought to Buenos Aires by the German sailors and was soon adopted and modified by local musicians to carry out a more worldly activity (Labraña and Sebastiàn 2000).

7.

"Tango is an infinite possibility"
References
Adler, P. A., & Adler, P. (1987). Membership roles in field research. Newbury Park: Sage.

Atkinson, P. (2006). Rescuing autoethnography. Journal of Contemporary Ethnography, 35(4), 400–404.

Azzi, M. S. (1991). Antropologia del tango. Los protagonistas. Buenos Aires: Ediciones de Olavarria.

Bakhtin, M. (1990). Art and answerability: Early philosophical essays. Austin: University of Texas Press.

Barrionuevo Anzaldi, F. (2012). The transformation of popular culture into a touristic "experience economy". Paper presented at the 2nd ISA Forum of Sociology, Social Justice and Democratization, Buenos Aires, 1–4 August 2014, 1–22.

Budgeon, S. (2003). Identity as an embodied event. Body & Society, 9(1), 35–55.

Cámara De Landa, E. (2007). Three perspectives for the study of hybridization in the Italian tango. Studies in Humanities and Social Sciences, XIV(2), 145–166.

Castro, D. S. (1991). The Argentine tango as social history, 1880–1955. Lewinston: Mellen.

Collier, S., Cooper, A., Azzi, M. S., & Martin, R. (1995). Tango! The dance, the song, the story. London: Thames and Hudson.

Conquergood, D. (2002). Performance studies interventions and radical research. The Drama Review, 46(2), 145–156.

Dejours, C. (1989). Recherches psychanalytiques sur le corps. Paris: Payot.

Dibbel-Hope, S. (2000). The use of dance/movement therapy in psychological adaptation to breast cancer. The Arts in Psychotherapy, 27(1), 51–68.

dos Santos, E. (1978). La historia del tango: Las cantantes 13. Buenos Aires: Corregidor.

Duranti, A. (1997). Indexical speech across Samoan communities. American Anthropologist, 99(2), 342–354.

Ferrer, H. A. (1960). El tango: Su historia y evolucion. Buenos Aires: A. Pena Lillo.

Ferrer, H. A. (1980). El libro del tango: Arte popular de Buenos Aires. Tomo I: Cronica del tango. Barcelona: Antonio Tersol.

Fieiro Pompo, M. (1991). Goce analitico del tango. Buenos Aires: Gmpo Editor Latinoamericarto.

Garfinkel, H. (1967). Studies in ethnomethodology. Englewood Cliffs: Prentice Hall.

Garfinkel, H. (2002). Ethnomethodology's program: Working out Durkheim's aphorism. Lanham: Rowman and Littlefield.

Gobello, J. (1980). Cronica general del tango. Buenos Aires: Editorial Fraterna.

Gobello, J. (1999). Breve historia crítica del tango. Buenos Aires: Corregidor.

Haboush, A., Floyd, M., Caron, J., LaSota, M., & Alvarez, K. (2006). Ballroom dance lessons for geriatric depression: an exploratory study. The Arts in Psychotherapy, 33, 89–97.

Hamera, J. (2005). All the (dis)comforts of home: place, gendered self-fashioning, and solidarity in a ballet studio. Text and Performance Quarterly, 25(2), 93–112.

Hayano, D. M. (1982). Poker faces: The life and work of professional card players. Berkeley: University of California Press.

Hermans, J. M. (1996). Voicing the self: from information processing to dialogical interchange. Psychological Bulletin, 119(1), 31–50.

Hess, R. (1996). Le tango. Paris: PUF.

Jodelet, D. (2005). Formes et figures de l'altérité. In M. Sanchez-Mazas & L. Licata (Eds.), L'Autre: Regards psychosociaux (pp. 23–47). Grenoble: Les Presses de l'Université de Grenoble.

Kohan, P. (2007). Carlos Vega y la teoría hispanista del origen del tango. Espacios de Crítica y Producción, 34, 74–85.

Labraña, L., & Sebastiàn, A. (2000). Tango, una historia. Buenos Aires: Corregidor.

Lave, J., & Wenger, E. (1991). Situated Learning. Legitimate Peripheral Participation. Cambridge: Cambridge University Press.

Low, S. M. (2003). Embodied space(s): anthropological theories of body, space, and culture. Space and Culture, 6(1), 9–18.

Luckmann, T. (2008). On social interaction and the communicative construction of personal identity, knowledge and reality. Organization Studies, 29(2), 277–290.

Lynn Gray, A. E. (2001). The body remembers: dance/movement therapy with an adult survivor of torture. American Journal of Dance Therapy, 23(1), 29–43.

Marechal, L. (1970). Megafón o la guerra. Buenos Aires: Editorial Planeta y Perfil Libros.

Markova, I. (2003). Dialogical triads and three-component processes. In I. Markova (Ed.), Dialogicality and social representations: The dynamics of mind (pp. 147–176). Cambridge: Cambridge University Press.

Markova, I. (2006). On "The Inner Alter" in dialogue. International Journal for Dialogical Science, 1(1), 125–147.

McKibben, H. (1988). Dance-movement therapy with the medical population. Presentation at the 23rd National Conference of ADTA, November 1988, Baltimore, MD.

McNay, L. (1999). Gender, habitus and the field. Theory, Culture & Society, 16(1), 95–117.

Moscovici, S. (Ed.). (1984). Psychologie social. Paris: PUF.

Olsewski, B. (2008). El Cuerpo del Baile: the kinetic and social fundaments of tango. Body & Society, 14(2), 63–81.

Pinniger, R., Thorsteinsson, E. B., Brown, R. F., & McKinley, P. (2013). Tango dance can reduce distress and insomnia in people with self-referred affective symptoms. American Journal of Dance Therapy, 35, 60–77.

Pollock, D. (2007). The performative "I". Cultural Studies–Critical Methodologies, 7(3), 239–255.

Rosa, A. (2007). Acts of psyche: Actuation as synthesis of semiosis and action. In J. Valsiner & A. Rosa (Eds.), The Cambridge Handbook of Sociocultural Psychology (pp. 205–237). Cambridge: Cambridge University Press.

Salas, H. (1996). El tango: Una guía definitiva. Buenos Aires: Aguilar.

Salmon, R. O. (2000). The tango: its origins and meaning. Journal of Popular Culture, 10(4), 859–866.

Savigliano, M. E. (1995a). Whiny ruffians and rebellious broads: tango as spectacle of eroticized social tension. Theatre Journal, 47(1), 83–104.

Savigliano, M. E. (1995b). Tango and the political economy of passion. Boulder: Westview.

Siegman, J. (2006). El Tao del tango. Victoria: Editorial Trafford.

Simão, L. (2010). Ensaios dialógicos: Compartilhamento e diferença nas relações eu-outro. São Paulo: Editora Hucitec.

Sudnow, D. (1981). Ways of the hand: The organization of improvised conduct. New York: Harper and Row.

Targhetta, R., Napals, B., & Perney, P. (2013). Argentine tango: another behavioral addiction? Journal of Behavioral Addictions, 2(3), 179–186.

Ulloa, N. (1982). Tango, rebelion y nostalgia. Buenos Aires: Centro Editor de America Latina.

Valsiner, J. (1987). Culture and the development of children's action. Chichester: Wiley.

Valsiner, J. (2007). Locating the self…looking for the impossible? Or maybe the impossible is the only possibility. Paper presented at the conference "Culturalization of the Self", Chemnitz, DE, December 1, 2007.

Viladrich, A. (2006). Neither virgins nor whores: tango lyrics and gender representations in the tango world. The Journal of Popular Culture, 39(2), 272–293.

Villa, P.-I. (2006). Sexy bodies: Eine soziologische reise durch den geschlechtskörper. Berlin: VS Verlag.
Acknowledgments
This work has been funded by the Marie Curie IEF-2012 grant "EPICS. Epistemology in psychological science, the heritage of Giambattista Vico and the cultural psychology" at Aalborg University (Denmark).
About this article
Cite this article
Tateo, L. The Dialogical Dance: Self, Identity Construction, Positioning and Embodiment in Tango Dancers. Integr. psych. behav. 48, 299–321 (2014). https://doi.org/10.1007/s12124-014-9258-2
Keywords
Argentine tango

Self actuation

Identity

Embodied knowledge

Dialogic epistemology

I-positioning