Abstract
This study examines the influence of occupational licensing on two significant occupations that provide similar health care services: occupational therapists and physical therapists. Since many of the tasks that these occupations overlap, individuals in both occupations can have legal jurisdiction over these tasks. We examine how these two occupations interact with one another in the labor market on wage determination and employment. Unlike previous analyses of occupational licensing, our study evaluates two professions that are female dominated both within the vocations, and among its leadership. Our results show that the ability of physical therapists to have direct access to patients is associated with a reduction in hourly earnings for occupational therapists, suggesting there is substitution for certain overlapping service tasks across the two occupations. The ability of these two occupations to be mainly substitutes for one another provides new evidence on how the growing numbers of regulated occupations that provide similar tasks influence one another.
Access options
Buy single article
Instant access to the full article PDF.
USD 39.95
Price includes VAT (USA)
Tax calculation will be finalised during checkout.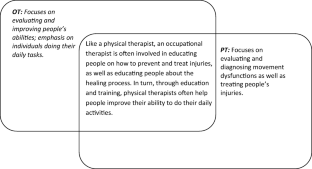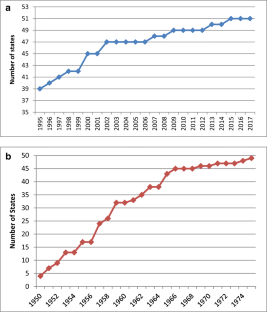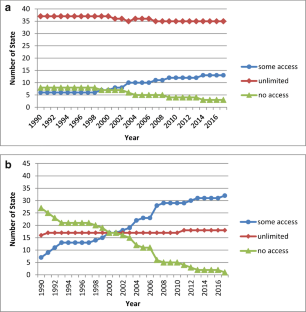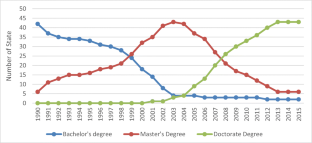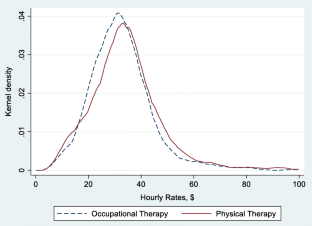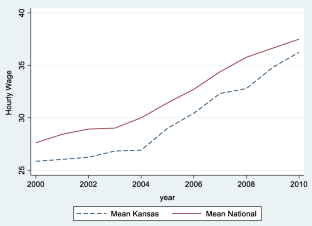 Notes
1.

These data are from a LexisNexis search of statutes passed during the legislative session.

2.

For example, allowing nurse practitioners to perform certain medical procedures is associated with a reduction of almost 10% of costs for well-child checkups which could result in a reduction of $600 million dollars ($10 × 60 million visits per year) (Kleiner et al. 2016).

3.

See Kleiner (2015) for a review of the empirical literature on the wage determination effects of licensing.

4.

The last state that licensed PT is Kansas in 2003. This is the only state that we may compare the average wage before and after the licensing law passage for PTs. Figure 6 show a comparison over time of PT wage in Kansas versus the national average PT wage.

5.

This information is from the "Qualifications of an Occupational Therapist" published at The American Occupational Therapy Association website www.aota.org. But year by year change on the minimum education level for OTs are not available in our study.

6.

See Appendix Table 8 for details regarding sample construction.

7.

We also include OT direct access in state law into our preliminary analysis but find no effect of it on the wage and employment of any of the two occupations.

8.

We use logged value of per capita personal income and percentage of senior aged population as state level covariates in estimating employment by state and year.

9.

We estimated three alternative approaches. The first used a dummy variable for licensing. The second, used a partially continuous variable for duration. The third used a group of dummy variables that designated years since initial licensing. The results were similar, and are available from the authors.

10.

Given the quality of the data for employment levels and changes in the OES at the state level, we prefer to use this source given its accuracy, sample size, and consistency relative to the ACS for these two occupations over time. We are aware that this does not allow us to obtain self-employed individuals, but they only are between 7 and 9% of the workers in these occupations.
References
American Occupational Therapy Association (AOTA) (2004) Policy 5.3.1: definition of OccupationalTherapy practice for state regulation. Am J Occup Ther 58:694–695

Arrow KJ (1963) Uncertainty and the welfare economics of medical care. Am Econ Rev 53(5):941–973

Bureau of Labor Statistics (2014) Occupational outlook handbook, 2014–15 ed." http://www.bls.gov/ooh/healthcare/physical-therapists.htm (accessed June 9, 2016)

Centers for Medicare and Medicaid Services (2014) National health expenditures accounts. http://www.cms.gov/NationalHealthExpendData/downloads/dsm-09.pdf

Cunningham E (2019) Professional certifications and occupational licenses: evidence from the Current Population Survey. Monthly Labor Review. U.S. Bureau of Labor Statistics. https://doi.org/10.21916/mlr.2019.15

Fisher G, Keehn M (2007) Workforce needs and issues in occupational and physical therapy. University of Illinois, Chicago http://www.westga.edu/~distance/ojdla/spring161/workforce.pdf (

Friedman M (1962) Capitalism and freedom. University of Chicago Press, Chicago

Friedman M, Kuznets S (1945) Income from independent professional practice. National Bureau of Economic Research, New York

Gittleman M, Kleiner MM (2016) Wage effects of unionization and occupational licensing coverage in the United States. Ind Labor Relat Rev 69(1):142–172

Han, Suyoun, Morris M. Kleiner (2016) Analyzing the influence of occupational licensing duration and grandfathering on labor market outcomes. No. w22810. National Bureau of Economic Research

Kleiner M (2015) Guild-ridden labor markets: the curious case of occupational licensing. W.E. Upjohn Institute for Employment Research, Kalamazoo

Kleiner MM, Krueger A (2013) Analyzing the extent and influence of occupational licensing on the labor market. J Labor Econ 31(2):S173–S202

Kleiner, Morris M., and Kyoung Won Park. (2010) Battles among licensed occupations: analyzing government regulations on labor market outcomes for dentists and hygienists. Working Paper No. 16560. Cambrige: National Bureau of Economic Research

Kleiner MM, Marier A, Park KW, Wing C (2016) Relaxing occupational licensing requirements: analyzing wages and prices for a medical service. Journal of Law and Economics 59(2):261–291

Leland H (1979) Quacks, lemons, and licensing: a theory of minimum quality standards. J Polit Econ 87(6):1328–1346

Persico N (2015) The political economy of occupational licensing associations. J Law Econ Org 31(2):213–241

Shapiro C (1986) Investment, moral Hazard, and occupational licensing. Review of Economic Studies 53(5):843–862

Stange K (2014) How does provider supply and regulation influence health care markets? Evidence from nurse practitioners and physician assistants. J Health Econ 33:1–27

Wing C, Marier A (2014) Effects of occupational regulations on the cost of dental services: evidence from dental insurance claims. J Health Econ 24:131–143
Acknowledgements
We thank Kevin Hollenbeck and the participants at seminars at the Annual Knee Center Occupational Licensing Conference, Association for Policy Analysis and Management annual meetings, and the Upjohn Institute for Employment Research for their comments and suggestions. We especially thank the library staff at the Upjohn Institute for Employment Research, the Federal Reserve Bank of Minneapolis library staff, and officials at the American Occupational Therapy Association and the American Physical Therapy Association for their assistance in collecting the statutory and administrative data.
Funding
No funding was provided for the study.
Ethics declarations
Conflict of Interest
The authors declare that they have no conflict of interest.
Additional information
Publisher's Note
Springer Nature remains neutral with regard to jurisdictional claims in published maps and institutional affiliations.
Appendices
Appendix 1
Appendix 2
About this article
Cite this article
Cai, J., Kleiner, M.M. The Labor Market Consequences of Regulating Similar Occupations: the Licensing of Occupational and Physical Therapists. J Labor Res 41, 352–381 (2020). https://doi.org/10.1007/s12122-020-09309-0
Accepted:

Published:

Issue Date:
Keywords
Occupational licensing

Wage and employment determination

Interaction of occupations
JEL Classification