Abstract
Empirical studies on the influence of sunk costs in high stakes decisions have come to mixed conclusions. As observational studies have primarily used professional sports labor markets, we analyze the effect of sunk costs, player compensation, on the labor utilization of defensive players in the National Football League (NFL). Our analysis has several advantages. First, we measure the direct impact of increased financial commitment. Second, we analyze the effect of sunk costs when firms have accurate and abundant performance feedback; therefore, our conclusions are not driven by uncertainty. Finally, we control for possible endogeneity by using the exogenous variation in compensation generated when players become eligible for free agency or change teams. Our results indicate sunk costs are significant determinants of player utilization. A 15 % increase in compensation has an equivalent effect on playing time as an increase of five to eleven solo tackles, one to two interceptions and two to five and a half sacks in the previous season for linebackers, defensive backs and defensive linemen respectively. Furthermore, the sunk-cost fallacy is persistent throughout the entire career of an average NFL player.
Access options
Buy single article
Instant access to the full article PDF.
USD 39.95
Price includes VAT (USA)
Tax calculation will be finalised during checkout.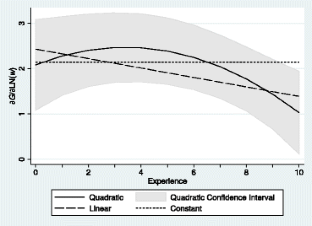 Notes
1.

See Ho et al. (2015) for an empirical investigation of the sunk-cost fallacy using the driving behavior of people purchasing vehicles in Singapore.

2.

Our data exhibit another common count-data problem, excess zeros. Therefore, we estimate our empirical strategy using zero-inflated NB (ZINB) regression. However, ZINB results are nearly identical to NB results. As a result, we focus on NB regression as the results are more easily interpreted. ZINB results are available from the author.

3.

Conditional FE NB regression allows for individual heterogeneity in the distribution of the overdispersion parameter. However, it does not control for individual time invariant factors. Conditional FE Poisson regression controls for time invariant factors, but requires equidispersion.

4.

The CBA originated in 1993. The 1993 CBA granted veteran players unrestricted free agency in exchange for a hard salary cap on players' salaries. The CBA was extended in 1998, 2002 and 2006. However, 2009 was the final year and 2010 was played without a salary cap (Vrooman 2012).

5.

The ZINB elasticity, calculated the means of the independent variables, is 0.336 and highly significant, to the 1 % level, with a delta-method standard error of 0.0203.

6.

Since the natural logarithm difference is only a good approximation of percentage change when the difference is small, we use the formula % Δw = exp(β) − 1.

7.

The effects of restricted and unrestricted free agency eligibility are very large throughout the distribution and similar to Berri and Simmons (2009). Using quantile regression, the effect of restricted free agency is 21.7, 16.4, 27.9, 31.8 and 47.8 % for the 0.10, 0.25, 0.50, 0.75 and 0.90 quantiles respectively. The effect of unrestricted free agency compared to restricted free agency is 23.2, 28.5, 41.1, 45.5 and 48.9 % for the 0.10, 0.25, 0.50, 0.75 and 0.90 quantiles respectively.

8.

The results are also robust to the use of untransformed salary cap value as the measure of compensation and the exclusion of previous season games played and previous season percentage of games played that were started. Furthermore, the results remain significant when estimating standard errors clustered on players.

9.

The increase in compensation as a result of becoming eligible for unrestricted free agency is estimated to increase the number of games started by 10 % when using IV conditional FE Poisson regression.

10.

The effect of solo tackles for linebackers is 0.00602 with a standard error of 0.00263. The effect of interceptions for defensive backs is 0.0303 with a standard error of 0.0122. The effect of sacks for defensive linemen is 0.116 with a standard error of 0.00956.
References
Arkes HR (1996) The psychology of waste. J Behav Decis Mak 9(3):213–224

Arkes HR, Blumer C (1985) The psychology of sunk cost. Organ Behav Hum Decis Process 35(1):124–140

Bazerman MH, Beekun RI, Schoorman FD (1982) Performance evaluation in a dynamic context: a laboratory study of the impact of a prior commitment to the Ratee. J Appl Psychol 67(6):873–876

Berri DJ, Simmons R (2009) Race and the evaluation of signal callers in the National Football League. J Sports Econ 10(1):23–43

Borland J, Lee L, Macdonald RD (2011) Escalation effects and the player draft in the AFL. Labour Econ 18(3):371–380

Camerer CF, Weber R (1999) The econometrics and behavioral economics of escalation to commitment in NBA draft choices. J Econ Behav Organ 39(1):59–82

Cameron AC, Trivedi PK (2010) Microeconometrics using stata. (Revised Ed.). Stata Press, College Station

Fox Sports (2015) NFL injuries. Available from the Fox Sports website, http://www.foxsports.com/nfl/injuries?season=2013&seasonType=1&week=1

Garland H (1990) Throwing good money after bad: the effect of sunk costs on the decision to escalate commitment to an ongoing project. J Appl Psychol 75(6):728–731

Hilbe JM (2011) Negative binomial regression, 2nd edn. Cambridge University Press, Cambridge

Ho T-H, Png IPL, Reza S (2015) Sunk cost fallacy in driving the world's costliest cars. Mimeo. Available from the Univeristy of California Berkeley website, http://faculty.haas.berkeley.edu/hoteck/PAPERS/Sunk-HPR.pdf

Hyland TR, Lager MJ, Trellis M (1996) The coase theorem, free agency and major league baseball: a panel study of pitcher mobility from 1961 to 1992. South Econ J 62(4):1029–1042

Kahn LM (2000) The sports business as a labor market laboratory. J Econ Perspect 14(3):75–94

Keefer QAW (2014) Rank-based groupings and decision making: a regression discontinuity analysis of the NFL draft rounds and rookie compensation. J Sports Econ. doi:10.1177/1527002514541448

Keefer QAW (2015) The sunk-cost fallacy in the National Football League: salary cap value and playing time. J Sports Econ. doi:10.1177/1527002515574515

Kogurt CA (1990) Consumer search behavior and sunk costs. J Econ Behav Organ 14(3):381–392

Krautman AC, von Allmen P, Berri DJ (2009) The underpayment of restricted players in North American sports leagues. Int J Sport Finance 4(3):161–175

Leeds D, Leeds MA, Motomura A (2015) Are sunk costs irrelevant? Evidence from playing time in the National Basketball Association. Econ Inq 53(2):1305–1316

Massey C, Thaler RH (2013) The loser's curse: decision making and market inefficiency in the National Football League Draft. Manag Sci 59(7):1479–1495

Moon H (2001) Looking forward and looking back: integrating completion and sunk-cost effects within an escalation-of-commitment progress decision. J Appl Psychol 86(1):104–113

National Football League (2006) Collective bargaining agreement. Available from the National Football League website, http://static.nfl.com/static/content/public/image/cba/nfl-cba-2006-2012.pdf

National Football League (2011) Players database. Available from the National Football League website, http://www.nfl.com/players

Pro Football Reference (2011) NFL draft history and AFL drafts. Available from the Sports Reference website, http://www.pro-football-reference.com/draft/

Raymond HJ (1983) "Free agents" impact on the labor market for baseball players. J Lab Res 4(2):183–193

Scott FA Jr, Long JE, Somppi K (1985) Salary vs. marginal revenue product under monopsony and competition: the case of professional basketball. Atl Econ J 13(3):50–59

Simmons R, Berri DJ (2009) Gains from specialization and free agency: the story of the gridiron. Rev Ind Organ 34(1):81–98

Staw BM (1976) Knee-deep in the big muddy: a study of escalating commitment to a chosen course of action. Organ Behav Hum Perform 16(1):27–44

Staw BM, Hoang H (1995) Sunk costs in the NBA: why draft order affects playing time and survival in professional basketball. Adm Sci Q 40(3):474–494

Stock JH, Wright JH, Yogo M (2002) A survey of weak instruments and weak identification in generalized method of moments. J Bus Econ Stat 20(4):518–529

USA Today (2011) USA today salaries databases: national football league salaries. Available from the USA Today website: http://content.usatoday.com/sportsdata/football/nfl/salaries/team?loc=interstitialskip

Vrooman J (2012) The economic structure of the NFL. In: Quinn KG (ed) The economics of the National Football League: the state of the art. Springer, New York, pp 7–31

Wooldridge JM (2002) Econometric analysis of cross section and panel data. The MIT Press, Cambridge
Conflict of Interest
The authors declare that they have no conflict of interest.
About this article
Cite this article
Keefer, Q.A.W. Performance Feedback Does Not Eliminate the Sunk-Cost Fallacy: Evidence From Professional Football. J Labor Res 36, 409–426 (2015). https://doi.org/10.1007/s12122-015-9215-y
Keywords
Sunk-cost fallacy

Performance feedback

Labor utilization

NFL
JEL Classification