Abstract
The benefits of dual apprenticeship programs are usually discussed in the context of reducing structural unemployment rates, especially among the young. Related to this, the long-run benefits of dual apprenticeship programs are extensively analyzed in the literature. However, empirical evidence regarding the short-run effects of the business cycle on the number of apprenticeships is scarce. In this paper, we use panel-data at the German federal states level ranging from 1999 through 2012 to analyze the effects of the business cycle on the number of new apprenticeship contracts. Using different sample periods and model specifications, we do not find a robust and significant effect of the business cycle on apprenticeships. Hence, the apprenticeship system seems to dampen the volatility of youth unemployment.
This is a preview of subscription content, log in to check access.
Access options
Buy single article
Instant access to the full article PDF.
US$ 39.95
Tax calculation will be finalised during checkout.
Subscribe to journal
Immediate online access to all issues from 2019. Subscription will auto renew annually.
US$ 99
Tax calculation will be finalised during checkout.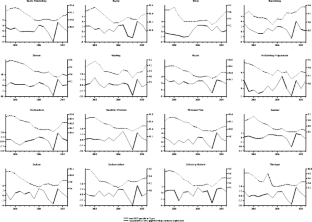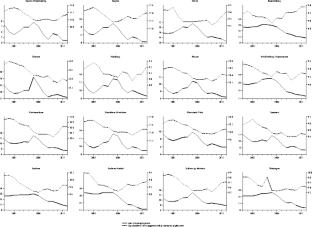 References
Askilden JE, Nilsen OA (2005) Apprentices and young workers: a study of the Norwegian youth labour market. Scot J Polit Econ 52(1):1–17

Biavaschi C, Eichhorst W, Giulietti C, Kendzia MJ, Muravyev A, Pieters J, Zimmermann NRPRSKF (2012) Youth unemployment and vocational training. IZA Discussion Paper, pp 1–106

Brunello G (2009) The effect of economic downturns on apprenticeships and initial workplace training: a review of the evidence. Empir Res Vocat Educ Train 1(2):145–171

Brunello G, Medio A (2001) An explanation of international differences in education and workplace training. Eur Econ Rev 45(2):307–322

Bundesinstitut für Berufsbildung (BIBB) (2013a) Datenreport zum Berufsbildungsbericht 2013 - Informationen und Analysen zur Entwicklung der beruflichen Bildung

Bundesinstitut für Berufsbildung (BIBB) (2013b) Liste der staatlich anerkannten Ausbildungsberufe

Dietrich H, Gerner H-D (2007) The determinants of apprenticeship training with particular reference to business expectations. Zeitschrift für ArbeitsmarktForschung 40(2/3):221–233

Ebner C, Nikolai R (2010) Duale oder schulische berufsausbildung? Entwicklungen und Weichenstellungen in Deutschland, Österreich und der Schweiz. Swiss Polit Sci Rev 16(4):617–648

European Commission (2012) Apprenticeship supply in the member states of the European union. Publications Office of the European Union

Fedorets A, Spitz-Oener A (2011) Flexibilität und Anpassungsfähigkeit von Beschäftigten mit dualer Berufsausbildung. Zeitschrift für ArbeitsmarktForschung 44(1-2):127–134

Hartung S (2012) Betriebliche Berufsausbildung und Weiterbildung in Deutschland. Institute for Employment Research (IAB)

Lindley RM (1975) The demand for apprentice recruits by the engineering industry scottish . Scot J Polit Econ 22(1):1–24

Méndez F, Sepúlveda F (2012) The cyclicality of skill acquisition: evidence from panel data. Am Econ J Macroecon 4(3):128–52

Mühlemann S, Wolter S, Wüest A (2009) Apprenticeship training and the business cycle. IZA Discussion Paper 228(No. 4460):554–572

Niederalt M (2004) Betriebliche ausbildung als kollektives phänomen. Jahrbuch für Wirtschaftswissenschaften / Rev Econ 55(1):80–105

Reinberg A, Hummel M (2005) Höhere Bildung schützt auch in der Krise vor Arbeitslosigkeit. IZA Kurzbericht 9:1–6

Schweri J, Müller B (2008) Die Ausbildungsbereitschaft der Betriebe: Entwicklungen 1995 bis 2005. Neuchâtel: Bundesamt für Statistik 18(1):359–375

Statistisches Bundesamt (2013) Berufsbildung auf einen Blick

Westergaard-Nielsen N, Rasmussen AR (1999) The Impact of Subsidies on the Number of New Apprentices. Res Labor Econ 18(1):359–75

Wooldridge JM (2002) Econometric analysis of cross section and panel data. MIT Press
Additional information
We thank participants and two anonymous referees for useful comments. All remaining errors are the responsibility of the authors. The views expressed in this paper are those of the authors and not necessarily those of DIW.
About this article
Cite this article
Baldi, G., Brüggemann-Borck, I. & Schlaak, T. The Effect of the Business Cycle on Apprenticeship Training: Evidence from Germany. J Labor Res 35, 412–422 (2014). https://doi.org/10.1007/s12122-014-9192-6
Keywords
Economic fluctuations

Education

Hiring

Unemployment
JEL Classification