Abstract
This study employs a panel data set that combines information obtained from media content analysis, micro-level survey data, and macroeconomic variables to investigate the impact of media coverage on individual perceptions of job insecurity in Germany. Estimates indicate that these perceptions increase in years with greater quantity of news reporting. This volume effect is larger for socio-demographic groups with a generally low incidence of insecurity perceptions (e.g., highly educated and remunerated employees), which implies that unequally distributed perceptions converge when media coverage is strong. Moreover, the results suggest that information processing is subject to an optimism bias.
Access options
Buy single article
Instant access to the full article PDF.
US$ 39.95
Tax calculation will be finalised during checkout.
Subscribe to journal
Immediate online access to all issues from 2019. Subscription will auto renew annually.
US$ 79
Tax calculation will be finalised during checkout.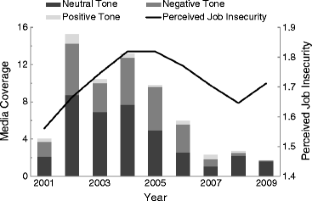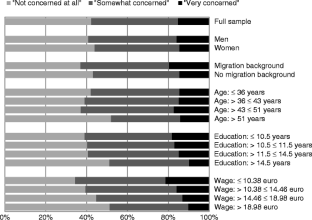 Notes
1.

2.

This study neither attempts to evaluate differences across individual media nor investigates high-frequency movements or other dynamic aspects. Such issues are beyond the scope of this analysis.

3.

This includes all articles and reports on general labor market policy, e.g. news with respect to unemployment benefits, minimum wages, dismissal protection, labor market reforms or job-creation schemes. News coverage about labor market outcomes (e.g., vacancies, increasing or decreasing unemployment), other areas of economic policy (e.g., fiscal, monetary, or social policy) and the general economic situation (e.g., growth, prices, production, or consumption) is excluded. Media Tenor International provides illustrations of how articles are analyzed and topics identified on its website.

4.

For the reach of the TV news audience, information was gathered from Darschin and Gerhard (2004), and Zubayr and Gerhard (2005, 2006, 2007, 2008, 2009, 2010) for the respective years. The numbers needed to construct the readership weights for print media are provided by the German Audit Bureau of Circulations (IVW).

5.

This variable is only available for the years 2001, 2003, and 2007. As an approximation of the data for the missing years, this study used observations from the preceding years.

6.

The GSOEP only provides monthly earnings, so hourly wages are approximated by dividing monthly wages by weekly working hours and multiplying the latter by 4.

7.

A fixed-effects specification could be considered instead of the random intercept. However, consistent estimators for fixed-effects ordered-logit models continue to be developed, and practical applications are rare (Riedl and Geishecker 2010; Baetschmann et al. 2011). In addition, estimation with sampling weights is not possible in such settings, which favors a random intercept specification. The attempt to include a random intercept at the regional level creates convergence problems in some specifications. The macroeconomic variables are regional measures, so they likely control for most differences between federal states.

8.
References
Aaronson D, Sullivan DG (1998) The decline of job security in the 1990s: displacement, anxiety, and their effect on wage growth. Econ Perspect 22:17–43

Alsem KJ, Brakman S, Hoogduin L, Kuper G (2008) The impact of newspapers on consumer confidence: does spin bias exist? Appl Econ 40:531–539

Kommission Moderne Dienstleistungen am Arbeitsmarkt (2002) Moderne Dienstleistungen am Arbeitsmarkt: Bericht der Kommission. Federal Ministry of Labour and Social Affairs, Berlin

Baetschmann G, Staub KE, Winkelmann R (2011) Consistent estimation of the fixed effects ordered logit model. Discussion Paper No. 5443. Institute for the Study of Labor, Bonn

Ball-Rokeach SJ, DeFleur ML (1976) A dependency model of mass media effects. Comm Res 3:3–21

Barabas J, Jerit J (2009) Estimating the causal effects of media coverage on policy-specific knowledge. Am J Polit Sci 53:73–89

Bénabou R, Tirole J (2002) Self-confidence and personal motivation. Q J Econ 117:871–915

Bertola G (1990) Job security, employment and wages. Eur Econ Rev 34:851–886

Blanchflower DG (1991) Fear, unemployment and pay flexibility. Econ J 101:483–496

Blumler JG (1979) The role of theory in uses and gratifications studies. Comm Res 6:9–36

Blumler JG, Katz E (eds) (1974) The uses of mass communications: current perspectives on gratifications research. Sage, Beverly Hills

Brosius HB, Weimann G (1995) Medien oder Bevölkerung: Wer bestimmt die Agenda? Rundfunk und Fernsehen 43:312–329

Burchell BJ (1999) The unequal distribution of job insecurity, 1966–86. Int Rev Appl Econ 13:437–458

Carroll CD (2003) Macroeconomic expectations of households and professional forecasters. Q J Econ 118:269–298

Compte O, Postlewaite A (2004) Confidence-enhanced performance. Am Econ Rev 94:1536–1557

Darschin W, Gerhard H (2004) Tendenzen im Zuschauerverhalten: Fernsehgewohnheiten und Fernsehreichweiten im Jahr 2003. Med Perspek 2004:142–150

Doms M, Morin N (2004) Consumer sentiment, the economy, and the news media. FRBSF Working Paper 2004–09, Federal Reserve Bank of San Francisco, San Francisco

Dräger L (2011) Inflation perceptions and expectations in Sweden – are media reports the "missing link"? KOF Working Papers 273. Swiss Economic Institute, Zurich

Eil D, Rao JM (2011) The good news-bad news effect: asymmetric processing of objective information about yourself. Am Econ J Microecon 3:114–138

Erlinghagen M (2008) Self-perceived job insecurity and social context: a multi-level analysis of 17 European countries. Eur Socio Rev 24:183–197

Green F, Felstead A, Burchell B (2000) Job insecurity and the difficulty of regaining employment: an empirical study of unemployment expectations. Oxford B Econ Stat 62:855–883

Haas A (2007) Medienmenüs: Der Zusammenhang zwischen Mediennutzung, SINUS-Milieus und Soziodemographie. Fischer, Munich

Hagen LM (2001) Erwerbslosigkeit und die agenda-setting-hypothese – Über den Einfluss der Medien auf die Wahrnehmung eines privaten und öffentlichen problems. In: Zempel J, Bacher J, Moser K (eds) Erwerbslosigkeit – Ursachen, Auswirkungen und Interventionen. Leske & Budrich, Opladen, pp 207–231

Hagen LM (2005) Konjunkturnachrichten, Konjunkturklima und Konjunktur. Halem, Cologne

Jacobi L, Kluve J (2007) Before and after the Hartz reforms: the performance of active labour market policy in Germany. J Labor Market Res 40:45–64

Jerit J, Barabas J, Bolsen T (2006) Citizens, knowledge, and the information environment. Am J Polit Sci 50:266–282

Kahneman D, Tversky A (1979) Prospect theory: an analysis of decision under risk. Econometrica 47:263–292

Kellermann C, Rattinger H (2006) Economic conditions, unemployment and perceived government accountability. Ger Polit 15:460–480

Kepplinger HM (2000) Die Demontage der Politik in der Informationsgesellschaft. Alber, Freiburg

Klapper JT (1960) The effects of mass communication. Free Press, New York

Köszegi B (2006) Ego utility, overconfidence, and task choice. J Eur Econ Assoc 4:673–707

Lamla MJ, Lein SM (2008) The role of media for consumers' inflation expectation formation. KOF Working Papers 201. Swiss Economic Institute, Zurich

Landesmedienanstalten D (ed) (2007) Crossmediale Verflechtungen als Herausforderung für die Konzentrationskontrolle. Vistas, Berlin

Liao TF (2004) Comparing social groups: Wald statistics for testing equality among multiple logit models. Int J Comp Socio 45:3–16

Lurweg M (2010) Perceived job insecurity, unemployment risk and international trade – a micro-level analysis of employees in German service industries. SOEPpapers on Multidisciplinary Panel Data Research 300, German Institute for Economic Research, Berlin

Mankiw NG, Reis R (2002) Sticky information versus sticky prices: a proposal to replace the New Keynesian Phillips Curve. Q J Econ 117:1296–1328

Manski CF, Straub JD (2000) Worker perceptions of job insecurity in the mid-1990s: evidence from the survey of economic expectations. J Hum Resour 35:447–479

McCombs ME (2004) Setting the agenda: the mass media and public opinion. Polity Press, Cambridge

McCombs ME, Shaw DL (1972) The agenda-setting function of mass media. Publ Opin Q 36:176–187

Meyen M (2004) Mediennutzung: Mediaforschung, Medienfunktionen, Nutzungsmuster. UVK, Konstanz

Meyen M (2007) Medienwissen und Medienmenüs als kulturelles Kapital und als Distinktionsmerkmale. Medien & Kommunikationswissenschaft 55:333–354

Mutz DC (1992) Mass media and the depoliticization of personal experience. Am J Polit Sci 36:483–508

Näswall K, De Witte H (2003) Who feels insecure in Europe? Predicting job insecurity from background variables. Econ Ind Democr 24:189–215

Nickell S, Jones P, Quintini G (2002) A picture of job insecurity facing British men. Econ J 112:1–27

OECD (1997) Employment outlook July 1997. OECD Publications, Paris

Palmgreen P, Clarke P (1977) Agenda-setting with local and national issues. Comm Res 4:435–452

Rabe-Hesketh S, Skrondal A (2008) Multilevel and longitudinal modeling using Stata. Stata Press, College Station

Rabe-Hesketh S, Skrondal A, Pickles A (2005) Maximum likelihood estimation of limited and discrete dependent variable models with nested random effects. J Econometrics 128:301–323

Riedl M, Geishecker I (2010) Ordered response models and non-random personality traits: monte carlo simulations and a practical guide. Cege Discussion Papers 116, Center for European, Governance and Economic Development Research, Göttingen

Schmidt SR (1999) Long-run trends in workers' beliefs about their own job security: evidence from the general social survey. J Labor Econ 17:S127–S141

Stephens M (2004) Job loss expectations, realizations, and household consumption behavior. Rev Econ Stat 86:253–269

Sverke M, Hellgren J, Näswall K (2002) No security: a meta-analysis and review of job insecurity and its consequences. J Occup Health Psychol 7:242–264

Zillmann D, Bryant J (eds) (1985) Selective exposure to communication. Erlbaum, Hillsdale

Zubayr C, Gerhard H (2005) Tendenzen im Zuschauerverhalten: Fernsehgewohnheiten und Fernsehreichweiten im Jahr 2004. Med Perspek 2005:94–104

Zubayr C, Gerhard H (2006) Tendenzen im Zuschauerverhalten: Fernsehgewohnheiten und Fernsehreichweiten im Jahr 2005. Med Perspek 2006:125–137

Zubayr C, Gerhard H (2007) Tendenzen im Zuschauerverhalten: Fernsehgewohnheiten und Fernsehreichweiten im Jahr 2006. Med Perspek 2007:187–199

Zubayr C, Gerhard H (2008) Tendenzen im Zuschauerverhalten: Fernsehgewohnheiten und Fernsehreichweiten im Jahr 2007. Med Perspek 2008:106–119

Zubayr C, Gerhard H (2009) Tendenzen im Zuschauerverhalten: Fernsehgewohnheiten und Fernsehreichweiten im Jahr 2008. Med Perspek 2009:98–112

Zubayr C, Gerhard H (2010) Tendenzen im Zuschauerverhalten: Fernsehgewohnheiten und Fernsehreichweiten im Jahr 2009. Med Perspek 2010:106–118

Zucker HG (1978) The variable nature of news media influence. In: Ruben BD (ed) Communication yearbook 2. Transaction Books, New Brunswick, pp 225–240
Additional information
I thank Ulrich Fritsche, Juliane Lischka, and Armin Rott for their helpful comments and suggestions.
Appendix
Appendix
About this article
Cite this article
Garz, M. Job Insecurity Perceptions and Media Coverage of Labor Market Policy. J Labor Res 33, 528–544 (2012). https://doi.org/10.1007/s12122-012-9146-9
Keywords
Job insecurity

Perceptions

Labor market policy

Media effects