Abstract
We study the long-term impact of job displacement from a big state owned enterprise as a result of its privatization in a developing country. Our results suggest large reductions in earnings, which persist throughout the years. However, we also find that the displaced worker's post-displacement earnings are in line with competitive market wages, and unrelated to sector of employment or to tenure losses, indicating that the long-term reduction in earnings as a result of displacement because of privatization can be traced to the loss of wage rents. Our results indicate that job displacement in SOEs may have very large redistributive implications for the workers involved but that this loss does not necessarily reflect the loss of specific human capital associated to these jobs.
Access options
Buy single article
Instant access to the full article PDF.
USD 39.95
Price excludes VAT (USA)
Tax calculation will be finalised during checkout.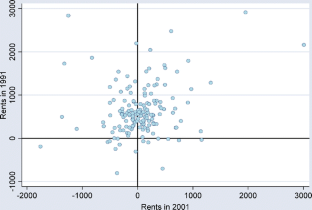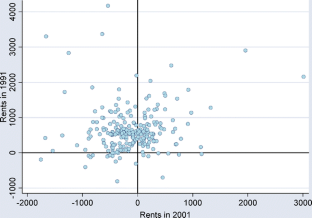 Notes
See also Hamermesh (1987) for a good survey of previous studies for the US.

It is precisely because we do not know these CEFs that we need a control group.

YPF S.A. hired the Novum Milenium Foundation, a not-for-profit research organization specialized in designing and conducting business surveys, to collect the data from the displaced workers.

These regions are the greater city of Buenos Aires, La Plata, Mendoza, Salta, Neuquen and Comodoro Rivadavia.

Labor income was collected to be comparable between the displaced workers' survey and the household survey (used to construct the counterfactual scenarios).

Couch (2001) uses sample sizes going from 209 up to 272.

The household survey is not conducted in Comodoro Rivadavia. Thus, the control group for displaced workers from this region is estimated using data from Neuquen, which is the closest urban agglomerate for which we do have data.

For a brief description of the Household Survey see Galiani and Hopenhayn (2003).

Only 12 women with valid information are not included in the main analysis. We also exclude a few family workers from the analysis.

These results are not reported in the Table.

Again, parametric estimates are very similar (21.9% and 43.4%) to the mean nonparametric estimates.

We estimate the potential monthly income from interest as 0.005 times the severance payment, implying an annual rate of return of 6.17%. This is close to the average yield of the 5-year US Treasury Bonds over the period 1991–2001.

One concern is that YPF displaced workers were just having transitory high earnings before displacement in 1991 and that this accounts for part of the result. However, the evidence available indicates that up to the reform process the unions had commanded a strong and unchallenged bargaining power in wage settlements. This suggests that there is no reason to believe 1991 wages were not consistent with historical wages. Other concern would be that wage inequality might have decreased during the period, relatively harming the higher than average wages of YPF workers, but precisely the opposite occurred.
References
Addison J, Portugal P (1989) Job displacement, relative wage changes, and the duration of unemployment. J Labor Econ 7:281–302, July

Assaad R (1999) Matching severance payments with worker losses in the Egyptian public sector. World Bank Econ Rev 13:117–153, January

Babcock L, Benedict ME, Engberg J (1994) Structural change and labor market outcomes: how are the gains and losses distributed? Mimeo. Carnegie Mellon University, Pittsburgh, PE

Barberis N, Boycko M, Shleifer A, Tsukanova N (1996) How does privatization work? Evidence from the Russian shops. J Polit Econ 104:764–790, August

Carrington W (1990) Specific human capital and worker displacement. Mimeo. University of Chicago, Chicago, IL

Couch K (2001) Earnings losses and unemployment of displaced workers in Germany. Ind Labor Relat Rev 54:559–572, April

Fallick B (1996) A review of the recent empirical literature on displaced workers. Ind Labor Relat Rev 50:5–16, October

Frydman R, Gray C, Hessel M, Rapaczynski A (1992) When does privatization work? The impact of private ownership on corporate performance in the transition economies. Q J Econ 114:1153–1191, November

Gadano N, Sturzenegger F (1998) La privatización de reserves en el sector hidrocarburifero. El caso de Argentina. Rev Anal Econ 13:75–115, June

Galiani S, Hopenhayn H (2003) Duration and risk of unemployment in Argentina. J Dev Econ 71:199–212, June

Galiani S, Nickell S (1999) Unemployment in Argentina in the 1990s. DTE 219. Instituto Torcuato Di Tella, Buenos Aires, Argentina

Galiani S, Gertler P, Schargrodsky E (2005a) Water for life: the impact of the privatization of water services on child mortality in Argentina. J Polit Econ 113:83–120, February

Galiani S, Gertler P, Schargrodsky E, Sturzenegger F (2005b) The benefits and costs of privatization in Argentina: a microeconomic analysis. In Chong A, Lopez-de-Silanes F (eds) Privatization in Latin America: myths and reality. Stanford University Press, Stanford, pp 67–116

Hall R (1995) Lost jobs. Brookings Pap Econ Act 1:221–273

Hamermesh D (1987) What do we know about worker displacement in the United States. Ind Relat 28:51–59, October

Harvard Business School (1998a) Argentina's YPF Sociedad Anonima (A). Harvard Case 9/396/023. Harvard University, Cambridge, MS

Harvard Business School (1998b) Argentina's YPF Sociedad Anonima (B). Harvard Case 9/396/024. Harvard University, Cambridge, MS

Heckman J, Hotz VJ (1989) Choosing among alternative nonexperimental methods for estimating the impact of social programs: the case of manpower training. J Am Stat Assoc 84:862–874, December

Heymann D, Navajas F (1989) Conflicto Distributivo y Deficit Fiscal: Notas sobre la Experiencia Argentina, 1970–1987. Desarro Econ 29:309–329, October

Inter-American Development Bank (2002) The future of reforms. Latin American Economic Policies, 17 January

Jacobson LS, LaLonde RJ, Sullivan DG (1993) Earnings losses of displaced workers. Am Econ Rev 83:685–709, September

La Porta F, Lopez-De-Silanes F (1999) The benefits of privatization: evidence from Mexico. Q J Econ 114:1193–1242, November

Margolis D (1999) Worker displacements in France. Mimeograph. Universite de Paris, Panteón-Sorbonne, Paris, France

McKenzie D, Mookherjee D (2003) Distributive impact of privatization in Latin America: an overview of evidence from four countries. Economia, Journal of the Latin American and Caribbean Economic Association 3:161–218, Spring

Megginson W, Nash R, van Randenborgh M (1994) The financial and operating performance of newly privatized firms: an international empirical analysis. J Finance 49:403–452, June

Neal D (1995) Industry-specific human capital: evidence from displaced workers. J Labor Econ 13:653–677, July

Ong P, Mar D (1992) Post-layoff earnings among semiconductors workers. Ind Labor Relat Rev 45:366–379, January

Rama M, MacIsaac D (1999) Earnings and welfare after downsizing: Central Bank Employees in Ecuador. World Bank Econ Rev 13:89–116, January

Rama M (1999) Public sector downsizing: an introduction. World Bank Econ Rev 13:1–22, January

Ruhm C (1991) Are workers permanently scared by job displacement?" Am Econ Rev 81:319–324, March

Torero M, Schroth E, Pasco-Font A (2003) The impact of telecommunications privatization in Peru on the welfare of urban consumers. Economia, Journal of the Latin American and Caribbean Economic Association 4:99–122, Fall
Acknowledgements
We are grateful to Repsol YPF, Carlos Gervasoni, German Sturzenegger and Luciana Esquerro for cooperation throughout this study. We also thank Maria Eugenia Garibotti for excellent research assistance, and Fernando Alvarez, Kevin Cowan, Juan Pablo Montero, Ernesto Schargrodsky and seminar participants at the LACEA meeting in Paris and Repsol YPF-Harvard Kennedy School Fellows seminar for helpful comments.
About this article
Cite this article
Galiani, S., Sturzenegger, F. The Impact of Privatization on the Earnings of Restructured Workers: Evidence From the Oil Industry. J Labor Res 29, 162–176 (2008). https://doi.org/10.1007/s12122-007-9029-7
Published:

Issue Date:

DOI: https://doi.org/10.1007/s12122-007-9029-7
Keywords
Privatization

Structural reform

Displaced workers and earning losses
JEL Classification