Abstract
Smartphone-dating and hook-up apps are undeniable factors in the modern landscape of sexuality. In particular, gay and bisexual men have bridged social and societal barriers for connection by using these apps. Despite advantages afforded by such technological advancements, when individuals are faced with a low phone battery, a sense of urgency may be experienced, which can increase risk-taking behaviours to accommodate an impending phone "death". The purpose of this study was to determine whether a draining smartphone battery would facilitate a greater likelihood of agreeing to a hookup encounter. Participants were randomly assigned to one of three battery life condition groups (5%, 20%, 100%) and were asked how likely they were to agree to a hookup with a simulated potential sexual partner. We discovered that, relative to a full battery condition, participants were more likely to agree to a hookup in the lowest battery condition. Additionally, men who reported a greater likelihood of agreeing to a hookup also endorsed a greater propensity for sensation seeking, regardless of the battery condition. These findings have practical implications for educating smartphone users who utilize dating and hookup apps about how scarcity decision-making and sensation-seeking can impact the ability to practice safe sexual behaviours.
This is a preview of subscription content, log in to check access.
Access options
Buy single article
Instant access to the full article PDF.
US$ 39.95
Price includes VAT for USA
Subscribe to journal
Immediate online access to all issues from 2019. Subscription will auto renew annually.
US$ 99
This is the net price. Taxes to be calculated in checkout.
References
Bar-Haim, Y., Kerem, A., Lamy, D., & Zakay, D. (2010). When time slows down: The influence of threat on time perception in anxiety. Cognition and Emotion, 24(2), 255–263. https://doi.org/10.1080/02699930903387603.

Blackwell, C., Birnholtz, J., & Abbott, C. (2015). Seeing and being seen: Co-situation and impression formation using Grindr, a location-aware gay dating app. New Media & Society, 17(7), 1117–1136. https://doi.org/10.1177/1461444814521595.

Brock, T. C. (1968). Implications of commodity theory for value change. In A. G. Greenwald, T. C. Brock, & T. M. Ostrom (Eds.), Psychological foundations of attitudes (p. 246). New York: Academic Press.

Carpenter, C. J., & McEwan, B. (2016). The players of micro-dating: Individual and gender differences in goal orientations toward micro-dating apps. First Monday. https://doi.org/10.5210/fm.v21i5.6187.

Chan, P. A., Towey, C., Poceta, J., Rose, J., Bertrand, T., Kantor, R., et al. (2016). Online hookup sites for meeting sexual partners among men who have sex with men in Rhode Island, 2013: A call for public health action. Public Health Reports, 131(2), 264–271. https://doi.org/10.1177/003335491613100210.

Cialdini, R. B. (2007). Influence: The psychology of persuasion (rev ed.). New York: HarperCollins.

Dubois, L. Z., Macapagal, K. R., Rivera, Z., Prescott, T. L., Ybarra, M. L., & Mustanski, B. (2015). To have sex or not to have sex? An online focus group study of sexual decision making among sexually experienced and inexperienced gay and bisexual adolescent men. Archives of Sexual Behavior, 44(7), 2027–2040. https://doi.org/10.1007/s10508-015-0521-5.

Gatter, K., & Hodkinson, K. (2016). On the differences between Tinder versus online dating agencies: Questioning a myth. An exploratory study. Cogent Psychology, 3(1), 1162414. https://doi.org/10.1080/23311908.2016.1162414.

Godinho, S., Prada, M., & Garrido, M. V. (2016). Under pressure: An integrative perspective of time pressure impact on consumer decision-making. Journal of International Consumer Marketing, 28(4), 251–273. https://doi.org/10.1080/08961530.2016.1148654.

Iyer, E. S. (1989). Unplanned purchasing: Knowledge of shopping environment and time pressure. Journal of Retailing, 65, 40–57.

Justus, A. N., Finn, P. R., & Steinmetz, J. E. (2000). The influence of traits of disinhibition on the association between alcohol use and risky sexual behavior. Alcoholism, Clinical and Experimental Research, 24(7), 1028–1035. https://doi.org/10.1097/00000374-200007000-00013.

Lenton, A. P., & Francesconi, M. (2010). How humans cognitively manage an abundance of mate options. Psychological Science, 21, 528–533. https://doi.org/10.1177/0956797610364958.

Licoppe, C., Rivière, C. A., & Morel, J. (2016). Grindr casual hook-ups as interactional achievements. New Media & Society, 18(11), 2540–2558. https://doi.org/10.1177/1461444815589702.

Lynn, M. (1991). Scarcity effects on value: A quantitative review of the commodity theory literature. Psychology and Marketing, 8(1), 43–57. https://doi.org/10.1002/mar.4220080105.

McDavitt, B., & Mutchler, M. G. (2014). "Dude, you're such a slut!" Barriers and facilitators of sexual communication among young gay men and their best friends. Journal of Adolescent Research, 29(4), 464–498. https://doi.org/10.1177/0743558414528974.

Miller, B. (2015). "Dude, where's your face?" Self-presentation, self-description, and partner preferences on a social networking application for men who have sex with men: A content analysis. Sexuality and Culture, 19(4), 637–658. https://doi.org/10.1007/s12119-015-9283-4.

Murai, Y., & Yotsumoto, Y. (2016). Timescale- and sensory modality-dependency of the central tendency of time perception. PLoS ONE, 11(7), 1–16. https://doi.org/10.1371/journal.pone.0158921.

Paul, J. P., Ayala, G., & Choi, K.-H. (2010). Internet sex ads for MSM and partner selection criteria: The potency of race/ethnicity online. Journal of Sex Research, 47(6), 528–538. https://doi.org/10.1080/00224490903244575.

Pingel, E. S., Bauermeister, J. A., Johns, M. M., Eisenberg, A., & Leslie-Santana, M. (2013). "A safe way to explore": Reframing risk on the Internet amidst young gay men's search for identity. Journal of Adolescent Research, 28(4), 453–478. https://doi.org/10.1177/0743558412470985.

Reynolds-Tylus, T., Rinaldi-Miles, A., & Quick, B. L. (2015). Examining the principles of influence on safer sex communication during casual and committed sexual encounters. Journal of Health Communication, 20(10), 1214–1223. https://doi.org/10.1080/10810730.2015.1018631.

Roberti, J. W., Storch, E. A., & Bravata, E. (2003). Further psychometric support for the Sensation Seeking Scale—Form V. Journal of Personality Assessment, 81(3), 291–292. https://doi.org/10.1207/S15327752JPA8103_12.

Rosenbaum, M. S., Daunt, K. L., & Jiang, A. (2013). Craigslist exposed: The Internet-mediated hookup. Journal of Homosexuality, 60(4), 505–531. https://doi.org/10.1080/00918369.2013.760305.

Smith, L. W., Guy, R., Degenhardt, L., Yeung, A., Rissel, C., Richters, J., et al. (2018). Meeting sexual partners through internet sites and smartphone apps in Australia: national representative study. Journal of Medical Internet Research, 20(12), e10683.

Suler, J. (2004). The online disinhibition effect. Cyberpsychology & Behavior, 7(3), 321–326. https://doi.org/10.1089/1094931041291295.

Watson, R., Snapp, S., & Wang, S. (2017). What we know and where we go from here: A review of lesbian, gay, and bisexual youth hookup literature. Sex Roles, 77(11–12), 801–811. https://doi.org/10.1007/s11199-017-0831-2.

Withnall, A. (2016). Uber knows when your phone is running out of battery. Retrieved from https://www.independent.co.uk/life-style/gadgets-and-tech/news/uber-knows-when-your-phone-is-about-to-run-out-of-battery-a7042416.html

Wu, S., & Ward, J. (2018). The mediation of gay men's lives: A review on gay dating app studies. Sociology Compass, 12(2), e12560. https://doi.org/10.1111/soc4.12560.

Zuckerman, M. (1994). Behavioral expressions and biosocial bases of sensation seeking. New York: Cambridge University Press.

Zuckerman, M., Eysenck, S., & Eysenck, H. J. (1978). Sensation seeking in England and America: Cross-cultural, age, and sex comparisons. Journal of Consulting and Clinical Psychology, 46, 139–149. https://doi.org/10.1037/0022-006X.46.1.139.
Acknowledgements
We would like to thank Amanda Champion and Shelby Hughes for helpful contributions on earlier versions of this manuscript.
Ethics declarations
Conflict of interest
All authors declare that they have no conflict of interest.
Ethical Approval
All procedures performed in studies involving human participants were in accordance with the ethical standards of the institutional research committee and with the 1964 Helsinki declaration and its later amendments or comparable ethical standards.
Informed Consent
Informed consent was obtained from all individual participants included in the study.
Additional information
Publisher's Note
Springer Nature remains neutral with regard to jurisdictional claims in published maps and institutional affiliations.
Appendices
Appendix A
Independent Variable: Hook-Up Vignette
Over the past few days, you've been messaging a man you met through a dating app on your phone. You find him very attractive. He's exactly the kind of guy you're attracted to. While chatting with him, he's been flirtatious and expressed sexual interest. Late one evening, while messaging him on your phone, you both begin to chat sexually with each other about the many sexual things you would like to do together. You both express being very aroused by the conversation.
Appendix B
Independent Variable: Screenshot with 5% Battery-Life Remaining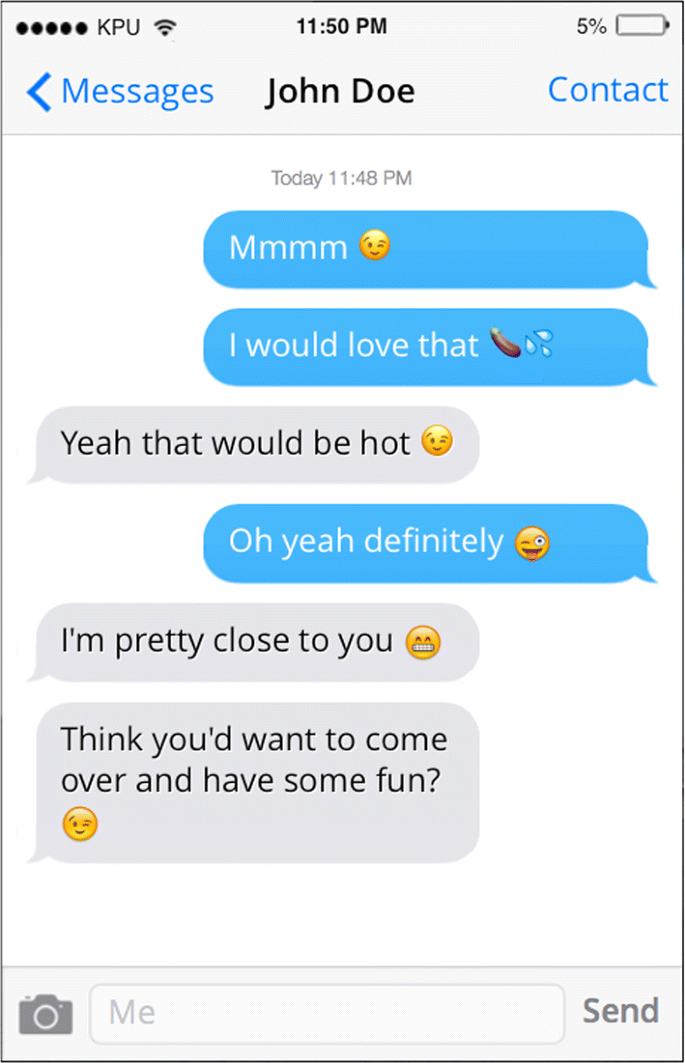 About this article
Cite this article
Lopes, A., Skoda, K. & Pedersen, C.L. Smartphone Battery Levels and Sexual Decision-Making Among Men Who Have Sex with Men. Sexuality & Culture 23, 1301–1314 (2019). https://doi.org/10.1007/s12119-019-09620-8
Keywords
Hookups

Dating applications

MSM

Decision-making

Smartphones