Abstract
The diversity of sexual behaviors is driven by multiple determinants, including physiological, cultural, educational, and sociological factors. However, the definition of sexual behavior profiles has been barely addressed from a comprehensive point of view. We aimed to develop a multidisciplinary questionnaire for defining individual sexual behavior profiles. The questionnaire was developed by a panel of experts with research experience in the fields of urology, gynecology, psychology, anthropology, and sexology. The list of items was defined in a focus group session and was based on four categories—family-oriented, loving, recreational, and functional—resulting from the combination of two axes: traditional versus non-traditional and sexual benefit versus extra-sexual benefit. Real-time Delphi dynamics was used to assign a weight to each question and a bias to the corresponding responses. The final questionnaire included 50 items considered relevant for describing sexual profiles; the final questionnaire was named SEX360. Of the 50 items included in SEX360, 14 were considered essential for computing the final score; 9 of them were associated with 2 categories, 4 of them with 4 categories, and 1 of them with 3. Nine items referred to the category "family-oriented", 10 to "loving", 8 to "recreational", and 9 to "functional". The weights assigned to each question ranged from 3.00 to 4.33, and the centers of gravity ranged from 1 to 4. The questionnaire proposed shows the existence of a vast diversity of sexual behavior profiles and may serve as a tool for sexual behavior research.
This is a preview of subscription content, log in to check access.
Access options
Buy single article
Instant access to the full article PDF.
US$ 39.95
Price includes VAT for USA
Subscribe to journal
Immediate online access to all issues from 2019. Subscription will auto renew annually.
US$ 99
This is the net price. Taxes to be calculated in checkout.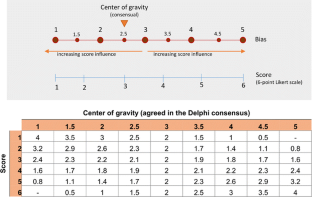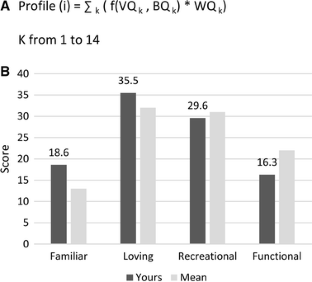 References
Akasheh, G., Sirati, L., Noshad Kamran, A. R., & Sepehrmanesh, Z. (2014). Comparison of the effect of sertraline with behavioral therapy on semen parameters in men with primary premature ejaculation. Urology, 83, 800–804. doi:10.1016/j.urology.2013.12.004.

Andersson, E., Walén, C., Hallberg, J., et al. (2011). A randomized controlled trial of guided internet-delivered cognitive behavioral therapy for erectile dysfunction. The Journal of Sexual Medicine, 8, 2800–2809. doi:10.1111/j.1743-6109.2011.02391.x.

Boddi, V., Castellini, G., Casale, H., et al. (2015). An integrated approach with vardenafil orodispersible tablet and cognitive behavioral sex therapy for treatment of erectile dysfunction: A randomized controlled pilot study. Andrology, 3, 909–918. doi:10.1111/andr.12079.

Gilbert, F. S., & Gamache, M. P. (1984). The sexual opinion survey: Structure and use. Journal of Sex Research, 20, 293–309. doi:10.1080/00224498409551227.

Green, K. C., Armstrong, J. S., & Graefe, A. (2007). Methods to elicit forecasts from groups: Delphi and prediction markets compared. Foresight: The International Journal of Applied Forecasting (forthcoming), Munich Personal RePEc Archive. MPRA Paper, 4663.

Gwee, K. P., Lim, L. E. C., & Woo, M. (2002). The sexual profile of rapists in Singapore. Medicine, Science and the Law, 42, 51–57.

Hatzimouratidis, K., Amar, E., Eardley, I., et al. (2010). Guidelines on male sexual dysfunction: Erectile dysfunction and premature ejaculation. European Urology, 57, 804–814. doi:10.1016/j.eururo.2010.02.020.

Hawkes, S. (2014). Sexual health: A post-2015 palimpsest in global health? The Lancet Global Health, 2, e377–e378.

Hayes, R. D., Dennerstein, L., Bennett, C. M., et al. (2008). Risk factors for female sexual dysfunction in the general population: Exploring factors associated with low sexual function and sexual distress. The Journal of Sexual Medicine, 5, 1681–1693. doi:10.1111/j.1743-6109.2008.00838.x.

Jannini, E. A., McCabe, M. P., Salonia, A., et al. (2010). Organic vs. psychogenic? The manichean diagnosis in sexual medicine. The Journal of Sexual Medicine, 7, 1726–1733. doi:10.1111/j.1743-6109.2010.01824.x.

Johnson, A. M., Wadsworth, J., Wellings, K., & Field, J. (1994). Sexual attitudes and lifestyles. Oxford: Blackwell Scientific Publications.

Ku, L., Sonenstein, F. L., Lindberg, L. D., et al. (1998). Understanding changes in sexual activity among young metropolitan men: 1979–1995. Family Planning Perspectives, 30, 256–262. doi:10.2307/2991500.

Leiblum, S., Seehuus, M., & Brown, C. (2007). Persistent genital arousal: Disordered or normative aspect of female sexual response? The Journal of Sexual Medicine, 4, 680–689. doi:10.1111/j.1743-6109.2007.00495.x.

Masters, W. H., Johnson, V. E., & Kolodny, R. C. (1995). Human sexuality. New York: Harper Collins College Publishers.

Masters, W. H., & Masters, V. J. (1980). Human sexual inadequacy. New York: Bantam Books.

Mathers, M. J., Klotz, T., Roth, S., et al. (2009). Safety and efficacy of vardenafil versus sertraline in the treatment of premature ejaculation: A randomised, prospective and crossover study. Andrologia, 41, 169–175. doi:10.1111/j.1439-0272.2008.00910.x.

McCabe, M. P. (1997). Intimacy and quality of life among sexually dysfunctional men and women. Journal of Sex and Marital Therapy, 23, 276–290.

Melnik, T., Abdo, C. H. N., de Moraes, J. F., & Riera, R. (2012). Satisfaction with the treatment, confidence and "naturalness" in engaging in sexual activity in men with psychogenic erectile dysfunction: Preliminary results of a randomized controlled trial of three therapeutic approaches. BJU International, 109, 1213–1219. doi:10.1111/j.1464-410X.2011.10516.x.

Monguet, J. M., Trejo, A., Martí, T., et al. (2016). Assessment of chronic health care through an internet consensus tool. In Handbook of research on trends in the diagnosis and treatment of chronic conditions (pp. 424–443). IGI Global Publisher.

Montorsi, F., Adaikan, G., Becher, E., et al. (2010). Summary of the recommendations on sexual dysfunctions in men. The Journal of Sexual Medicine, 7, 3572–3588. doi:10.1111/j.1743-6109.2010.02062.x.

Namiki, S., Carlile, R. G., Namiki, T. S., et al. (2011). Racial differences in sexuality profiles among American, Japanese, and Japanese American Men with localized prostate cancer. The Journal of Sexual Medicine, 8, 2625–2631. doi:10.1111/j.1743-6109.2011.02362.x.

Popovic, M. (2006). Psychosexual diversity as the best representation of human normality across cultures. Sexual and Relationship Therapy, 21, 171–186. doi:10.1080/14681990500358469.

Robinson, K., Cutler, J. B. R., & Carris, N. W. (2016). First pharmacological therapy for hypoactive sexual desire disorder in premenopausal women: Flibanserin. Annals of Pharmacotherapy, 50, 125–132. doi:10.1177/1060028015622182.

Rowe, G., & Wright, G. (2001). Expert opinions in forecasting: The role of the Delphi technique. In Principles of forecasting (pp. 125–144). Springer US. https://www.gwern.net/docs/predictions/2001-rowe.pdf.

Trudel, G., Landry, L., & Larose, Y. (1997). Low sexual desire: The role of anxiety, depression and marital adjustment. Sexual and Marital Therapy, 12, 95–99.

Tuzin, D. (1991). Sex, culture and the anthropologist. Social Science and Medicine, 33, 867–874. doi:10.1016/0277-9536(91)90258-E.

Waldinger, M. D. (2015). Pharmacotherapy for premature ejaculation. Expert Opinion on Pharmacotherapy, 16, 2615–2624. doi:10.1517/14656566.2015.1096928.

Williams, C. J., & Weinberg, M. S. (2003). Zoophilia in men: A study of sexual interest in animals. Archives of Sexual Behavior, 32, 523–535. doi:10.1023/A:1026085410617.
Acknowledgements
The authors would like to thank the whole team of i2e3 Research Institute for providing medical writing assistance during the preparation of this manuscript.
Ethics declarations
Conflicts of interest
E. García, J. M. Monguet, M. F. Peraza, M. González, D. Marre, C. Sánchez, C. Suso, A. Trejo, and A. Alcaraz declare that they have no conflicts of interest regarding the content of this manuscript.
Funding
This research received no specific grant from any funding agency in the public, commercial, or not-for-profit sectors.
Human and Animal Rights
This article does not contain any studies with human participants or animals performed by any of the authors.
Additional information
Eduard García-Cruz is a European Association of Urology's Young Academic Urologist's Men's Health Group member.
Electronic supplementary material
Below is the link to the electronic supplementary material.
About this article
Cite this article
García-Cruz, E., Monguet, J.M., Marre, D. et al. A Multidisciplinary Approach to Sexual Behavior Profiles: The SEX360 Model. Sexuality & Culture 21, 942–952 (2017). https://doi.org/10.1007/s12119-017-9448-4
Keywords
Sexual behavior

Sexology

Anthropology

Psychosexual development