Abstract
An "open" relationship is a configuration in which there is a sexual agreement characterized by implicit or explicit rules for extra-dyadic sexual activities. The general population of those who identify as non-monogamous is largely understudied, as most research in this area focuses on homosexual males. There is also a stigma surrounding those who do not choose to engage in monogamous relationships. Research on open relationships is sparse, and there is a need to examine perceptions of those engaged in this configuration. Even more important is the need to understand the perceptions of those within this community, as gathering information from outsiders is largely biased. This exploratory study examined the perceptions of 122 individuals who have been in or were currently in an open relationship, with a majority indicating that the decision to enter this type of configuration was mutual (73 %). Results demonstrated permissive attitudes when it comes to behaviors that involve engaging with others, as most interactions are not considered cheating. There is also a focus on rules, which need to be followed. With a better understanding of why those in open relationships choose to conduct their love lives in such a manner, and their impressions of how to make their romantic arrangement successful, not only do we get a clearer picture of these relationships, but we promote tolerance for all those looking to experience love.
Access options
Buy single article
Instant access to the full article PDF.
US$ 39.95
Tax calculation will be finalised during checkout.
Subscribe to journal
Immediate online access to all issues from 2019. Subscription will auto renew annually.
US$ 79
Tax calculation will be finalised during checkout.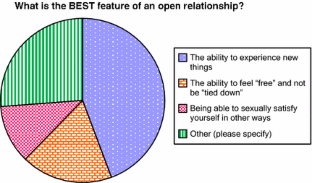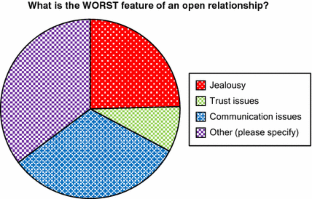 References
Barker, M. (2005). This is my partner, and this is my…partner's partner: Constructing a polyamorous identity in a monogamous world. Journal of Constructivist Psychology, 18(1), 75–88. doi:10.1080/10720530590523107.

Barker, M. (2011). Monogamies and non-monogamies: A response to 'The challenge of monogamy: Bringing it out of the closet and into the treatment room' by Marianne Brandon. Sexual and Relationship Therapy, 26(3), 281–287. doi:10.1080/14681994.2011.595401.

Brady, S. S., Iantaffi, A., Galos, D. L., & Rosser, B. (2013). Open, closed, or in between: Relationship configuration and condom use among men who use the internet to seek sex with men. AIDS and Behavior, 17(4), 1499–1514.

Brandon, M. (2011). The challenge of monogamy: Bringing it out of the closet and into the treatment room. Sexual and Relationship Therapy, 26(3), 271–277. doi:10.1080/14681994.2011.574114.

Buss, D. M. (1989). Sex differences in human mate preferences: Evolutionary hypotheses tested in 37 cultures. Behavioral and Brain Sciences, 12, 1–49.

Buss, D. (2013). Mate preferences questionnaire. Measurement instrument database for the social sciences. Retrieved from www.midss.ie

Conley, T. D., Moors, A. C., Matsick, J. L., & Ziegler, A. (2013). The fewer the merrier?: Assessing stigma surrounding consensually non-monogamous romantic relationships. Analyses of Social Issues and Public Policy (ASAP), 13(1), 1–30. doi:10.1111/j.1530-2415.2012.01286.x.

Diamond, L. M. (2004). Emerging perspectives on distinctions between romantic love and sexual desire. Current Directions in Psychological Science, 13, 116–119.

Diener, E., Gohm, C. L., Suh, E., & Oishi, S. (2000). Similarity of the relations between marital status and subjective well-being across cultures. Journal of Cross-Cultural Psychology, 31, 419–436. doi:10.1177/0022022100031004001.

Dow, M. M., & Eff, E. A. (2013). When one wife is enough: A cross-cultural study of the determinants of monogamy. Journal of Social, Evolutionary, and Cultural Psychology, 7(3), 211–238. doi:10.1037/h0099200.

Drake, C. R., & McCabe, M. P. (2000). Extrarelationship involvement among heterosexual males: An explanation based on the theory of planned behavior, relationship quality, and past behavior. Journal of Applied Social Psychology, 30, 1421–1439.

Feldman, R., Weller, A., Zagoory-Sharon, O., & Levine, A. (2007). Evidence for a neuroendocrinological foundation of human affiliation: Plasma oxytocin levels across pregnancy and the postpartum period predict mother-infant bonding. Psychological Science, 18, 965–970.

Finn, M. D., Tunariu, A. D., & Lee, K. C. (2012). A critical analysis of affirmative therapeutic engagements with consensual non-monogamy. Sexual and Relationship Therapy, 27(3), 205–216. doi:10.1080/14681994.2012.702893.

Hoff, C. C., Beougher, S. C., Chakravarty, D., Darbes, L. A., & Neilands, T. B. (2010). Relationship characteristics and motivations behind agreements among gay male couples: Differences by agreement type and couple serostatus. AIDS Care, 22, 827–835.

Hosking, W. (2013a). Agreements about extra-dyadic sex in gay men's relationships: Exploring differences in relationship quality by agreement type and rule-breaking behavior. Journal of Homosexuality, 60(5), 711–733. doi:10.1080/00918369.2013.773819.

Hosking, W. (2013b). Satisfaction with open sexual agreements in Australian gay men's relationships: The role of perceived discrepancies in benefit. Archives of Sexual Behavior, 42(7), 1309–1317. doi:10.1007/s10508-012-0005-9.

Khaleque, A. R., & Rohner, N. (2004). Intimate adult relationships, quality of life and psychological adjustment. Social Indicators Research, 69, 351–360.

Kruger, D. J., Fisher, M. L., Edelstein, R. S., Chopik, W. J., Fitzgerald, C. J., & Strout, S. L. (2013). Was that cheating? Perceptions vary by sex, attachment anxiety, and behavior. Evolutionary Psychology, 11(1), 159–171.

Mark, K., Rosenkrantz, D., & Kerner, I. (2014). 'Bi'ing into monogamy: Attitudes toward monogamy in a sample of bisexual-identified adults. Psychology of Sexual Orientation and Gender Diversity, 1(3), 263–269. doi:10.1037/sgd0000051.

Parsons, J. T., Starks, T. J., DuBois, S., Grov, C., & Golub, S. A. (2013). Alternatives to monogamy among gay male couples in a community survey: Implications for mental health and sexual risk. Archives of Sexual Behavior, 42(2), 303–312. doi:10.1007/s10508-011-9885-3.

Pines, A., & Aronson, E. (1983). Antecedents, correlates, and consequences of sexual jealousy. Journal of Personality, 51, 108–136.

Stutzer, A., & Frey, B. S. (2006). Does marriage make people happy, or do happy people get married? Journal of Socio-Economics, 35(2), 326–347.

Waite, L. J., Luo, Y., & Lewin, A. C. (2009). Marital happiness and marital stability: Consequences for psychological well-being. Social Science Research, 38(1), 201–212. doi:10.1016/j.ssresearch.2008.07.001.

Walster, E., Walster, G. W., & Berscheid, E. (1978). Equity: Theory and Research. Boston, MA: Allyn & Bacon.

Wilson, K., Mattingly, B. A., Clark, E. M., Weidler, D. J., & Bequette, A. W. (2011). The gray area: Exploring attitudes toward infidelity and the development of the perceptions of dating infidelity scale. The Journal of Social Psychology, 151(1), 63–86.

Zandbergen, D. L., & Brown, S. G. (2015). Culture and gender differences in romantic jealousy. Personality and Individual Differences, 72, 122–127. doi:10.1016/j.paid.2014.08.035.

Zimmerman, K. J. (2012). Clients in sexually open relationships: Considerations for therapists. Journal of Feminist Family Therapy: An International Forum, 24(3), 272–289. doi:10.1080/08952833.2012.648143.
Ethics declarations
Conflict of interest
The author declares she has no conflict of interest.
Human and Animal Rights
All procedures performed in studies involving human participants were in accordance with the ethical standards of the institutional and/or national research committee and with the 1964 Helsinki declaration and its later amendments or comparable ethical standards.
Informed Consent
Informed consent was obtained from all individual participants included in the study.
About this article
Cite this article
Cohen, M.T. An Exploratory Study of Individuals in Non-traditional, Alternative Relationships: How "Open" Are We?. Sexuality & Culture 20, 295–315 (2016). https://doi.org/10.1007/s12119-015-9324-z
Keywords
Open relationships

Consensually non-monogamous

Relationship configurations

Perceptions of cheating