Abstract
A number of journalists and scholars have pointed to the sexual objectification of women and men in popular media to argue that Western culture has become "sexualized" or even "pornified." Yet it is not clear whether men or women have become more frequently—or more intensely sexualized—over time. In a longitudinal content analysis of images of women and men on more than four decades of Rolling Stone magazine covers (1967–2009), we begin to answer such questions. Using a unique analytical framework that allows us to measure both the frequency and intensity of sexualization, we find that sexualized images of men and women have increased, though women continue to be more frequently sexualized than men. Yet our most striking finding is the change in how women—but not men—are sexualized. Women are increasingly likely to be "hypersexualized," but men are not. These findings not only document changes in the sexualization of men and women in popular culture over time, they also point to a narrowing of the culturally acceptable ways for "doing" femininity as presented in popular media.
This is a preview of subscription content, log in to check access.
Access options
Buy single article
Instant access to the full article PDF.
US$ 39.95
Price includes VAT for USA
Subscribe to journal
Immediate online access to all issues from 2019. Subscription will auto renew annually.
US$ 99
This is the net price. Taxes to be calculated in checkout.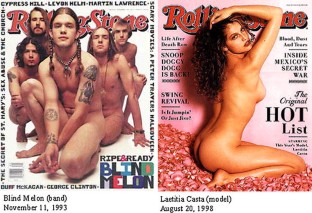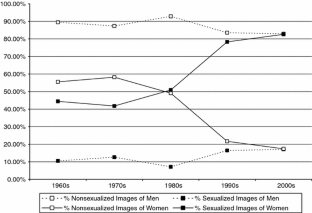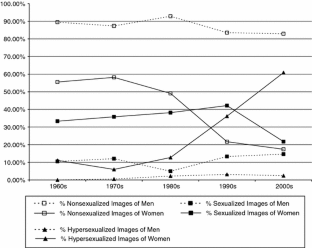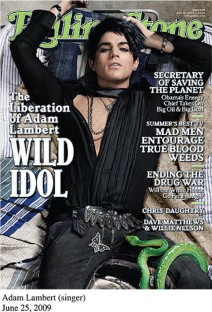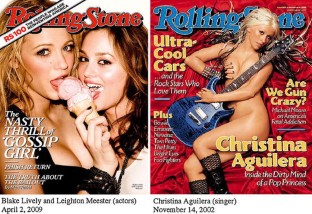 Notes
1.

For the "text" variable, Kappa = .887 (p < .001); "body," Kappa = .876 (p < .001); "mouth," Kappa = .722 (p < .001); "pose," Kappa = .831 (p < .001); "breasts/chest," Kappa = .739 (p < .001); "touch," Kappa = .726 (p < .001).

2.

Some might attribute the increase in the hypersexualization of women on the cover of Rolling Stone to a change in management: In 2002, Rolling Stone hired a new managing editor, Ed Needham, who was the former editor of FHM—the rather notorious "lad mag" that regularly features scantily-clad women on its covers. A closer look at our data, however, reveals a strong increase in the hypersexualization of women on the cover of Rolling Stone since the 1980s. Moreover, the proportion of hypersexualized images of women actually peaked at 78% in 1999, well before Needham's tenure. Hypersexualized images of women reached their second highest point (75%) in 2002, the first year of Needham's appointment, and then again in 2006, after Needham's 2-year stint at the magazine had ended.

3.

Although a number of researchers have found that nonwhites are often sexualized in print media (Collins 1990; Hansen and Hansen 2000; West 2009), our analyses show no discernable difference in the frequency or intensity of sexualization of whites and nonwhites. Overall, 12% of women and 12% of men on the cover of Rolling Stone were nonwhite. They were nonsexualized, sexualized, and hypersexualized at about the same rate as their white counterparts.
References
Abramson, E., & Valene, P. (1991). Media use, dietary restraint, bulimia, and attitudes toward obesity: A preliminary study. British Review of Bulimia and Anorexia Nervosa, 5, 73–76.

American Psychological Association (APA) Task Force. (2007). Report of the APA task force on the sexualization of girls. Washington, DC: American Psychological Association. Retrieved 10 March 2010 from http://www.apa.org/pi/women/programs/girls/report-full.pdf.

Attwood, F. (2009). Mainstreaming sex: The sexualisation of western culture. London: I.B. Tauris.

Aubrey, J., Stevens, J., Henson, K., Hopper, M., & Smith, S. (2009). A picture is worth twenty words (about the self): Testing the priming influence of visual sexual objectification on women's self-objectification. Communication Research Reports, 26, 271–284.

Aubrey, J. S., & Taylor, L. (2009). The role of lad magazines in priming men's chronic and temporary appearance-related schemata: An investigation of longitudinal and experimental findings. Human Communication Research, 35, 28–58.

Baumann, S. (2008). The moral underpinnings of beauty: A meaning-based explanation for light and dark complexions in advertising. Poetics, 36, 2–23.

Binns, R. K. (2006) 'On the cover of a Rolling Stone': A content analysis of gender representation in popular culture between 1967–2004. M.A. Thesis, Wichita State University, Wichita, KS.

Bordo, S. (1999). The male body: A new look at men in public and in private. New York: Farrar, Straus, and Giroux.

Bradley, P. (2004). Mass media and the shaping of American feminism, 1963–1975. Jackson, MS: University Press of Mississippi.

Brown, J., Halpern, C. T., & L'Engle, K. L. (2005). Mass media as a sexual super peer for early maturing girls. Journal of Adolescent Health, 36, 420–427.

Brown, J., L'Engle, K. L., Pardun, C., Guo, G., Kenneavy, K., & Jackson, C. (2006). Sexy media matter: Exposure to sexual content in music, movies, and magazines predicts black and white adolescents' sexual behavior. Pediatrics, 117, 1018–1027.

Castro, G. (1990). American feminism: A contemporary history. Paris, France: Presses de la Fondation Nationale des Sciences Politiques.

Collins, P. H. (1990). Black feminist thought: Knowledge, consciousness, and the politics of empowerment. New York: Routledge.

Connell, R. W. (1987). Gender & power: Society, the person, and sexual politics. Palo Alto, CA: Stanford University Press.

de Beauvoir, S. (1949, 1972). The second sex. New York: Penguin.

Dines, G. (2010). Pornland: How porn has hijacked our sexuality. Boston, MA: Beacon Press.

Ezzell, M. (2009). Pornography, lad mags, video games, and boys: Reviving the canary in the cultural coal mine. In S. Olfman (Ed.), The sexualization of childhood. Westport, CT: Praeger.

Farley, M. (2009). Prostitution and the sexualization of children. In S. Olfman (Ed.), The sexualization of childhood. Westport, CT: Praeger.

Frette, J. (2009). Men are altered and objectified too: Ryan Reynolds graces the cover of Entertainment Weekly. Retrieved 20 December 2010 http://www.examiner.com/women-s-issues-in-national/men-are-altered-and-objectified-too-ryan-reynolds-graces-the-cover-of-entertainment-weekly.

Gatten, J. (1993). The Rolling Stone index: Twenty-five years of popular culture, 1967–1991. Ann Arbor, MI: Popular Culture, Ink.

Gill, R. (2003). From sexual objectification to sexual subjectification: The resexualisation of women's bodies in the media. Feminist Media Studies, 3, 100–106.

Gill, R. (2007). Gender and the media. Cambridge, UK: Polity Press.

Gill, R. (2008). Empowerment/sexism: Figuring female sexual agency in contemporary advertising. Feminism & Psychology, 18, 35–60.

Gill, R. (2009). Beyond the "sexualization of culture" thesis: An intersectional analysis of "sixpacks," "midriffs" and "hot lesbians" in advertising. Sexualities, 12, 137–160.

Goffman, E. (1979). Gender advertisements. Cambridge, MA: Harvard University Press.

Groesz, L., Levine, M., & Murnen, S. (2002). The effect of experimental presentation of thin media images on body satisfaction: A meta-analytic review. International Journal of Eating Disorders, 31, 1–16.

Gross, L. (2001). Up from invisibility: Lesbians, gay men, and the media in America. New York: Columbia University Press.

Hansen, C., & Hansen, R. (2000). Music and music videos. In D. Zillmann & P. Vorderer (Eds.), Media entertainment: The psychology of its appeal. Mahwah, NJ: Erlbaum.

Hargreaves, D., & Tiggemann, M. (2004). Idealized media images and adolescent body image: "Comparing" boys and girls. Body Image, 1, 351–361.

Harrison, K. (2000). The body electric: Thin-ideal media and eating disorders in adolescents. Journal of Communication, 50, 119–143.

Hofschire, L., & Greenberg, B. (2001). Media's impact on adolescents' body dissatisfaction. In J. D. Brown & J. R. Steele (Eds.), Sexual teens, sexual media. Mahwah, NJ: Erlbaum.

Holmstrom, A. (2004). The effects of the media on body image: A meta-analysis. Journal of Broadcasting & Electronic Media, 48, 196–217.

Jhally, S. (1989). Advertising, gender and sex: What's wrong with a little objectification? In R. Parmentier & G. Urban (Eds.), Working papers and proceedings of the center for psychosocial studies (No. 29). Retrieved 8 July 2010. https://mediasrv.oit.umass.edu/~sutj/Objectification.pdf.

Johnson, S. (2007). Promoting easy sex without genuine intimacy: Maxim and Cosmopolitan cover lines and cover images. In M.-L. Galician & D. L. Merskin (Eds.), Critical thinking about sex, love, romance in the mass media: Media literacy applications. Mahwah, NJ: Erlbaum.

Kabouter. (2010). Rolling Stone magazine cover gallery. Retrieved 1 April 2010. http://rateyourmusic.com/list/kabouter/rolling_stone_magazine_cover_gallery.

Kalof, L. (1999). The effects of gender and music video imagery on sexual attitudes. Journal of Social Psychology, 139, 378–385.

Kang, M.-E. (1997). The portrayal of women's images in magazine advertisements: Goffman's gender analysis revisited. Sex Roles, 37, 979–996.

Krassas, N., Blauwkamp, J., & Wesselink, P. (2001). Boxing Helena and corseting Eunice: Sexual rhetoric in Cosmopolitan and Playboy magazines. Sex Roles, 44, 751–771.

Krassas, N., Blauwkamp, J., & Wesselink, P. (2003). "Master your johnson": Sexual rhetoric in Maxim and Stuff magazines. Sexuality and Culture, 7, 98–119.

Lambiase, J., & Reichert, T. (2006). Sex and the marketing of contemporary consumer magazines: How men's magazines sexualized their covers to compete with Maxim. In T. Reichert & J. Lambiase (Eds.), Sex in consumer culture: The erotic content of media, marketing. Mahwah, NJ: Erlbaum.

Landis, J. R., & Koch, G. G. (1977). The measurement of observer agreement for categorical data. Biometrics, 33, 159–174.

Lanis, K., & Covell, K. (1995). Images of women in advertisements: Effects on attitudes related to sexual aggression. Sex Roles, 32, 639–649.

Levy, A. (2005). Female chauvinist pigs: Women and the rise of raunch culture. New York: Free Press.

Lindner, K. (2004). Images of women in general interest and fashion magazine advertisements from 1955 to 2002. Sex Roles, 51, 409–421.

Lucas, A., Beard, C. M., O'Fallon, W. M., & Kurland, L. (1991). 50-year trends in the incidence of anorexia nervosa in Rochester, Minn.: A population-based study. American Journal of Psychiatry, 148, 917–922.

Machia, M., & Lamb, S. (2009). Sexualized innocence: Effects of magazine ads portraying adult women as sexy little girls. Journal of Media Psychology, 21, 15–24.

MacKay, N., & Covell, K. (1997). The impact of women in advertisements on attitudes toward women. Sex Roles, 36, 573–583.

Malamuth, N., Addison, T., & Koss, M. (2000). Pornography and sexual aggression: Are there reliable effects and can we understand them? Annual Review of Sex Research, 11, 26–91.

Malamuth, N., & Check, J. (1981). The effects of mass media exposure on acceptance of violence against women: A field experiment. Journal of Research in Personality, 15, 436–446.

McNair, B. (2002). Striptease culture: Sex, media and the democratization of desire. London, New York: Routledge.

McRobbie, A. (2004). The rise and rise of porn chic. Times Higher Education Supplement. Retrieved 1 June 2010. http://www.timeshighereducation.co.uk/story.asp?sectioncode=26&storycode=182087.

Milburn, M., Mather, R., & Conrad, S. (2000). The effects of viewing R-rated movie scenes that objectify women on perceptions of date rape. Sex Roles, 43, 645–664.

Nardi, P., & Bolton, R. (1998). Gay bashing: Violence and aggression against gay men and lesbians. In P. M. Nardi & B. E. Schneider (Eds.), Social perspectives in lesbian, gay studies: A reader. London: Routledge.

Nitz, M., Reichert, T., Aune, A. S., & Velde, A. V. (2007). All the news that's fit to see? The sexualization of television news journalists as a promotional strategy. In T. Reichert (Ed.), Investigating the use of sex in media promotion, advertising. Binghamton, NY: Best Business Books.

Ohbuchi, K.-I., Ikeda, T., & Takeuchi, G. (1994). Effects of violent pornography upon viewers' rape myth beliefs: A study of Japanese males. Psychology, Crime, and the Law, 1, 71–81.

Olfman, S. (Ed.). (2009). The sexualization of childhood. Westport, CT: Praeger.

Paasonen, S., Nikunen, K., & Saarenmaa, L. (Eds.). (2007). Pornification: Sex and sexuality in media culture. Oxford: Berg.

Paek, H.-J., & Nelson, M. (2007). A cross-cultural and cross-media comparison of female nudity in advertising. In T. Reichert (Ed.), Investigating the use of sex in media promotion, advertising. Binghamton, NY: Best Business Books.

Pardun, C., L'Engle, K. L., & Brown, J. (2005). Linking exposure to outcomes: Early adolescents' consumption of sexual content in six media. Mass Communication and Society, 8, 75–91.

Paul, P. (2005). Pornified: How pornography is transforming our lives, our relationships, and families. New York: Times Books.

Pope, H. Jr., Phillips, K., & Olivardia, R. (2000). The Adonis complex: The secret crisis of male body obsession. New York: Free Press.

Reichert, T. (2003). The erotic history of advertising. Amherst, NY: Prometheus.

Reichert, T., & Carpenter, C. (2004). An update on sex in magazine advertising: 1983 to 2003. Journalism & Mass Communications Quarterly, 81, 823–837.

Reichert, T., Lambiase, J., Morgan, S., Carstarphen, M., & Zavoina, S. (1999). Cheesecake and beefcake: No matter how you slice it, sexual explicitness in advertising continues to increase. Journalism & Mass Communication Quarterly, 76, 7–20.

Roberts, T.-A., & Gettman, J. (2004). Mere exposure: Gender differences in the negative effects of priming a state of self-objectification. Sex Roles, 51, 17–27.

Rohlinger, D. (2002). Eroticizing men: Cultural influences on advertising and male objectification. Sex Roles, 46, 61–74.

Rolling Stone. (2006). 1,000 covers: A history of the most influential magazine in pop culture. New York: Abrams.

Rush, E., & La Nauze, A. (2006). Corporate paedophilia: Sexualisation of children in Australia. Canberra: The Australia Institute.

Schwarz, N., & Kurz, E. (1989). What's in a picture? The impact of face-ism on trait attribution. European Journal of Social Psychology, 19, 311–316.

Soley, L., & Kurzbard, G. (1986). Sex in advertising: A comparison of 1964 and 1984 magazine advertisements. Journal of Advertising, 15, 46–64.

Soley, L., & Reid, L. (1988). Taking it off: Are models in magazine ads wearing less? Journalism Quarterly, 65, 960–966.

Stice, E., Schupak-Neuberg, E., Shaw, H., & Stein, R. (1994). Relation of media exposure to eating disorder symptomatology: An examination of mediating mechanisms. Journal of Abnormal Psychology, 103, 836–840.

Taylor, E., & Sharkey, L. (2003). Em & Lo's sex myths: Women's bodies are sexier. The Guardian (22 March). Retrieved 20 December 2010. http://www.guardian.co.uk/lifeandstyle/2003/mar/22/weekend.emmataylor.

Thompson, M. (2000). Gender in magazine advertising: Skin sells best. Clothing and Textiles Research Journal, 18, 178–181.

Tiggeman, M., & Slater, A. (2001). A test of objectification theory in former dancers and non-dancers. Psychology of Women Quarterly, 2, 57–64.

Turner, S., Hamilton, H., Jacobs, M., Angood, L., & Dwyer, D. H. (1997). The influence of fashion magazines on the body image satisfaction of college women: An exploratory analysis. Adolescence, 32, 603–614.

Umiker-Sebeok, J. (1996). Power and construction of gendered spaces. International Review of Sociology, 6, 389–404.

Villani, S. (2001). Impact of media on children and adolescents: A 10-year review of the research. Journal of the American Academy of Child and Adolescent Psychiatry, 40, 392–401.

Ward, L. M. (2002). Does television exposure affect emerging adults' attitudes and assumptions about sexual relationships? Correlational and experimental confirmation. Journal of Youth & Adolescence, 31, 1–15.

Ward, L., Monique, E., & Hansbrough, E. W. (2005). Contributions of music video exposure to black adolescents' gender and sexual schemas. Journal of Adolescent Research, 20, 143–166.

Weaver, J., Masland, J., & Zillmann, D. (1984). Effect of erotica on young men's aesthetic perception of their female sexual partners. Perceptual and Motor Skills, 58, 929–930.

West, C. (2009). Still on the auction block: The sexploitation of black adolescent girls in rape music and hip-hop culture. In S. Olfman (Ed.), The sexualization of childhood. Westport, CT: Praeger.

West, C., & Fenstermaker, S. (1995). Doing difference. Gender & Society, 9, 8–37.

West, C., & Zimmerman, D. (1987). Doing gender. Gender & Society, 1, 125–151.

Zillmann, D., & Bryant, J. (1988). Pornography's impact on sexual satisfaction. Journal of Applied Social Psychology, 18, 438–453.
Acknowledgments
We are grateful to the Editor and anonymous reviewers for their helpful comments. We also wish to thank Samantha Kwan and Elizabeth Borland for feedback on an earlier draft of this article, and Paul Durlak and Sarah Glann for research assistance.
About this article
Cite this article
Hatton, E., Trautner, M.N. Equal Opportunity Objectification? The Sexualization of Men and Women on the Cover of Rolling Stone . Sexuality & Culture 15, 256–278 (2011). https://doi.org/10.1007/s12119-011-9093-2
Keywords
Sexual socialization

Sexualization

Gender

Media

Popular culture