Abstract
This article evaluates the effects of violence related to the operations of drug-trafficking organizations (DTOs) on electoral competition, defined by the number of electoral alternatives or candidates in Mexico's municipal elections. I find that the killing and threatening of politicians, which are effective tools to influence politics, jeopardizes competition in violent Mexican municipalities by reducing the number of candidates. This result is not only probabilistically robust but also meaningful. The number of candidates can fall to one in the more violent municipalities. However, DTOs can also provide (illegal) funding to politicians to facilitate their candidacies. I find that as confrontation intensifies among DTOs, the negative effect of violence on electoral competition moderates. This finding suggests that DTOs finance candidates to capture municipal governments when facing intense competition and attacks from other DTOs. In addition, DTOs in this context may also provide protection to their preferred candidates from other competing organizations. These factors temper the negative effect of violence on electoral competition.
Access options
Buy single article
Instant access to the full article PDF.
US$ 39.95
Tax calculation will be finalised during checkout.
Subscribe to journal
Immediate online access to all issues from 2019. Subscription will auto renew annually.
US$ 79
Tax calculation will be finalised during checkout.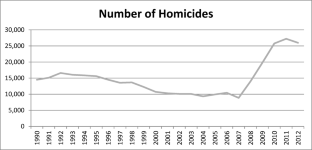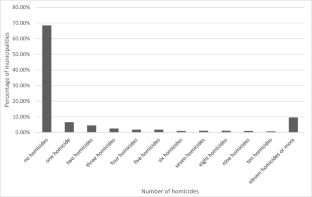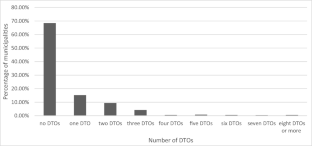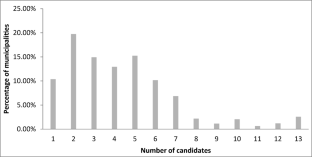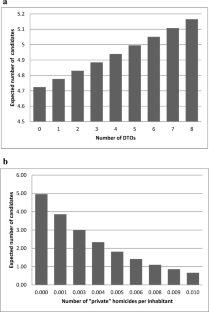 Notes
1.

Electoral competitiveness grows as main parties' electoral support becomes relatively more equal (Sartori 1976).

2.

For thorough analysis on the increasing importance of domestic markets for cartels in Mexico and Colombia, consult Durán-Martínez (2015b).

3.

4.

Consult Phillips (2015) for a more detailed explanation of the motives of DTOs in Mexico. Unlike the guerrillas in Colombia or terrorist groups in other countries that aspire to political changes at the national scale and are ideologically driven, DTOs are much more pragmatic organizations that mainly pursue economic profits, and their interference in politics is instrumental to secure or increase their economic gains (Koivu 2015; Phillips 2015; Williams 2012).

5.

The number of homicides (and homicide rates) is the measure most frequently employed by studies on violence. The main advantage of this measure is its consistency and simplicity on how rates of violence are calculated across time (Buvinic and Morrison 1999; Eisner 2012; Indermaur 1996). There exist other (less frequently employed) measures of violence such as victimization surveys, reports from the police or the healthcare sector, and estimations of the number of healthy years lost as a product of violence (Buvinic and Morrison 1999). However, surveys about victimization and health reports tend to under-report the number of violent events occurred, and calculations based on the number of years lost in adequate health become too complex to accomplish (Buvinic and Morrison 1999).

6.

Dataset gathered by the Drug Policy Program at the Center for Research and Teaching in Economics (CIDE-PPD)

7.

8.

The Calderón administration also created a new Federal Police force and the new Federal Ministerial Police (Astorga and Shirk 2010).

9.

For instance, the Mexican government claims to have killed or arrested twenty leaders of DTOs between 2007 and 2010 (Pereyra 2012).

10.

For instance, Lessing (2015) argues that criminal organizations aim to influence state's behavior to favor the implementation of desired policy.

11.

Eck and Gersh (2000) refer to low levels of violence and a monopolistic structure of the drug market as 'concentrated industry'.

12.

Once the number of electoral alternatives is altered, DTOs may continue influencing electoral results by increasing the concentration of votes for their preferred candidates. Consult Ponce (2016a) for a description of these tactics.

13.

Online Appendix B shows several examples of assassinated candidates during recent campaigns for municipal elections.

14.

An illustrative example corresponds to what happened in the State of Guerrero in 2012 where DTOs threatened 15 candidates for mayors. As a consequence, these candidates decided to abandon their campaigns (La Policiaca 2012). These were former candidates in the municipalities of Tierra Caliente, Zona Norte, and Montaña in the State of Guerrero.

15.

Online Appendix C lists examples of assassinated mayors during recent years. In addition, the Universal newspaper counted that there were 52 mayors assassinated, 44 mayors' relatives killed, 5 candidates murdered, and 70 former mayors assassinated between 2005 and 2016 (see http://interactivo.eluniversal.com.mx/2016/alcaldes-asesinados/).

16.

There are some differences in the strength of party identification across Mexican political parties. While the PAN possesses this advantage over its competitors in some states of the north of the country, the Partido de la Revolución Democrática (PRD) have such advantage in some states of the south. The Partido de la Revolución Institucional (PRI) holds such advantages in most municipalities throughout Mexico (Klesner 2012; Somuano 2014).

17.

For example, the PRD warned that DTOs could place "their" candidates in the 2014 local elections in several municipalities of seven violent states where the concentration of DTOs was greatest: Jalisco, Michoacán, Colima, Guerrero, Morelos, State of Mexico, and Guanajuato. The PRD requested that the National Electoral Institute (INE) and the Secretary of Governance intervene to prevent this criminal intrusion in politics (Quadratín Michoacán 2014). Online Appendix A shows examples of illegal financing to municipal candidates or subnational parties.

18.

For instance, Sberna and Olivieri (2014) confirm that there is abundant evidence of collusion between candidates or elected officials and criminal groups both at subnational and national levels.

19.

This periodicity ensures the inclusion of at least one observation (one election) per each municipality. Data for most Oaxacan municipalities is not available for most of the independent variables used in the analyses. Unfortunately, this fact reduces the number of available observations. For some municipalities, it was possible to include more than one observation since municipal elections occur every third year (dependent on the electoral calendars that vary across states). Of course, this selection is random because it is determined exogenously by the electoral calendar. Even when one of these observations is dropped (when there are two observations per municipality), empirical support for both hypotheses is also valid and robust.

20.

During the analyzed period, in approximately 55% of observations, violence disappeared at some moment between December 2006 and November 2011 (prior to the municipal election). As stated above, violence is highly concentrated in some territories, but it is also volatile: it disappeared in some areas and grew rapidly in others during this period. Appendix 1 presents descriptive statistics of the variables used in analyses. Appendix 2 provides descriptions and definitions of variables used in analyses.

21.

The Gini coefficient is commonly employed to measure the degree of inequality to compare units of analysis (Creedy 1998). It takes values that range from 0 in cases of perfect equality to 1 in cases of perfect inequality. The Gini coefficient is less likely to underestimate the segments with lower values than other concentration measures such as Laakso-Taagepera or Herfindahl-Hirschman (Avila et al. 2012; Hall and Tideman 1967).

22.

Studies measuring electoral competitiveness commonly employ the difference in percentages of votes between the first and the second place in an electoral contest (Blais 2000; De Feo and De Luca 2017; Endersby et al. 2002). Unlike the difference in percentages of votes, the Gini coefficient -- as a measure of electoral competitiveness -- takes into account the distribution of votes for all candidates in the contest.

23.

These municipalities were, however, included to test the first hypothesis as they can serve as a quasi-control group for examining the effects of violence on electoral competition. In testing the second hypothesis, their inclusion could produce bias in the results as DTOs are very unlikely to be present in these territories. Certainly, these regions do not help test the effects of the dynamics of competition (monopoly or several competitors) among DTOs on the number of candidates as DTOs do not operate in these territories.

24.

As additional robustness checks, I first assess whether variations in local electoral rules are able to change previous results. There are a few states where the election of municipal councilmen employs a different electoral formula (proportional representation). These states are Campeche, Chihuahua, Coahuila, Durango, Morelos, Puebla, Estado de México, Tlaxcala, and Veracruz. For this purpose, I include a dummy variable to examine whether or not this variable is statistically significant, and more importantly, whether or not this variable modifies previous results. I find it does not change previous results. Online Appendix D displays in its first three models the average marginal effects of the independent variables.

Second, I introduce a variable that counts the number of times the PRI lost in the last four municipal elections. Since the PRI ruled Mexico for several decades before they lost the presidential elections in 2000, there could be authoritarian enclaves in which incentives for other candidates to run might be weak. I used the CIDAC Database to construct this variable. Model specifications from 4 to 9 in Online Appendix D display these results. The inclusion of this variable does not change previous results either. These additional control variables change neither the statistical significance of the key independent variables nor their magnitudes in relevant amounts.

Third, I control for regional heterogeneity. For this purpose, I include three dummy variables to account for the spatial location of the Mexican states: municipalities in states sharing a border with the United States, municipalities in states that border the Pacific Ocean, and municipalities in states that border the Gulf of Mexico. In particular, these locations are usually employed by DTOs to transport illegal products to the United States. Their inclusion does not change previous results. The last three model specifications of Online Appendix D present these outcomes. These last specifications in Online Appendix D put together all these additional control variables.

Finally, in Online Appendix E, I include an additional control variable that quantifies the number of assassinations of candidates and/or other attacks against local politicians when at least one homicide occurred. I employed the Drug Policy Program at the Center for Research and Teaching in Economics (CIDE) to construct this variable. This exercise becomes helpful as it proves that successful attacks on politicians reduce electoral competition. It helps isolate the impact of one of the arguments (killings of politicians) that supports the validity of Hypothesis 1.

25.

I employ the first specification of Table 2 to calculate these expected values of the number of candidates.
References
Acemoglu D, Robinson J, Santos R (2013) The Monopoly of Violence: Evidence from Colombia. Journal of European Economic Association 11(1):5–44

Aksoy D (2014) Elections and the Timing of Terrorist Attacks. The Journal of Politics 76(4):899–913

Albarracín J (2016) Criminalized Electoral Politics in Brazilian Urban Peripheries. Paper presented at the Annual Conference of the Latin American Studies Association, New York, NY, USA

Alesina A, Piccolo S, Pinotti P (2016) Organized Crime, Violence, and Politics. Available at https://ideas.repec.org/p/nbr/nberwo/22093.html

Astorga L (2007) Seguridad, Traficantes y Militares: el Poder y la Sombra. Tusquets, Mexico City

Astorga L, Shirk D (2010) Drug trafficking and counter-drug strategies in the us-mexican context. USMEX WP 10–01

Atuesta L, Ponce AF (2017) Meet the Narco: Increased Competition among Criminal Organisations and the Explosion of Violence in Mexico. Global Crime Availaable at http://www.tandfonline.com/doi/abs/10.1080/17440572.2017.1354520

Atuesta L, Siordia O, Madrazo A (2016) La 'Guerra Contra las Drogas en México: Registros (oficiales) de eventos durante el periodo de diciembre 2006 a noviembre 2011, Technical document, Drug Policy Program, CIDE

Avila F, Flores E, López-Gallo F, Márquez J (2012) Concentration Indicators: Assessing the Gap between Aggregate and Detailed Data. Article presented at the Conference of the Irving Fisher Committee, Basel, August 28–29. Available at http://www.bis.org/ifc/publ/ifcb36aj.pdf

Bailey J, Flores-Macías G (2007) Violent Crime and Democracy: Mexico in Comparative Perspective. Article presented at the Annual Conference of the Midwest Political Science Association, Chicago, IL, USA

Bailey J, Taylor M (2009) Evade, Corrupt, or Confront? Organized Crime and the State in Brazil and Mexico. Journal of Politics in Latin America 1(2):3–29

Blais A (2000) To Vote or Not to Vote? The Merits and Limits of Rational Choice Theory. University of Pittsburgh Press, Pittsburgh

Block D (2014) Crime and Punishment? Violence and Incumbent Party Support in Mexico's Municipal and Federal Elections, 2001–2012. Article presented at the Annual Conference of the Midwest Political Science Association, Chicago, IL, USA

Bratton M (2008) Vote Buying and Violence in Nigerian Elections. Elect Stud 27(4):621–632

Buvinic M, Morrison A (1999) How is Violence Measured? Inter-American Development Bank. Working Paper

Cabrero E, Arellano D (2011) Los gobiernos municipales a debate. Un análisis de la institución municipal a través de la encuesta INEGI 2009. México: CIDE

Cadena Montenegro JL (2010) Geopolítica del Narcotráfico. México y Colombia: La Equivocación en el Empleo de las Fuerzas Militares. Revista Mexicana de Ciencias Políticas y Sociales 52(210):45–58

Calderón G, Robles G, Díaz-Cayeros A, Magaloni B (2015) The Beheading of DTOs and the Dynamics of Violence in Mexico's Drug War. J Confl Resolut 59(8):20–1485

Caro V (2013) Political Competition amid Violence: Evidence from Colombia. Doctoral dissertation, University of Houston

Carvajal-Dávila R (1998) Todo lo que Debería Saber sobre el Crimen Organizado en México. Editorial Océano, México

Casas-Zamora K (2010) Mexico's Forever War. Foreign Policy, December 23. Available at http://www.foreignpolicy.com/articles/2010/12/22mexico_s_forever_war

Chabat J (1994) Seguridad Nacional y Narcotráfico: Vínculos Reales e Imaginarios. Política y Gobierno 1(1):97–123

Chabat J (2005) Narcotráfico y Estado: El Discreto Encanto de la Corrupción. Letras Libres, Septiembre, 14–17

Chabat J (2010) La Respuesta del Gobierno de Calderón al Desafío del Narcotráfico: Entre lo Malo y lo Peor. CIDE Working Paper 196

Chacón M (2013) In the Line of Fire: Political Violence and Decentralization in Colombia. Working Paper. NYU-Abu Dhabi. Available at http://papers.ssrn.com/sol3/papers.cfm?abstract_id=2386667

Chaturvedi A (2005) Rigging Elections with Violence. Public Choice 125(1/2):189–202

Collier P, Vicente P (2012) Violence, Bribery, and Fraud: The Political Economy of Elections in Sub-Saharan Africa. Public Choice 153(1):117–147

Collier P, Vicente P (2014) Votes and Violence: Evidence from a Field Experiment in Nigeria. Econ J 124(574):327–355

Corcorán P (2011) Guatemalan Mayoral Candidate Killed. InSight Crime, Investigation and Analysis of Organized Crime. June, 17. Available at: http://www.insightcrime.org/news-briefs/guatemalan-mayoral-candidate-killed

Cox G (1997) Making Votes Count: Strategic Coordination in the World's Electoral Systems. Cambridge University Press, Cambridge

Creedy J (1998) The Dynamics of Inequality and Poverty: Comparing Income Distributions. Edward Elgar, Northhampton

Dal Bó E, Dal Bó P, Di Tella R (2006) Plata or Plomo? Bribe and Punishment in a Theory of Political Influence. Am Polit Sci Rev 100(1):41–53

Daniele V (2009) Organized Crime and Regional Development: A Review of the Italian Case. Trends in Organized Crime 12(3):211–234

Daniele V (2017) Strike One to Educate One Hundred: Organized Crime, Political Selection and Politicians' Ability. Journal of Economic Behavior and Organization. Online First at: https://www.sciencedirect.com/science/article/pii/S0167268117301993

Daniele V, Dipoppa G (2017) Mafia, Elections, and Violence Against Politicians. J Public Econ 154:10–33

Daniele V, Geys B (2015) Organised Crime, Institutions and Political Quality: Empirical Evidence from Italian Municipalities. Econ J 125(586):233–255

De Feo G, De Luca G (2017) Mafia in the Ballot Box. Am Econ J Econ Pol 9(3):134–167

Dell M (2015) Trafficking Networks and the Mexican Drug War. Am Econ Rev 105(6):1738–1779

Dercon S, Gutiérrez-Romero R (2012) Triggers and Characteristics of the 2007 Kenyan Electoral Violence. World Dev 40(4):731–744

Dickenson M (2014) The Impact of Leadership Removal on Mexican Drug Trafficking Organizations. J Quant Criminol 30(4):651–676

Durán-Martínez A (2015a) To Kill and Tell? State Power, Criminal Competition, and Drug Violence. J Confl Resolut:1–27

Durán-Martínez A (2015b) Drugs around the Corner: Domestic Drug Markets and Violence in Colombia and Mexico. Latin American Politics and Society 57(3):122–146

Eck J, Gersh J (2000) Drug Trafficking as a Cottage Industry. In Illegal Drug Markets: From Research to Prevention Policy NY: Criminal Justice Press

Eisner M (2012) What Causes Large-scale Variation in Homicide Rates? University of Cambridge, Working Paper

Ellman M, Wantchekon L (2000) Electoral Competition under the Threat of Political Unrest. Q J Econ 115(2):499–531

Endersby J, Galatas S, Rackaway C (2002) Closeness counts in Canada: voter participation in the 1993 and 1997 federal elections. J Polit 64:610–631

Feddersen T, Sened I, Wright S (1990) Rational Voting and Candidate Entry under Plurality Rule. Am J Polit Sci 34(4):1005–1016

Flores C (2009) El Estado en Crisis: Crimen Organizado y Política. Desafíos para la Consolidación Democrática México: Centro de Investigaciones y Estudios Superiores de Antropología Social

Flores C (2012) La lógica del Botín: De la Cooptación del Estado y el Estado 'Fallido'. Arenas: Revista Sinaloense de Ciencias Sociales 13(30):11–44

García M, Hoskin G (2003) Political Participation and War in Colombia: An Analysis of the 2002 Elections. Working Paper No. 38. London School of Economics. Crisis States Program. Retrieved from https://assets.publishing.service.gov.uk/media/57a08d1eed915d622c0017b3/wp38.pdf

Gault D, Cabrero E, Montiel M, Aguilar I (2011) Gobierno y Administración Pública Municipal: Un Panorama de Fragilidad Institucionalizada. In: Los Gobiernos Municipales a Debate. Un Análisis de la Institución Municipal a Través de la Encuesta INEGI 2009. Mexico City: CIDE, pp. 29–116

Gibson E (2005) Boundary Control: Subnational Authoritarianism in Democratic Countries. World Politics 58:101–132

Giraudy A (2010) The Politics of Subnational Undemocratic Regime Reproduction in Argentina and Mexico. The Journal of Politics in Latin America 2(2):53–84

Guerrero Gutiérrez, E (2009) Narcotráfico, s.a. Nexos, January 1. Available at Available from http://www.nexos.com.mx/?p=12885

Guerrero Gutiérrez, E (2010) Cómo Reducir la Violencia en México. Nexos, November 1. Available from http://www.nexos.com.mx/?p=13997

Guerrero Gutiérrez, E (2011) La Raíz de la Violencia. Nexos, June 1. Available from http://www.nexos.com.mx/?p=14318

Hall M, Tideman N (1967) Measures of Concentration. J Am Stat Assoc 62(317):162–168

Indermaur D (1996) Violent Crime in Australia: Interpreting the Trends. Trends and Issues in Crime and Criminal Justice, Australian Institute of Criminology

Klesner J (2012) Regionalism in Mexican Electoral Politics. In: The Oxford Handbook of Mexican Politics. Oxford University Press, New York, pp 622–648

Koivu K (2015) In the Shadow of the State: Mafias and Illicit Markets. Comp Polit Stud 49(2):155–183

La Policiaca (2012) No Aparece Marcelo Avila; 15 Candidatos, Amenazados: PRI Guerrero. June 26. Available at http://www.lapoliciaca.com/nota-roja/no-aparece-marcelo-avila-15-candidatos-amenazados-pri-guerrero/

Lessing B (2015) Logics of Violence in Criminal War. J Confl Resolut 59(8):1486–1516

Ley S (2017) To Vote or not to Vote: How Criminal Violence Shapes Electoral Participation. Journal of Conflict Revolution 1–28. Online First at: http://journals.sagepub.com/doi/10.1177/0022002717708600

Long S (1997) Regression Models for Categorical and Limited Dependent Variables. Sage, Thousand Oaks

Luna S (2016) Dos Alcaldes y Tres Concejales Asesinados en 2016. El Salvador, July, 10. Available at: http://www.elsalvador.com/articulo/sucesos/dos-alcaldes-tres-concejales-asesinados-2016-118511

Méndez de Hoyos I (2012) Coaliciones Preelectorales y Competencia Partidista en México a Nivel Federal y Local (1994-2011). Política y Gobierno 19(2):147–198

Mickey R (2009) Paths out of Dixie: The Democratization of Authoritarian Enclaves in America's Deep South. Princeton University Press, Princeton

Montero A (2010) No Country for Leftists? Clientelist Continuity and the 2006 Vote in the Brazilian Northeast. Journal of Politics in Latin America 2(2):113–153

Montero JC (2012) La Estrategia contra el Crimen Organizado en México: Análisis del Diseño de la Política Pública. Perfiles Latinoamericanos 20(39):7–30

Moro F, Petrella A, Sberna S (2016) The Politics of Mafia Violence: Explaining Variation in Mafia Killings in Southern Italy (1983-2008). Terrorism and Political Violence 28(1):90–113

O'Donnell G (1993) On the State, Democratization, and Some Conceptual Problems: A Latin American View with Glances at Some Post-Communist Countries. World Dev 21(8):1355–1369

Osorio J (2015) The Contagion of Drug Violence: Spatiotemporal Dynamics of the Mexican War on Drugs. J Confl Resolut 58(8):1403–1432

Pereyra G (2012) México: Violencia Criminal y 'Guerra Contra el Narcotráfico'. Rev Mex Sociol 74(3):429–460

Phillips B (2015) How Does Leadership Decapitation Affect Violence? The Case of Drug Trafficking Organizations in Mexico. J Polit 77(2):324–336

Pinotti P (2012) Organized Crime, Violence, and the Quality of Politicians: Evidence from Southern Italy. Paolo Baffi Centre Research No. 2012–124

Ponce AF (2016a) Cárteles de Droga, Violencia y Competitividad Electoral a Nivel Local: Evidencia del Caso Mexicano. Lat Am Res Rev 51(4):62–85

Ponce AF (2016b) From freedom to repression and violence: the evolution of drug policy in Peru. In: In drug policies and the politics of drugs in the Americas. Springer International Publishing, Switzerland

Quadratín-Michoacán (2014) Ante SEGOB e INE, Pide Sol Azteca Frenar Narco-campañas. Available at https://guerrero.quadratin.com.mx/Ante-Segob-e-INE-pide-Sol-Azteca-frenar-narco-campanas/

Reveles J (2011) El Cártel Incómodo: el Fin de los Beltrán. Grijalvo, México

Ríos V (2010) To Be or Not To Be a Drug Trafficker: Modeling Criminal Occupational Choices. Article presented at the Annual Conference of the Midwest Political Science Association, Chicago, IL, USA

Ríos V (2012) How Government Structure Encourages Criminal Violence: The Causes of Mexico's Drug War. Doctoral dissertation, Harvard University

Ríos V (2015) How Government Coordination Controlled Organized Crime: The Crime of Mexico's Cocaine Markets. J Confl Resolut 59(8):1433–1454

Ríos V, Shirk D (2011) Drug Violence in Mexico. Data and Analysis through 2010. Special Report, Trans-Border Institute, University of San Diego

Sánchez F, Palau M (2006) Conflict, Decentralisation, and Local Governance in Colombia, 1974–2000. CEDE Universidad de los Andes, Working Paper 2006–46

Sartori G (1976) Parties and Party Systems. Cambridge University Press, A Framework for Analysis. Cambridge

Sberna S (2011) Electoral Competition and Criminal Violence in Italy (1983–2003). Article presented at the ECPR Joint Session Conference Workshop on "Political Institutions and Conflict", St Gallen, Switzerland

Sberna S, Olivieri E (2014) Set the Night on Fire! Mafia Violence and Elections in Italy. Article presented at the Annual Meeting of the American Political Science Association

Snyder R, Durán-Martínez A (2009) Does Illegality Breed Violence? Drug Trafficking and State-Sponsored Protection Tracks. Crime Law Soc Chang 52(3):253–273

Somuano F (2014) Las Identidades Partidistas de los Mexicanos y la Elección del 95 In El Comportamiento Electoral Mexicano en las Elecciones de 2012. Mexico, DF: Centro de Estudios Sociales y de Opinión Pública, pp 117–140

Spring K (2013) Context of the Honduran Electoral Process 2012–2013: Incomplete List of Killings and Armed Attacks Related to Political Campaigning in Honduras. Rights Action. Available at: http://rightsaction.org/sites/default/files/Honduras-Violence-Political-Campaign.pdf

Taylor S (2009) Voting Amid Violence. Electoral Democracy in Colombia. Northeastern University Press, Boston

Tilley N, Hopkins M (2008) Organized Crime and Local Businesses. Criminology and Criminal Justice 8(4):443–459

Trejo G, Ley S (2015) Municipios Bajo Fuego (1995–2014). Nexos, February 1

Trejo G, Ley S (2016) Federalismo, Drogas y Violencia. Por qué el Conflicto Partidista Intergubernamental Estimuló la Violencia del Narcotráfico en México Política y Gobierno 21(1):11–56

Trejo G, Ley S (2017) Why did drug cartels go to war in Mexico? Subnational party alternation, the breakdown of criminal protection, and the onset of large-scale violence. Comparative Political Studies 1–38

Trelles A, Carreras M (2012) Bullets and Votes: Violence and Electoral Participation in Mexico. Journal of Politics in Latin America 4(2):89–123

Villarreal A (2002) Political Competition and Violence in Mexico: Hierarchical Social Control in Local Patronage. Am Sociol Rev 67(4):477–498

Wantchekon L (1999) On the Nature of First Democratic Elections. J Confl Resolut 43(2):245–258

Wilkinson S (2004) Votes and Violence: Electoral Competition and Ethnic Riots in India. Cambridge University Press, Cambridge

Williams P (2012) The Terrorism Debate over Mexican Drug Trafficking Violence. Terrorism and Political Violence 24(2):259–278

Wilson J, Petersilia J (2011) Crime and Public Policy. Oxford University Press, New York

Zovatto D (2000) Estudio Comparado de las Características Jurídicas y Prácticas del Financiamiento de los Partidos Políticos y las Campañas Electorales en América Latina. Paraná Eleitoral. Curitiba: PR 37:97–138

Zovatto D (2003) Dinero y Política en América Latina: Una Visión Comparada. International IDEA, Lima
Electronic supplementary material
Appendices
Appendix 1
Appendix 2
About this article
Cite this article
Ponce, A.F. Violence and electoral competition: criminal organizations and municipal candidates in Mexico. Trends Organ Crim 22, 231–254 (2019). https://doi.org/10.1007/s12117-018-9344-9
Keywords
criminal organizations

electoral competition

violence

municipal elections

Mexico

number of candidates