Abstract
Organized crime groups (OCGs) fight against each other even if it harms their businesses and exposes them to law enforcement authorities. Why do some groups refrain from fighting, while others operate in the incessantly violent underworld? To explain this puzzle, we propose that the underworld conflict is related to the strategies of extra-legal governance adopted by OCGs. We suggest that such strategies have origins in the availability of resources within the groups reach at their entrance into the underworld. More specifically, OCGs with access to easily extractable resources develop limited governance, which leaves them vulnerable to internal and external challenges. OCGs without access to easily extractable resources invest in extended governance, reducing their risk of underworld conflict. This article illustrates this hypothesis in the comparative case study of the Colombian organized crime, supported by new quantitative data.
This is a preview of subscription content,
to check access.
Access this article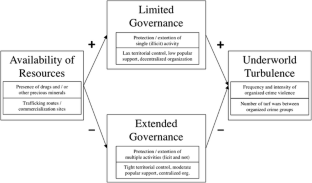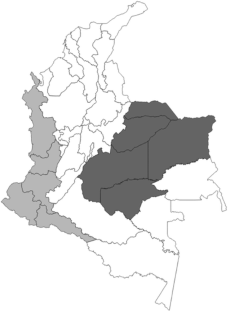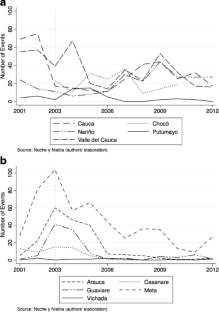 Similar content being viewed by others
Notes
For convenience, we will refer to the group as the Centauros, adding its later name (ERPAC) only in few specific instances.

We recognize, along with Rios (2013), that distinction between endogenous and exogenous origins of underworld violence is analytically and empirically blurred. To illustrate, an apparently exogenous police crackdown that triggers turf wars may in fact be a response to prior (endogenous) escalation of violence among competing criminals.

Following Varese (2014, 2010), we understand governance as a service of establishing "good order and workable arrangements" that regulate social and economic exchange.

Necesidades Básicas Insatisfechas (Unsatisfied Basic Needs).

One could argue that even after 2003 the distinction between the paramilitaries and OCGs remained blurred, as new OCGs recruited many former paramilitary soldiers. One important change occurred, though. Post-2003 OCGs practically abandoned counterinsurgency activities and rarely resorted to anti-subversive rhetoric (if not for propaganda purposes). As a result, they fought against insurgents and exercised political pressures only insofar as it allowed them to further their purely criminal interests, such as drug-trafficking and exploitation of natural resources (see Medina 2015: 25; Massé 2015; CNNR 2007).

The decision to allow these groups to participate in the demobilization process provoked strong criticism from human rights advocates (HRW 2010).
References
Ávila Martínez A (2011) Territorio, propiedad de la tierra y conflicto armado en Guaviare, Sucre y Nariño. In: Romero M (ed) La economía de los paramilitares: redes de corrupción, negocios y política. Random House Mondadori, Bogota, pp 443–524

Bandiera O (2003) Private states and the enforcement of property rights: theory and evidence on the origins of the sicilian mafia. J Law Econ Org 19(1):218–244

Blok A (1974) The mafia of a Sicilian village 1860–1960: a study of violent peasant entrepreneurs. Basil Blackwell, Oxford

Boekhout van Solinge T (2013) The illegal exploitation of natural resources. In: Paoli L (ed) The Oxford handbook of organized crime. Oxford University Press, New York, pp 500–526

Campana P (2011) Eavesdropping on the mob: the functional diversification of mafia activities across territories. Eur J Criminol 8(3):213–228

Campana P (2013) Governing vs. trading: the functional diversification of mafia activities across territories. In: Töttel U, Bulanova-Hristova G, Büchler H (eds) Research conferences on organised crime at the Bundeskriminalamt in Germany (Vol. II). Organised crime – research and practice in Western and Northern Europe 2011–2012, Luchterhand Verlag, Cologne, pp 37–54

Centeno M (2003) Blood and debt: war and the nation-state in Latin America. The Pennsylvania State University Press, University Park

Colvin M, Cullen F, Vander Ven T (2002) Coercion, social support, and crime: an emerging theoretical consensus. Criminology 40(1):19–42

Cubides F (2005) Narcotráfico y paramilitarismo: ¿matrimonio indisoluble? In: Rangel A (ed) El Poder Paramilitar. Planeta, Bogota, pp 205–253

Daniel J (2015) Criminal governance and insurgency: the Rio de Janeiro experience. Centr Eur J Int Sc Stud 9(4):86–106

Decker S, Pyrooz D (2015) Street gangs, terrorists, drug smugglers, and organized crime: what's the difference? In: Decker S, Pyrooz D (eds) The handbook of gangs, 1st edn. John Wiley & Sons, Chichester, pp 294–308

Disecco M, Federico G, Vindigni A (2011) Warfare, taxation, and political change: evidence from the Italian Risorgimento. J Econ Hist 71(4):887–914

Duncan G (2005) Narcotráficantes, mafiosos y guerreros. Historia de una subordinación. In: Rangel A (ed) Narcotráfico en Colombia. Economía y violencia. Fundación Seguridad & Democracia, Bogota, pp 19–87

Duncan G (2006) Los señores de la guerra. De paramilitares, mafiosos y autodefensas en Colombia. Planeta, Bogota

Duran-Martinez A (2015) To kill and tell? State power, criminal competition, and drug violence. J Confl Resolut 59:1377–1402

Echandía Castilla C (2013) Narcotráfico: génesis de los paramilitares y herencia de bandas criminales. Serie Informes (19). Fundación Ideas para la Paz, Bogota

Falcone G (1991) Cose di cosa nostra. RCS Rizzoli Libri S.p.A, Milan

Gambetta D (1993) The Sicilian mafia: the business of private protection. Harvard University Press, Cambridge

Gambetta D (2009) Codes of the underworld. How criminals communicate. Princeton University Press, Princeton

Garzón JC (2008) Mafia & Co. The criminal networks in Mexico, Brazil and Colombia. Woodrow Wilson International Center for Scholars, Princeton

González J (2007) Los paramilitares y el colapso estatal en Meta y Casanare. In: M Romero (ed) Parapolítica. La ruta de la expansión paramilitar y los acuerdos políticos. Corporación Nuevo Arco Iris, Bogota, p 239–284

Granada S, Restrepo J, Vargas A (2009) El agotamiento de la política de seguridad: evolución y transformaciones recientes en el conflicto armado colombiano. In: Restrepo J, Aponte D (eds) Guerras y violencias en Colombia. Herramientas e interpretaciones. Pontificia Universidad Javeriana, Bogota, pp 27–124

Guzmán Á, Moreno R (2007) Autodefensas, narcotráfico y comportamiento estatal en el Valle del Cauca. In: Romero M (ed) Parapolítica. La ruta de la expansión paramilitar y los acuerdos políticos. Corporación Nuevo Arco Iris, Bogota, pp 165–238

Haller M (1971) Organized crime in urban society: Chicago in the 20th century. J Soc Hist 5:210–234

Holmes JS, de Piñeres SAG, Curtin KM (2006) Drugs, violence, and development in Colombia: a department-level analysis. Lat Am Politics Soc 48:157–184

Kalyvas S, Kocher M (2007) Ethnic cleavages and irregular war: Iraq and Vietnam. Politics Soc 35(2):183–223

Krakowski K (2015) Colombian paramilitaries since demobilization: between state crackdown and increased violence. Lat Am Politics Soc 57:28–50

Lessing B (2015) Logics of violence in criminal war. J Confl Resolut 59(8):1486–1516

Levitt S (1997) Using electoral cycles in police hiring to estimate the effects of police on crime. Am Econ Rev 87(3):270–290

Levitt S, Venkatesh S (2000) An economic analysis of a drug-selling gang's finances. Q J Econ 115(2):755–789

Lupo S (2014) Lo sguardo dello storico. In: Fiandaca G, Lupo S (eds) La mafia non ha vinto. Il labirinto della trattativa. Gius. Laterza & Figli Spa, Roma, pp 3–66

Massé F (2015) Transformaciones recientes y perspectivas de las Bacrim. In: Vargas A, García V (eds) Seguridad y defensa en la transición de la guerra a la paz: Reflexiones Y Perspectivas. Editorial Universidad Nacional, Bogota, pp 17–31

McMullin J (2009) Organised criminal groups and conflict: the nature and consequences of interdependence. Civil Wars 11(1):75–102

Medina C (2015) Bandas criminales y neoparamilitarismo en Colombia. Una aproximación a los estudios regionales del fenómeno desde la óptica del conflicto armado y los derechos humanos. In: J Zavaleta (coord) El laberinto de la inseguridad ciudadana: bandas criminales, seguridad de fronteras y regímenes penitenciarios en América Latina. CLACSO, Buenos Aires, p 19–42

Morselli C (2009) Inside criminal network. Springer, New York

Morselli C, Tanguay D, Labalette AM (2008) Criminal conflicts and collective violence: biker-related account settlements in Quebec, 1994–2001. In Siegeland D, Nelen H (eds) Organized crime: culture, markets and policies. Springer, New York, pp 145–164

Nozick R (1974) Anarchy, state and utopia. Basic Books, New York

Paoli L (2003) Mafia brotherhoods: organised crime, Italian style. Oxford University Press, New York

Peceny M, Durnan M (2006) The FARC's best friend: U.S. antidrug policies and the deepening of Colombia's civil war in the 1990s. Lat Am Politics Soc 48:95–116

Pérez Salazar B (2011) Historia de captura de rentas públicas en los Llanos Orientales. In: Romero M (ed) La economía de los paramilitares. Redes de corrupción, negocios y política. Corporación Nuevo Arco Iris, Bogota, pp 75–148

Prieto C (2013) Las Bacrim y el crimen organizado en Colombia. Friedrich Ebert Stift Policy Pap 47:1–19

Restrepo J, Spagat M, Vargas JF (2004) The dynamics of the Colombian civil conflict: c new data set. Homo Oeconomicus 21(2):396–428

Reuter P (1983) Disorganized crime: illegal markets and the mafia. MIT Press, Cambridge

Rios V (2013) Why did Mexico become so violent? A self-reinforcing violent equilibrium caused by competition and enforcement. Trends Organized Crime 16:138–155

Rozema R (2008) Urban DDR-processes: paramilitaries and criminal networks in Medellín, Colombia. J Lat Am Stud 40:423–452

Sánchez L, Vargas A, Vásques T (2011) Las diversas trayectorias de la guerra: un análisis subregional. In: Vásques T, Restrepo J, Vargas A (eds) Una vieja guerra en un nuevo contexto. conflicto y territorio en el sur de Colombia. Pontificia Universidad Javeriana, Bogota, pp 35–340

Sánchez-Jankowski M (1991) Islands in the street: gangs and American urban society. University of California Press, Berkeley, Los Angeles

Schelling TC (1971) What is the business of organized crime? J Public Law 20(1):71–84

Shiu-Hing Lo S (2016) The politics of controlling organized crime in greater China. Routledge, New York

Smith A, Varese F (2001) Payment, protection and punishment: the role of information and reputation in the mafia. Ration Soc 13(3):349–393

Snyder R, Duran-Martinez A (2009) Does illegality breed violence? Drug trafficking and state-sponsored protection rackets. Crime Law Soc Chang 52:253–273

Thoumi F (2012) Illegal drugs, anti-drug policy failure, and the need for institutional reforms in Colombia. Subst Use Misuse 47:972–1004

Tilly C (1985) War making and state making as organized crime. In: Evans P, Rueschemeyer D, Skocpol T (eds) Bringing the state back in. Cambridge University Press, Cambridge, pp 169–191

Torres Bustamante M (2012) Estado y coca en la frontera colombiana. El caso de Putumayo. Odecofi-Cinep, Bogota

Torrijos V (2010) Terrorismo desmitificado: verdades y mentiras sobre la violencia en Colombia. Revista de Relaciones Internacionales, Estrategia y Seguridad 5(1):119–134

Trejos L (2017) Pasado y presente del crimen organizado en la ciudad de Barranquilla. Cartillas Instituto de Desarrollo Político e Institucional del Caribe 1:1–17

Varese F (2010) What is organized crime? In: Varese F (ed) Organized crime. Critical concepts in criminology, Routledge, London, New York, pp 1–35

Varese F (2014) Protection and extortion. In: Paoli L (ed) Oxford handbook of organized crime. Oxford University Press, Oxford, pp 343–358

Vargas R (2004) State, esprit mafioso, and armed conflict in Colombia. In: Burt J, Mauceri P (eds) Politics in the Andes: identity, conflict, reform. University of Pittsburgh Press, Pittsburgh, pp 107–125

Zhang S, Chin K (2003) The declining significance of triad societies in transnational perspective. Br J Criminol 43:469–488
Data sources
Acknowledgements
The authors are grateful for feedback from Luciano Brancaccio, Francesco Strazzari, Giovanni Zanoletti, Roberto González, Luis Trejos, and the two anonymous reviewers. Additionally, we would like to thank Ionie Britton for help in editing the manuscript. This study was funded by the Department of Social Science, Università degli Studi di Napoli Federico II. The authors declare that they have no conflict of interest.
Additional information
The original version of this article was revised: Map 1 image was incorrect.
About this article
Cite this article
Krakowski, K., Zubiría, G. Accounting for turbulence in the Colombian underworld. Trends Organ Crim 22, 166–186 (2019). https://doi.org/10.1007/s12117-018-9330-2
Published:

Issue Date:

DOI: https://doi.org/10.1007/s12117-018-9330-2
Keywords