Abstract
Some researchers suggest that the observed boom in the levels of violence in Mexico since 2008 are a consequence of placing federal military forces in states with a significant organized crime presence. However, little has been said about the role of the changeable, competitive, and violent nature of criminal organizations on this increasing violence. Using the literature on inter- and intra-state conflicts as matter of analogy to explain organized crime developments in Mexico, fragmentation and cooperation seem to be determinant forces that alter the equilibrium within Mexican criminal groups, affecting their territorial control. By using a private dataset gathered by the Drug Policy Program at the Center for Economic Research and Teaching (CIDE), we examine the evolution of criminal organizations in Mexico by focusing on their different alliances and fragmentations from December 2006 to December 2011. Our analysis suggests that violence is a consequence not only of the law enforcement actions, but also of the fragmentation and cooperation within and between private groups.
Access options
Buy single article
Instant access to the full article PDF.
USD 39.95
Price excludes VAT (USA)
Tax calculation will be finalised during checkout.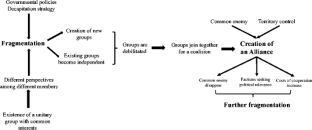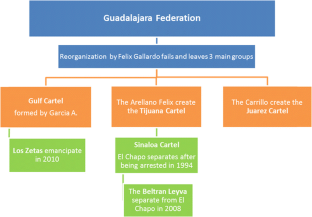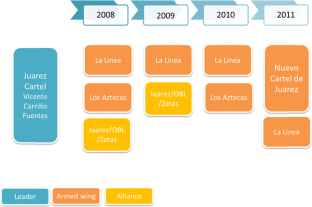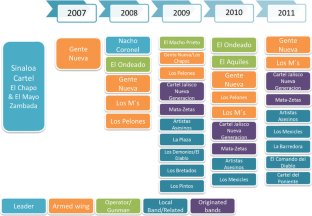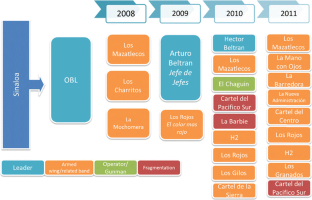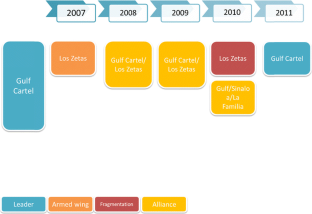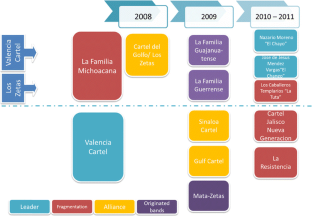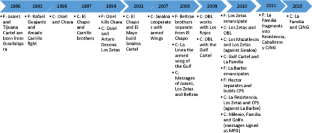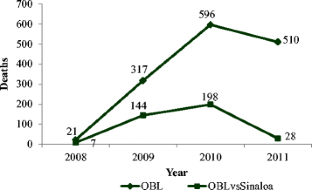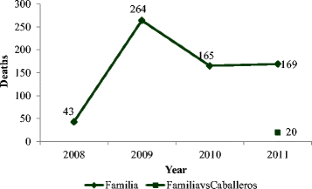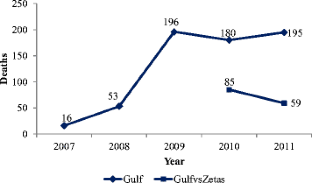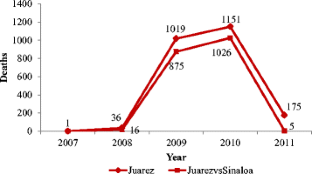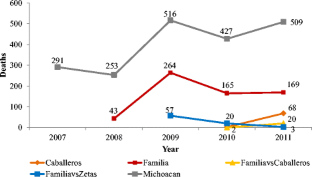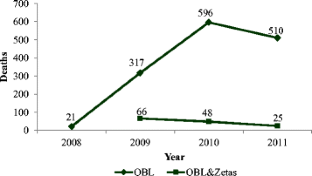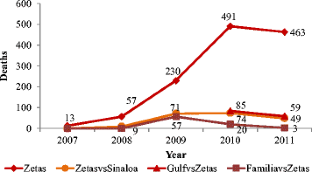 Notes
We are using homicides categorized as "executions" allegedly related to organized crime as proxy for violence. Other indicators of violence can be used (i.e. number of disappearances, extortion, kidnappings, and torture, among others).

The number of events related to organized crime gathered in the PPD Database is greater than these numbers. However, a criminal group is not always identified.

Alliances and coalitions are not the same. According to Smith (1995), an alliance is a nonbinding agreement between two nations. A coalition is a group of nations that fight together in war, with or without a previous agreement.

A unique command allows an organization to be institutionalized, with all factions being represented by the organization (Bakke et al. 2012).

The online appendix provides a detailed description of the groups forming alliances and fragmentations, and a brief description of the PPD Dataset information used for this analysis.

A more elaborated typology for defining alliances is presented in section 4.

El Chapo escaped from jail in 2001, and in 2014, was recaptured. He escaped once again in 2015, and in January 2016 he was captured for the last time.

Based on the profile of the OBL developed by InSight Crime (2015b).

The PPD Dataset is comprised of three categories: confrontations (between criminal groups and the government, or within criminal groups); aggressions (from criminal groups to the government); and executions (violent homicides that are allegedly related to organized crime). From the executions category, 11% of the homicides are "labeled," i.e., events where a message was left with the executed body. From this percentage, approximately 70% of the messages were attributable (either signed by or directed to specific groups; Atuesta(2016)).
References
Astorga L (2005) El siglo de las drogas: el narcotráfico, del Porfiriato al nuevo milenio. Plaza y Janés, México City

Atuesta L (2016) Narcomessages as a way to analyse the evolution of organised crime in Mexico. Global Crime. doi:10.1080/17440572.2016.1248556

Atuesta L, Ponce A (2016) ¿Cómo la Intervención Gubernamental Altera la Violencia? Evidencia del Caso Mexicano. Working paper, Drug Policy Program, CIDE

Atuesta L, Siordia OS, Madrazo A (2016) La 'guerra contra las drogas' en México: Registros (oficiales) de eventos durante el período de diciembre 2006 a noviembre 2011. Working paper. Drug Policy Program, CIDE, 2016

Bakke KM, Cunningham KG, Seymour LJ (2012) A plague of initials: fragmentation, cohesion, and infighting in civil wars. Perspect Polit 10(02):265–283

Calderón G, Robles G, Díaz-Cayeros A, Magaloni B (2015) The beheading of criminal organizations and the dynamics of violence in Mexico. J Confl Resolut 59(8):1455–1485

Cory M, Rios V, Shirk DA (2012) Drug violence in Mexico: data and analysis through 2011. Trans-Border Institute, San Diego

Cunningham DE, Gleditsch KS, Salehyan I (2009) It takes two: a dyadic analysis of civil war duration and outcome. J Confl Resolut. doi:10.1177/0022002709336458

Dudley S (2011) Zetas-La Linea alliance may alter balance of power in Mexico, http://www.insightcrime.org/news-analysis/zetas-la-linea-alliance-may-alter-balance-of-power-in-mexico

Escalante F (2013) Homicidios 2008–2009: La muerte tiene permiso. Nexos, January 1

Findley M, Rudloff P (2012) Combatant fragmentation and the dynamics of civil wars. Br J Polit Sci 42(04):879–901

Gallagher-Cunningham K (2013) Actor fragmentation and civil war bargaining: how internal divisions generate civil conflict. Am J Polit Sci 57(3):659–672

Gallagher-Cunningham K, Bakke KM, Seymour LJ (2012) Shirts today, skins tomorrow dual contests and the effects of fragmentation in self-determination disputes. J Confl Resolut 56(1):67–93

Grayson GW (2011) Mexico: narco-violence and a failed state? Transaction Publishers, New Brunswick

Guerrero-Gutiérrez E (2012) La estrategia fallida. Nexos, December

Guerrero-Gutiérrez E (2011) Security, drugs, and violence in Mexico: a survey. Lantia Consultores, México

Hernández A (2012) Los señores del narco. Grijalbo, Mexico

Hope A (2014) Las trampas del centralismo. Nexos, July 1

Hope A 2013) Violencia 2007–2011. La tormenta perfecta. Nexos, November 1

Hugh-Jones D (2013) Reputation and cooperation in defense. J Confl Resolut 57(2):327–355

Human Security Report Project Definitions. http://www.hsrgroup.org/our-work/security-stats/Definitions.aspx

InSight Crime (2015a) Familia Michoacana. http://es.insightcrime.org/noticias-sobre-crimen-organizado-en-mexico/familia-michoacana-perfil

InSight Crime (2015b) BLO. http://www.insightcrime.org/mexico-organized-crime-news/beltran-leyva-mexico

InSight Crime (2015c) Cartel del Golfo. http://es.insightcrime.org/noticias-sobre-crimen-organizado-en-mexico/cartel-del-golfo-perfil

InSight Crime (2015d) Caballeros Templarios http://es.insightcrime.org/noticias-sobre-crimen-organizado-en-mexico/caballeros-templarios-perfil

Leeson, P.T. (2006). Cooperation and conflict. Am J Econ Sociol, 65(4), 891–907.

Levy JS (1981) Alliance formation and war behavior: an analysis of the great powers, 1495-1975. J Confl Resolut 25(4):581–613

Merino J (2011) Los operativos conjuntos y la tasa de homicidios: Una medición. Nexos, June 1

Mosso R (2013) Cae Alberto Carrillo, lider del Nuevo Cartel de Juarez. Milenio.com. Retrieved May 13, 2015, from http://www.milenio.com/policia/Alberto-Carrillo-Nuevo-Cartel-Juarez_0_146385597.html

Osorio J (2015) The contagion of drug violence spatiotemporal dynamics of the Mexican war on drugs. J Confl Resolut 59(8):1403–1432

Pearlman W, Gallagher-Cunningham K (2012) Nonstate actors, fragmentation, and conflict processes. J Confl Resolut 56(1):3–15

Phillips B (2015) How does leadership decapitation affect violence? The case of drug trafficking organizations in Mexico. J Polit 77:2

Polo M (1995) Internal cohesion and competition among criminal organizations. Econ Organised Crime, 87–108

Powell B, Stringham EP (2009) Public choice and the economic analysis of anarchy: a survey. Public Choice 140(3–4):503–538

PGR (2013) Células delictivas con presencia en el país. PGR, Mexico

Rios V, Shirk DA (2011) Drug violence in Mexico: Data analysis through 2010. Trans-Border Institute, University of San Diego, https://justiceinmexico.files.wordpress.com/2011/03/2011-tbi-drugviolence.pdf

Rudloff P, Findley MG (2016) The downstream effects of combatant fragmentation on civil war recurrence. J Peace Res 53(1):19–32

Scott WR (2013) Institutions and organizations: ideas, interests, and identities. Sage Publications, Thousand Oaks

Sambanis N (2004) What is civil war? Conceptual and empirical complexities of an operational definition. J Confl Resolut 48(6):814–858

Smith A (1995) Alliance formation and war. Int Stud Q 39(4):405–425

Snyder R, Duran-Martinez A (2009) Does illegality breed violence? Drug trafficking and state-sponsored protection rackets. Crime Law Soc Chang 52(3):253–273

Staniland P (2012) Between a rock and a hard place insurgent fratricide, ethnic defection, and the rise of pro-state paramilitaries. J Confl Resolut 56(1):16–40

Valdés-Castellanos G (2013a) Historia del narcotráfico en México. Aguilar

Valdés-Castellanos G (2013b) El nacimiento de un ejército criminal. Nexos
Ethics declarations
Funding
This study did not receive any funding.
Conflict of interest
Author A declares that he/she has no conflict of interest. Author B declares that he/she has no conflict of interest.
Ethical approval
This article does not contain any studies with human participants or animals performed by any of the authors.
Informed consent
Not Applicable.
Electronic supplementary material
About this article
Cite this article
Atuesta, L.H., Pérez-Dávila, Y.S. Fragmentation and cooperation: the evolution of organized crime in Mexico. Trends Organ Crim 21, 235–261 (2018). https://doi.org/10.1007/s12117-017-9301-z
Published:

Issue Date:

DOI: https://doi.org/10.1007/s12117-017-9301-z
Keywords
Organized crime

Instra-state conflicts

Fragmentation

Cooperation: criminal groups