Abstract
This article considers the extent to which specific demographic and socioeconomic factors correlate with homicidal violence in the context of Mexico's "war" on organized crime. We draw on Ciudad Juarez as a case study and social disorganization theory as an organizing framework. Social disorganization is expected to generate higher levels of homicidal violence. And while the evidence reveals several social disorganization factors associated with homicidal violence in Ciudad Juarez, not all relationships appear as predicted by the theory. Drawing on public census and crime data, our statistical assessment detects six significant variables (or risk factors) positively associated with homicidal violence in Ciudad Juarez between 2009 and 2010. Likewise, the assessment finds another six specific variables (or protective factors) that are negatively associated with above average homicide in the city between 2009 and 2010. The featured data and level of analysis do not conclusively demonstrate causation, nor was this the intent. Rather, we propose a baseline model for testing spatial-temporal dynamics of organized violence in multiple settings.
This is a preview of subscription content, log in to check access.
Access options
Buy single article
Instant access to the full article PDF.
US$ 39.95
Tax calculation will be finalised during checkout.
Subscribe to journal
Immediate online access to all issues from 2019. Subscription will auto renew annually.
US$ 99
Tax calculation will be finalised during checkout.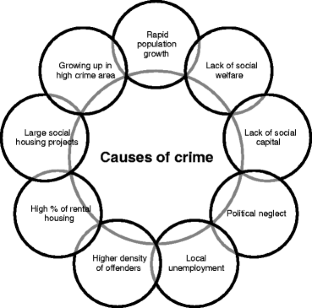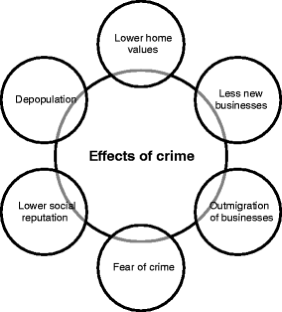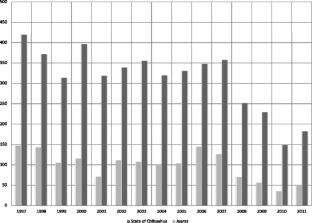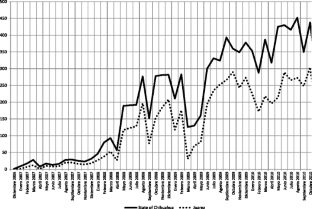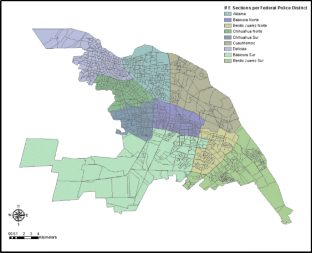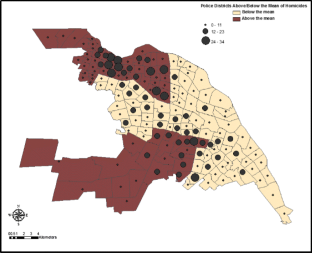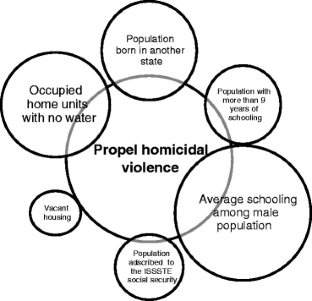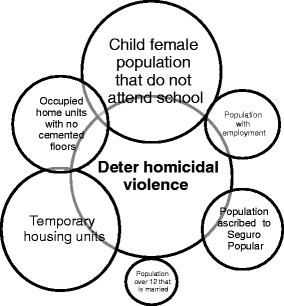 Notes
1.

2.

See Muggah with Savage (2012).

3.

Extending the symbolic to the physical, Rodgers and O'Neill (2012) introduced the concept of "infrastructural violence" in order to draw attention to the political economy shaping the social and geographic dimensions of urban violence and the implications for "spatially just cities."

4.

5.

This is several times the international average.

6.

7.

8.

See Astorga and Shirk (2010).

9.

In fact it is said that for many years the city raised most of its taxes from the legal distribution of alcohol (i.e. operating bars and nightclubs).

10.

Indeed, maquiladora is the name given to factories that make products reservedly for foreign markets and do not pay for the imports of raw materials.

11.

12.

Spatial autocorrelation coefficients were obtained for each year and for the entire period.

13.

It must be said that the federal police started collecting these data in 2009. As such, it is expected that their data collection processes would improve over time independently of the internal homicide dynamics.

14.

This is a finding routinely reported by public health specialists, for example, who employ the so-called "ecological model" to understanding risks in relation to self-directed, interpersonal, collective and structural violence.

15.

There is some discussion nowadays regarding the interest of criminal organizations in recruiting youngsters who have neither work nor go to school. In Spanish these youngsters are called "ni-nis", that is, Ni estudian, ni trabajan. One reviewer made this observation. See also Ramsey (2012)

16.

If political oversight and collective efficacy were not measured in this study, still we find that above the average levels of homicidal violence were reported in police districts with higher levels of out-state residents.

17.

What we know is the number of homicides reports and the demographic and socioeconomic composition of the police district.

18.

Indeed, a recent study on the profile of inmates in federal prisons found significantly higher proportions of married and college-educated inmates among those convicted for murder (Vilalta 2014).

19.

According to the 2010 Census, the Mexican Institute of Social Security (IMSS) is the largest public health program covering approximately half of the city's residents. It is directed to workers and their families in the private formal sector.

20.

A correlation analysis conducted after showed that more privately owned temporary housing units could be found in areas with more vacant housing units, housing units with no drainage, and with larger numbers of male population with higher levels of schooling.

21.

It is worth noting that such Family variables (as protective factors) have been noted in other studies on criminal violence in Mexico. See, for example, Vilalta and Fondevila (2013).

22.

23.

24.

Two metropolitan areas have been assigned a larger budget (i.e. Monterrey and Guadalajara Metropolitan areas) but Ciudad Juarez currently has the largest per capita federal investment for crime prevention policy.
References
Ackerman W (1998) Socioeconomic correlates of increasing crime rates in smaller communities. Prof Geogr 50:372–387

Ackerman W, Murray A (2004) Assessing spatial patterns of crime in Lima, Ohio. Cities 21:423–437

Arsenault C (2011) Dying to cover the drug war. Al Jazeera, June 2

Astorga L, Shirk D (2010) Drug trafficking organizations and counter-drug strategies in the U.S.-Mexican context. In: Olson E, Shirk D, Selee A (eds) Shared responsibility: U.S.-Mexico policy options for confronting organized crime. Woodrow Wilson International Center for Scholars and Trans-Border Institute at the University of San Diego

Block R, Block C (1995) Space, place and crime: hot spot areas and hot spot areas and places of liquor-related crime. In: Eck, Weisburd (eds) Crime prevention studies: vol 4. Crime and place. Criminal Justice Press

Booth W (2010) In Mexico's Nuevo Laredo, drug cartels dictate media coverage. Washington Post, August 2

Bottoms A, Wiles P (1997) Environmental criminology. In: Maguire M, Morgan R, Reiner R (eds) The Oxford handbook of criminology. Oxford University Press, Oxford, pp 305–359

Bourdieu P (1988) Acts of resistance. Against the new myths of our time. Polity, Cambridge

Burgess E (1925) The growth of the city. In: Burgess E, Park R (eds) The city. University of Chicago Press, Chicago

Calderon F (2013) Todos Somos Juarez: an innovative strategy to tackle violence and crime. Comment Latin Am Policy J. Harvard Kennedy School. Website: http://isites.harvard.edu/icb/icb.do?keyword=k85105&pageid=icb.page507915

Calderon G, Magaloni B, Robles G, Olarte J (2012) The temporal and spatial dynamics of violence in Mexico. University of California in San Diego (UCSD). Website: http://www.albertodiazcayeros.com/#!workinprogress/c4nz

Castillo M (2010) Mexico: citizen journalism in the middle of drug-trafficking violence. Glob Voices Online 5 May

Corcoran P (2013) Declining violence in Juarez a major win for calderon: report, insight crime, March 26. http://www.insightcrime.org/news-analysis/declining-violence-in-juarez-a-major-win-for-calderon-report

Eck J, Weisburd D (1995) Crime places in crime theory. In: Eck J, Weisburd D (eds) Crime and place. Criminal Justice Press, Monsey

Ellis L, Beaver K, Wright J (2009) Handbook of crime correlates. Academic, USA

Georges D (1978) The geography of crime and violence: a spatial and ecological perspective. Assoc Am Geogr. Resource papers for college geography, 78

Hope A (2012) Mexico-s murder rate inches down, while massacres grab headlines. Insight 21 May. http://www.insightcrime.org/insight-latest-news/item/2651-mexicos-murder-rate-inches-down-while-massacres-grab-headlines

Krivo L, Peterson R (1996) Extremely disadvantaged neighborhoods and urban crime. Soc Forces 75:619–650

Kubrin C, Weitzer R (2003) Retaliatory homicide: concentrated disadvantage and neighborhood culture. Soc Probl 50:157–180

Lowman J (1986) Conceptual issues in the geography of crime: toward a geography of social control. Ann Assoc Am Geogr 76:81–94

Molzahn C, Rodriguez O, Shirk D (2013) Drug violence in Mexico: data and analysis through 2012. Special report: Trans-Border Institute and Joan B. Kroc School of Peace Studies. University of San Diego

Morenoff J, Sampson R (1997) Violent crime and the spatial dynamics of neighbourhood transition: Chicago, 1970-1990. Soc Forces 76:31–64

Morenoff J, Sampson R, Raudenbush S (2001) Neighborhood inequality, collective efficacy, and the spatial dynamics of urban violence. Criminology 39:517–560

Muchembeld R (2012) A history of violence: from the end of the middle ages to the present. Polity Press, London

Muggah R (2012) The urban dilemma: urbanization, urban poverty and urban violence. IDRC and DfID, London/Ottawa

Muggah R, Mulli A (2012) Rio tries counterinsurgency. Curr Hist 111(742):62–66

Muggah R, Savage K (2012) Urban violence and humanitarian action: engaging the fragile city. J Humanitarian Aff. http://sites.tufts.edu/jha/archives/1524

National Institute of Geography and Statistics (2012) Judicial statistics. INEGI, Mexico

Orego H (2010) Mexico drug war crimes go live on the internet. AFP, Oct 3

Presidency of the Republic of Mexico (2012) Database of homicides alledgely associated with organized crime. Presidency of the Republic, Mexico

Preti A, Miotto P (1999) Some social correlates of homicide rates in Italy. Psychol Rep 85:770

Ramsey G (2012) Unemployed youth are fighters, victims in Mexico drug war. Insight Crime News. Website: http://www.insightcrime.org/news-analysis/unemployed-youth-are-fighters-victims-in-mexico-drug-war

Reiss A (1980) Understanding changes in crime rates. In: Fienberg E, Reiss A (eds) Indicators of crime and criminal justice: quantitative studies. Bureau of Justice Statistics, Washington, DC

Reiss A (1986) Why are communities important in understanding crime. In: Reiss A, Tonry M (eds) Communities and crime. University of Chicago Press, Chicago

Rodgers D, O'Neill P (2012) Infrastructural violence: introduction to the special issue. Ethnography 13(4):401–412

Sampson R, Wilson W (1995) Toward a theory of race, crime and urban inequality. In: Hagan J, Peterson R (eds) Crime and inequality. Stanford University Press, Stanford

Sampson R, Raudenbush S, Felton J (1997) Neighborhoods and violent crime: a multilevel study of collective efficacy. Science 277:918–924

Shaw C, McKay H (1942) Juvenile delinquency and urban areas. University of Chicago Press, Chicago

Singer S (1981) Homogeneous victim-offender populations: a review and some research implications. J Crim Law Criminol 72:779–788

Taub R, Taylor D, Dunham J (1984) Paths of neighborhood change: race and crime in urban America. University of Chicago Press, Chicago

Van Dijk J (1999) Crime prevention policy: current state and prospects. In: Kaiser G, Albrecht H (eds) Crime and criminal policy in Europe. Criminological research report 43. Freiburg

Vilalta C (2009) Un modelo descriptivo de la geografía del robo en la Zona Metropolitana del Valle de México. J Lat Am Geogr 8:55–80

Vilalta C (2010a) Correlates of distance to crime in Mexico City. Glob Crime 11:299–314

Vilalta C (2010b) The spatial dynamics and socio-economic correlates of drug arrests in Mexico City. Appl Geogr 30:263–270

Vilalta C (2010c) El miedo al crimen: estructura lógica, bases empíricas y recomendaciones de política local. Gestión y Política Pública 19:3–36

Vilalta C (2013) How did things get so bad so quickly? An assessment of the initial conditions of the war against organized crime in Mexico. Eur J Crim Policy Res. Forthcoming. Website: http://link.springer.com/article/10.1007%2Fs10610-013-9218-2

Vilalta C (2014) ¿Quiénes son los sentenciados por homicidio intencional en México? Manuscript under review

Vilalta C, Fondevila G (2013) Perfiles criminales I: frecuencias y descriptivos. Editorial CIDE. México: Distrito Federal
About this article
Cite this article
Vilalta, C., Muggah, R. Violent disorder in Ciudad Juarez: a spatial analysis of homicide. Trends Organ Crim 17, 161–180 (2014). https://doi.org/10.1007/s12117-014-9213-0
Keywords
Homicide

Social disorganization

Spatial analysis

Mexico