Abstract
We conceptualize populism and nationalism as vertical and horizontal discursive frames of sovereignty, and we investigate the prevalence of these frames in the speeches of chief executives (presidents and prime ministers) in Europe and North America to assess whether these discourses are on the rise at the highest levels of government. To do so, we compile an original database of leader speeches, measuring both discourses using a technique called holistic grading. We find that neither populism nor nationalism is on the rise across Europe and North America over the past twenty years; instead, the rise is concentrated in sub-regions and specific countries. We also find that populism and nationalism are highly but imperfectly correlated in leaders' speeches in the corpus as a whole, but that populism is far less common in the speeches of western leaders. In the penultimate section, we use a selection of speech vignettes to demonstrate that state leaders employ populism to counter political opponents, nationalism to counter hostile nations, and a combination to mobilize against conjoined threats from above and beyond the "people-nation."
Access options
Buy single article
Instant access to the full article PDF.
US$ 39.95
Tax calculation will be finalised during checkout.
Subscribe to journal
Immediate online access to all issues from 2019. Subscription will auto renew annually.
US$ 79
Tax calculation will be finalised during checkout.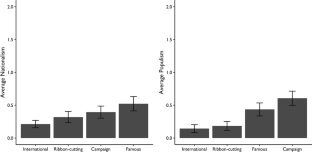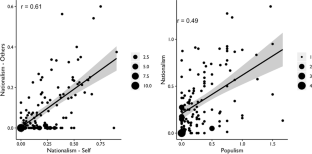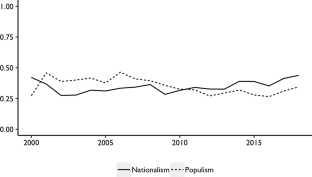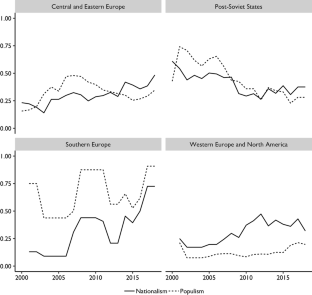 Notes
1.

We define nationalism as a discourse that holds that the state belongs to the dominant ethnonational group to the exclusion, or at the expense, of non-national others. It further holds that the ethnos or national core of the state must be protected from enemy nations, minorities, immigrants or refugees (see also Billig 1995; Bieber 2018). We define ethnopopulism (short for ethno-nationalist populism) as an even more exclusionary discourse that holds that the state belongs to the dominant ethnopolitical group, excluding both political and non-national "others" (Jenne 2018, 2021). Whereas Madrid (2008) defines ethnopopulism in Bolivia as a combination of potentially inclusionary ethnic and populist appeals (where the ethnic group is not necessarily the dominant ethnonational group), we define it more narrowly as the combination of exclusionary ethnonationalist and populist appeals.

2.

Some have argued for the existence of left-wing nationalist populism, such as the Syriza government in Greece or various governments in Latin America. While we think there are cases that fit this description (Eastwood 2006; Hawkins 2010), in others the rhetoric of political leaders is more notable for its populist than its nationalist elements. When Greek Prime Minister Alexis Tsipras first came to office, for example, his discourse was predominantly populist—aimed against international banks and the anti-democratic structure of the EU; there was little exclusionary nationalism. His platform was broadly inclusionary, calling for integrating and granting citizenship to immigrants in Greece, better treatment of migrants and dismantling refugee detention centers (Jenne 2021, 337–39).

3.

The focus on sovereignty follows a long tradition in the study of both nationalism and populism. Kallis (2018, p. 288) observes that both right- and left-wing populists "use sovereignty…to legitimise the re-concentration of power within the historic territorial contours…of the nation." Akkerman et al. (2014, p. 1327) likewise notes that in the populist worldview, "the people are viewed not only as sovereign, but also as homogeneous, pure, and virtuous." Nationalism, too, is a frame that is used to signal "who belongs to the people that enjoy equal rights before the law and in whose name should the state be ruled, now that kings and caliphs have to be replaced by a government 'representing' the nation" (Wimmer 2004, p. 43).

4.

5.

Traditionally, scholars have distinguished between more voluntaristic "civic" nations based on a common set of values such as France and the USA versus more ascriptive "ethnic" nations based on the myth of common ancestry (Kohn 1944; Ignatieff 1993). However, as noted by Billig (1995), Shulman (2002) and Bieber (2018a, p. 532), exclusionary nationalist framing—particularly nativist framing against immigrants, migrants or refugees—can occurs in so-called civic and ethnic national contexts, alike. That means that these frames are quite malleable—the political leaders of states with "civic" national identities like the US can also employ (ethno)nationalist and/or ethnopopulist rhetoric.

6.

Ethnopopulist narratives divides the political space both horizontally and vertically, inscribing a small authentic sovereign community that is threatened by enemies from "above" (domestic and foreign "elites," the EU, UN or the IMF) as well as enemies from "beyond" (migrants, immigrants, ethnic minorities). These threatening "others" are sometimes accused of conspiring to undermine or even de-nationalize the nation-people (Jenne 2018, p. 549; 2021). See similar formulations and extensions of this concept in Vachudova (2020), Jovanovich (2020), Bieber (2018b), Enyedi (2020), Zellman (2019), Hronešová (2021) and Stroschein (2019).

7.

While speeches do not have to be translated, these representative quotes are translated into English by the students.

8.

The training sessions took place in January 2018 at Central European University, Budapest, Hungary; one week was devoted to populism and another to nationalism.

9.

For populism we use the same set that has always been used in this training since Hawkins 2009. It includes speeches by Evo Morales, Sarah Palin, George W. Bush, Stephen Harper, Barack Obama, Robert Mugabe, and Tony Blair. For nationalism, anchor texts included speeches by Geert Wilders, Bernie Sanders, Marco Rubio, Donald Trump, Justin Trudeau, and Nicola Sturgeon. These offer a wide variety of regional and ideological contexts in which to locate the discourses.

10.

For example, we found four speeches given by Viktor Orbán in his first term in office (1998–2002), four in his second term (2010–2014), and four in his third term (2014–2018).

11.

From a technical point of view, our measurements perform well—as usual with applications of holistic grading for populism (Hawkins 2009, 2010; Silva and Hawkins 2018; Hawkins and Rovira Kaltwasser 2017). For populism, Krippendorff's alpha is 0.84, above the recommended minimum of 0.7. For nationalism, which was measured with this rubric for the first time, Krippendorff's alpha is 0.76.

12.

13.
References
Akkerman A, Mudde C, Zaslove A. How populist are the people? Measuring populist attitudes in voters. Comp Political Stud. 2014;47(2):1324–53.

Althusser L. Ideology and Ideological State Apparatuses, in Lenin and Philosophy (B. Brewster, Trans). London: Monthly Review Press); 1971:170–186.

Anderson B. Imagined communities: reflections on the origin and spread of nationalism. London: Verso; 1983, revised edition 2016.

Anderson B. Imagined communities. London: Verso; 1991.

Aslanidis P. Is populism an ideology? A refutation and a new perspective. Political Stud. 2015;64(1):1–17.

Barth F. Ethnic groups and boundaries: The social organization of cultural difference. Long Grove: Waveland Press; 1969.

Batory A. Populists in government? Hungary's "system of national cooperation." Democratization. 2016;23(2):283–303.

Betz HG. Radical right-wing populism in Western Europe. New York: St. Martin's Press; 1994.

Bieber F. Is Nationalism on the rise? Assessing global trends. Ethnopolitics. 2018a;17(5):519–40.

Bieber F. Ethnopopulism and the Global Dynamics of Nationalist Mobilization. Ethnopolitics. 2018b;17(5):558–62.

Billig M. Banal nationalism. London; Thousand Oaks, CA: Sage Publications; 1995.

Blokker P. Populist nationalism, anti-Europeanism, post-nationalism, and the east-west dimension. Ger Law J. 2005;6(2):371–89.

Bonikowski B, Halikiopoulou D, Kaufmann E, Rooduijn M. Populism and nationalism in a comparative perspective: a scholarly exchange. Nations and Nationalism. 2018;25(1):58–81.

Brand RA. External sovereignty and international law. Fordham Int Law J. 1995;18:1686–90.

Brubaker R. Nationalism reframed: Nationhood and the national question in the New Europe. Cambridge: Cambridge University Press; 1996.

Brubaker R. Ethnicity without groups. Cambridge: Harvard University Press; 2006.

Brubaker R. Why populism? Theory Soc. 2017;46(5):357–85.

Brubaker R. Populism and nationalism. Nations and Nationalism. 2020;26(1):44–66.

Canovan M. People, politicians, and populism. Gov Oppos. 1984;19(3):312–27.

Canovan M. Trust the people! Populism and the two faces of democracy. Political Stud. 1999;47(1):2–16.

Cederman L-E. Blood for soil: The fatal temptations of ethnic politics. Foreign Affairs. 2019;98:61–8.

De Cleen B. Populism and nationalism. In: Kaltwasser C, Espejo P, Taggart P, Ostiguy P, editors. Oxford Handbook of Populism. Oxford: Oxford University Press; 2017. p. 342–62.

De Cleen B, Stavrakakis Y. Distinctions and articulations: A discourse theoretical framework for the study of populism and nationalism. Javnost-The Public. 2017;24(4):301–19.

De Cleen B, Stavrakakis Y. How should we analyze the connections between populism and nationalism: A response to Rogers Brubaker. Nations and Nationalism. 2020;26(2):314–22.

De Cleen B, Moffitt B, Panayotu P, Y. Stavrakakis. The potentials and difficulties of transnational populism: The case of the Democracy in Europe Movement 2025 (DIEM25). Political Stud 2019

Eastwood J. The rise of nationalism in Venezuela. Gainesville: University Press of Florida; 2006.

Eatwell R, Goodwin M. National populism: The revolt against liberal democracy. Penguin UK; 2018.

Enyedi Z. Paternalist populism and illiberal elitism in Central Europe. J Political Ideol. 2016;21:9–25.

Enyedi Z. Right-wing authoritarian innovations in Central and Eastern Europe. East Eur Politics. 2020;36:363–77.

Freeden M. Ideology in political theory: A conceptual approach. Oxford: Oxford University Press; 1996.

Gellner E. Nations and nationalism. Ithaca: Cornell University Press; 1983.

Gerschewski J. The three pillars of stability: Legitimation, repression, and co-operation in autocratic regimes. Democratization. 2013;20(1):13–38.

Glynos J. Ideological Fantasy at work. Journal of Political Ideologies. 2008;13(3):275–96.

Gómez-Reino M, and Llamazares I. Populism in Spain: the role of ideational change in Podemos. In: The Ideational Approach to Populism: Theory, Method & Analysis, edited by Kirk A. Hawkins, Ryan Carlin, Levente Littvay, and Cristóbal Rovira Kaltwasser. London: Routledge. pp. 294–310.

Greenfeld L. Nationalism - Five roads to modernity. Cambridge: Harvard University Press; 1992.

Grim D. Sovereignty: The origin and future of a political and legal concept. New York: Columbia University Press; 2009.

Hawkins KA. Is Chávez populist? Measuring populist discourse in comparative perspective. Comp Political Stud. 2009;42:1040–67.

Hawkins KA. Venezuela's Chavismo and populism in comparative perspective. Cambridge: Cambridge University Press; 2010.

Hawkins K, Littvay L. Contemporary US populism in comparative perspective. Cambridge University Press; 2019.

Hawkins KA, Carlin R, Littvay L, Kaltwasser CR. The ideational approach to populism: Concept, theory, and analysis. Extremism and democracy. London: Routledge; 2019a.

Hawkins KA, Aguilar R, Castanho Silva B, Jenne EK, Kocijan B, and Rovira Kaltwasser C. Measuring populist discourse: The global populism database. Paper presented at the 2019 EPSA Annual Conference in Belfast, UK, June 20–22, 2019.

Hawkins KA, Kaltwasser CR. The ideational approach to populism. Latin American Research Review. 2017;52(4):513–28.

Heiskanen J. The nationalism-populism matrix. Journal of Political Ideologies. 2020. https://doi.org/10.1080/13569317.2020.1825280.

Hobsbawm EJ. Nations and nationalism since 1780: Programme, myth, reality. Cambridge: Cambridge University Press; 1992.

Hronešová J. Ethnopopulist denial and crime relativization in Bosnian Republika Srpska. East European Politics. 2021;1–22.

Ignatieff M. Blood and belonging. New York: Farrar, Straus and Giroux; 1993.

Inglehart R, Norris P. Cultural Backlash - Trump, Brexit, and Authoritarian Populism. Cambridge: Cambridge University Press; 2019.

Ivaldi G, Lanzone ME, Woods D. Varieties of populism across a left-right spectrum: The case of the Front National, the Northern League, Podemos and Five Star Movement. Swiss Political Sci Rev. 2017;23(4):354–76.

Ivarsflaten E. What unites right-wing populists in Western Europe? Re-examining grievance mobilisation models in seven successful cases. Comp Political Stud. 2008;41(1):3–23.

Jansen RS. Populist mobilization: A new theoretical approach to populism. Social Theory. 2011;29(2):75–96.

Jenne EK. Is nationalism or ethnopopulism on the rise today? Ethnopolitics. 2018;17(5):546–52.

Jenne EK. Populism, nationalism and revisionist foreign policy. Int Aff. 2021;97(2):323–43.

Jovanović SM. The portal 'nationalist' as the nutshell of recent serbian nationalism: national identities. National Identities. 2020;23(2):149–62.

Kallis A. Populism, sovereigntism, and the unlikely re-emergence of the territorial nation-state. Fudan J Human Soc Sci. 2018;11:285–302.

Kaltwasser CR, Taggart P. Dealing with populists in government: A framework for analysis. Democratization. 2015;23(2):201–20.

Katsambekis G. Radical left populism in contemporary Greece: Syriza's trajectory from minoritarian opposition to power. Constellations. 2016;23(3):391–403.

Kohn H. The idea of nationalism: A study of its origins and background. New York: MacMillan Company; 1944.

Krebs RR. Narrative and the making of US national security. Cambridge: Cambridge University Press; 2014.

Kriesi H, Pappas TS. European populism in the shadow of the Great Recession. Colchester: ECPR Press; 2015.

Legro JW. Rethinking the world - Great power strategies and international order. Ithaca: Cornell University Press; 2005.

Levitsky S, Loxton J. Populism and competitive authoritarianism in the Andes. Democratization. 2013;20(1):107–36.

Madrid R. The rise of ethnopopulism in Latin America. World Politics. 2008;60(3):475–508.

Mair P. Populist democracy vs party democracy. In: Mény Y, Surel Y, editors. Democracies and the populist challenge. London: Palgrave Macmillan; 2002. p. 81–98.

Marks G, Hooghe L, Nelson M, Edwards E. Party competition and European integration in the east and west: Different structure, same causality. Comp Political Stud. 2006;39(2):155–75.

Moffitt B. The global rise of populism: Performance, political style, and representation. Stanford: Stanford University Press; 2016.

Mols F. What makes a frame persuasive? Lessons from social identity theory. The Policy Press; 2012. p. 329–45.

Mudde C. The populist zeitgeist. Gov Oppos. 2004;39(4):541–63.

Mudde C. Populist radical right parties in Europe. Cambridge: Cambridge University Press; 2007.

Mudde C, Kaltwasser CR. Exclusionary vs inclusionary populism: Comparing contemporary Europe and Latin America. Gov Oppos. 2013;48(2):147–74.

Müller J-W. What is populism? Philadelphia: University of Pennsylvania Press; 2016.

Mylonas H. The politics of nation-building: Making co-nationals, refugees and minorities. Cambridge: Cambridge University Press; 2012.

Oesch D. Explaining workers' support for right-wing populist parties in Western Europe: Evidence from Austria, Belgium, France, Norway, and Switzerland. Int Political Sci Rev. 2008;29(3):349–73.

Offe C. Europe entrapped. Cambridge: Polity; 2016.

Oktem K, Akkoyunlu K. Exit from democracy: illiberal governance in Turkey and beyond. Southeast European and Black Sea Studies. 2016;16(4):469–80.

Ostiguy P. The high and the low in politics: A two-dimensional political space for comparative analysis and electoral studies. (Working Paper #360) Notre Dame, IN: Kellogg Institute for International Studies; 2009.

Pogonyi S. Extra-territorial ethnic politics, discourses and identities in Hungary. Chan: Palgrave Press; 2017.

Reinecke W. Global Public Policy. Foreign Aff. 1997;76(6):129.

Rodrik D. Populism and the economics of globalisation. J Int Business Policy. 2018;1(1–2):12–33.

Rooduijn M. The nucleus of populism: In search of the lowest common denominator. Government and Opposition. 2014;49(4):573–99.

Rooduijn M, Akkerman T. Flank Attacks: Populism and Left-Right Radicalism in Western Europe. Party Polit. 2017;23(3):193–204.

Rooduijn M, Pauwels T. Measuring populism: Comparing two methods of content analysis. West Eur Polit. 2011;34(6):1272–83.

Rupnik J. From democracy fatigue to populist backlash. J Democr. 2007;18(4):17–25.

Saideman S. Inconsistent irredentism? Political competition, ethnic ties, and the foreign policies of Somalia and Serbia. Secur Stud. 1998;7(3):51–93.

Saideman S. The ties that divide: Ethnic politics, foreign policy, and international conflict. New York: Columbia University Press; 2001.

Shulman S. Challenging the civic/ethnic and west/east dichotomies in the study of nationalism. Comp Polit Stud. 2002;35(5):554–85.

Silva B, Hawkins K. Text analysis: Big data approaches. In K. A. Hawkins, R. Carlin, L. Littvay, C. R. Kaltwasser, The ideational approach to populism: Theory, method & analysis. London: Routledge; 2018.

Snow DA, Benford RD. Ideology, frame resonance, and participant mobilization. International Social Movement Research. 1988;1(1):197–217.

Snow DA, Benford RD. Master frames and cycles of protest, in Aldon D. Morris and Carol McClurg Mueller, eds, Frontiers in social movement theory. Yale University Press; 1992. pp. 133–55.

Snyder J. The broken bargain - How nationalism came back. Foreign Aff. 2019;98(2):54–60.

Stanley B. Populism, nationalism, or national populism? An analysis of Slovak voting behavior at the 2010 parliamentary election. Communist and Post-Communist Studies. 2011;44(4):257–70.

Stavrakakis Y, Katsambekis G. Left-wing populism in the European periphery: The case of SYRIZA. J Political Ideol. 2014;19(2):119–42.

Stroschein S. Populism, nationalism, and party politics. Nat Papers. 2019;47(6):923–35.

Subotić J. Narrative, ontological security, and foreign policy change. Foreign Policy Anal. 2016;12(4):610–27.

Sudweeks R, Reeve S, Bradshaw W. A comparison of generalizability theory and many-facet Rasch Measurement in an analysis of college sophomore writing. Assess Writ. 2004;9(3):239–61.

Taggart P. Populism. Buckingham: Open University Press; 2000.

Thompson H. The case for external sovereignty. Eur J Int Relat. 2006;12(2):251–74.

Vachudova M. Ethnopopulism and democratic backsliding in Central Europe. East Eur Politics. 2020;36(3):318–40.

Volkens A, Krause W, Lehmann P, Matthieß T, Merz N, Regel S, Weßels B. The Manifesto Data Collection. Manifesto Project (MRG/CMP/MARPOR). Berlin: Wissenschaftszentrum Berlin für Sozialforschung (WZB). https://doi.org/10.25522/manifesto.mpds.2019a; Version 2019a.

Waterbury M. Populist nationalism and the challenges of divided nationhood: The politics of migration, mobility, and demography in post-2010 Hungary. East Eur Politics and Societies. 2020;34(4):962–83.

Waever O. Politics, Security, Theory. Secur. Dialogue. 2011;42(4–5):465–80.

White E. Teaching and assessing writing. San Francisco: Jossey-Bass; 1985.

Wimmer A. Dominant ethnicity and dominant nationhood. In: Kaufmann EP, editor. Rethinking Ethnicity: Majority Groups and Dominant Minorities. London: Routledge; 2004. p. 40–58.

Wimmer A. Waves of war: nationalism, state formation, and ethnic exclusion in the modern world. Cambridge University Press; 2013.

Wimmer A. Nation-building: Why some countries come together while others fall apart. Princeton: Princeton University Press; 2018.

Zellman A. "Hawking" territorial conflict: Ethnopopulism and nationalist framing strategies. East Eur Politics. 2019;35(4):474–95.
Acknowledgements
We gratefully acknowledge the support of the International Themes Initiative (ITI), Central European University (CEU), Comparative Populism project, which funded the expansion of the Global Populism Database and the construction of the Nationalism Populism Database. We received valuable feedback on previous drafts from participants in the SSRC-IFS Future of Political Parties Workshop at the Hertie School in Berlin, May 17–18, 2018; the American Political Science Association Annual Meeting, Washington, DC, August 29–September 1, 2019; and the Comparative Populism Capstone Workshop, CEU, Budapest, June 19–22, 2019. We also benefitted from the advice of our two reviewers.
Additional information
Publisher's Note
Springer Nature remains neutral with regard to jurisdictional claims in published maps and institutional affiliations.
Electronic supplementary material
Below is the link to the electronic supplementary material.
Appendix
Appendix
About this article
Cite this article
Jenne, E.K., Hawkins, K.A. & Silva, B.C. Mapping Populism and Nationalism in Leader Rhetoric Across North America and Europe. St Comp Int Dev 56, 170–196 (2021). https://doi.org/10.1007/s12116-021-09334-9
Accepted:

Published:

Issue Date:
Keywords
Populism

Nationalism

Discourse

Leader rhetoric